Women's everyday style reflects their individuality, comfort, and confidence. It encompasses a wide array of fashion choices that adapt to their unique personalities and the demands of their daily lives. From casual and relaxed outfits to more polished ensembles, women's everyday style celebrates versatility. The beauty of women's everyday style lies in its adaptability, allowing them to transition seamlessly from work to social gatherings or leisure activities while exuding an air of effortless grace and sophistication. 
Incorporating high-quality materials and thoughtful details, Gap offers a diverse range of women's everyday style options that cater to various tastes and lifestyles. With a focus on comfort and classic designs, Gap provides women with versatile pieces that can be effortlessly mixed and matched for any occasion.
How to dress casually: Women's Everyday Style
The key to women's everyday style is to strike a balance between comfort and style. Keep it simple, embrace your personal taste, and have fun experimenting with different combinations to find what suits you best.
1. Tops:
T-Shirts: Choose well-fitted crew neck or V-neck t-shirts in solid colors or subtle patterns. Avoid overly loud graphics or slogans for a cleaner look.
Blouses: Opt for lightweight, flowy blouses in soft fabrics. Look for button-downs or peasant tops for a touch of elegance.
Sweaters: Embrace cozy knitwear like crewneck sweaters or cardigans for cooler weather. Neutral tones or classic stripes work well in casual settings.
2. Bottoms:
Jeans: A timeless casual staple, go for straight-leg, skinny, or boyfriend jeans. Dark wash jeans tend to look more polished, while light wash ones give a laid-back vibe.
Chinos: Versatile and slightly dressier than jeans, chinos come in various colors and can be dressed up or down.
Leggings: Perfect for an athleisure look, pair leggings with a tunic or oversized sweater for comfort and style.
Skirts: Casual skirts can be A-line, pencil, or maxi length. Opt for breathable fabrics and patterns that complement your tops.
3. Dresses:
Sundresses: Choose easy-breezy sundresses in floral prints or solid colors. They are effortlessly chic for warm days.
T-shirt Dresses: women's comfortable fashion, these dresses offer a relaxed silhouette that's easy to accessorize.
4. Footwear:
Sneakers: White or neutral-colored sneakers are a versatile and trendy option that goes well with most casual outfits.
Flats: Ballet flats or loafers add a touch of sophistication while keeping your look comfortable.
Sandals: Strappy or slide sandals are perfect for summery days and can be dressed up or down.
Ankle Boots: For cooler weather, ankle boots can add a stylish edge to your casual attire.
5. Layering:
Jackets: Denim jackets, utility jackets, or lightweight bomber jackets can elevate your look while providing functionality.
Cardigans: Long or short cardigans are perfect for layering over tops or dresses when there's a chill in the air.
6. Accessories:
Minimal Jewelry: Opt for dainty necklaces, stud earrings, and delicate bracelets to enhance your outfit subtly.
Scarves: Lightweight scarves can add a pop of color and interest to your look, especially during transitional seasons.
Sunglasses: A classic pair of sunglasses not only protect your eyes but also add a touch of coolness to your outfit.
7. Hairstyle and Makeup:
Keep your hair and makeup simple and natural to complement your casual style. Effortless hairstyles like loose waves or a messy bun work well. The most important aspect of dressing casually is to wear your clothes with confidence. Be comfortable with what you're wearing, and let your personality shine through.
Some of the best Casual Wear: Women's Everyday Style
1. Midi Slip Dress
The Midi Slip Dress is designed with a sleek and simple silhouette that falls to a midi length, reaching below the knee. It is cut on the bias, which gives it a flattering drape and flow. The dress is crafted from lightweight and smooth fabric ensuring comfort and ease of movement. The dress features a classic V-neckline that adds a touch of femininity to the design. The adjustable slim shoulder straps allow for a unique fit. This item can easily transition from day to night, making it appropriate for a variety of occasions. It can be worn with a denim jacket and trainers for a relaxed midday style. Dress it up for an evening event with statement jewelry, heels, and a clutch.
---
2. GapFit Power Exercise Dress
The GapFit Power Exercise Dress is crafted with a combination of performance fabrics to ensure comfort, flexibility, and support during physical activities. To keep the wearer dry and comfortable, the GapFit Power Exercise Dress likely incorporates moisture-wicking technology. This feature helps to draw sweat away from the skin, allowing it to evaporate quickly, which is especially important during intense workouts.
---
3. A-Line Denim Mini Dress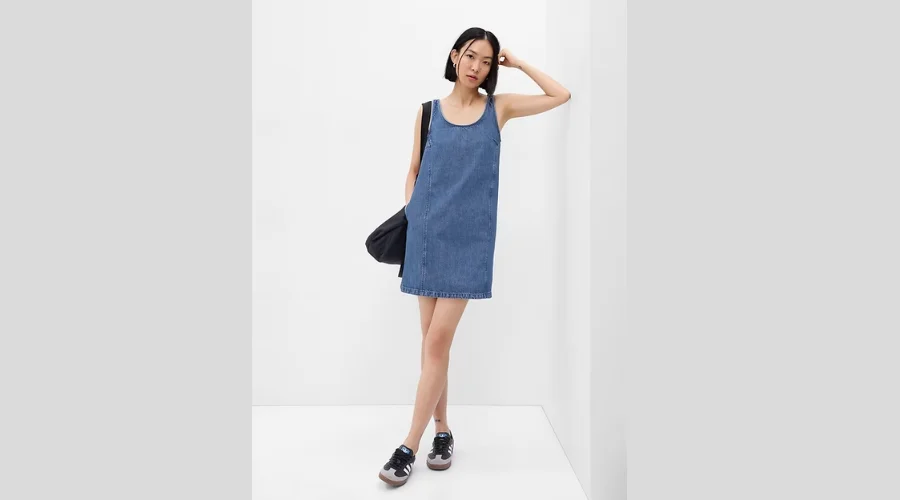 The A-Line Denim Mini Dress is a fashionable and versatile piece that combines the classic charm of denim with the flattering silhouette of an A-line dress. This dress style has been popular among women for its casual yet chic look, making it a go-to option for various occasions. The dress falls above the knee, making it a mini-length style that exudes a youthful and playful vibe.
---
4. Crinkle Gauze Halter Tiered Mini Dress
The Crinkle Gauze Halter Tiered Mini Dress by Gap is a stylish and comfortable summer dress that embodies Gap's dedication to versatile and chic designs. The dress features a halter neckline that ties around the neck, offering a chic and feminine touch. The silhouette is relaxed and flowy, with a loose fit that allows for ease of movement. The dress is tiered, meaning it has multiple layers of fabric that add dimension and texture to the design. It is crafted from lightweight and breathable crinkle gauze fabric. It is perfect for warm weather as it allows air circulation and offers a breezy and comfortable feel.
---
5. Cutout Maxi T-Shirt Dress
The Cutout Maxi T-Shirt Dress is a stylish and comfortable dress that combines the casual ease of a T-shirt dress with the elegance and versatility of a maxi dress. The dress features short sleeves and a loose fit that skims the body. The length extends to the ankle or the floor, creating a maxi dress style. This combination of elements results in a dress that's both laid-back and effortlessly chic.
---
Conclusion 
Gap's casual wear collection is a perfect blend of style and comfort, offering versatile wardrobe essentials for women. With classic designs and high-quality fabrics, Gap caters to various tastes and lifestyles. From well-fitted jeans to chic dresses, their pieces effortlessly transition from day to night, making it easy to express personal style with confidence. Gap's commitment to inclusivity and timeless fashion makes their casual wear a go-to choice for women seeking everyday elegance. For more information on Women's Everyday Style, visit Celebzero. 
FAQs