Throughout history, fashion has been a reflection of culture, values, and individual expression. Among the many styles that have graced the runways and streets, women's crochet dresses stand out as a timeless and elegant fashion choice. With its rich heritage, intricate craftsmanship, and enduring appeal, crochet clothing has woven itself into the fabric of women's fashion, transcending trends and generations. Renowned for its commitment to quality, comfort, and timeless style, Gap has consistently been a trailblazer in the fashion industry. Among its offerings, women's crochet dresses have emerged as a symbol of sophistication and artistry, combining the brand's signature design ethos with the allure of traditional crochet craftsmanship. 
How to style women's crochet dress? 
A women's crochet dress can be a delightful way to embrace femininity, elegance, and comfort. Whether you're attending a casual event or a more formal occasion, here are some tips on how to style crochet dresses for women: 
Choose the Right Occasion: Crochet dresses

come in various styles

, ranging from casual sundresses to more formal evening gowns. Consider the occasion you're dressing for and select an appropriate crochet dress accordingly. A lightweight, shorter crochet dress is perfect for a casual day out or a beach vacation, while a longer, more intricate crochet dress is ideal for formal events or special occasions.


Complement with Undergarments: Since crochet dresses often feature openwork patterns, it's essential to choose the proper undergarments to ensure a polished look. Opt for seamless nude or skin-toned undergarments that won't peek through the crochet design, maintaining a clean and sophisticated appearance.

Accessorize Thoughtfully: Accessorizing can elevate your crochet dress ensemble. Keep in mind that crochet dresses tend to be visually striking on their own, so choose accessories that complement the dress without overwhelming it. For a bohemian-inspired look, consider pairing your dress with a floppy hat, a fringe bag, and a few stacked bracelets. Opt for delicate jewelry, such as dainty earrings or a simple necklace, for a more elegant touch.

Consider Layering: Depending on the season and weather, layering can add dimension to your crochet dress outfit. In cooler temperatures, pair your crochet dress with a cropped jacket, a denim or leather jacket, or even a lightweight cardigan. Layering not only adds style but also allows you to wear your crochet dress throughout the year.

Choose the Right Footwear: The choice of footwear can greatly impact the overall look of your crochet dress outfit. Pair your dress with sandals, espadrilles, or ankle boots for a casual and relaxed vibe. To create a more polished and elegant look, opt for strappy heels or classic pumps. For a bohemian touch, consider wearing crochet dresses with gladiator sandals or woven wedges.
Top women's crochet dresses: 
1. Crochet Strappy Back Midi Dress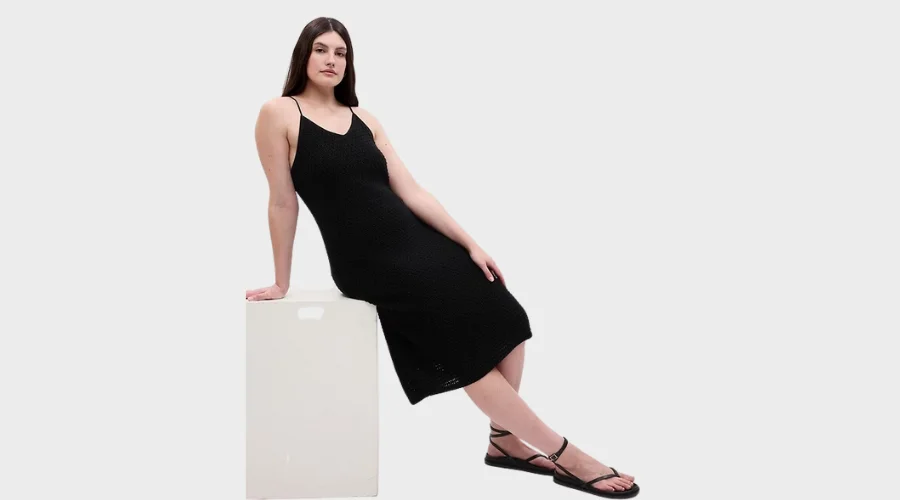 The highlight of this dress is undoubtedly the intricate crochet detailing that adorns the bodice and back. The criss-cross straps not only create an eye-catching element but also allow for an adjustable and comfortable fit. This midi dress combines the charm of crochet detailing with a modern, flattering silhouette. The dress falls to a midi length, reaching below the knee and above the ankle.
---
2. Crochet Mini Dress
The dress boasts a mini length, falling above the knee. This youthful and flirty silhouette is perfect for showcasing your legs and creating a fun, carefree vibe. The Crochet Mini Dress by Gap features a modern and relaxed fit, allowing for easy movement and comfort. The contemporary cut ensures the dress remains both stylish and comfortable for all-day wear.
---
3. Crochet Sleeve Mini Sweater Dress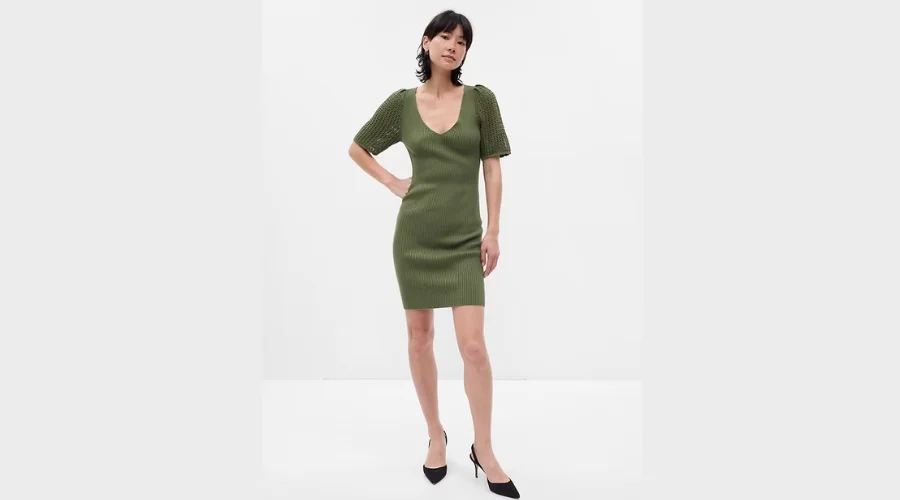 The Crochet Sleeve Mini Sweater Dress by Gap is a delightful and cozy garment that seamlessly marries the allure of crochet craftsmanship with the comfort of a sweater dress. The dress boasts a mini length, falling above the knee. This youthful and chic silhouette adds a playful touch to your winter outfit while keeping you warm and stylish. The standout feature of this dress is the crochet detailing on the sleeves. The delicate crochet patterns or textures add an elegant and bohemian touch to the overall design.
---
Top crochet tops for women: 
4. Crochet Halter Tank Top 
This crochet tank top offers a refreshing and breezy look, making it an excellent choice for warm weather and sunny days. The highlight of this tank top is its halter neckline. The straps are wrapped over the neck, exposing the shoulders and back. Crafted from lightweight and breathable materials, the tank top is perfect for staying cool and stylish in warm weather. The airy fabric drapes beautifully, making it a flattering option for various body types.
---
5. Flutter Sleeve Crochet Sweater 
The crochet detailing on the sweater adds a touch of bohemian charm and visual interest. The standout feature of this sweater is the flutter sleeves. These soft and flowy sleeves create a romantic and feminine silhouette, adding a playful touch to your overall look. The sweater is crafted from a cozy and warm fabric, perfect for colder weather. The soft material ensures comfort and versatility, allowing you to wear it for various occasions during the fall and winter seasons.
---
6. Crochet Tank Top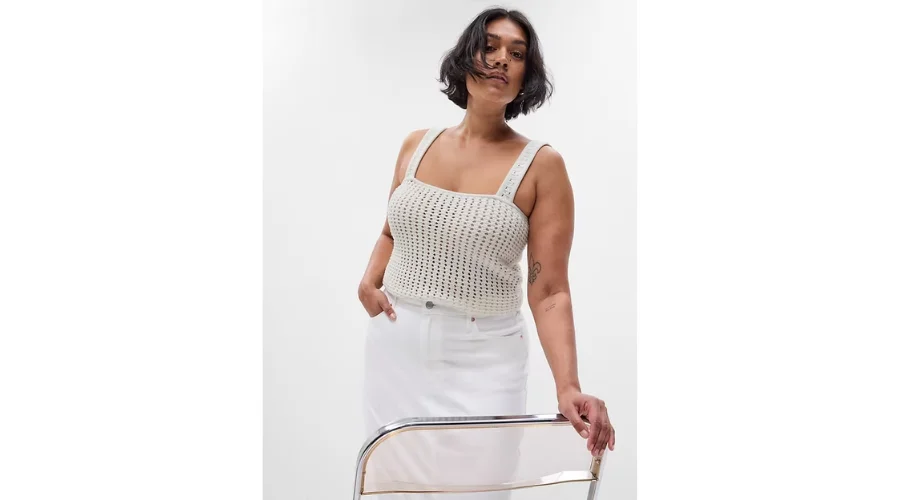 The tank top features a sleeveless silhouette, allowing for easy movement and breathability during hot summer days. Crafted from lightweight and breathable materials, the crochet tank top is perfect for staying cool and comfortable in the summer heat. Embrace the boho-chic trend by pairing the Crochet Tank Top with high-waisted denim shorts or a flowy maxi skirt. Add a wide-brimmed hat, oversized sunglasses, and woven sandals for a carefree and effortlessly stylish ensemble.
---
Conclusion 
Gap's women's crochet dresses are a delightful fusion of timeless elegance and contemporary style. With intricate crochet detailing, versatile designs, and a commitment to quality, these dresses effortlessly elevate any wardrobe. From midi dresses with strappy backs to mini dresses with bohemian charm, Gap's collection caters to diverse occasions and personal styles. The enduring popularity of these crochet dresses lies in their ability to transcend trends and exude a sense of sophistication that stands the test of time. With each dress celebrating the artistry of crochet craftsmanship, Gap continues to set the standard for chic and timeless fashion. For more information on women's crochet dresses, visit Celebzero. 
FAQs