A girls' rompers is a trendy and versatile one-piece garment that combines a stylish top with comfortable shorts, creating a chic and effortless outfit. Designed for girls of varying ages, rompers have become a popular fashion choice, particularly during warm weather. Their short bottoms provide ease of movement and comfort, making them ideal for casual outings, playtime, or relaxed summer days.
Gap's girls' rompers typically feature cute and fashionable designs made from high-quality materials to ensure both style and comfort. They often come in various colors and patterns, catering to different preferences and age groups. The rompers may have different necklines, sleeve lengths, and closure options, allowing for a diverse selection to suit various occasions and weather conditions.
How to style girls' Romper
Girls' rompers are not only cute and comfortable but also incredibly versatile. These one-piece wonders offer an effortless way to create stylish outfits for various occasions. Whether it's a casual playdate, a family outing, or a semi-formal event, with the proper styling, girls' rompers can become a fashion statement.
1.   Casual Chic: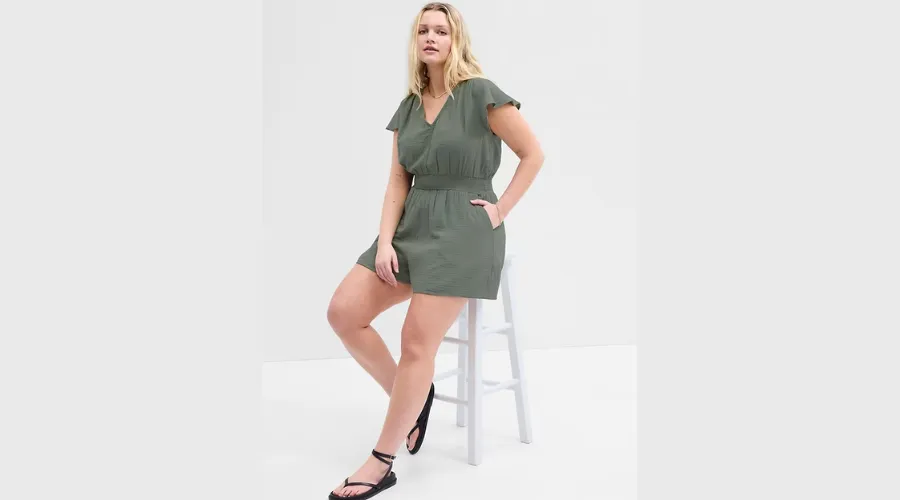 For a laid-back and comfortable look, choose a cotton or linen romper in a playful print or a pastel hue. Pair it with some casual sneakers or sandals for a fun and effortless vibe. This Summer romper is perfect for playdates, picnics, or a day at the beach. For instance, the Gauze V-Neck Romper is a stylish and lightweight one-piece garment that exudes comfort and effortless style. Crafted from cotton, which is a soft and breathable material, this romper is perfect for warm weather and summer days. The combination of a V-neckline and gauze fabric gives the romper a relaxed and laid-back look, making it a popular choice for casual outings and beachwear.
2.   Summer Soiree:
To dress up a girls' romper for a summer party or special occasion, opt for a romper in a dressier fabric like silk or chiffon. Look for rompers with delicate details such as lace or ruffles for an extra touch of elegance. Pair the romper with strappy sandals or ballet flats. Accessorize with dainty jewelry and a small crossbody bag to complete the chic look. The Flutter Sleeve V-Neck Romper by Gap showcases adorable flutter sleeves, adding a touch of charm and elegance to the outfit. These delicate sleeves enhance the overall look and create a fashionable silhouette. The V-neckline complements the flutter sleeves, providing a flattering and stylish neckline. It adds a sophisticated touch to the romper, making it suitable for various occasions. The bottom half of the romper consists of comfortable shorts, perfect for active girls and warm-weather adventures.
3.   Boho Beauty: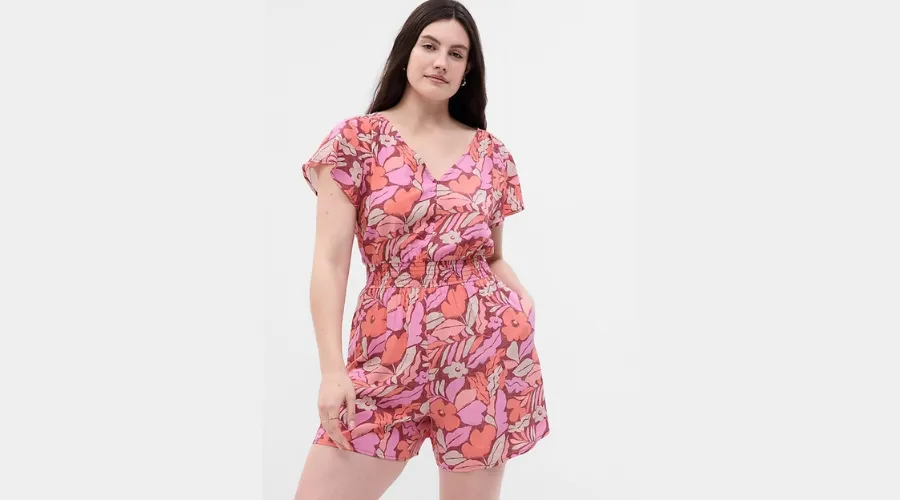 Embrace a bohemian-inspired style by choosing a flowy, relaxed-fit romper with earthy tones or floral patterns. Layer the romper with a lightweight kimono or a denim jacket for a boho-chic touch. Complete the look with ankle boots or gladiator sandals, along with some bohemian-style accessories like layered necklaces or stackable bracelets. The Flutter Sleeve V-Neck Romper just mentioned above as well is a stylish and feminine one-piece garment that combines the comfort of shorts with the elegance of flutter sleeves and a V-neckline. This romper is a perfect blend of chic and casual, making it suitable for a variety of occasions, from casual outings to semi-formal events. For this boho vive, you can opt for the printed ones.
4.   Preppy Perfection:
For a preppy and polished appearance, go for a romper in a classic solid color, such as black, navy blue, or white. Pair it with a cardigan or a button-down shirt tied around the waist for a preppy twist. Finish off the outfit with loafers or ballet flats and a headband or hair bow for a touch of sophistication. The denim romper with Washwell is a durable and versatile cotton fabric known for its classic appearance and comfort. It gives the romper a casual yet fashionable look. The romper features shorts as the bottom half, making it a practical and comfortable option for various activities. These denim rompers come with button or zipper closures, allowing for easy wearing and removal.
5.   Edgy and Cool: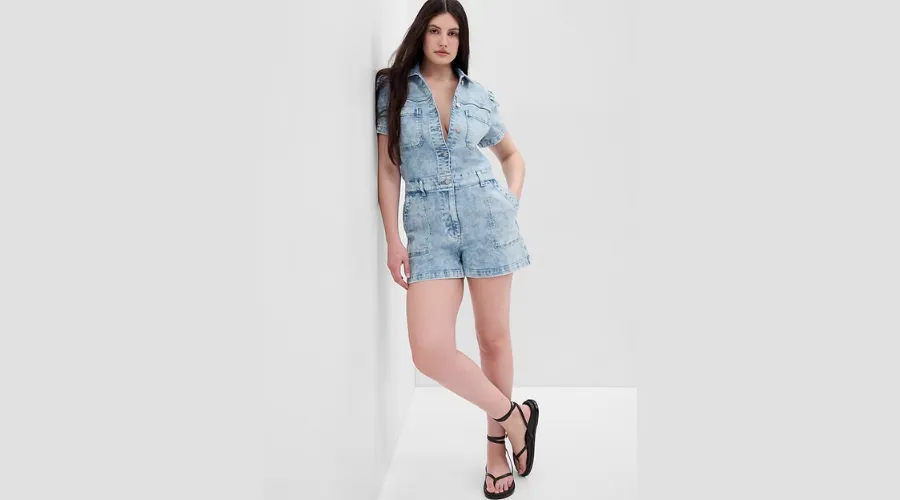 To achieve an edgy and cool style, opt for a romper with a bold black or leather accent. Combine it with denim or a moto jacket for an instant dose of attitude. Add some statement jewelry or a studded belt to enhance the edgy vibe. The Puff Sleeve Denim Romper with Washwell is a trendy and sustainable one-piece garment that combines the classic charm of denim with fashionable puff sleeves and Gap's innovative Washwell technology. This romper offers a stylish and eco-friendly choice for those seeking a unique and versatile outfit. The standout feature of this romper is the puff sleeves, which add a touch of femininity and playfulness to the overall design. Puff sleeves create volume and interest, elevating the romper's style.
Conclusion
Gap's Girls' Rompers are a delightful blend of style and comfort. With a variety of designs, from V-necklines to flutter sleeves, these rompers cater to different tastes and occasions. Crafted from quality fabrics and incorporating sustainable practices like Washwell technology, Gap ensures that these rompers are both fashionable and eco-friendly. From casual outings to semi-formal events, Gap's Girls' Rompers offer versatility, making them a must-have addition to any young girl's wardrobe. With Gap's reputation for exceptional clothing, parents can trust that their little ones will look adorable and feel confident in these trendy and comfortable rompers. For information on Girls' Rompers, visit Celebzero.
FAQs