The bridesmaids wear distinctive dresses for the wedding ceremony known as bridesmaid dresses. The bride often selects these dresses and should coordinate with the wedding's overall theme and color scheme. The bridesmaid dresses typically match the color scheme the bride has chosen for her wedding or the event's theme. For a coordinated effect, bridesmaids can don dresses with the same hue as the bride or tones of the same color. While bridesmaid dresses should complement the bride's gown, they frequently have their own individual styles. The style may change depending on the formality of the wedding and the bride's choices. Strapless, A-line, mermaid, sheath, or ballgown are popular fashions—the occasion's season and level of formality e season and the event's formality. Standard fabrics for bridesmaid dresses include chiffon, satin, tulle, lace, silk, and floral bridesmaid dresses.
The bridesmaids can complete the appearance by adding jewelry, shoes, and bouquets to their outfits. Additionally, accessories are frequently harmonized with the wedding's theme. 
To ensure a good fit, bridesmaids should try on the dresses before buying. The dresses may need to be altered to fit each bridesmaid's particular body type. The bridesmaids' budget must be taken into account when selecting outfits. Because bridesmaid dresses can range in price from cheap to expensive, it's crucial to take into account everyone's financial status.
Let us have a look at some of the gorgeous bridesmaid dresses from Nobody's Child
1. Lilac Frances Midaxi Bridesmaid Dress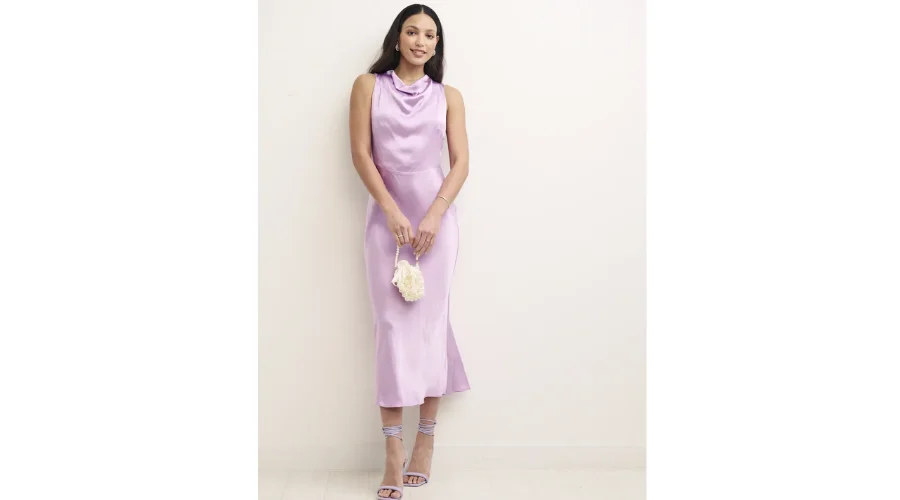 As the name implies,Lilac Frances Midaxi Bridesmaid Dress is made to be worn by bridesmaids and is meant to coordinate with the bride's gown and the overall wedding motif. Lilac is a gentle, graceful pastel color that is frequently connected to femininity and romance. Bridesmaid gowns in lilac are a common choice, particularly for ceremonies in the spring and summer. With the NC bridal party collection, proceed down the aisle. Are you looking for additional eco-friendly methods to say "I do"? Combine locally sourced flowers with sustainably produced, reusable garments. 
This midaxi is eternally flattering because it is made of beautiful lavender satin and has an attractively draped neckline. To highlight the understated keyhole back feature with a twin pair of covered buttons, pin up your hair. If you outfit your bridesmaids in this (or the complementary sunkissed peach color), they will undoubtedly be reaching for it at future weddings.
---
2. Green Zola Midaxi Dress
The dress is suitable for a various kind of events, be is a casual outings or a semi-formal event. Choose this Zola midaxi Dress when the invitation requests something extra. It will stand out in elegant fashion in cheery green thanks to the ethical fabric blend it was cut from. Your arms are concealed, yet a silky self-tie bow pulls your open back together when you turn around. Keep your accessories to a minimum since Zola is already something special.
---
3. Petite Lilac Coco Midi Dress
To create a better fit for tiny forms, petite size frequently includes proportionally altered proportions. A lilac hue, a delicate and charming pastel color, is most likely the predominant hue of the outfit. Because of its charming femininity and romance, lilac is a preferred option.
Petite Lilac Coco Midi Dress may be appropriate for a variety of events, from casual outings to semi-formal ones, depending on its style and material. We are currently obsessed with the color lilac, especially in fabrics that are produced ethically. 
This flowy little midaxi has a plunging neckline that is incredibly flattering and is trimmed with a waterfall of lovely ruffles on the front and back. Other striking features include a low cutback with a tie and a delicate center slit that lengthens your legs. Just because it's the bride's day doesn't mean you can look beautiful too.
---
4. Pink Zendaya Midi Dress
Zendaya makes bridal attire look very simple. She is ideal for sashaying into the most fashionable of parties since she is made from luxurious bright pink fabric that drapes like a dream. Her open back was carefully fastened with a bow, which was contrasted by her fun, volume-filled sleeves. Wear yours with gold jewelry and stylish sandals.
---
5. Petite P
each Zola Mini Dress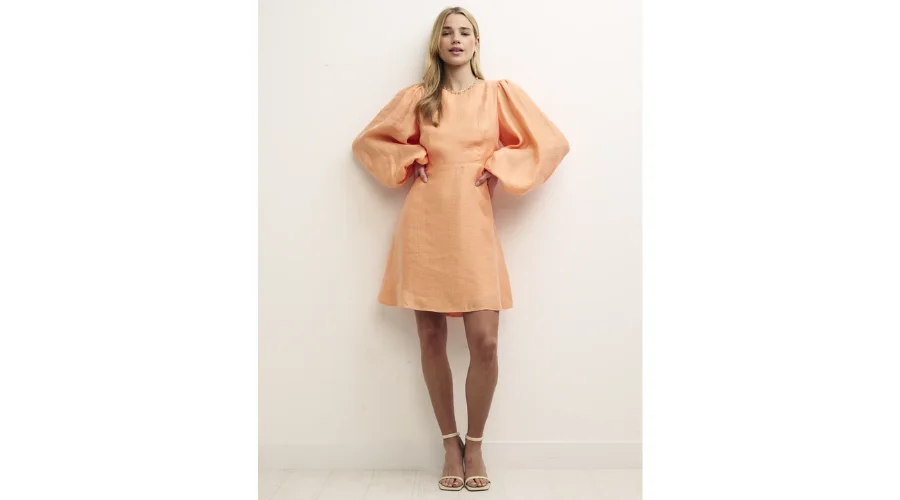 Petite Peach Zola Mini Dress is certain to get attention. This little dress twirls to reveal an open back and features characteristic puffy sleeves that tie in a tidy bow. A mix of the responsible peach fabric creates an airy effect that drapes beautifully. Simply add strappy sandals to your look. An item this distinctive simply requires a few simple extras.
---
Conclusion
Bridesmaid attire significantly contributes to the aesthetic appeal of a wedding event. These dresses are meticulously chosen by the bride to go with the wedding's theme and color scheme and let the bridesmaids shine beside her. Bridesmaid dresses are available in a wide range of styles, hues, lengths, and materials, providing various options to match various wedding themes and the girls' tastes.
To ensure everyone's comfort and happiness, the bride and her bridal party must have open communication while choosing bridesmaid dresses. To prevent any last-minute problems, it is crucial to take into account elements like budget, dress fittings, and order delays. For more information on Bridesmaid Dresses from Nobody's Child, visit Celebzero
FAQs