Evening dresses are formal, sophisticated clothing intended to be worn to special occasions or evening activities. These outfits are saved for occasions like gala dinners, cocktail parties, formal weddings, award ceremonies, and other upmarket gatherings. They are often more glam and elegant than everyday attire. Evening attire is distinguished by its formality and elegant appearance. They are frequently crafted from plush materials and adorned with elaborate flourishes like sequins, jewels, lace, or embroidery. Evening gowns come in a variety of silhouettes to accommodate diverse body types and individual tastes. A-line, mermaid, sheath, ballgown, and empire waist are typical cuts. Evening dresses' necklines can differ, ranging from high necklines to halter necks, off-the-shoulder designs, and plunging V-necks to sweetheart and halter necklines in long sleeve evening dresses The choice of evening dress may also take into account the season of the event. For example, lighter fabrics are preferred for warmer months, while heavier fabrics are suitable for colder seasons
Let us have a look at some of these evening dresses from Nobody's Child
Floral Halter Neck Holly Midi Dress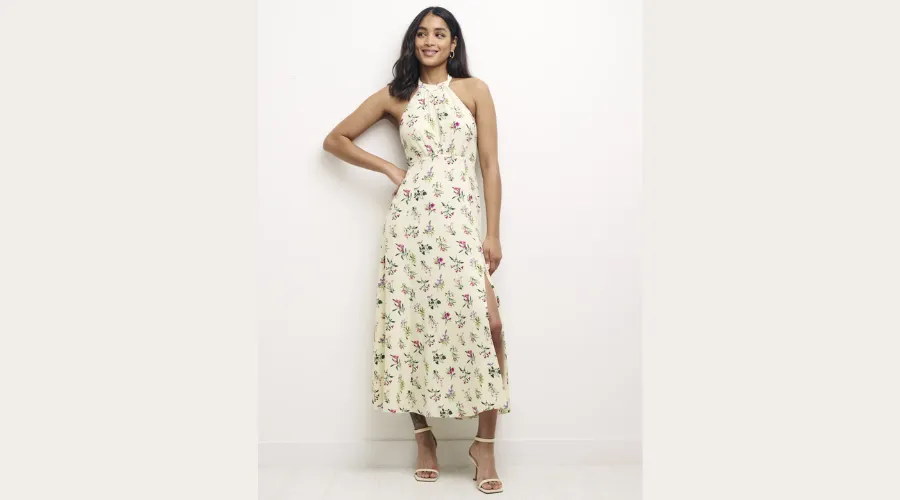 Floral Halter Neck Holly Midi Dress has a flowery motif, which makes it a fashionable and classic option for a number of events, particularly during spring and summer affairs. The standard halter neck style has a strap that wraps around the neck, exposing the back and shoulders. It enhances the neckline and shoulders of the dress and gives it an attractive, appealing touch. The dress is "midi" length, which indicates that it ends just above the ankle and just below the knee. This length is frequently regarded as adaptable and appropriate for both formal and semi-formal occasions. In Holly, get ready for an "all eyes on me" moment. She is the floral occasion dress that surpasses all others. She is made from a responsible viscose blend dotted with wildflowers. This light green midaxi dress stands out because of its halter neckline, sleeveless silhouette, open-back design, and self-tie waist at the back. Strappy heels are perfect for your next party outfit, especially if they have a slight leg split.
Maxine Midaxi Dress
"Midaxi" is a phrase made up of the culmination of the words "midi" and "maxi." A maxi dress is more prolonged and generally reaches the ankles or floor, as opposed to a midi dress, which typically falls between the knee and ankle. As a result, a "Midaxi Dress" would be a dress that is between a midi and a maxi dress in length, usually ending at the mid-calf. Your next summertime romance.
Maxine Midaxi Dress, blooming with vintage-inspired blooms, is the dress for all invitations filling up your calendar. The ethical viscose blend from which this style is created is its first appealing feature. Second, depending on how you're feeling that day, you can wear the voluminous puff sleeves on or off the shoulder. We are fixated.
Hilary Halter Jumpsuit
Hilary Halter Jumpsuit has a halter neck, which means the shoulders and back are exposed and there is a strap that wraps around the neck. Jumpsuits and dresses frequently have halter necklines because they offer an attractive touch and highlight the shoulders and upper torso. A jumpsuit is a two-piece outfit that consists of a shirt and pants. It can be constructed of different materials like cotton, polyester, or silk and can have varied styles, like wide-leg, fitting, or cropped. When you make this Hilary jumpsuit your go-to for dressy occasions, you'll never experience a wardrobe crisis again. It is a simple cut that creates a halterneck silhouette with a fitted waist and flared skirt.
Black Linen-blend Valentina Mini Dress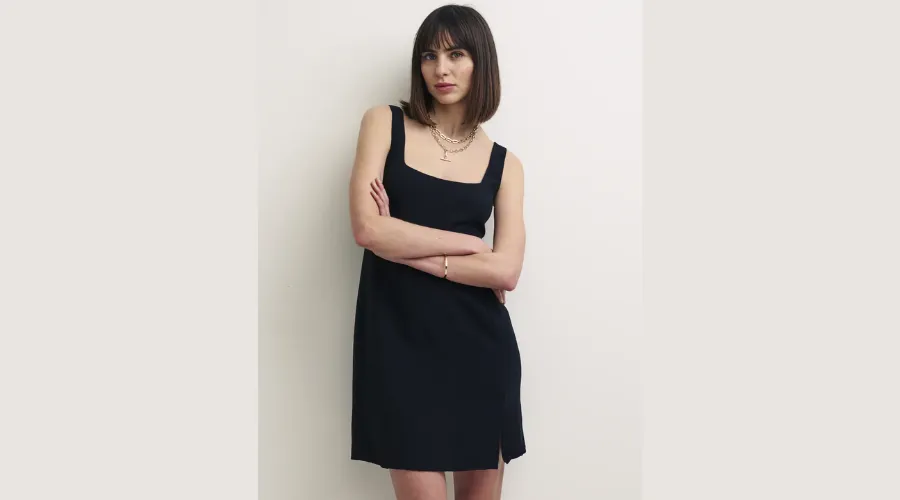 Depending on its design and how you decide to wear it, a black short dress made of a linen-blend fabric can be a versatile addition to your wardrobe that is appropriate for semi-formal events as well as informal outings and parties. The material used to make the dress is a linen blend. For warmer weather, linen is a natural fabric that is lightweight and breathable. Other components, like cotton or synthetic fibers, could be included in the blend to improve the fabric's qualities.
The perfect mini dress is this timeless black one. Valentina has a shirred back for an always-perfect fit and is endlessly attractive with a square neckline and a slight side slit. For summer, responsible viscose has been combined with a touch of linen. Strappy espadrilles are appropriate for a vacation with her. A black evening dress will go on with any occasion.
Conclusion
Evening wear is a representation of refinement, richness, and style. These dresses, which are made for formal and special occasions, emanate an air of elegance and beauty. Evening dresses provide a wide range of options to suit a variety of tastes and event themes, from their varied designs and lengths to the selection of fabrics and colors. Evening dresses are beautiful not just for their aesthetic appeal but also for the elegance and self-assurance they give their wearers. Whether it's a gala dinner, cocktail party, wedding, or other upmarket function, the ideal evening dress may enhance the ambiance.
When selecting an evening dress, aspects like formality, fit, and personal style are important. modifying the outfit to fit. So head to Celebzero right now for more information on evening dresses from Nobody's Child.
FAQs