There was a time when corsets were the main clothing item for most women to get the desired body shape. But now that fashion has evolved and corsets are back in a refreshed form, everyone is eager to get their hands on the most stylish and comfortable corset tops available on the market. 
With an accentuated waist, a stylish design, and a comfortable fit, corset tops have become statement pieces that women should surely have in their wardrobes. You can either curate a modern girl boss look or a fashionable dinner date look with these corset tops when paired with the right bottoms and jewelry pieces.
With what clothing items can you style corset tops?
There are various ways to style corset tops with distinct clothing items to curate an adorable and sexy outlook. So, here are a few that you can try on-
1. With Structured Pieces
Pairing corset tops with a full structured pantsuit to curate an eye-catching and appealing fit that can actually work as both a formal and party wear look.
---
2. With Jeans or Joggers
If you want to add a twist to your casual look, pair your favorite jeans or joggers with a corset top, and voila! Not only you feel comfortable and confident but will look stunning too.
---
3. With a Dress
Style a corset top with a long plain maxi dress to add a touch of glamor to it. Try mixing colors like going with a lighter shade dress and a vibrant top or vice-versa.
---
4. With Skirts
A mini skirt along with a corset top and an oversized coat on top is one of the coolest and alluring looks to pull off for a day or even a night event.
---
5. Over a Button-Down Shirt
While corsets are considered undergarments, wearing them over a white plain shirt or even an oversized graphic tee will surely add spice to your look.
---
Which are some of the best Corset Tops to Purchase in 2023?
Here are some of the best corset tops offered by Karen Millen that are both stylish and under $100, so you can still look stunning at budget prices.
1. Bandage Feather Trim Corset Style Top Co-ord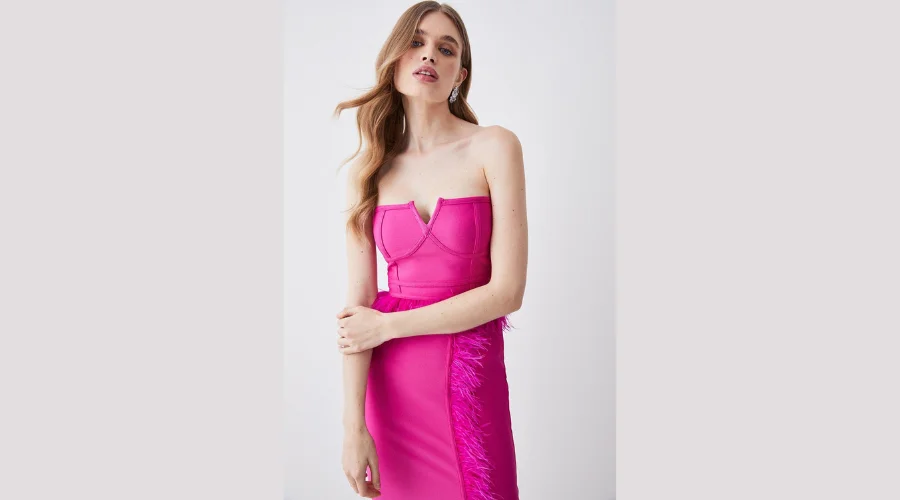 The Bandage Feather Trim Corset Style Top is an ultimate party piece that comes in a bold fuschia color. The bandeau neck with a sculpting bodice perfectly takes up the shape of your curves and provides you with a fashionable look. The cropped fit lets you pair it with jeans or a matching skirt to pull off a magnificently appealing look.
The feathered-trim corset with a rear zip fastening is made of recycled polyester fabric, so it will be durable and worth the investment. Available in US sizes XS-L, it is one of the best corset tops to purchase through Karen Millen at a cost of $58.
---
2. Bandage and Mesh Corset
This Bandage and Mesh Corset, made with recycled polyester, is one of the most stylish corset tops you'll own. Available in black and natural brown shades, the bandeau-styled corset top features a rear zip closure, making it easy to wear and carry around. With an intricate mesh pattern, the article is an appealing clothing item to have in your wardrobe.
Pair the voguish top with black denim and heels for a fashionable appearance. You can even add a denim jacket to give it a cool and snuggly feel. You can even make a formal event out of it by styling it with a pencil skirt, a formal coat, and closed-front heels. The article cost around $34.
---
3. Corded Lace and Mesh Panelled Woven Corset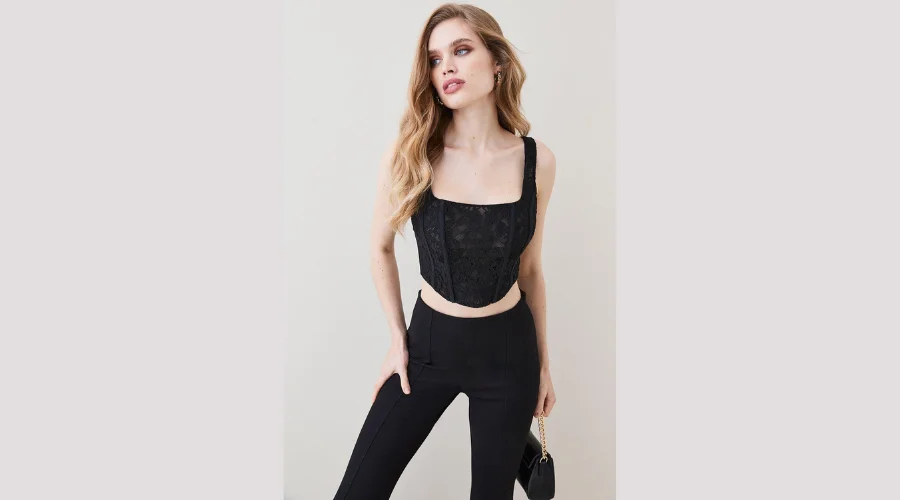 This Corded Lace and Mesh Panelled Woven Corset is another great find to add to your wardrobe. The black-colored corset with bold straps, the intricate lace and mesh design, and a crew neck give it quite a classic look that you can easily transition from work wear to a party fit in seconds.
Pair the corset top with jeans or joggers for curating a charming outlook or you can even add on a black coat over it for attending office meetings or a party. Made with 100% polyester, this article is available in various US sizes ranging between XS-L for customers to choose from. And, it only costs $46.
---
4. Crystal Embellished Cady Woven Corset
The Crystal Embellished Cady Woven Corset Top is one of the most vibrant corset tops you'll ever get to wear. Available in pastel colors like lilac and ivory, this article would work great for birthday celebrations or even wedding ceremonies when paired accurately. The heavily embellished top with a plunging sweetheart neckline offers quite a unique appearance.
You can pair the figure-sculpting article with a matching long skirt or even a midi skirt to just the perfect wedding guest look. Made with 100% polyester, it will surely stand the test of time and offer you a cozy fit. The corset cost $88 to add to your wardrobe.
---
Conclusion
With so many options available for corset tops, it might get challenging to find just the right fit and style for you. To avoid that confusion Karen Millen houses a variety of top-quality corset tops for everyone and at pretty reasonable prices, so you don't go broke! So, take a tour of the online shopping portal and take your pick. For more such information, visit Celebzero.
FAQs