Adidas has solidified its position as a trailblazer in merging style, innovation, and functionality when it comes to footwear. At the forefront of their offerings stand the remarkable Adidas Adizero shoes, a pinnacle of advanced technology, meticulous design, and unrivaled performance. These shoes transcend mere footwear; they represent a fusion of cutting-edge features aimed at optimizing the running experience. 
Adidas Adizero shoes emerge as a distinctive line of running footwear meticulously crafted to revolutionize your running ventures. These shoes stand as the epitome of meticulous engineering, innovative materials, and performance-enhancing elements, all woven together to create a transcendent running experience. The name "Adizero" is a fusion of "adi," symbolizing Adidas, and "zero," embodying the notions of lightweight and speed, two defining characteristics of this remarkable line.
What are the different types of Adizero running shoes? 
Adidas acknowledges the individuality of every runner—their preferences, needs, and aspirations. This acknowledgment is eloquently reflected in the versatile spectrum of Adizero running shoes available. The diverse range includes: 
Adizero Boston: Combining cushioning and responsiveness, these shoes are perfect companions for both long-distance training and intense sessions.

Adizero Adios: Engineered for speed, the Adios model emerges as a favorite among elite runners, boasting a feather-light design to enhance performance.

Adizero Tempo: These shoes strike an exquisite equilibrium between cushioning and support, making them ideal for both training and racing.

Adizero Pro: Representing the epitome of velocity, the Adizero Pro employs groundbreaking technology for those aiming to shatter records.
The best Adizero running shoes: 
1. Adizero SL- White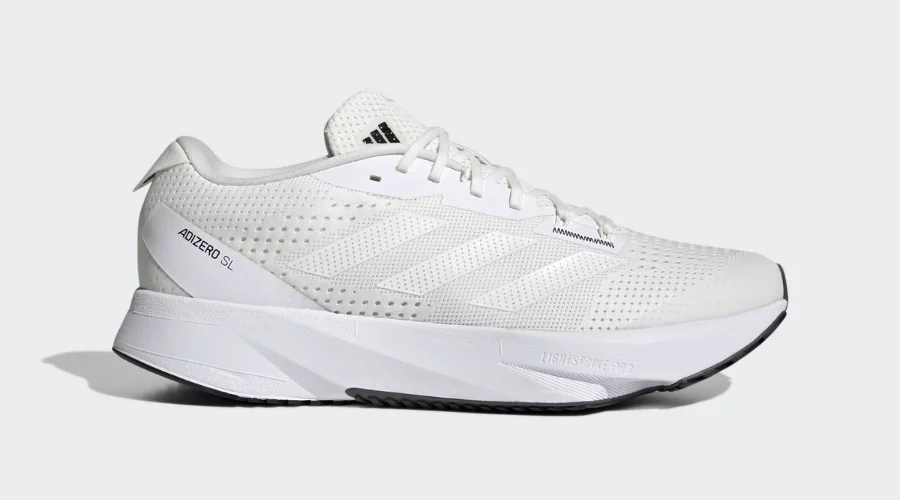 Crafted to elevate your running experience, the Adizero SL Running Shoes are your go-to choice for daily training and peak performance. Designed to shave off precious seconds from your time, these lightweight marvels are meticulously engineered to help you surpass your limits without any distractions. From training sessions to race day, these shoes are the embodiment of high-tech precision, offering a lightweight Lightstrike Eva midsole that ensures resilience while propelling you forward with each stride. The engineered mesh upper, strategically zoned for targeted support, combines with a plush padded heel and tongue for unparalleled comfort. The inclusion of the Adizero heel-blinker enhances overall stability, while the premium outsole guarantees optimal traction for your every move.
---
2. Adizero Adios Pro 3 3.0 Shoes 
Crafted using a combination of lightweight materials and recycled components, the Adizero Adios Pro 3 stands as the zenith of Adizero Racing's offerings. Created in collaboration with athletes to conquer extraordinary accomplishments, these Adidas running shoes are meticulously designed to enhance running efficiency. The incorporation of carbon-infused energy wheels imparts a lightweight yet rigid structure for a responsive and efficient stride. Further optimizing your performance, the ultralight Lightstrike Pro cushioning features dual layers of resilient foam, ensuring sustained energy levels during extended runs. Anchored by a slim layer of textile rubber outsole, these shoes guarantee remarkable traction on both wet and dry surfaces.
---
3. Adizero Adios Pro 3 Shoes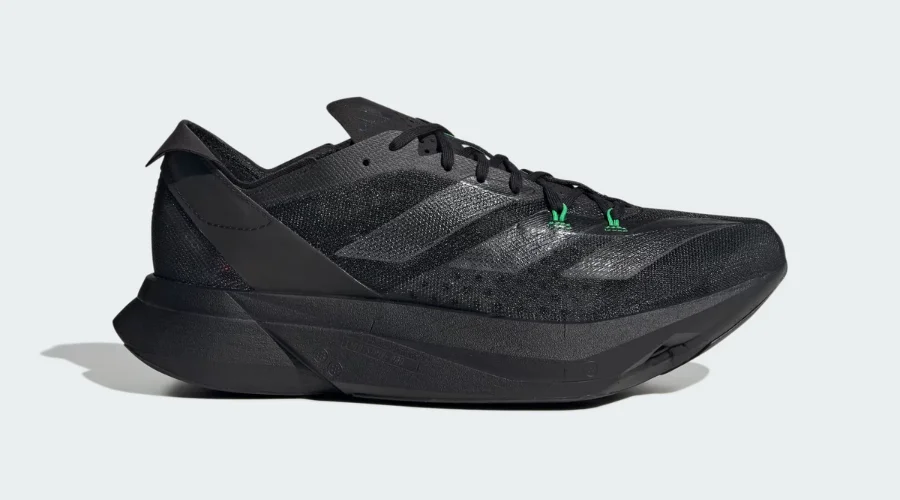 Elevate your distance running performance with the Adidas Adizero Adios 3, a dynamic blend of innovation and speed. These race-ready shoes are meticulously designed to break world records and personal bests, featuring an ultralight upper, three layers of resilient Lightstrike Pro cushioning, and energy-efficient Energy Rods that optimize each stride for minimal energy loss. Ideal for half to full-marathon courses, these shoes provide the lightweight edge you need to conquer the finish line. Committed to sustainability, the upper incorporates at least 50% recycled materials, reflecting Adidas' dedication to reducing plastic waste and promoting eco-conscious choices in sportswear.
4. Adizero Boston 11 Wide Shoes 
Elevate your daily running routine with Adidas' wide-fit running shoes, a perfect blend of comfort and sustainability. Crafted with a significant portion of recycled materials, these shoes ensure your runs contribute to a greener future. Featuring Lightstrike Pro+ technology for lasting cushioning, carbon-infused Energy Rods for natural propulsion, and a breathable mesh upper that offers both flexibility and support, these shoes provide a consistent and comfortable experience for your everyday runs. With a commitment to reducing plastic waste, the upper incorporates a minimum of 50% recycled content, showcasing Adidas' dedication to eco-conscious solutions in athletic footwear.
5. Adizero Boston 12 Shoes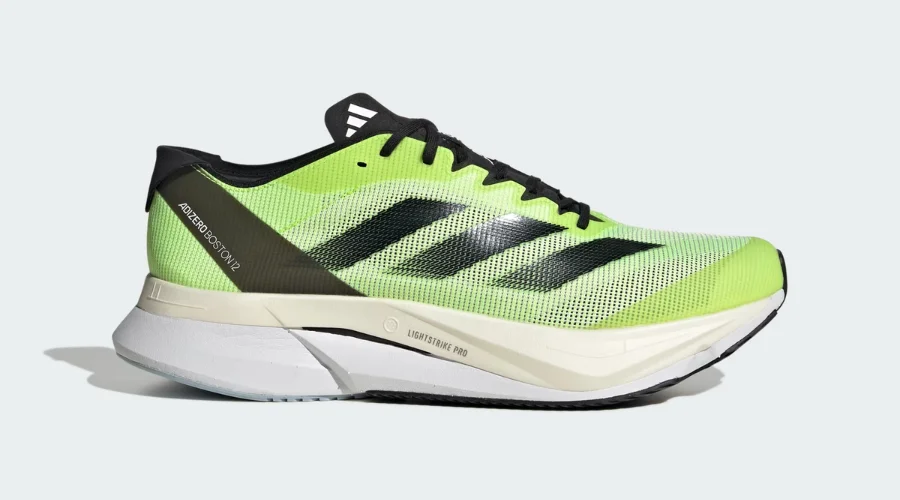 Designed to excel in mid- to long-distance running, the Adizero Boston 12 Shoes encapsulate the essence of the Boston Marathon's preparation and triumph. Infused with glass-fiber Energy Rods 2.0 for enhanced propulsion and reduced energy loss, these shoes offer both speed and durability. The combination of ultra-light Lightstrike Pro cushioning and robust Lightstrike 2.0 Eva in the midsole ensures an optimal balance of performance and longevity. Crafted with recycled materials, these shoes reflect Adidas' commitment to sustainability while embodying the spirit of marathon training and achievement.
Embracing Adizero Running Shoes: How do Adizero running shoes fit? 
Adidas Adizero running shoes are designed to provide a comfortable and secure fit for runners. They generally fit true to size, which means you can choose your regular shoe size when purchasing Adizero shoes. However, it's important to consider a few factors to ensure you get the best fit possible:
Foot Type: Understand your foot type – whether you have a narrow, regular, or wide foot. Adizero shoes offer various widths to accommodate different foot shapes.   

Try Them On Whenever possible, try the shoes on before purchasing. This allows you to assess the fit and feel, ensuring there's enough room in the toe box and a snug fit around the heel.

Sizing: Stick to your regular shoe size if you're comfortable with it, but don't hesitate to size up or down if needed. Some runners prefer a slightly larger size for extra toe room during long runs.

Adjustable Lacing: Many Adizero models come with adjustable lacing systems. Experiment with different lacing techniques to customize the fit according to your preference.

Sock Choice: Consider the type of socks you'll be wearing during your runs. If you typically wear thicker socks, take that into account when choosing your size.

Trial Run: If possible, take your new Adizero shoes for a short trial run to assess how they feel while in motion. This can help you identify any potential discomfort or fit issues.
What are the benefits of wearing Adizero running shoes?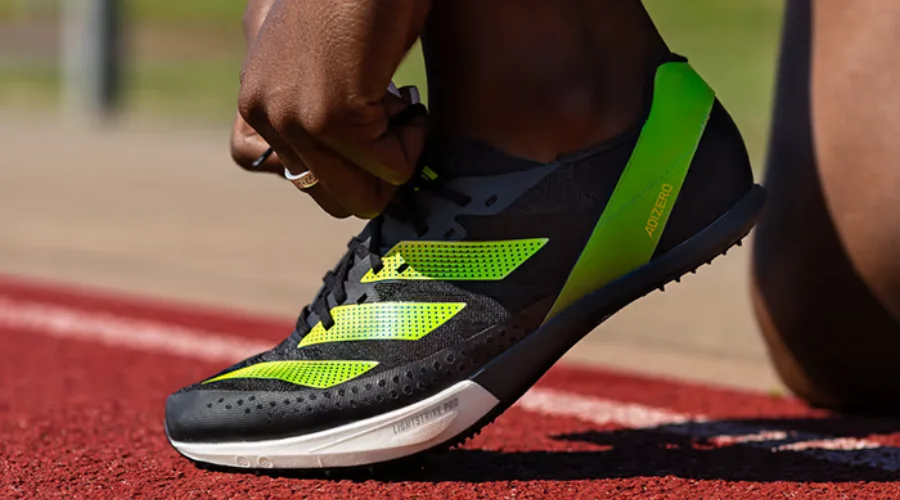 Lightweight Marvel: The very essence of "Adizero" encapsulates the lightweight essence of these shoes, preventing premature fatigue during runs.

Responsive Elegance: Adizero shoes frequently integrate responsive cushioning technologies that cushion impact and provide an energetic return, elevating both comfort and performance.

Breathable Brilliance: The shoes are meticulously engineered with breathable materials that facilitate temperature regulation and moisture management, ensuring a cool and dry foot climate.

Versatility Unleashed: Be it sprinting, endurance running, or training endeavors, the diversity within the Adizero line assures the availability of an apt choice for every kind of run.

Traction Dominance: Several Adizero models flaunt outsoles optimized for varied surfaces, guaranteeing impeccable grip and stability during your runs.
Is Adidas Adizero good for running? 
Yes, Adidas Adizero running shoes are highly regarded and considered excellent for running. The Adizero line is specifically designed to enhance running performance by incorporating innovative technologies, lightweight materials, and thoughtful design elements. Here are some reasons why Adidas Adizero shoes are considered good for running:
Lightweight Design: The "Adizero" name itself signifies the lightweight nature of these shoes. This design minimizes the weight on your feet, allowing for more efficient and less tiring runs.

Responsive Cushioning: Many Adizero models feature responsive cushioning technologies that provide a balance between impact absorption and energy return. This ensures a comfortable and lively feel with each stride.

Breathability: The shoes often incorporate breathable materials and ventilation features to keep your feet cool and dry during your runs, reducing the risk of discomfort or blisters.

Versatile Options: The Adizero line offers a variety of models tailored to different types of runners and running activities. Whether you're a sprinter, a long-distance runner, or a casual jogger, there's likely an Adizero shoe that suits your needs.

Enhanced Traction: Some Adizero shoes feature outsoles optimized for different types of surfaces, providing excellent grip and stability, even during quick changes in direction.

Sleek and Streamlined: The design of Adizero shoes often focuses on reducing unnecessary bulk while still providing essential support and cushioning, allowing you to feel agile and connected to the ground.

Advanced Technologies: Adidas continually incorporates cutting-edge technologies into their Adizero line, ensuring that runners benefit from the latest advancements in running shoe design.
---
The Pinnacle Dilemma: Is Adizero better than Ultraboost? 
The choice between Adidas Adizero and Ultraboost shoes is subjective and depends on individual preferences and running priorities. Adizero shoes are designed with a focus on lightweight performance, offering responsive cushioning and a snug fit ideal for speed-oriented activities such as sprints and races. On the other hand, Ultraboost shoes emphasize comfort and versatility, featuring plush Boost cushioning for both running and casual wear. While Adizero prioritizes agility and performance, Ultraboost combines cushioning with style and comfort. The decision between the two lines ultimately hinges on your specific running goals, preferred fit, and desired level of cushioning and responsiveness. It's recommended to try both options to determine which best aligns with your unique preferences and needs.
Conclusion 
Adidas Adizero shoes embody a philosophy steeped in innovation and uncompromising performance. With their diversified array tailored to varied running styles, they weave together lightweight design, responsive cushioning, and impeccable breathability. Whether you're a seasoned athlete or a novice enthusiast, Adidas Adizero shoes promise to be a catalyst in refining your running odyssey. They stand as a testament to the commitment to excellence, pushing boundaries, and embracing the thrill of achieving milestones on your fitness journey. For more information, visit CelebZero. 
FAQs