When you have the right essentials for your skin, they make a great impact on your skin. Whether you are a big fan of skincare routine or not, having the right cosmetic is important. This is especially for keeping your skin well-hydrated, smooth, soft, and enhanced after a shower. 
Dr Woods is one of the well-known brands when it comes to cosmetics related to soap, natural cleansers, and different types of shower bathing soap. These products are made from natural resources that promote the longevity of the skins. If you have been looking for the right soaps and cleansers for your skin, you have come to the right place. Dr Woods products are great for all types of skin. 
Discover what these products have and the ingredients used in the products that make your skin have a seamless glow and perfection. 
Top Dr Woods Products to Make Your Skin Glow Naturally: 
1. Dr Woods English Rose Bar Soap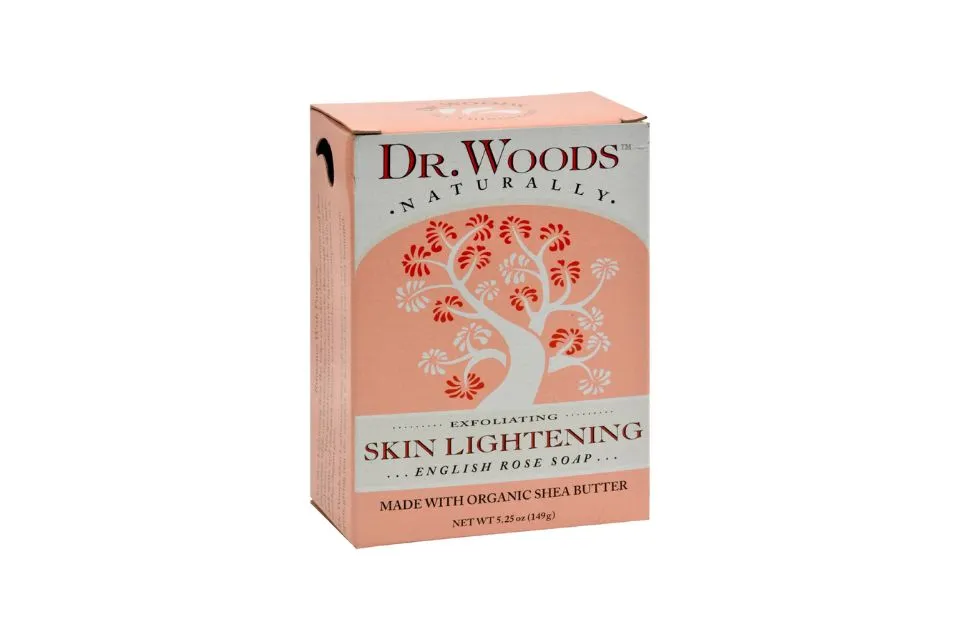 Your skin deserves to feel love every time you take a shower. The Dr Woods English Rose Bar Soap is a great natural soap that will give your skin a seamless natural glow. It's entirely up to you how you would like to treat your skin. Sustainable natural ingredients added to the soap will not only give your skin the natural glow, but you partake in making the environment sustainable. 
The brand uses the finest ingredients in the products that strive for the well-being of individuals and the earth. It's perfect for you and for your family to enjoy a healthy shower at home. The benefit of this soap is that it gives your skin a natural moisturization, gives a gentle natural glow, and blesses it with seductive fragrance. The ultra moisturization with shea butter keeps your skin to have an elegant glow. It promises to make your skin feel good. 
The General Ingredients used are:
Sodium palmate 

Sodium cocoate

Glycerin

Organic Butyrospermum larkii

Shea butter

Aqua water

Prunus armeniaca seed powder

Iron oxide

Rose canina

Fruit oil

Organic tocopherol 

Rosmarinus Officinalis leaf extract and more




---
2. Dr Woods, Tea Tree Castile Soap
Excite your skin with shower time with the Tea Tree Castile Soap made to give your skin ultra-softness and gentleness. The soap is made with natural ingredients and is 100% vegan so, the soap is perfect for everyone. Especially if you have oily skin the soap is a great blessing to your skin. The natural ingredients used help your skin have the natural glow it deserves. 
When you have the Tea Tree Castile Soap, your shower time becomes even more enjoyable. Let your skin feel the love and care it deserve. The soap is best for natural nourishment and deep cleansing from head to toe making your skin rejuvenated. Moreover, the use of natural antibacterial helps the skin with blemishes and keeps your skin looking vibrant. The presence of Vitamin E, Hemp oil, and Botanical extracts are great for therapeutic relief. Hence your skin is naturally hydrated. 
The general ingredients used are:
Aqua water

Cocos nucifera oil

Cannabis sativa seed oil

Olea europaea fruti oil

Sea salt

Melaleuca alternifolia leaf oil

Citric acid

Rosmarinus officinalis extract

Vitamin E




---
3. Dr Woods Facial Cleanser, Tea Tree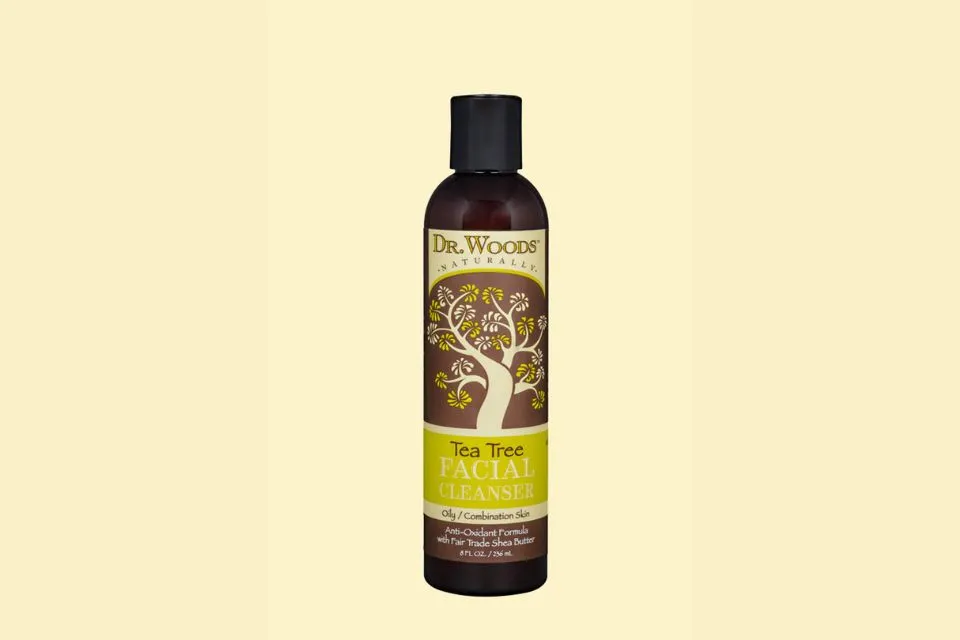 The best effective glow to your facial skin is using a facial cleanser made with natural ingredients. The Facial Cleaners Tea Tree is made by using natural ingredients. It's best recommended for those individuals who have excessively oily skin. It's a 100% vegan-free cleanser. 
If you are tired of oily skin, and blemishes on your skin, then it's time to get your dream of oil-free and blemish-free facial skin. This is a fantastic facial cleanser that helps to rejuvenate your facial skin fully and give you the natural glow that you have been longing for. Thanks to the shea butter, tree oil, and botanical extracts that allow your skin to have the radiant glow it deserves. Moreover, the facial cleanser is also great for anti-aging effective solutions. It's suitable to be used by both young and adults. Let your face enjoy the love and care it deserves. 
The General Ingredients used are:
Purified water 

Potassium cocoate 

Potassium olivate 

Leaf oil

Pinus succinifera extract 

Rosmarinus officinalis

Allantoin

Aloe vera leaf extract 

Vitamine E

Organic Shea Butter

Ascorbic acid and more




---
4. Dr Woods Almong Castile Soap
For having a natural glow and natural nourishment to your skin, the Dr Woods Almong Castile Soap is a 100% vegan. The soap is made to give effective deep moisturization, and deep-cleaning from head to toe, and pure almond oil is added to make your skin feel rejuvenated from skin irritation and balance the natural glow. 
The soap is made with Vitamin A, E, and D to give the maximum replenishment to your skin, in return helps any skin type from wrinkles, and irritation, and makes your skin look healthier and smoother. The soap is the best solution if you are looking for naturally made soap that best enhances the skin. The rich coconut and olive oil infused helps the skin, to have deep smoothness and effortless cleaning. The Almond Castile Soap helps your skin feel the love and care it deserves. The soap is suitable for use on the face, skin, and hair. 
The general ingredients used are:
Purified water 

Cocos nucifera oil

Cannabis sativa seed oil

Olea Europaea

Fruit oil

Tocopherol

Prunus Amygdalus amara

Kernel oil

Sea salt 

Citric acid 

Rosmarinus Officinalis extracts




---
5. Dr Woods, Activated Charcoal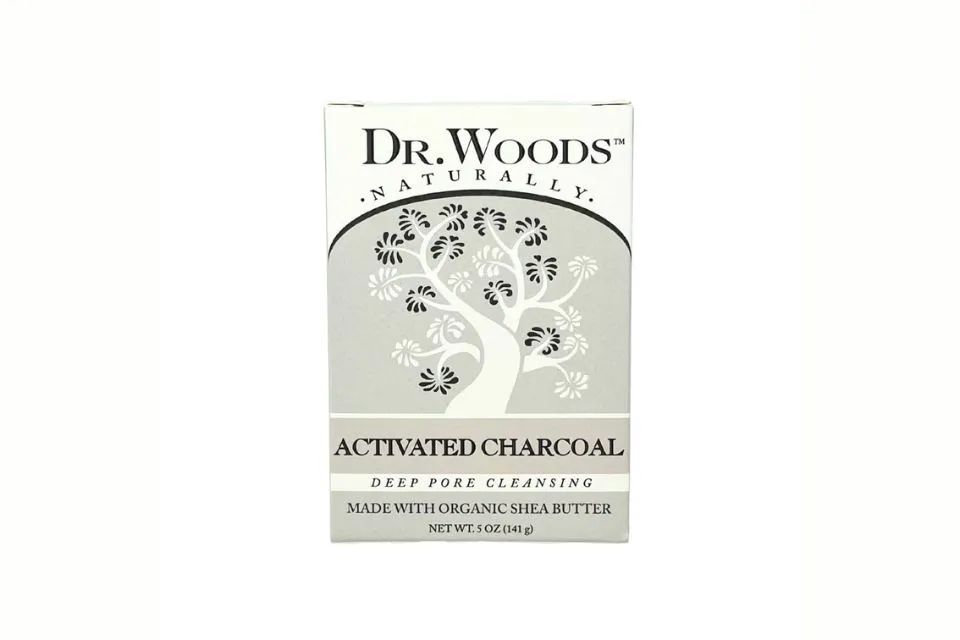 Dr Woods Activated Charcoal is a great cosmetic for the skin. It helps your skin look extra moisturized and thoroughly cleans your skin. The activated charcoal has been a popular ingredient for purifying any type of skin. With no harsh chemicals used, you can immediately feel the hype of the activated charcoal in your skin. 
The general ingredients used are:
Sodium Palm Kernelate 

Qua glycerin

Charcoal powder

Sodium chloride

Butyrospermum parkii

Cocos nucifera oil

Rosmarinus Officinalis lead extract 

Tetrasodium EDTA

Etidronic acid 

Cannabis sativa




---
Conclusion
iHerb understands the importance of healthy skin. It's crucially important to know that naturally made skin essentials are the best way to keep your skin well nourished. Dr Woods's skin products are great for achieving that natural nourishment your skin deserves. With absolutely vegan skin products and natural ingredients with no harsh chemicals used, Dr Woods's skin products on iHerb are excellent. For more information visit Celebzero. 
FAQs