Men's Polo shirts, originally worn by male polo players during matches, originated in the late 19th century. René Lacoste designed the first short-sleeved, soft-collared shirt in the 1920s, which gained popularity in the 1950s and 1960s with preppy fashion and celebrity endorsements.  
Men's polo shirts are one of those timeless classics that stand out and are loved for their adaptability and all-around attractiveness. These shirts were first created for athletic activities, but they have evolved through time to represent casual elegance and comfort for men of all ages. Polo shirts for men have established themselves as the preferred option for both informal and semi-formal occasions, providing the ideal fusion of comfort and stylish design. The stylish men's black polo shirt from Miravia ES offers something for everyone, whether you're a fashion fanatic or just want to upgrade your everyday appearance. 
Why men's Polo shirts are a must-have
1. Comfort:
Polo shirts are the perfect choice for a variety of settings, from casual outings to semi-formal gatherings, because they are made from soft and breathable fabrics like cotton or cotton blends that provide unmatched comfort.
2. Versatility:
 Men's polo shirts are the ideal blend of casual and formal, enabling you to go from a relaxed day out to a smart-casual evening event with ease. Polo shirts' timeless elegance ensures that you never go out of style when wearing one. They are simple yet stylishly constructed.
3. Wide Variety of Colors: 
Polo shirts are available in a variety of hues, allowing you to experiment and find the ones that best complement your character and skin tone.
4. Easy maintenance:
Polo shirts are often simple to maintain and can tolerate much washing, making them useful for daily wear.
Top 5 men's Polo shirts for an effortless look
1. Silbon – Navy Long Sleeve Classic Polo Shirt for Man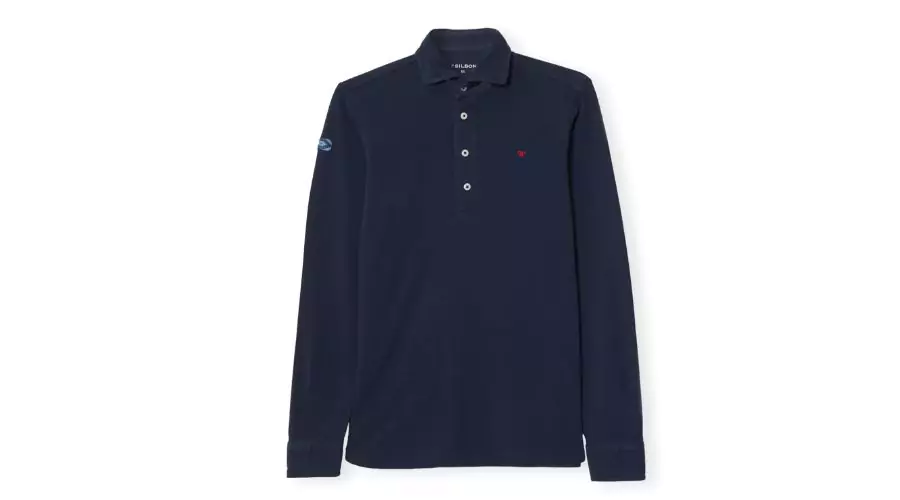 A perfect example of classic style and fine workmanship is the Silbon Navy Long Sleeve Classic Polo Shirt for Men. Because it is made of superior cotton, it guarantees an unrivalled level of comfort, making it perfect for all-day use. The immaculate stitching demonstrates the brand's commitment to delivering a defect-free product, which is demonstrated by the attention to detail. This polo shirt oozes sophistication and versatility thanks to its timeless style and premium material, making it an essential part of any man's collection.
---
2. Tommy Jeans Essential Pink Polo Shirt for Man 
With its smooth cotton fabric and pastel pink color, the Tommy Jeans Essential Pink Polo Shirt embodies effortless style and comfort. With an embroidered logo proudly displaying the brand's signature on the breast, this short-sleeved polo shirt exudes refinement. The company name is also beautifully embroidered on the garment's sleeve, giving this timeless item a subtle yet distinctive finishing touch. This is a must-have for any man's wardrobe because it looks great on everyone and is suitable for a variety of events.
---
3. Salsa Jeans Textured Polo Shirt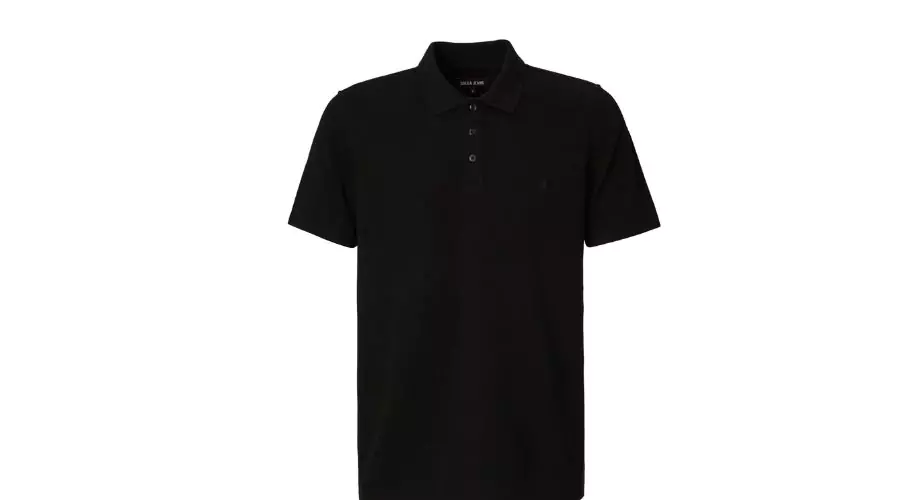 The sleek black Salsa Jeans Textured Polo Shirt delivers the ideal balance of fashion and comfort. This polo shirt lends a sense of refinement to any outfit thanks to its textured fabric construction. Its adaptability is enhanced by the buttoned collar, which enables both casual and semi-formal styles. It guarantees breathability and ease of movement thanks to the short sleeves. The shirt is discreetly embellished with brand details, giving this essential piece of clothing a chic finishing touch. The men's black polo shirt is a must-have item that easily fuses fashion-forward design with everyday functionality, whether you're dressing up or down.
---
4. Pink striped cotton short sleeve polo shirt for men – Koroshi
The pinnacle of modern fashion and comfort is the Pink Striped Cotton Short Sleeve Polo Shirt for Men. This polo shirt has a classic appeal that goes well with any casual or semi-formal ensemble thanks to its short sleeves and shirt collar. The blue colour provides a touch of refinement and versatility and is accented with discrete pink stripes. Since it is made entirely of cotton, it has a comfortable, breezy feel that makes it perfect for all-day wear. This is one of the best men's polo shirts that easily mixes fashion-forward aesthetics with unrivalled comfort. It is a wardrobe necessity for every modern man, whether you're looking for a casual weekend appearance or dressing up for a social gathering. 
5. Striped Sailor Polo Shirt INSIDE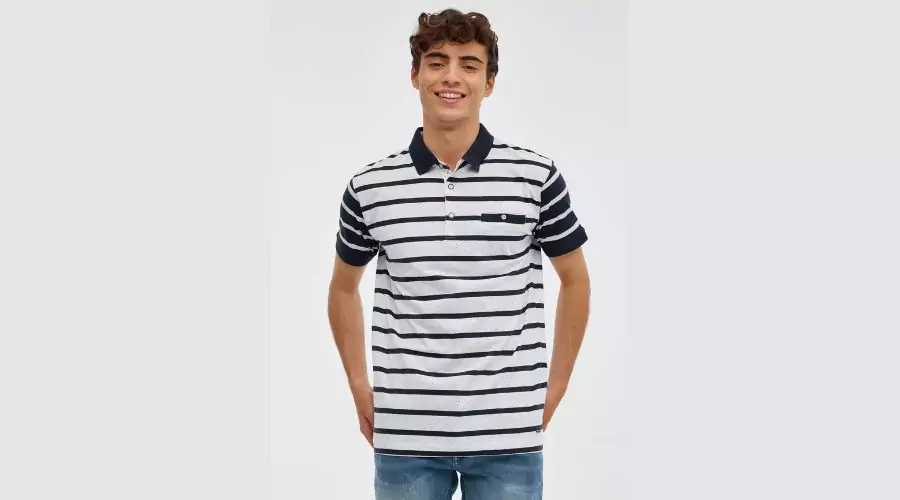 A trendy wardrobe staple that will make you stand out in any crowd is the Striped Sailor Polo Shirt INSIDE. With its modern striped pattern and short sleeves, this polo shirt gives your outfit a dash of urban edge. It is made of a high-quality cotton blend and has a traditional collar for optimal comfort on your skin. It flawlessly captures a contemporary and youthful vibe and was designed with young, hip people in mind. Its striped print makes it a flexible choice that is great for teaming with jeans or sweatpants for a casual yet stylish combination.
---
Conclusion
Men's polo shirts have established themselves as dependable and classic wardrobe essentials that seamlessly combine fashion, comfort, and adaptability. These shirts have endured the test of time and fashion trends, from their humble beginnings as sportswear to their transformation into a representation of timeless elegance. Their widespread use is due to the unrivalled comfort of soft fabrics, the elegant and sophisticated patterns that adapt to many settings, and the large variety of colours and styles that are offered to meet every person's preferences. So keep these timeless polo shirts close by in your closet; they'll surely up your style and make an impression everywhere you go. Visit Miravia and the official website of Celeb Zero for comprehensive details on men's polo shirts and to browse a wide range of fashionable selections.
FAQ's