Stick vacuum cleaners, also known as cordless vacuums, give you an easy and hands-free cleaning experience without having to fuss about carrying the wire all around the place. They are pretty lightweight and easy to manoeuvre and run on rechargeable batteries, so your only worry is charging them. With so many models available on Coolblue's website accompanied by numerous features, here are the seven best stick vacuum cleaners that you can invest in and enhance your living experience.
7 Best Cordless Vacuums to Get Your Hands On
Coolblue being the largest and most customer-friendly e-commerce company in the Netherlands provides the best solutions and branded appliances for all your cleaning problems. So, your search for the top stick vacuum cleaners ends here with Coolblue!
1. Samsung Jet 75 Pro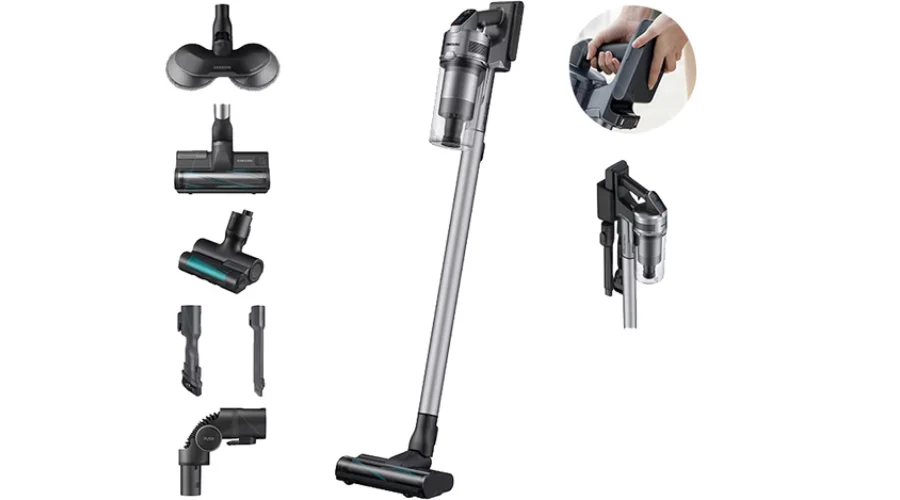 Samsung has always been a top player when it comes to providing cleaning solutions. And, this Samsung Jet 75 Pro is one of the best stick vacuum cleaners as it's more than just a vacuum. The device comes with a mopping function that includes a rotating floor attachment so that you can easily mop the floor after a good vacuuming session.
It provides a 60-minutes battery life for uninterrupted cleaning and is suitable for various floors like hard floors, wood floors, and high-pile and low-pile carpets. The stick vacuum is very versatile, comes with various accessories, and can also be quickly turned into a handheld vacuum for easy handling. It costs €429.
---
2. Rowenta X-Force Flex 11.60 RH9879
This limited edition Rowenta X-Force Flex vacuum provides 45-minute of battery life for effortless cleaning. Because of its flexible tube and additional crevice tool, you can reach both the top and bottom of any difficult spots that require scrubbing. The vacuum is suitable for hard and wood floors, as well high-pile and low-pile carpets.
The vacuum cleaner might make a bit of a sound, but with the added accessories like an upholstery tool and a mini turbo brush, you can easily remove any pet hairs from carpets or couches. The turbo brush also comes with LED lighting, so you don't miss a single spot in the dark. The article costs only €277, so hurry up before it gets sold out.
---
3. AEG AP81A25COM 8000 Ultimate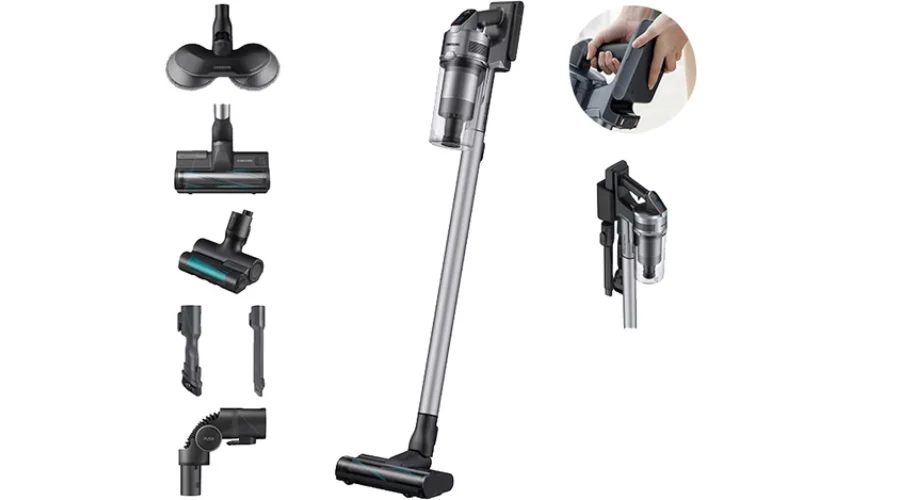 With a battery life of 35 minutes, this AEG 8000 Ultimate is one of the best stick vacuum cleaners you can invest in. The device comes with many accessories, including a mini turbo brush made especially to clear out all the pet hairs from rugs or sofas. It is made for both delicate and hard floors, along with high-pile and low-pile carpets.
You can even use your foot to easily switch the device on and off with a single click. The device comes with an auto suction option as well. The LED light attached to the device provides you with better visibility in darker places to clean, like under the couch or your bed. You can purchase this article on Coolblue's website for €549.
---
4. Philips AquaTrio Series 9000 XW9383/01
This Philips AquaTrio Series lets you vacuum all the wet and dry places, so you don't need to clean the places later on with a damp cloth. The device comes with 2 stick vacuums, one of which mops and vacuums simultaneously, and the other only vacuums. All you need to do is fill up the water tank after vacuuming, and you can activate the automatic cleaning mode.
It works best on hard and wooden floors, along with low-pile and high-pile carpets, and you'll not find a single pet hair left after the cleaning session. Use the multi-surface tool with LED lights to clean and maintain the darker and more difficult-to-reach places. The device might be a bit expensive costing around €849, but it's surely a lifetime investment.
---
5. Miele Triflex HX2 Racer Lotus White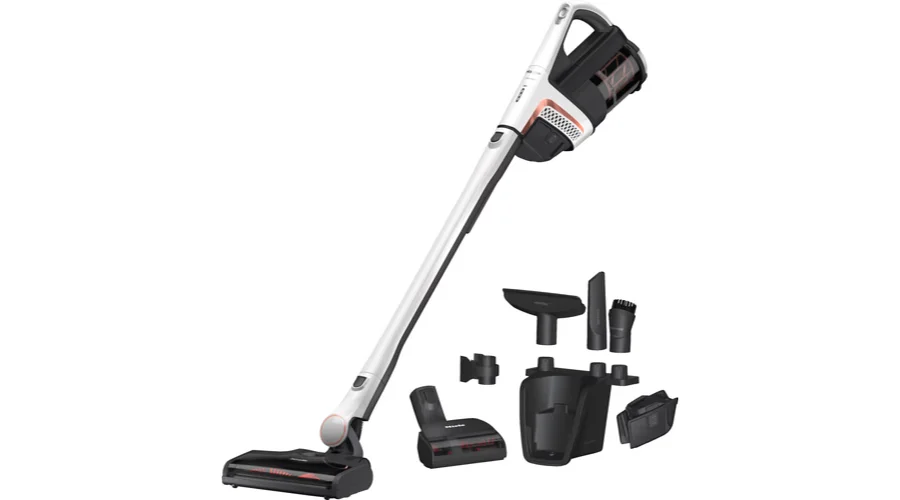 For those who need extra battery life for an uninterrupted cleaning session, this Miele Triflex HX2 Racer Lotus White is a worthy find. Not only you can extend its battery life from 60 to 120 minutes but you also get a Hygiene Lifetime filter with the device that collects up to 99.99% of dust particles.
So, whether you want to vacuum hard or delicate surfaces or reach places where your hand cannot go, this Miele Triflex, along with its useful accessories, is surely one of the best stick vacuum cleaners to explore. It only takes a single click to empty the dust container and you can easily store it on the wall charger. The article costs €692.
---
6. Dyson V11 Extra
This sleek Dyson V11 Extra vacuum gives you complete freedom of move it when vacuuming anyhow you'd like. It truly is one of the best Dyson stick vacuum cleaners that comes with a 60-minute battery life enough for one cleaning session. It is suitable for all floor types and comes with many accessories that let you clean your floors, baseboards, furniture, crevices, and even the edges of your wall ceilings.
It comes with a dust collector that needs emptying from time to time for effortless vacuuming. You can simply leave it on the wall charger when not in use. This Dyson article costs around €549 making it a worthy spend.
---
7. Bosch Unlimited Serie 6 BBS611BSC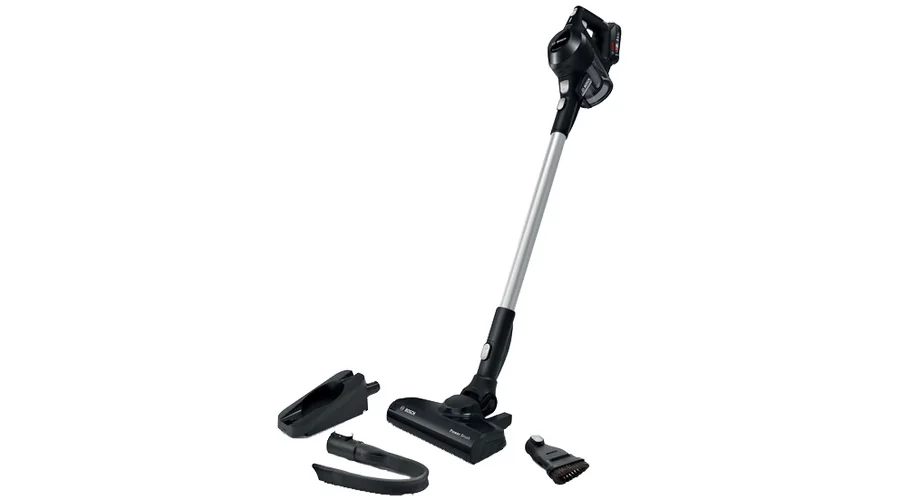 Clean your house thoroughly without leaving a single dust particle with this Bosch Unlimited Serie 6 vacuum cleaner. Being one of the best stick vacuum cleaners of Bosch, it gives you an uninterrupted vacuuming session of around 35 minutes. With additional accessories like an upholstery tool and dusting brush, you can quickly remove away all the dirt from your furniture.
The article is good for cleaning hard and wooden floors along with low-pile carpets. For more suction power, you can even switch to its turbo mode. That way you can clean the entire apartment without even touching any dirty surface. It is one of the most affordable cordless stick vacuum cleaners that you can purchase from Cooblue at €249 only.
---
Conclusion
With so many amazing stick vacuum cleaners available in the market, finding the best one that suits all your needs might be challenging and time-consuming. To save you from going through tons of research, this article incorporates some of the best branded cordless stick vacuum cleaners that are worth spending on. So, take a look at the abovementioned items offered by Coolblue at competitive prices and take your pick. For more information, visit Celeb Zero.
FAQs