When planning a vacation at a beachy place, wearing the right beachwear for women can say a lot about your sense of style and confidence. To help you find the best possible outfit, Matalan offers a variety of dresses to choose from at pretty affordable prices. But, we jump into determining which beachwear will look great on you, let's figure out what things you should consider before investing in one.
What should you consider before Purchasing Beachwear for Women?
To make your beachwear look like a seamless purchase, here are four important things that you should surely consider before investing in one.
1. Correct Fit
Most people don't know their correct size and then struggle later as they don't get their desired outlook from the swimwear fit. So, start by measuring your bust, waist, and hips first to understand your size, and try different bathing suits to find the perfect one that looks stunning on your body and even accentuates your curves.
---
2. Right Type
Now that you know your right size, it's time to find the ideal type of beachwear for women to invest in. Depending on the occasion for which you are purchasing a suit, like for a beach party, or for simply lying on the beach-soaking sun, you need to pick the right type. For illustration, a full-length thick swimsuit with thick straps would be ideal for surfing, while a string bikini would look great for a tanning session.
---
3. Materials Used
Fabrics and colours are crucial when it comes to picking the right beachwear for women. If you invest in darker shades, they give you a slimming shape. Also, don't opt for thinner fabrics as they could become translucent when wet. So, go for the high-quality darker hues to get a desired beachy appearance. Also, when making a purchase try stretching them to ensure their quality.
---
4. Try a Size up
Always try the perfect size along with one larger size, so that you compare the fit and how they look on you. When you pick two sizes, you can easily see the difference between how opting for the right size accentuates your assets while the bigger or smaller size wouldn't do much justice to your body shape. You can also try a smaller size to find the perfect fit instead of going up a size.
---
Which beachwear should women invest in?
1. Monochrome Wave Print Jersey Kaftan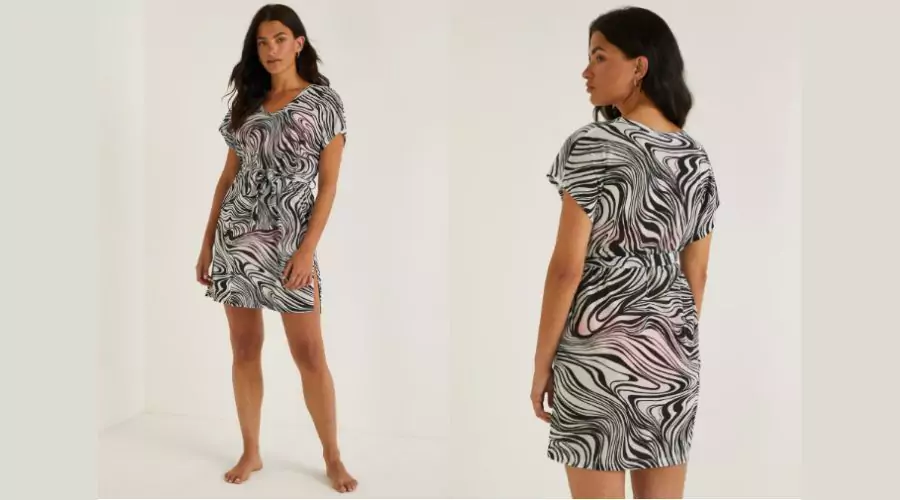 Head to the beach in this stylish Monochrome Wave Print Jersey kaftan, which is very lightweight and breathable to wear. The printed beachwear for women comes with a monochromatic colour palette, providing a timeless appeal, along with a comfy V-neck design and a practical tie at the waist to cinch it.
It is a perfect cover to throw over your bikini and pull off vibrant attire for a beachy day. Made with 100% polyester, this article is pretty durable and a practical purchase to make. It is available in a Medium size for a cost of £9.50 only.
---
2. Pink Crochet Look Long Beach Dress
This Pink Crochet long beach dress is perfect for layering up on a gorgeous bikini set and yet showing hints of it from beneath. The sheer, long, and flattering beach dress is just the ideal find you need for spending a lazy and relaxing day at the beach. You can even style it for a beach party with a big hat and some flats to go with the dress.
With a neckline that provides that extra feminine touch to the dress along with a crochet-look design, this pink beach dress offers an elegant outlook. The broader straps give your shoulders ample space to breathe when the temperature rises. It cost only £9.50.
---
---
3. White Double Cloth Beach Dress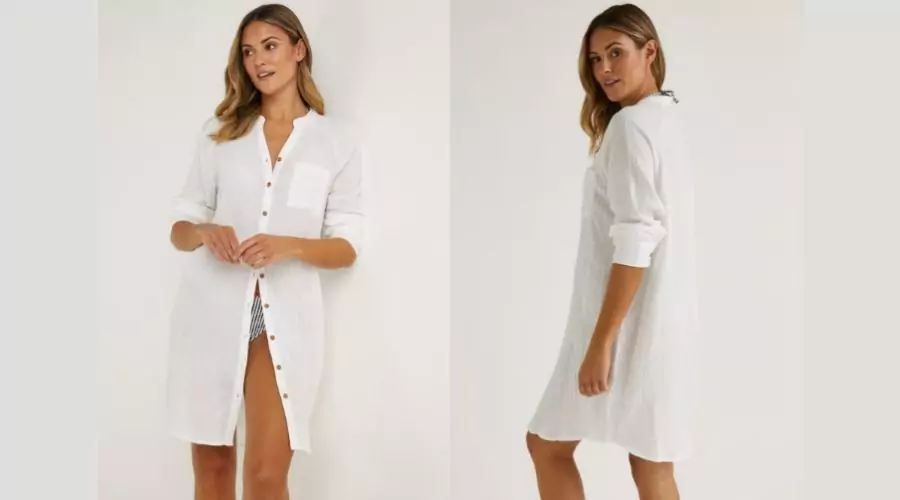 A versatile piece that can be either worn as a beachy dress or even a regular dress for going out on brunches or dinner dates. This White Double beach dress with long sleeves is a classic find to have in your wardrobe. Designed with double cloth fabric, the beachwear for women offers a lovely and softer touch.
To add to the styling points, the dress comes with a relaxed collar and contrasting buttons, making it the perfect swimwear fit for women. The cotton article is available in various UK sizes ranging from M-XXL and costs £19 only.
---
4. Multicoloured Print Trousers
While everybody loves a sexy beachwear dress, these multicolored Print trousers are an amazing find for curating a unique, playful outlook. This super comfy pair features wavy prints in a fabulous array of colours and comes with stretch to the waistband and a drawstring in the front.
You can either pair it with a cami top and flats for a comfy look or simply wear a stylish bralette and slippers for relaxing on the beach. This sheer, polyester beachwear for women is available in XS and S sizes to choose from for a cost of £9 only.
---
Conclusion
When it comes to finding the perfect beachwear for women that offers a stunning beachy look, Matalan has a range of articles to pick from. And, what's best is that they easily fit your budget, as the platform offers quite reasonable rates. So, check out the online shopping portal and take your pick right away. For more fashion advice, visit Celebzero. 
FAQs