The Audi S5 is a wolf in sheep's clothing. It looks like a stylish and luxurious sedan, but it is actually a high-performance sports car with a powerful engine and a thrilling driving experience. If you, too, find yourself captivated by this car, you've arrived at the perfect destination. In this blog, we will share a comprehensive insight into the Audi S5. From its prowess in performance and technology to its captivating design and price range, delve into the complete essence of this remarkable automobile below! 
Audi S5 Performance Overview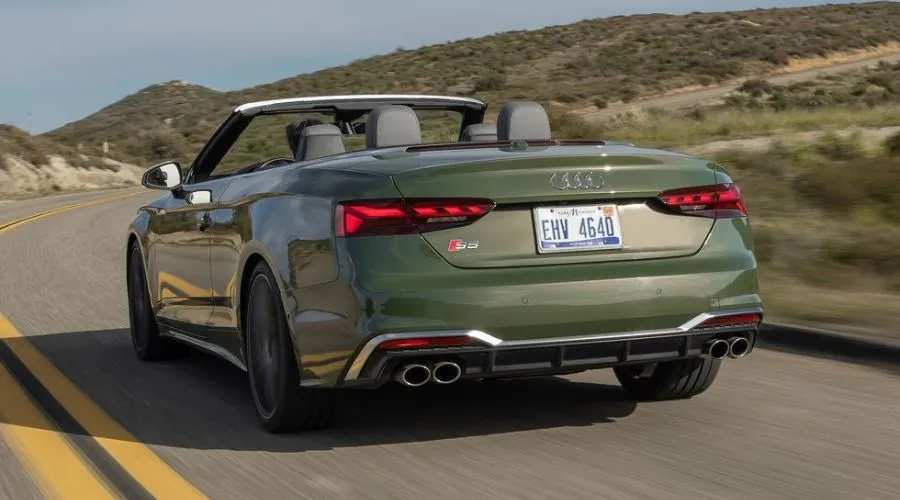 The Audi S5 boasts a 3.0-liter turbocharged V6 engine generating 349 horsepower and 369 lb-ft of torque. This powertrain partners with an 8-speed automatic transmission and Quattro all-wheel drive. Accelerating from 0 to 60 mph in a mere 4.4 seconds, it achieves a top speed of 155 mph.
The S5's performance is not only impressive but also distinguished by its refinement and comfort. The engine operates with a smooth and hushed demeanour, complemented by seamless transmission shifts. In diverse weather conditions, the Quattro all-wheel drive system ensures remarkable traction.
Several driving modes are at your disposal with the S5, including Comfort, Dynamic, Individual, and Efficiency. From the laid-back Comfort mode to the assertive Dynamic mode and even customizable settings in Individual mode, you can have a flexible driving experience.
Furthermore, the S5 features an adaptable sports suspension offering different firmness levels. While delivering an engaging drive, the sports suspension can be a bit unforgiving on uneven roads.
In short, the Audi S5 effectively blends performance, sophistication, and comfort. It's an optimal choice for those seeking a high-performance sports car that's equally suitable for daily driving. Here are some key technical specifications of the Audi S5's performance:
Engine: 3.0-liter turbocharged V6

Horsepower: 349

Torque: 369 lb-ft

Transmission: 8-speed automatic

Drivetrain: Quattro all-wheel drive

0-60 mph: 4.4 seconds

Top speed: 155 mph

Fuel economy: 24 mpg city / 30 mpg highway
Comparatively, the Audi S5's performance aligns with other luxury sports cars in its class, like the BMW M340i and the Mercedes-AMG C43. Although the S5 possesses slightly less power than these competitors, it compensates with better fuel efficiency. Moreover, the advantage of the S5's Quattro all-wheel drive shines through in slippery conditions.
Technology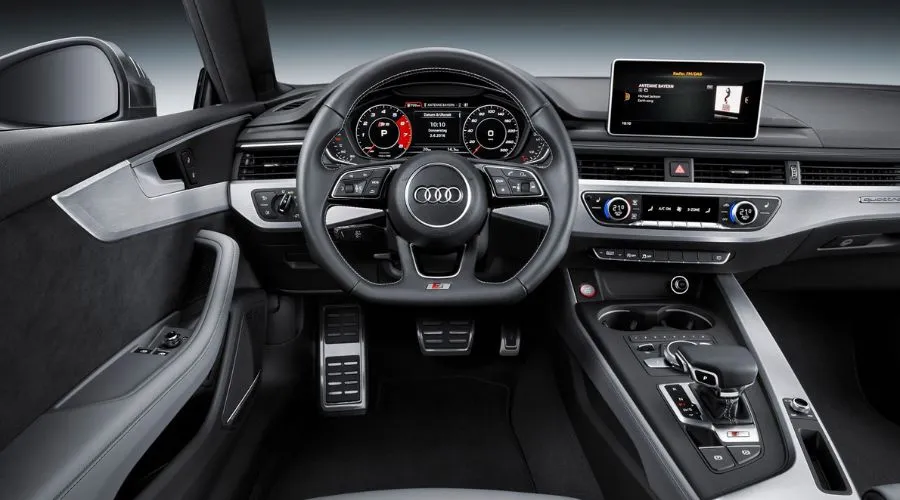 The Audi S5 comes packed with an array of advanced technological offerings as standard. These encompass a 10.1-inch touchscreen infotainment system, a 12.3-inch digital instrument cluster, a premium Bang & Olufsen sound system, and a convenient head-up display. Navigating the infotainment system is user-friendly, and it seamlessly integrates with both Apple CarPlay and Android Auto. The digital instrument cluster offers a wealth of information to drivers, including driving modes, navigation guidance, and performance metrics.
When it comes to safety, the S5 doesn't disappoint. It includes standard safety features like forward collision warning, automatic emergency braking, lane departure warning, and blind spot monitoring. These features assume a crucial role in averting potential accidents and ensuring the utmost safety of the driver.
Audi S5 Design Overview
Exterior Design
The Audi S5 boasts an elegantly sporty exterior design, characterised by its broad grille, angular headlights, and meticulously sculpted bodywork. The front fascia is highlighted by a sizable honeycomb grille with the S5 logo at its core. The LED headlights with dynamic turn signals add an extra touch of visual allure. On the sides, you'll notice a gracefully sloping roofline and muscular contours. The rear of the vehicle showcases a broad LED taillight bar and a quad exhaust system. The S5 offers a range of colours, including black, white, silver, red, blue, and green, with the option to enhance the exterior with features like a carbon fibre package, a panoramic sunroof, and 20-inch wheels.
Interior Design
Inside the Audi S5, a luxurious and comfortable interior welcomes you with premium materials and meticulous detailing. The centrepiece of the dashboard is the 10.1-inch touchscreen infotainment system, complemented by a 12.3-inch digital instrument cluster. The seats, upholstered in leather, are not only heated but also ventilated, ensuring a high level of comfort. A standard Bang & Olufsen sound system elevates the auditory experience.
The Audi S5 interior can be tailored to your preferences, offering options like a sporty steering wheel, a head-up display, and upholstery in Nappa leather.
Audi S5 Availability & Price
The 2023 Audi S5 is readily available in the market, presented in both coupe and Sportback body styles. The coupe variant provides a choice between the Premium Plus and Prestige trim levels. On the other hand, the Sportback model comes in three trim levels: Premium Plus, Prestige, and Black Optics Edition. The entry-level pricing for the 2023 Audi S5 coupe is set at $52,900, while the Sportback version commences at $54,400.
The Audi S5, recognised as a high-performance luxury sports car, resides within a higher price range. Yet, it offers a compelling fusion of performance, luxury, and cutting-edge technology. If you're in search of a versatile vehicle that excels on multiple fronts, the Audi S5 certainly warrants serious consideration.
5 Reasons why Audi S5 is a great investment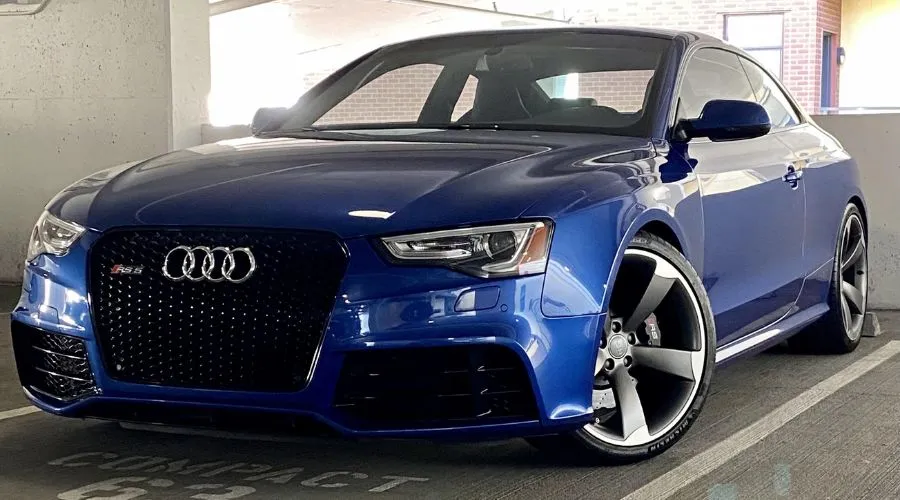 Powerful and efficient engine
Equipped with a 3.0-litre turbocharged V6 engine, the Audi S5 strikes a balance between power and efficiency. With 349 horsepower and 369 lb-ft of torque, it sprints from 0 to 60 mph in a mere 4.4 seconds. Remarkably, this engine also maintains commendable fuel efficiency, achieving an estimated 23 mpg in city driving and 30 mpg on the highway.
Refined and comfortable ride
Experience a refined and comfortable journey courtesy of the S5's finely-tuned suspension system. It seamlessly maintains a smooth ride even on uneven surfaces without compromising the car's ability to confidently navigate corners.
Advanced technology features
The Audi S5 is adorned with an array of cutting-edge technological features as standard. These encompass a 10.1-inch touchscreen infotainment system, a 12.3-inch digital instrument cluster, a premium Bang & Olufsen sound system, and a conveniently positioned head-up display. The user-friendly infotainment system seamlessly integrates Apple CarPlay and Android Auto, while the digital instrument cluster furnishes crucial driving data and performance metrics.
Stylish and luxurious interior
Step into a realm of luxury within the interior of the Audi S5, where top-tier materials and meticulous craftsmanship take centre stage. The cabin's fit and finish exude an exceptional standard, further amplifying its overall allure. The thoughtfully designed seats provide both comfort and support, ensuring an inviting experience for both front and rear passengers, with ample space to relish.
Both the coupe and Sportback body types are available.
Tailoring to your inclinations, the Audi S5 offers two versatile body styles: the coupe and the Sportback. Opt for the coupe for an infusion of sportiness and enhanced style, or select the Sportback for an added dose of practicality without forgoing its inherent elegance.
3 Reasons why you might want to rethink about Audi S5
Steep price tag
The Audi S5 bears a notable price point. Starting at $52,900 for the coupe and $54,400 for the Sportback, it's positioned in the higher range of the market.
Small trunk (coupe)
The coupe rendition presents a compact trunk space of merely 10.9 cubic feet. For those requiring ample luggage room, this might pose a constraint, especially during scenarios where a substantial amount of baggage needs to be accommodated.
Not as practical as some rivals
In contrast to some of its counterparts, like the BMW 4 Series Gran Coupe and the Mercedes-Benz C-Class Coupe, the S5 might not be as pragmatic. These alternative vehicles offer heightened rear legroom and cargo capacity, making them more practical choices.
---
Also, Read- What Are The Top Options Available For The Best Cars Under 50k In The Market?
---
Conclusion
The Audi S5 appeals to those seeking a luxurious, high-performance sports car with advanced technology. It boasts an exciting driving experience, a stylish interior, and numerous standard features. If you're in the market for a sports car, the Audi S5 is definitely worth exploring. Its striking appearance and opulent feel can leave a lasting impression. To stay updated on automotive news, visit Celebzero.
FAQs