'Prints are for the summer' is a common perception. Well, not anymore. From soft hues to vivid patterns and colours, designers try different pallets, patterns, and combinations to make prints an everyday style statement. Be it a party, a wedding or a formal occasion, prints are easily combined with different permutations and combinations to make the look breezy.
Print dresses are a forever favourite, be it a mini dress or a bodycon pencil dress. Best print dresses bring out an individual's personality more vividly and make one feel comfortable. A print dress will be a great option for a long day. For parties and special occasions, prints also bring out that festive feel. In the past, the colour patterns used in the best print dresses would most likely belong to a pastel palette; until now, bright spring colours have been a go-to choice for fashion experts.
However, one must not go overboard while selecting the right print for your outfit. It has been a trend in recent times to use a print-on-print. However, if not appropriately gelled with the apparel fit and occasion, it can be a fashion disaster.
Selecting the best print dresses for yourself as per occasion can be tiring. However, here are some of the best picks from Karen Millen that will help you to flaunt elegance, beauty and your bubbly spirit.
List of the best Print Dresses from Karen Millen
Here are some trending picks that would make selecting the best print dresses for any occasion easy.
1. Bloom Print Maxi Prom Dress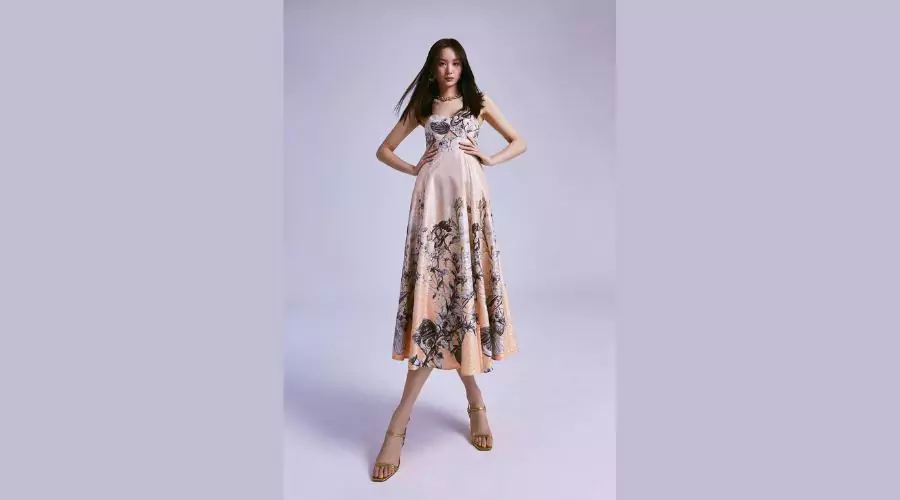 This exclusive design is in collaboration with botanical artist Rui Jiang. Rui's elaborate designs have been exquisitely embossed and artistically placed all over the fabric to make it a fashion statement. Nothing less than a beautiful painting, this Bloom Print Maxi Prom Dress adds a whole new meaning to the floral print dress genre. Manifesting in the metallic jacquard fabric gliding smoothly over your curves makes you look elegant and comfortable. Its one-of-a-kind hydrangea bloom pattern provides an exquisitely detailed finish. Its slender shoulder straps, unique front cut and perfectly waist-fitting midi skirt make it for a modern-day romantic look.
Proceed to wear this beautiful print dress with golden strapped heels and enjoy the attention everywhere.
---
2. Hydrangea Bloom Print Midi Dress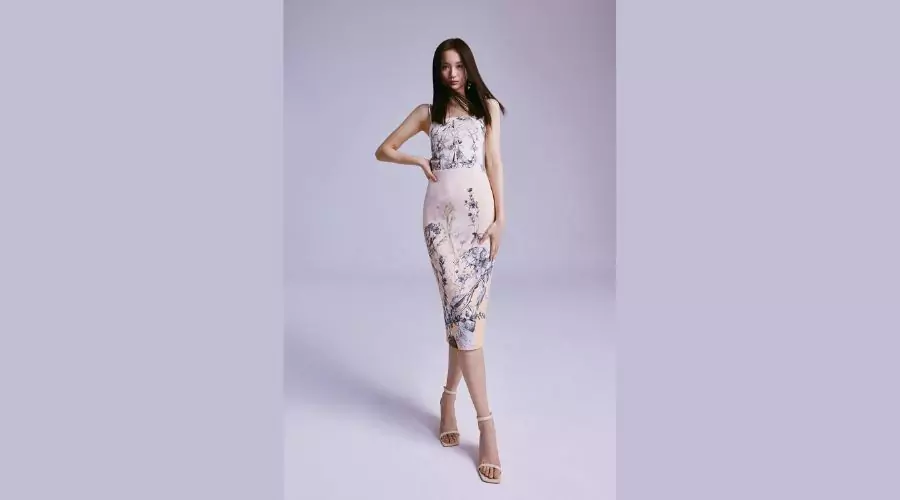 The dress is another classic inspired by Rui Jiang's botanical artistic designs. Looking at the dress would automatically arouse a feminine urge to buy it. This sleek pencil print dress hugs your curves in all the right places, making you look elegant. You will feel beautiful like never before, but this time more from the inside. 
This sleek pencil dress design perfectly matches with hourglass figures. You can freely flaunt the hydrangea print with a detailed finish and a strappy shoulder fit. The fabric is smooth inside out as it glides over your body, engulfing it elegantly. This midi dress is a perfect match for you.
---
3. Botanical Border Print Dress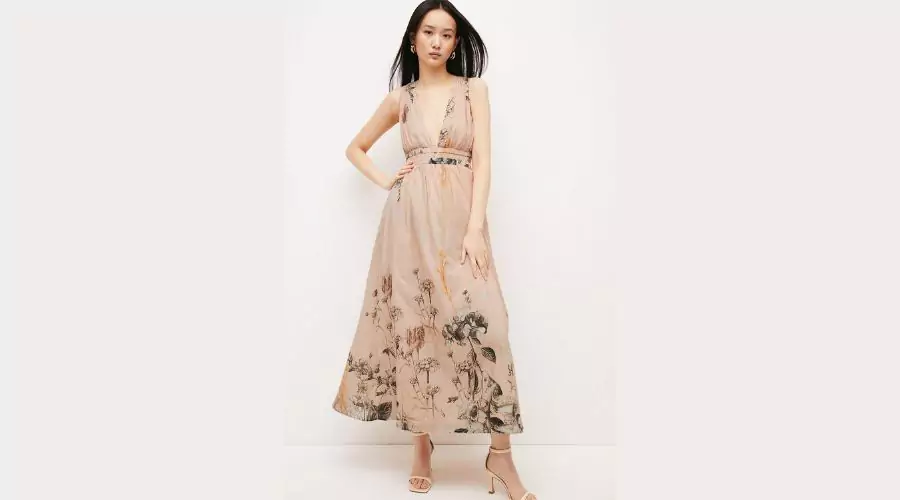 This silk and cotton Botanical Border Print Dress is made especially for hot summer days and carries a detailed floral bloom design. It is part of Karen Millen's new collection and a style statement. This dress would bring a fresh breath of life to your summer closet collection.
With a deep V-shaped neckline, this dress hugs your waist to the inch and flows on into a floral skirt. Its champagne look brings in all the modern-day romance, especially for the hazy summers. This dress is a perfect fit for a date or hazy summer outings. It is one of the best print dresses in the exquisite collection of Karen Millen in collaboration with Rui Jiang.
Complete the look with soft rose gold strappy sandals, and let the dress talk.
---
4. Animal Printed Midi Pencil Dress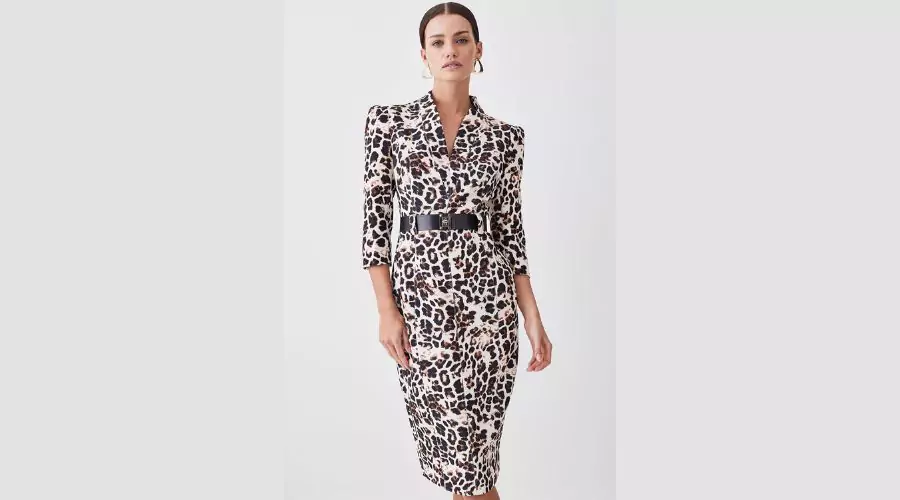 This crepe pencil animal print dress is a match made in heaven for hourglass body types. With broad yet elegantly sleek shoulders, this dress brings a highly classy and professional look. Appropriate in a formal setting, this dress will make a lasting impression if you are about to give presentations or attend meetings.
With short sleeves, this dress hangs off your shoulders and waist artistically. The dress hugs around the waist tight enough to make you feel comfortable. It comes with an in-built belt that accentuates your waist quite decently. Further, it flows down your waist to the hemline at your knee in a perfectly romantic manner. The dress brings out your strong personality as a working professional yet maintains your feminine elegance. To complete the look, combine it with strappy black sleek heels, and you are good to go. It is one of the best animal print dresses Karen Millen has yet to offer.
---
5. Batik Print Woven Maxi Dress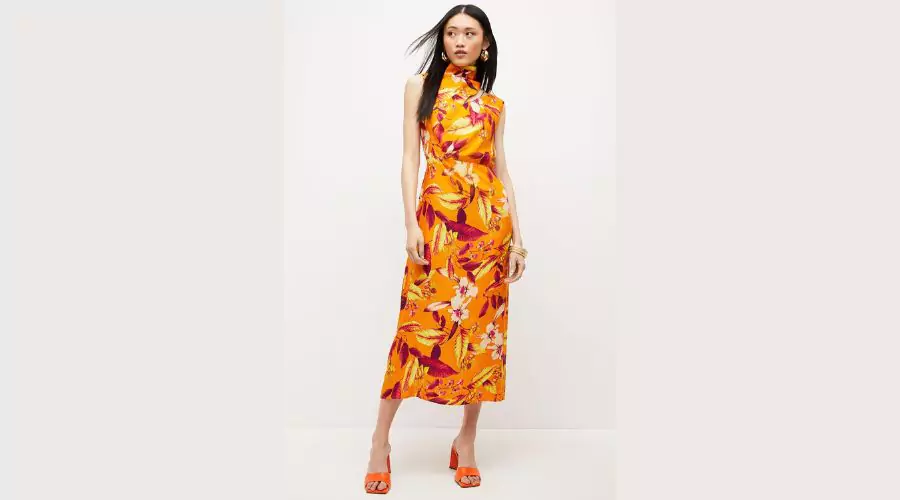 If you love playing with colours, a one-of-a-kind colour pop dress is a sure choice. Perfect for a summer evening or a bright sunny party, this batik print woven maxi dress is perfect for those who love flowy apparel material. It comes with a premium viscose linen blend which makes it summer-ready. It has a unique high neckline with an asymmetric cut-out. Perfectly gathered around the waist, the maxi skirt precisely accentuates your waist. One of the best print dresses in the collection, this is a state-of-the-art style statement.
---
Conclusion
Many fashion brands sell cheap print dresses everywhere; however, exquisite fashion comes at a price. The best print dresses deserve elaborate pricing. For more information on the best print dresses, visit Karen Millen and the official website of Celeb Zero.
FAQ's