The Air Jordan 7 collection by Stadium Goods presents a compelling fusion of history and fashion, reflecting the enduring popularity of this legendary sneaker design. This collection honours the sneaker's lengthy history and lasting appeal with a focus on important iterations like the "Citrus" and "Retro" versions. The 1992-era Air Jordan 7 has a distinctive look distinguished by its elaborate paneling and neoprene inner sleeve in the style of the Huarache, providing a snug fit and outstanding support. Sneaker aficionados can delight in the marriage of performance and fashion that characterizes Air Jordan's history due to the selection of colours and editions curated by Stadium Goods. 
The Top 5 Recommended Air Jordan 7 Shoes: 
1. Air Jordan 7 "Chambray"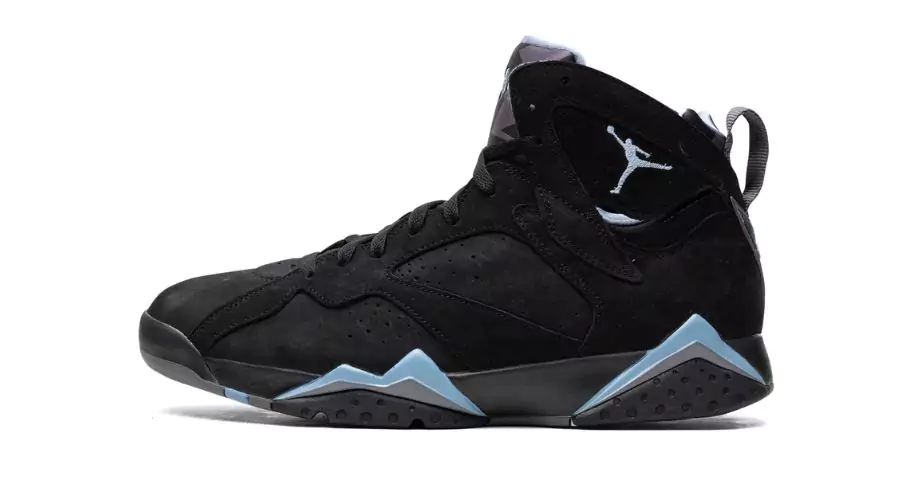 The Air Jordan 7 "Chambray" is noteworthy for being an early non-original colorway of the Jordan 7 line and drawing inspiration from the well-known "UNC" colour scheme connected with Michael Jordan's tenure as a student at the University of North Carolina. A sleek black nubuck upper with "Chambray" blue highlights to reflect the collegiate ambiance and Light Graphite (grey) embellishments to finish it off distinguishes the 2023 version from the 2006 debut. This model, which debuted on July 15, 2023, is a tribute to Jordan's past and his college roots.
---
2. Air Jordan 7 Retro "Flint 2021"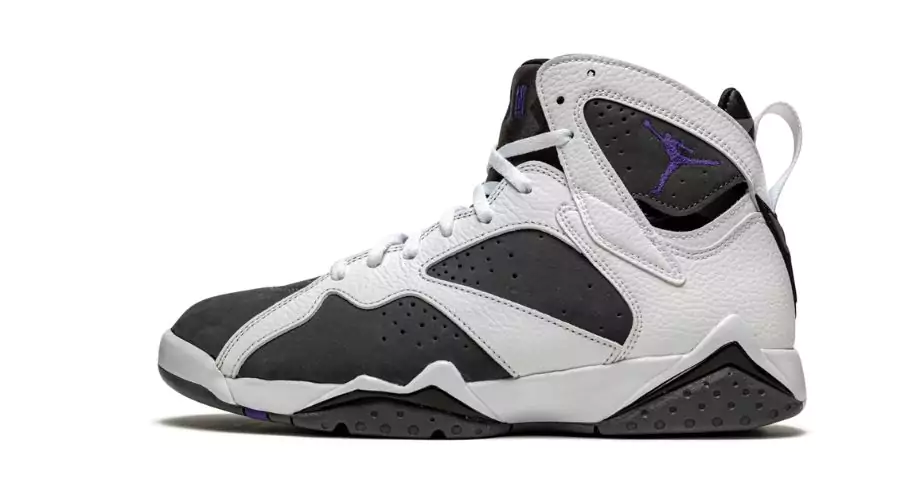 The Air Jordan 7 Retro "Flint 2021" is a reincarnation of Michael Jordan's seventh trademark shoe. The shoe, which was re-released in May 2021, has a luxurious grey suede upper with contrasting white leather overlays in strategic places. This recognisable colour combination was a trailblazer in the transformation of Air Jordans into lifestyle-oriented designs, exhibiting adaptable colour schemes and materials appropriate for off-court attire. Purple "Air Jordan" stitching and a purple Jumpman emblem are displayed on the multicoloured nylon tongue. The sock-like bootie structure provides comfort and support, combining fashion and function.
---
3. Air Jordan 7 Retro "Hare 2.0"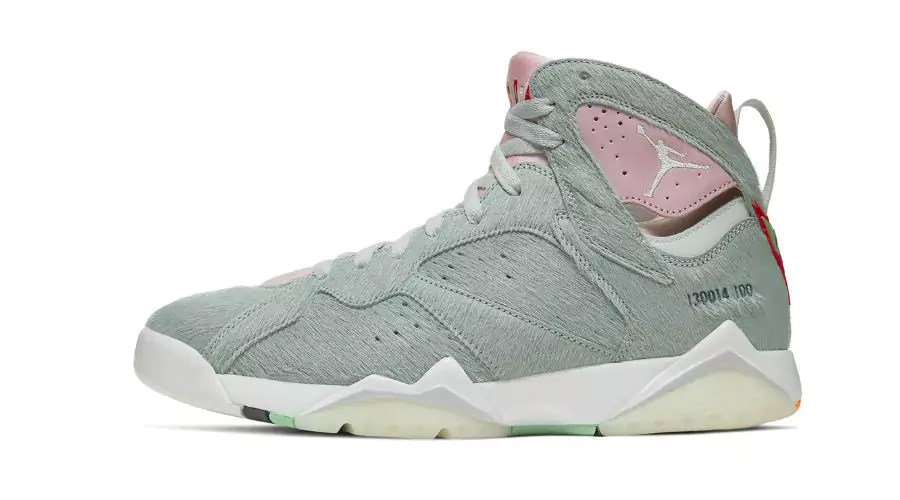 The Air Jordan 7 Retro "Hare 2.0" is an affectionate return of the "Hare Jordan" concept, a playful homage to the adored Bugs Bunny cartoon character. The forefoot, mid-panel, and collar are covered in light green fur overlays that make the design stand out. The tongue and collar are accented with soft pastel pink leather, and the heel skillfully demonstrates the "Hare" design's style code. The shoe is finished with a white midsole and a translucent outsole as a homage to Bugs Bunny's continuing influence on sneaker culture, creating a distinctly colourful and alluring appearance.
---
4. Air Jordan 7 Retro PS "Citrus 2022"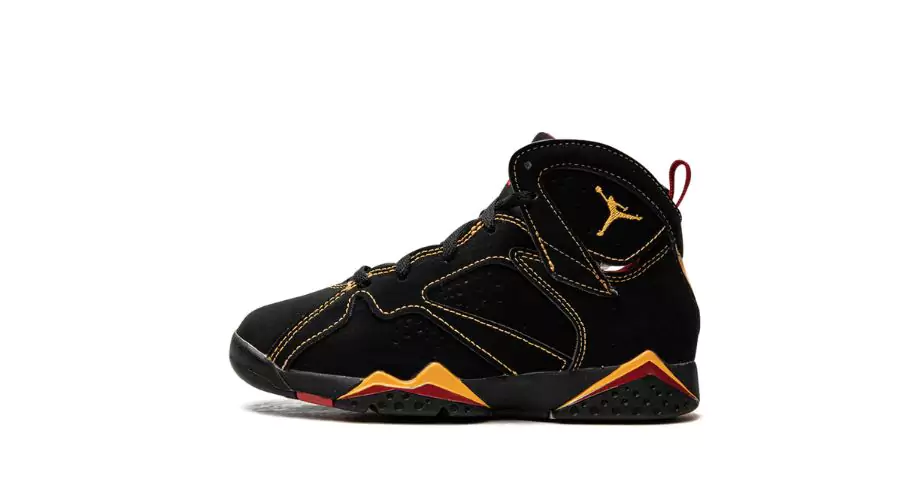 A popular style of the Air Jordan 7 Retro PS "Citrus 2022" shoes for kids was first introduced in 2006, and it returned in 2022 to celebrate the 30th birthday of the Jordan 7. With a black synthetic nubuck top, distinguishing yellow stitching on each overlay, and red accents on the sock lining and midsole, the modern "Citrus" version remains true to the original concept. While the collar proudly displays a vibrant Jumpman insignia in Citrus, the heel proudly shows the iconic "23" branding. The Air Jordan 7 for kids is finished off with red "Air Jordan" embellishments on the black neoprene tongue. The "Citrus 2022" in preschool size honours the past while giving the tiniest sneaker aficionados a stylish and comfortable option.
---
5. Air Jordan 7 Retro WMNS "Bephie's Beauty Supply"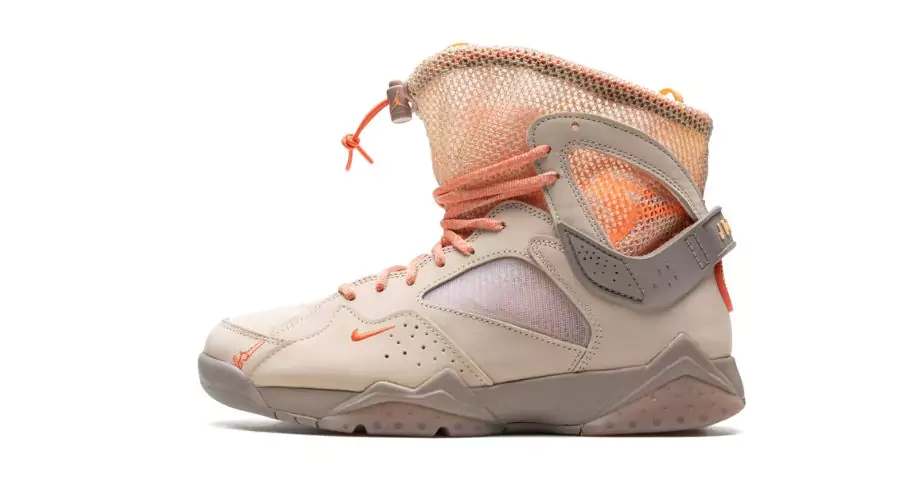 The outstanding Air Jordan 7 Retro WMNS "Bephie's Beauty Supply" showcases a fusion of sneaker culture and uncommon aesthetics. This collaboration gives the Air Jordan 7 design a fresh perspective by paying homage to creative influencer Bephie and her "Beauty Supply" concept. An energetic colour palette with contrasting tones is used in the design, which is reminiscent of the aesthetics seen in beauty supply shops. A playful accent like a miniature Jumpman hangtag and a mix of materials, textures, and patterns on the top give it character and depth. This collaboration, which was created just for women, embodies the dynamic intersection of streetwear and creativity and captures the essence of individuality and style.
---
Conclusion 
Stadium Goods' Air Jordan 7 line offers an extraordinary selection of premium styles. Each pair, using a variety of colours and pairings, becomes a blank canvas for creativity, culture, and self-expression. The choice made by Celebzero emphasises the long history of Michael Jordan's seventh trademark shoe, whether it is through ground-breaking partnerships like "Bephie's Beauty Supply" or updated old designs like "Flint" and "Citrus." Beyond the court, these trainers have advanced into fashion, influence, and innovation. Visit Celebzero for more details on the Air Jordan 7.
FAQs