Halter necks have been a staple piece over the years because of their timeless look that has always captivated people. Halter tops are perfect for all occasions- for an appearance at a summer festival, a beach vacation, or even a casual night out. Halter tops can easily elevate all your basic outfits and make them look more graceful. To truly rock a halter top, you should, however, know how to style it with accessories and what bottoms to pair it with. 
2023 halter top fashion trends
Sustainable fabric- Eco-friendly materials like organic cotton, bamboo, and Tencel have become more popular in recent years in halter top designs. Choose outfits that are made of such sustainable fabrics to limit carbon footprint.

Sheer and Mesh panels- Sheer and mesh panels provide a hint of sensuality to your outfits without revealing too much skin and add intrigue to your dress. 

Bold Prints and Colors- Loud colors, floral or geometric patterns are making a huge comeback in 2023. You can experiment with different prints to make your outfit classier. 

Retro Revival- Tie-dye, paisley Psychedelic patterns from the '60s and '70s are also making a comeback in the current fashion scene. Experiment with them for a nostalgic twist. 

Fringes and Tassels- Fringes and tassels are cute again. They add flair to your outfits and are a fun way to make a statement. 
---
What to wear underneath-choosing the right bras 
To ensure that your look is clean, you need to understand what kind of undergarments work best for your outfits. Here are some bras that you can rock with a halter top- 
Convertible Bras-  Invest in a good quality convertible bra with removable straps. These bra straps can be configured into halter styles, crisscross backs, or even strapless options to suit your halter top's design.

Stick-On-Bras- For backless or deep-plunge halter tops, stick-on bras with adhesive cups are a great pick. The cups hide underneath your top and give you a clean and finished look. 

Bralettes- If you are comfortable, you can also go for bralettes with stylish back for halter tops that have an intricate back design. 

Nude Undergarments- When wearing a sheer halter top, wear a nude undergarment for a classier look. If you are going for a bold look, wear a loud color for a statement outfit. 
---
Accessorize your halter top for a chic look 
Accessories can elevate your outfit even more. You can add pendants or earrings to finish your look in style. Here's how you can ace the accessorizing game for halter tops- 
Earrings: Consider wearing statement earrings or hoops to complement your halter top. If your top has a busy pattern, opt for simpler earrings. Make sure that the color and tone of your earrings complement both your top and your skin tone. 

Belts- You can also cinch your waist with a stylish belt to accentuate your curves. A slim, metallic belt can add a touch of elegance, while a colorful fabric belt can make your outfit pop. 

Footwear- Pair your halter tops with sandals, wedges, or heels for a chic look. Your footwear, again, should match the vibe and color of your outfit. 

Clutches and Bags- A small clutch or crossbody bag works well for a night out, while a larger tote can carry a casual day look.
---
Top picks for halter tops for you to buy from VICI
1. MADONNA PLISSE COWL NECK HALTER TOP – WHITE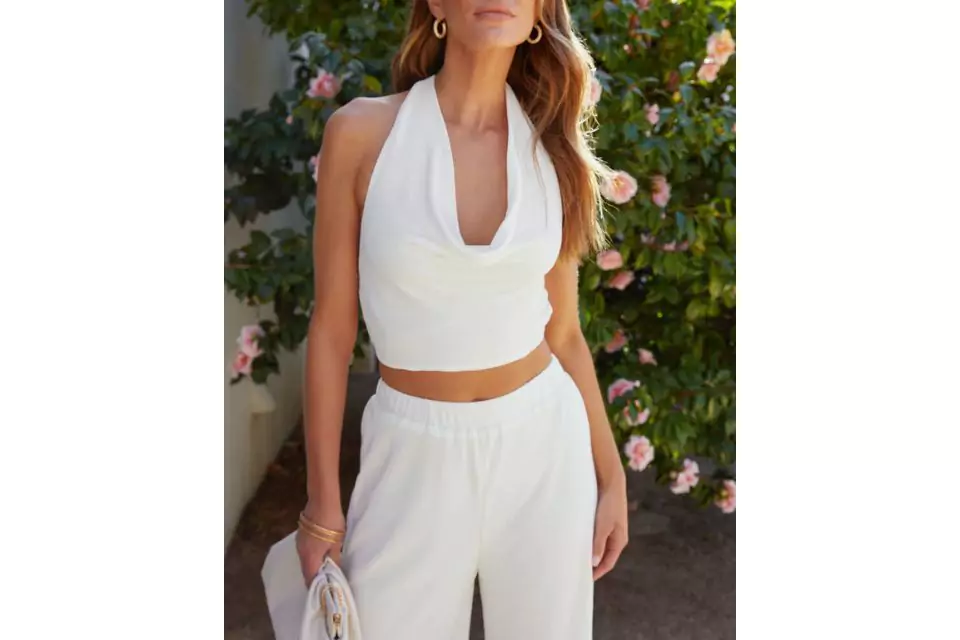 The Madonna halter top is a chic addition to any wardrobe. Made of 100% polyester, the top has a beautiful cowl neckline and an adjustable necktie for the perfect fit. The top also features plisse fabrication for texture, which makes the look more trendy.
---
2. FLOWER GIRL BUTTON FRONT HALTER TOP – BLUE/WHITE 
This halter top is made of 72% Viscose and 28% Nylon. It boasts an enchanting daisy print with a buttoned collar. The top also has convenient button front closures that make it more comfortable. Pair it with blue wide leg jeans and almond heels for a chic ensemble.
---
3. DERREN STRIPED WRAP HALTER TOP – MULTI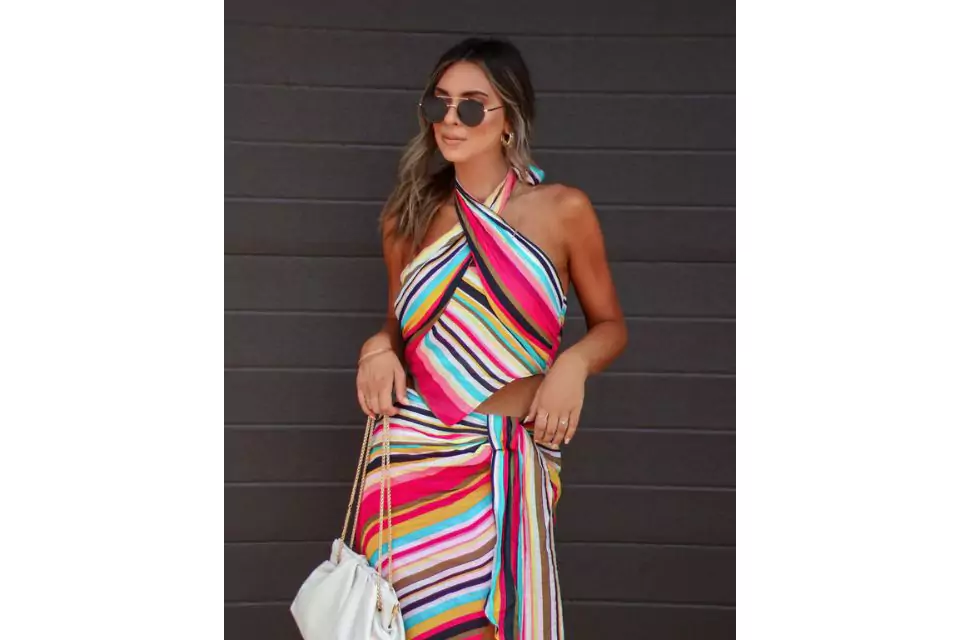 The Derren Striped Top has a captivating multi-color design that features a wrap halter neckline. The top also has a smocked back for added comfort. The wrap style of the top makes it even trendier. You can pair it with the Derren Striped Wrap Maxi Skirt.

---
4. VIVA LA VIDA SATIN FRINGE HEM HALTER TOP – LIME
This exquisite piece features adjustable ties and a playful fringe trim that adds a touch of drama. The top is made of vibrant lime-coloured satin fabric and has a charming back tie detail, which means you can flaunt your back and your curves. Truly a must-have for any fashionista!
---
5. SIS COTTON RIBBED HALTER BODYSUIT
The SIS cotton bodysuit is made of a blend of cotton and spandex. It has a ribbed knit fabric that adds texture to the top, while the thong bottom with snap button closures ensures convenience. The top also has an adjustable necktie closure. You can pair it with any pants and throw in a simple bracelet, hoops, and a neutral pair of heels for a chic look.
---
6. ELZA SATIN HALTER TOP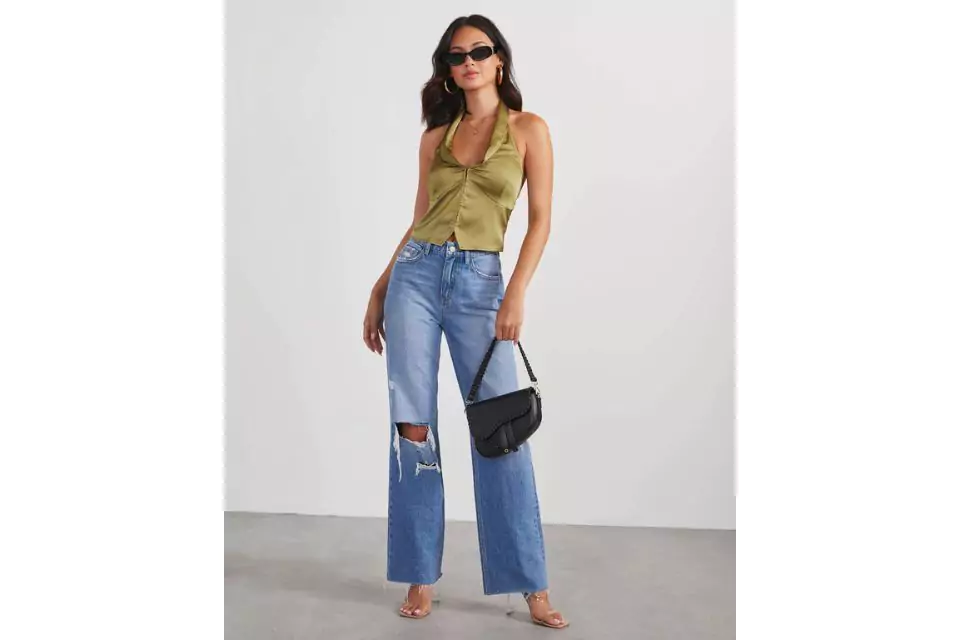 The cropped fit and halter neckline with lapels offer a flattering and stylish look. The bust features hook & eye front closures for a secure fit. The seams at the bottom add to the detailing and give a good fit to the top. The satin top further makes the look more elegant.
---
Also Read – Cute Floral Mini Dresses That Will Make You Shine Like A Star
---
Conclusion 
Halter Tops are a great way to accentuate your style and your figure. They are better than basic t-shirts for a casual look, as they give a unique chic touch to the entire ensemble. You have infinite possibilities for styling ideas for a clean and classy look that you can wear for any occasion. Make sure to master the art of accessorizing and win at the fashion game. To get more details, visit our official website, Celebzero.
FAQs
'