Floral mini dresses have always been a shining star in feminine fashion. They exude a calm sophistication that makes them perfect for almost all occasions. The blooming style is bound to be your best friend all through summer and fall. In this blog, Celebzero will help you analyze  the best floral mini dress trends 2023 and some of the best floral mini dresses that would be an invaluable addition to your wardrobe. 
Latest floral mini dresses trends 2023
Fashion has been evolving with each passing season and floral prints are no strangers to it. What was in vogue last fall may not even be manufactured anymore and what was in trend decades ago may become contemporary again. Here are some floral mini dresses trend in 2023 that you can look out for- 
1. Dark floral prints
Dark floral prints already give you a maximized look that requires minimal styling, undoubtedly making it one of the trendiest options in the market. 
These either include dark floral patterns or a dark canvas upon which there is an intricacy of delicate flowers and petals. 
---
2. Patched work
Patchwork with multiple floral patches sewn together to form a larger cloth with a flat design. It gives you an edgy and cool look, too.
---
3. Romantic vintage floral prints
Vintage floral prints have a lot of colors used but none of them are bright so it gives you a nice faded look. The defining characteristic is "floribunda," or "an abundance of flowers," with roses predominating in floral arrangements.
---
4. Opulent florals
This pattern has a lot of bright and beautiful colours with paisleys and metallic accents. The print has bold florals on a contrasting background that gives your dresses an edgy look.
---
Accessorize floral mini dresses
You can easily add more style to your look with these additions to your floral mini dresses. 
1. Footwear
If you want it safe, you can add neutral and casual footwear- strappy sandals, ballerinas, etc. They are ideal for a casual day look that gives you a feminine vibe. You can also add block heels to pair with your dress for an elevated look. Another great option could be ankle boots. They look cute with fit and flare dresses and give you a soft girl next door look.
---
2. Bags
It is ideal to not carry a particularly large handbag. That would take away from your dress and may look tacky too. You can carry a clutch that is large enough to carry your essentials. The colour could be a pick from the colour scheme of the dress or the shoes but you can also create a contrast.
---
3. Jewelry
A delicate silver or gold necklace or pendant that draws attention to the neckline will look good. Opt for drop earrings if you want to optically lengthen your neck. For bolder looks, wear statement rings that match your clothes.
---
Top picks for cute floral little dresses for you
1. Niari floral embellished halter mini dress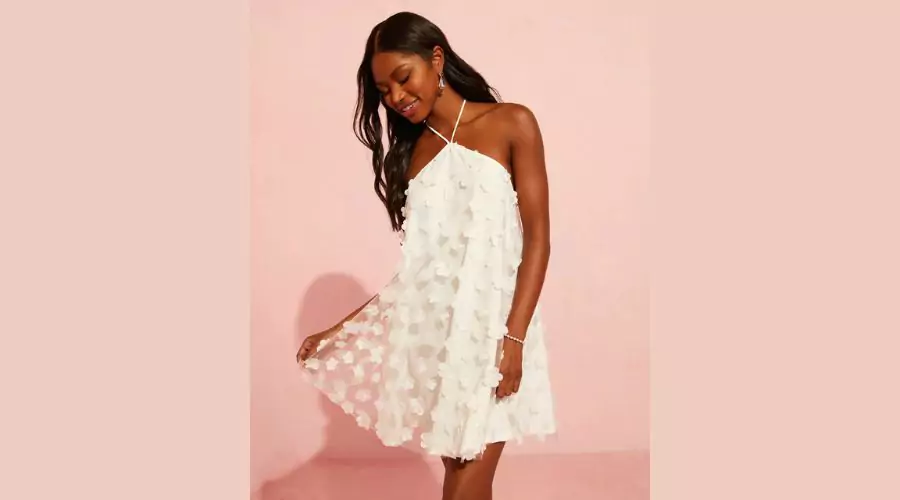 This mini floral dress features a gorgeous halter neckline with a tieable neck. The white floral embellishments on the matching white fabric exudes a chic look. The dress is a 100% polyester and looks very classy.
---
2. Precious poppies ruched bell sleeve mini dress
The dress is a fitted, small length dress with long bell sleeves that are embellished with elastic smocking. The dress has a beautiful print of poppies on it. It gives a personalized fit thanks to the elastic shoulders and front drawstring ties. This classy dress is enhanced by the center back smocking and ruched body.
---
3. Queen retro floral printed shirt dress
The dress has a collared design with long sleeves and button cuffs. The dress also has a utility bust pocket. The material crepe gives the dress a cool look with its orange floral pattern set against a beautiful pink backdrop.
---
4. Elsinore chiffon floral mini dress 
The dress has a flattering fit with a fitted and rouched skirt and a looser bodice that accentuate the figure. The multicolour floral pattern makes it a vibrant option for your wardrobe. The halter neckline and the open back combined with the long sleeves with cutouts make the dress all the more fashionable. The chiffon fabric, on the other hand, adds a more feminine touch to the entire look.
---
5. Define the moment floral drape mini dress 
This stunning wine coloured wrap dress with subtle floral patterns is a great nighttime look. The dress has a beautiful wrapped top with a draping neckline and flattering back elastic. The tiered skirt adds more intricacies to the dress. Dress for your nightouts in this effortlessly chic dress
---
6. Chantelle floral chiffon mini dress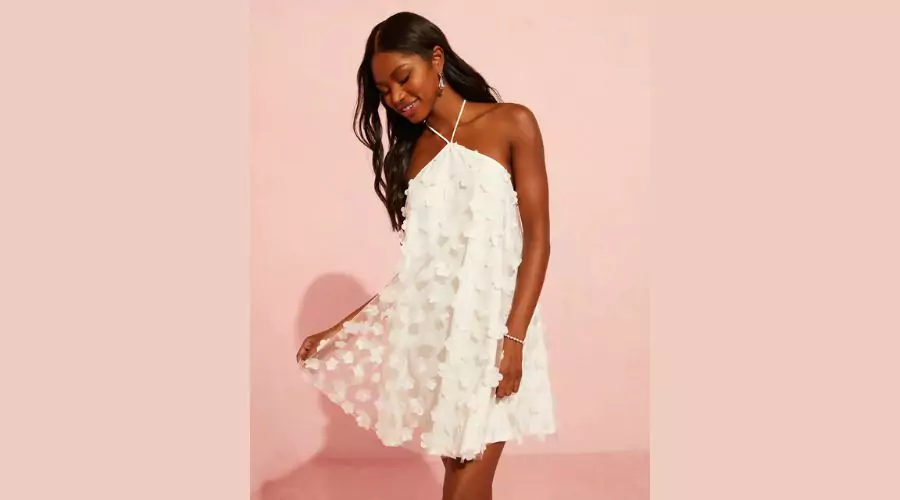 This mini dress has a cute billowy fit that creates a flowing silhouette. With a flattering V-neckline and a sensual back-tie, this dress is a fashionable addition to your wardrobes. The dress has a dense yellow and orange floral pattern. The dress is made of chiffon fabric too, which creates a more feminine appearance.
---
Conclusion
Floral mini dresses are bound to remain a staple in fashionistas' wardrobes for many more years to come. Dresses are a great way of self-expression and if cute floral dresses are the vibe of your life, go and get yourself some of the floral dresses from the VICI suggested by Celebzero. You are sure to never regret it. Brighten up your wardrobes with these floral mini dresses. 
FAQs