In a world where fashion fuses seamlessly with function, one name consistently leaves a remarkable trail: Nike. Their relentless pursuit of innovation has birthed countless iconic products, but the Nike Tech Fleece Hoodie is not just a product—it's a revelation. This groundbreaking masterpiece transcends the ordinary by integrating style, comfort, and technology into this electrifying symphony. In this blog, CelebZero will talk about the Nike Tech Fleece Hoodie, what makes it special, and where you can get one for yourself. 
What Makes the Nike Tech Fleece Hoodie
The heart and soul of the Nike Tech Fleece Hoodie is the revolutionary Tech Fleece fabric. It's not just another fabric; it's an intricate blend of jersey with synthetic spacer that come together to form a declaration of Nike's relentless pursuit of innovation. 
Imagine being cocooned in warmth, but without feeling like you're wrapped in a cumbersome duvet. That's the magic of the Tech Fleece fabric. It hugs you close, keeping you cozy and snug without any unnecessary weight much like a gentle, comforting embrace. The fabric's structure is akin to a thermos, trapping heat close to your body. It creates a microclimate of warmth, making it your ideal companion on chilly mornings or cool evenings. You feel the embrace of warmth without the constraint of weight, as if you're cocooned in a second skin that shields you from the elements.
---
Breathability Beyond Compare
It's not just about warmth; it's about breathability too. The Tech Fleece fabric isn't just an insulator too; it's a breather. It wicks away moisture, making sure you stay dry and delightful, whether you're conquering a mountain or simply conquering your to-do list.
---
The Nike Tech Fleece Hoodie flaunts a modern, sculpted fit that cradles your body's contours without cramping your style. It's designed for those who demand excellence in both performance and aesthetics. The sculpted fit isn't just about looks; it's about how it compliments your physique. It's not too baggy, eliminating that "sloppy" look, but it's not too tight either, ensuring freedom of movement. This equilibrium between style and comfort is what sets it apart.
---
Distinctive seam lines and panels aren't just about aesthetics—they're more about optimizing your motion. The delicate string fabric, along with the circular looms bring the fabric to an absolute completion. It's indeed fashion with a purpose. The strategic placement of panels can make your physique look more sculpted, and they draw attention to the places you want, making you look effortlessly stylish.
---
The Nike Tech Fleece Hoodie isn't just one-dimensional. It's an orchestra of styles, ranging from zippers to pullovers. You can pick the one that resonates with your spirit and suits your mission for the day. Zip-ups offer ease of wear and removal, making them ideal for layering, while pullovers exude a timeless and classic look. 
The Nike Tech Fleece Hoodie's design is an embodiment of the brand's commitment to creating not just sportswear but lifestyle wear that seamlessly transitions from the gym to the streets and everywhere in between. It's a design that celebrates the harmony of style and functionality, allowing you to move through life with confidence and flair.
---
Top Picks for Nike Tech Fleece Hoodies From Champ Sports
Nike Tech Fleece Full-Zip Hoodie- Red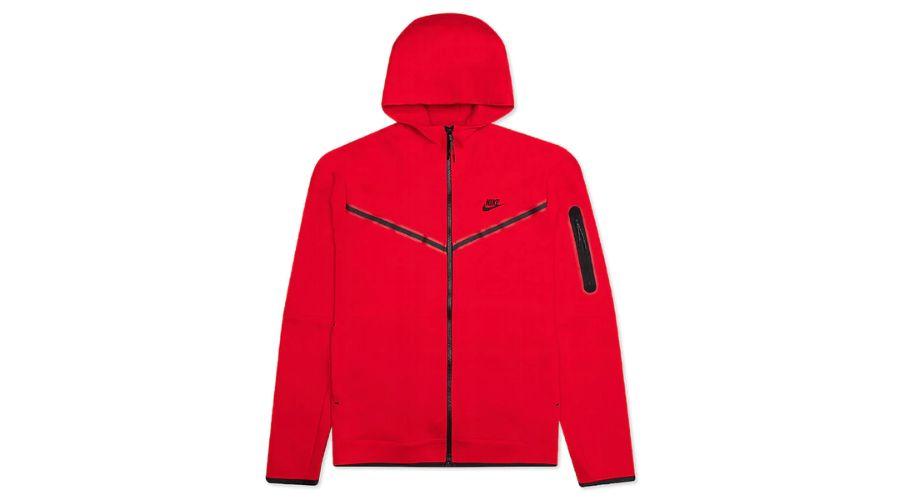 Crafted from a double-sided cotton spacer fabric, this Nike hoodie offers you exceptional warmth while keeping you ready for any physically daunting challenge in the coldest of weathers. The unique wash treatment imparts a faded look and feel, giving it that classic, worn-in appearance.
The four-panel hood is designed for versatility, while the taller collar enhances both coverage and warmth, making it ideal for colder days. With a zippered sleeve pocket, you have convenient storage for your essentials, ensuring you're always well-equipped with handy and nifty things.
This Nike Tech Fleece Full-Zip Hoodie also boasts a transparent taping that accentuates its heritage design lines, adding a touch of style to its functional design. The standard fit ensures you can move naturally without any restrictions. Made with a blend of cotton and polyester, it's the epitome of comfort and durability.
---
Nike Tech Fleece Full-Zip Hoodie- Black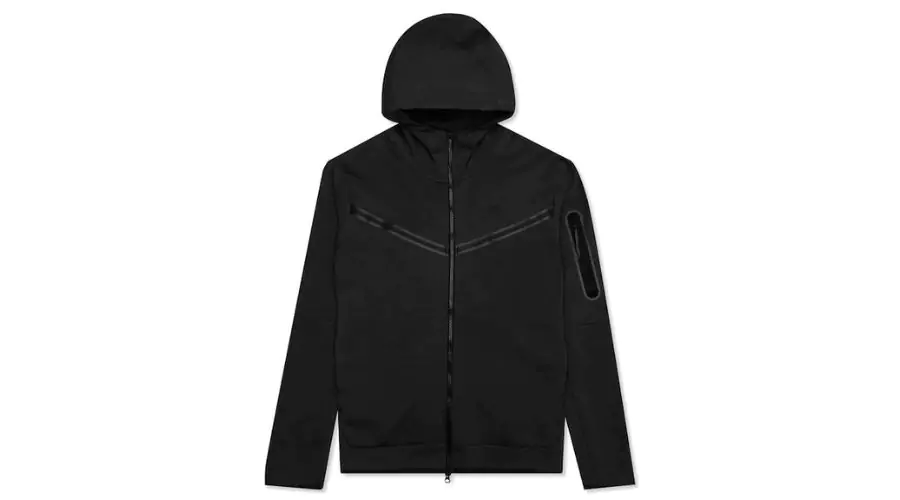 This remarkable  Nike Tech Fleece Full-Zip Hoodie  is designed to effortlessly shield you from the cold and snow, thanks to its water-resistant material. This hoodie has you covered during dizzles as well as downpours , keeping you snug and dry throughout your adventures.
Crafted with a blend of 73% polyester and 27% cotton, this hoodie not only excels in function but also in form. The full-zip design allows you to slip into it with ease, providing unmatched convenience and style. It's the perfect companion for those who demand performance and aesthetics.
---
How to Clean Nike Tech Fleece Hoodie
As fleece is composed of polyester and plastic fibers, it doesn't need to be washed after every wear. It's a good idea to wash your fleece to keep it away from water sources and to lessen the amount of microfibers that are shed into your washing machine. After wearing your tech fleece for a few times though, you should wash it.
If there are stains on your fleece, try pretreating the spots with a mild detergent and doing spot washing. Use a sponge dipped in soap or a little detergent to dab at the discolored spots. However, take care not to rub too vigorously as this might harm the fabric and cause the dirt to become embedded in the fleece fiber.
Lint particles also build up on fleece over time, reducing the softness and water resistance of your fleece clothing. The fleece typically piles when it is over-rubbed. To remove lint from fleece, you may gently run a razor over it or use a lint roller to softly brush the fleece while it's on a surface.
---
Conclusion 
The Nike tech Fleece Hoodies is a testament to Nike's relentless spirit in the pursuit of innovative sportswear with its meticulous design and multifaceted features. It doesn't just linger in your wardrobe; it dominates it, sweeps it off its feet. You would even find many celebrities and sports icons who have embraced the Nike charm. Experience the high technology of the hoodie today and embrace the future with Champ Sports! For more information, visit CelebZero.
FAQs