When it comes to weightlifting, choosing the right pair can make quite a dramatic difference in your performance and game. With the correct fit, you get stability, much support, and the necessary grip that is required for weight lifts in a proper form. While there are various brands that offer amazing weightlifting shoes for men, Adidas is one such renowned footwear brand offering the best possible footwear at competitive pricing.
How do I Choose the Right Weightlifting Shoes?
Selecting the correct weightlifting shoes for men might seem like a challenging task, but with this list of things, you can easily choose the perfect pair when making a purchase.
1.   Heel Height
Most weightlifting shoes for men come with distinct heel heights to choose from, ranging between 0.5-1 inch. Choose according to your body type and the type of weightlifting you do, as higher heels would be great for deep squats but not for other lifting exercises.
2. Type of Lifting
The type of weightlifting you do is one of the key factors to consider when investing in the best weightlifting shoes for men. If you are an Olympic Weightlifter, opt for higher heels and flexible forefoot shoes, whereas if you are powerlifting, flat shoes with a minimal heel are more appropriate.
3. Fit and Size
Ensure that the pair you are choosing is the right fit and size so you feel comfortable walking and working out in them. Some weightlifting shoes even come in wider or narrower options to fit all foot shapes.
4. Material and Durability
Doing a quality check on the shoes is mandatory, so you know how long you can expect the shoe to last. Invest in shoes with reinforced stitching, sturdy outsoles, and good materials that can withstand the demands of sports.
5. Weight and Pricing
Weightlifting shoes should be relatively lightweight allowing agility and quick movements as bulky or heavier shoes can hinder your performance. They also come in various price points that you can pick according to your budget.
How to Take Care of Weightlifting Shoes?
When you properly care for the weightlifting shoes for men, it helps extend their lifeline and ensures they provide better stability and support required during workouts. Here are some quick tips to help take care of your shoes quickly-
1. Clean Regularly
After each workout, wipe down your shoes with a damp cloth to remove any dirt or stains. For hard stains or odours, you can use mild soap with warm water to prevent them.
2. Use Shoe Trees
When you use shoe trees, it helps keep their shape intact and prevents any creasing or withering. So, whenever your shoes are not in use consider using shoe trees for proper ventilation.
3. Replace Insoles
If the insoles of your weightlifting shoes are removable, you can either take them out and air out separately, or when it's time you can even replace them with the new, refreshed ones.
4. Dry Them Out
Allow your shoes to properly dry out after each use or wash. It will help prevent the buildup of moisture, which can lead to unpleasant scents and bacterial infections.
Which Adidas weightlifting Shoes for men are the best?
There are surely tons of stunning footwear brands that offer an extensive range of weightlifting shoes for men. However, Adidas surely stands out because of its high quality, performance, and innovation. So, here are some of the best weightlifting shoes for men by Adidas to choose from-
1. Power Perfect 3 Tokyo Weightlifting Shoes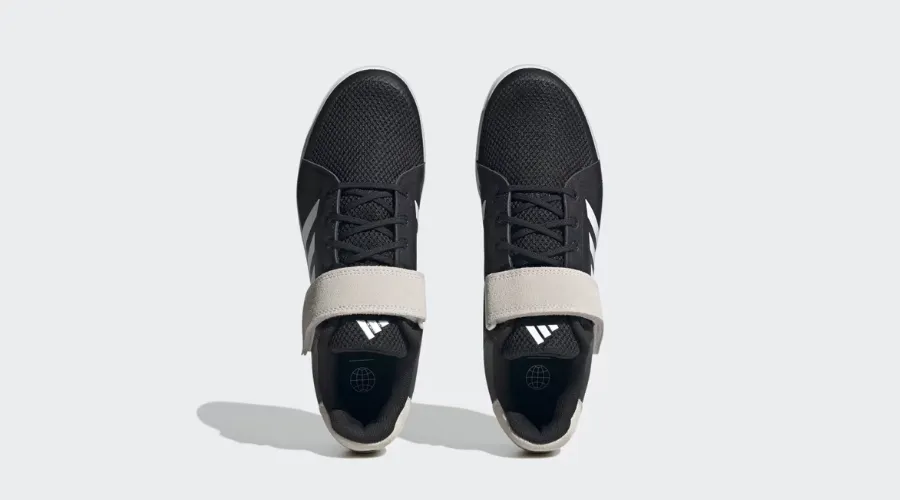 These Power Perfect 3 Tokyo men's weightlifting shoes offer you the perfect platform and stability to showcase your skills in practice. The shoes feature a specially engineered die-cut wedge midsole that offers support whereas the rearfoot gains provide further stability with the integration of an integral heel support and instep strap.
Because of their durable synthetic upper and hard-wearing Adiwear sole, they can take all the weight and strength you'll exert on them. Available in various sizes, these shoes cost £120.
2. Powerlift 5 Weightlifting Shoes
These Powerlift 5 Weightlifting Shoes are very versatile as they are both lightweight and tough. The upper canvas of the shoes includes open-mesh that provides extra breathability, and with a combo of straps and laces, you can easily secure them.
A midsole wedge adds rock-solid stability when you are working heavy loads, and the rubber outsole provides extra grip to keep you planted. Made with recyclable materials, these weightlifting shoes for men cost £90.
3. Adipower Weightlifting 3 Shoes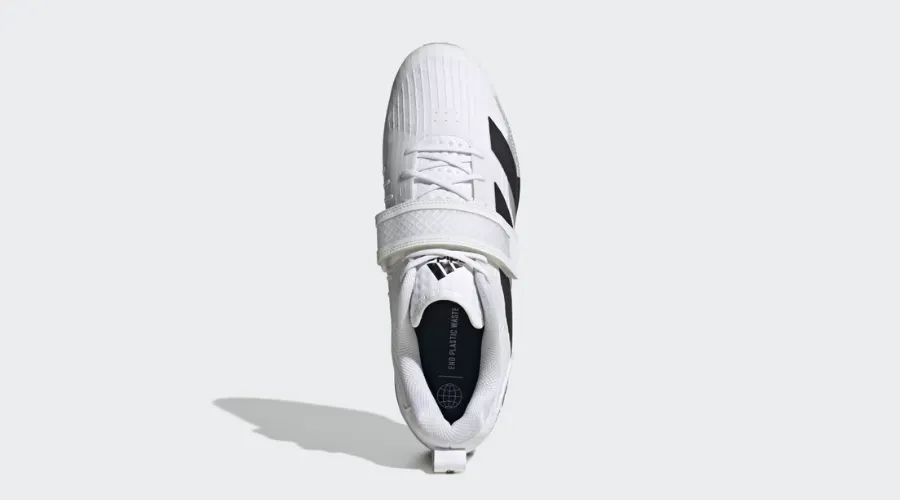 Made specially for weightlifting, these Adipower Weightlifting 3 Shoes keep you steady even under the heaviest of loads because of their raised heel and high-density midsole. The upper canvas is as sturdy as a nail, and the lace-and-strap combo keeps your feet locked in firmly.
The rubber outsole is designed to keep your foot anchored on the mat. Made with recycled fabrics and materials, these weightlifting shoes for men cost £180 on Adidas's website to purchase.
Conclusion
When it comes to sports like weightlifting or powerlifting, you need footwear that'll provide you with a strong grip and stability to keep your foot anchored on the mat. And, to help you find such pairs, Adidas offers a variety of weightlifting shoes for men to choose from at distinct designs and competitive prices. So, whether you are a professional or a newbie, investing in Adidas's shoes will surely be a long-term investment. For more such information, visit Celebzero.
FAQs