Are you a fan of peplum tops but not sure how to style them? You are in the right place. Peplum tops are versatile and stylish pieces of clothing that anyone can wear, irrespective of age and body shape. They can be dressed up or down, making them an excellent option for any occasion. In this blog post, we will discuss the different types of peplum tops you can try for different body shapes. We will also share how you can style them for different looks and occasions and where to find the best deals. Without any further ado, let's dive in!
What are peplum tops and their different types?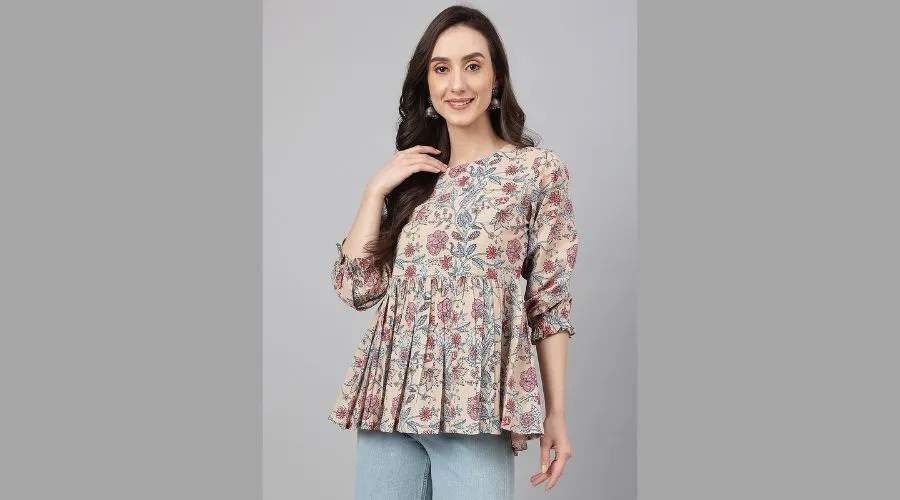 A peplum top is a type of blouse or clothing item featuring a flared or gathered waist section, which can be made from the same or different fabric as the top itself. Peplum tops are favoured by women of all sizes as they help create an hourglass silhouette. Here are some examples of peplum tops you can incorporate into your wardrobe:
Cropped Peplum Tops: These boldly cut tops reveal the midriff and are a popular choice for casual outfits that pair well with jeans, shorts, or skirts.

Long Peplum Tops: These tops offer extra length, gracefully extending to the hips or even down to the knees, providing versatile outfit options for various occasions.

Button-Up Peplum Tops: Characterized by a buttoned front, these tops exude a polished and tailored look, making them suitable for professional settings and formal gatherings.

T-Shirt Peplum Tops: Crafted from the softest cotton or similar fabrics, these tops offer the perfect blend of comfort and style. They effortlessly transition from casual to semi-formal, complementing skirts, dress pants, denim, and shorts.

Dress Peplum Tops: Whether worn as standalone dresses or paired with pants or skirts, these tops are an excellent choice for special events or the workplace.

Asymmetrical Peplum Tops: Featuring non-symmetrical elements in the peplum section, either in terms of length or shape, these tops add a whimsical and trendy dimension to your ensemble.

No matter your body shape or style preference, there's a peplum top for everyone. Explore the possibilities and elevate your fashion game with these versatile pieces!"




---
Best place to shop for peplum tops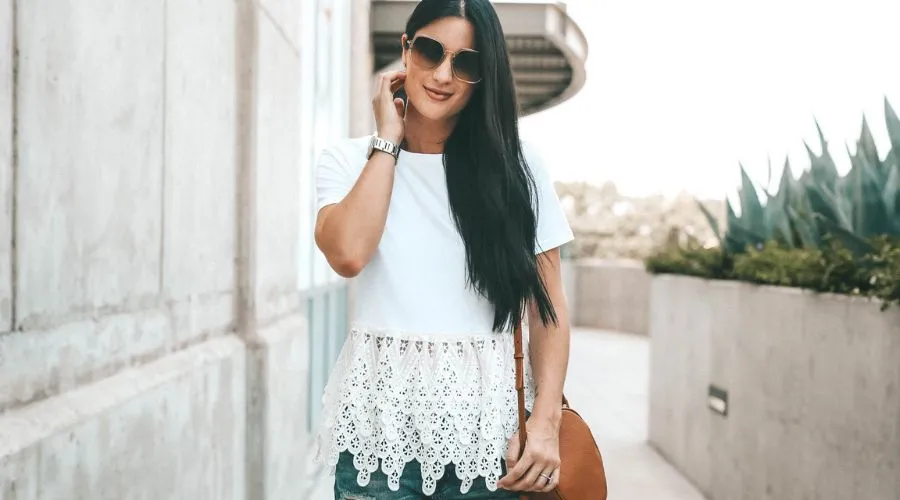 For an unparalleled shopping experience with peplum tops, the Vici Collection stands as the unequivocal choice. It boasts an expansive inventory that spans an array of styles, hues, and sizes. Such diversity ensures that you will undoubtedly unearth the ideal peplum top, one that not only complements your physique but also resonates with your unique sense of style. Priding itself on an unwavering commitment to premium craftsmanship, Vici Collection employs only the finest materials in the crafting of its peplum tops, assuring their longevity.
One great thing about the Vici Collection is its commitment to affordability without compromising quality. With accessible price points on its peplum tops, you can indulge in the latest fashion trends without depleting your resources. To further enhance your shopping experience, the brand offers complimentary shipping and returns on all orders, instilling unwavering confidence in your purchasing decisions. When embarking on your quest for the quintessential peplum top, look no further than the Vici Collection. Employ the assorted filters to refine your search and peruse the reviews to secure a gratifying and secure transaction.
---
How do you wear a peplum top based on your body shape?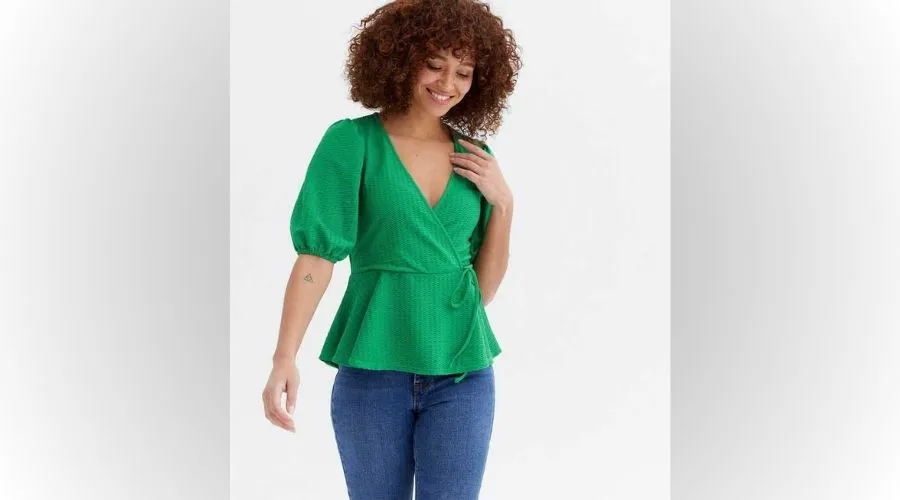 The versatility of peplum tops extends far beyond their aesthetic appeal; it hinges upon their harmonious alignment with one's body shape. Below, you will find tailored recommendations for selecting the right peplum style to enhance your unique body shape:
Hourglass: Women blessed with an hourglass figure will find peplum tops to be an excellent choice. The peplum accentuates your curves, culminating in a well-balanced appearance.
Apple: Those with an apple-shaped body should opt for a peplum top that cinches at the waist and gracefully flares out at the hem. This style adeptly creates the illusion of an hourglass silhouette.
Pear: For individuals with a pear-shaped body, the ideal peplum top is one that embraces a snug fit at the waist and elegantly fans out at the hips, harmonising proportions.
Rectangle: If your physique aligns with the rectangular body shape, seek a peplum top that defines the waist while featuring a loose, flowing lower portion. This artful design imparts a semblance of curves.
Inverted Triangle: Those possessing an inverted triangle-shaped body should gravitate toward peplum tops that snugly embrace the waist while offering a loose, flowing upper section. This approach lends equilibrium to your figure.
---
Tips for styling peplum tops for various occasions and looks
Casual Look:
Achieve a laid-back vibe by pairing a peplum top with jeans or shorts, preferably in neutral tones like black, white, or denim.

Add a touch of sophistication with a denim jacket or a sleek blazer.

Opt for sneakers or sandals to create a relaxed atmosphere.

To inject some personality, accessorise with a statement necklace or eye-catching earrings.
Dressier Style:
Elevate your appearance with a peplum top paired with a skirt or dress pants, either in a solid colour or a captivating print.

Lengthen your silhouette with heels or wedges.

Introduce formality with a blazer or a tasteful cardigan.

Complete the ensemble with a stylish clutch or a distinctive statement bag for added sophistication.
Winter Elegance:
Ensure your comfort during chilly months by adding an extra layer beneath your peplum top, opting for a cardigan or blazer made from snug fabrics such as wool or cashmere.

Combat the chill with tights or leggings.

Finish the look by wrapping yourself in a snug scarf or donning a fashionable hat to brave the winter elements.
Summer Chic:
Beat the summer heat with a peplum top paired with breathable, lightweight shorts or a skirt made from materials like cotton or linen.

Keep cool in sandals or wedges.

Protect yourself from the sun by accessorising with a stylish scarf or an elegant hat.
Professional Appearance:
Cultivate a professional image by combining a peplum top with a pencil skirt or tailored trousers in classic, neutral shades such as black, navy, or grey.

Add a touch of formality with a well-tailored blazer or a subtle cardigan.

Complete the look with tasteful pumps or comfortable flats to exude confidence and competence.
Party Glamour:
Create a captivating presence by coordinating a peplum top with boldly coloured or patterned skirts or dress pants.

Enhance your allure with statement jewellery pieces designed to sparkle and dazzle.

Embrace added height and elegance with heels or wedges to achieve an elongated silhouette.
Incorporating these versatile styling techniques into your wardrobe allows you to make the most of peplum tops for a wide range of occasions and looks.
---
Conclusion
With an extensive array of styles and colours available on Vici Collection, you'll undoubtedly discover the perfect peplum top to complement your unique figure and fashion sensibilities. For a remarkable selection that is also budget-friendly, the Vici Collection stands out as a favourite among fashion enthusiasts. When seeking guidance on how to style peplum tops for diverse looks and occasions, this blog serves as your trusted source for effortless and stylish tips. For more fashion updates, visit Celebzero.
FAQs