With trends coming every season, casual dress shoes have managed to remain a fashion staple for those who want practicality without any compromise on personal style. Casual dress shoes make a powerful fashion statement by allowing you to express your personality while maintaining an aura of sophistication. From classic black to trendy slip-on shoes, casual dress footwear offers something for everyone, ensuring that you look your best on any occasion. Casual dress shoes are more than just a stylish option, they are a versatile tool that empowers individuals to find choices that align with their personal aesthetics. They are a practical choice retaining an air of elegance and sophistication. If you are looking for ideal casual dress shoes, then TOMS got you! This platform is an excellent place to find a wide range of footwear and accessories without any compromise on quality. Keep reading to find out more about casual dress shoes on TOMS. 
Men's Casual Dress shoes you need to give a chance! 
1. TRVL LITE Moc Chukka Brown Sneaker Boots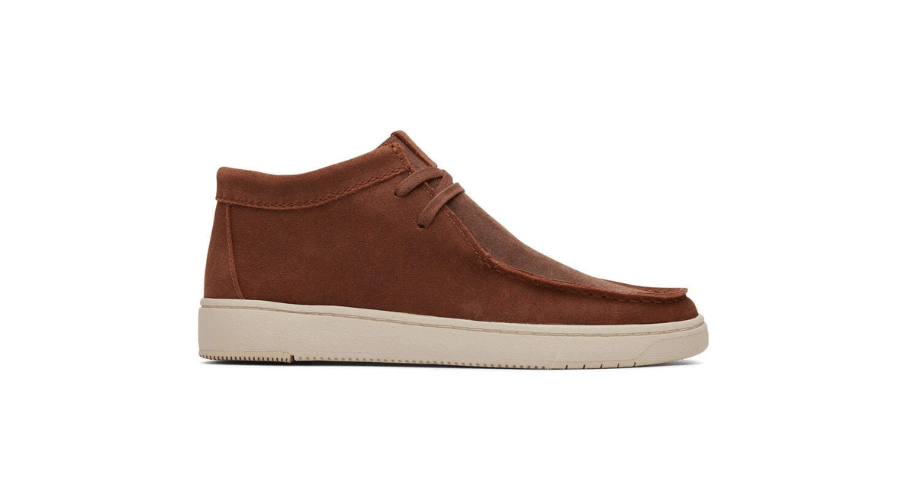 If you want to step away from the regular blacks, then these brown sneaker boots are an ideal option for you! They boast a suede upper, removable insoles and a fully lined canvas. The removable insoles ensure easy cleaning and less burden on the shoes while storage. 
These casual dress shoes are an excellent and comfy way to keep up with the latest trends. The shoes have been adorned with a 'TOMS' branding on the front and have stitch patterns to accentuate the overall look. The lace design adds to the design and convenience of these shoes. These neutral-shade sneakers can be easily paired up with different outfits and they will surely elevate the vibe!
---
2. Navi Black Water Resistant Boots 
If you want something chill and versatile in your footwear wardrobe, then say hello to these black-coloured water-resistant boots! Whether it's a casual day out or a leisurely walk in the rainy season, you can do it all with these boots. 
The boots boast a leather upper, and a lightweight outsole for enhanced flexibility and traction with a removable insole. The insole provides lightweight cushioning. If the weather in your area is unstable or unpredictable, then these boots have your back! Made with durable and strong materials, they won't disappoint you.
---
3. TRVL LITE Porcelain Grey Leather Lace-Up Sneaker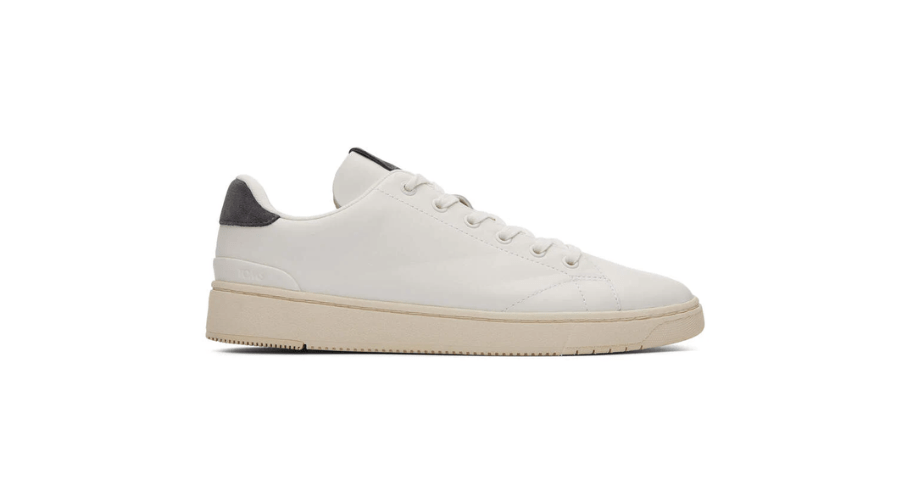 If light colours are your thing, then these grey leather lace-up sneakers are for you! These shoes are easy to style, comfortable and will seamlessly blend in with different outfits. 
They boast a leather upper for durability, the rubber outsole ensures a lightweight design with apt cushion, and a removable insole for maximum convenience. The sock liner is moulded with mesh to ensure the wearer's comfort. The outsole offers a durable feel and traction to the wearer. If style and comfort go hand in hand for you, then these lace-up sneakers are an excellent option for you.
---
4. TRVL LITE Drizzle Gray Canvas Sneakers
Incorporate something unique in your footwear wardrobe with these lite sneakers. They boast a canvas upper, dual-density capsule and a high-rebound insole. The dual-density cupsole ensures a lightweight and cushioned feel. And the hybrid insole gives long-term cushioning and is made of recycled materials. 
The sneakers are grey shade with brown-coloured additions to add a pop of colour. 'TOMS' branding has been added on the side and tongue.
---
5. Brown Leather TRVL Lite Loafers 
If you are a loafers fan then these brown leather loafers are an excellent option for you! They boast a leather upper and removable insoles. The loafers have a mock toe detailing and a V-gore design for easy slip-on. The sockliner is mesh moulded and the cupsole has been redesigned to maximize lightness, durability and traction. 
The outsole is made of blended materials and rubber and gives a lightweight and cushioned feel to the wearer. If you want a practical and laid-back option, then you should definitely go for these loafers.
---
Conclusion
Casual dress shoes are a testament to the evolving fashion landscape. They cater to the contemporary individual who values both comfort and aesthetics. They offer a plethora of options for individuals who seek both sophistication and relaxation in their footwear choices. They find the perfect balance between style and comfort, making them an essential part of any wardrobe. If you are looking for suitable casual dress shoes, then TOMS got you! From contemporary styles to comfy choices, you'll find it all here. For more information, visit Celebzero. 
FAQs