From minimalist designs to bold patterns, men's canvas sneakers cater to a wide range of tastes. Men's canvas sneakers are more than just accessories, they are a canvas for self-expression, allowing individuals to showcase their personality through their choice of footwear. They are super adaptable and they effortlessly complement various outfits. They have managed to become an essential fashion staple and continue to shape the modern fashion landscape. From retro-inspired designs to contemporary aesthetics, men's canvas sneakers fit a plethora of styles. If you are looking for suitable canvas sneakers to include in your wardrobe, then TOMS got you! This footwear platform has options for men, women and children! Keep reading to find out more about men's canvas sneakers.
Men's Canvas Sneakers that deserve a place in your wardrobe!
1. Baja Graphite Heritage Canvas Slip On Sneaker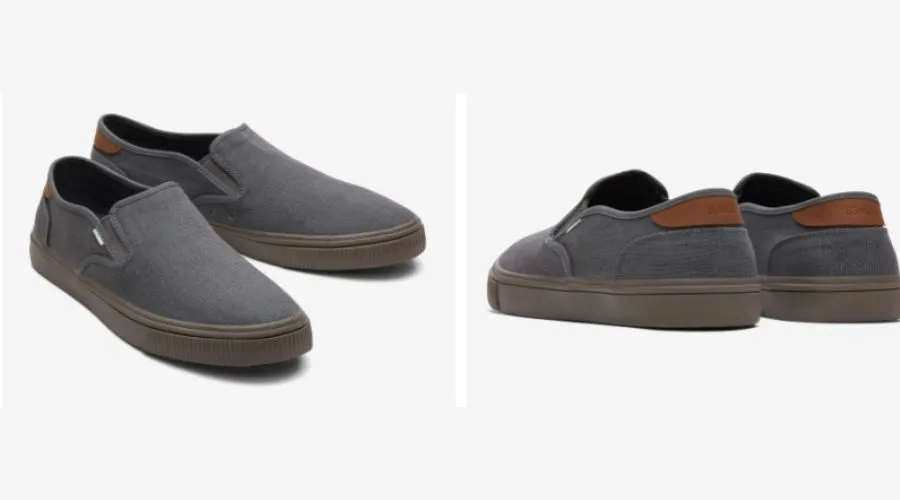 These Baja slip on shoes are exactly what you need if comfort is your top priority. They are made of 100% vegan material and boast an outsole made of vulcanized foxing and rubber material. One of the most alluring things about these sneakers is the eco-friendly design, especially the use of jute fiber to make them.
They are an excellent option for daily wear and running errands. If you are always confused about which sneakers to wear for those everyday outings, then these Canvas slip on ones are right here for you! They will blend in seamlessly with different types of outfits. From casual designs to simple home wears, these sneakers will pair up with casual aesthetics well.
---
2. Gray Wyndon Sneakers for Men
If versatility is what you are looking for then these Wyndon sneakers are an ideal option for you. They boast a fully lined mesh and padded collar, maximizing the comfort of the wearer. And at the same time, ensuring enhanced durability.
The sole is made of rubber herringbone that ensures added grip and strength while walking. The upper part is made of a blend of nylon and suede. The sneakers have been embellished with beige colored hues and a 'TOMS' branding on the tongue and back. These sneakers will fit in with any type of aesthetic! Whether you have a casual outing or an extraordinary one, they will definitely add to the outfit in the best possible way.
---
3. Chicory Brown Water Resistant LITE Sneakers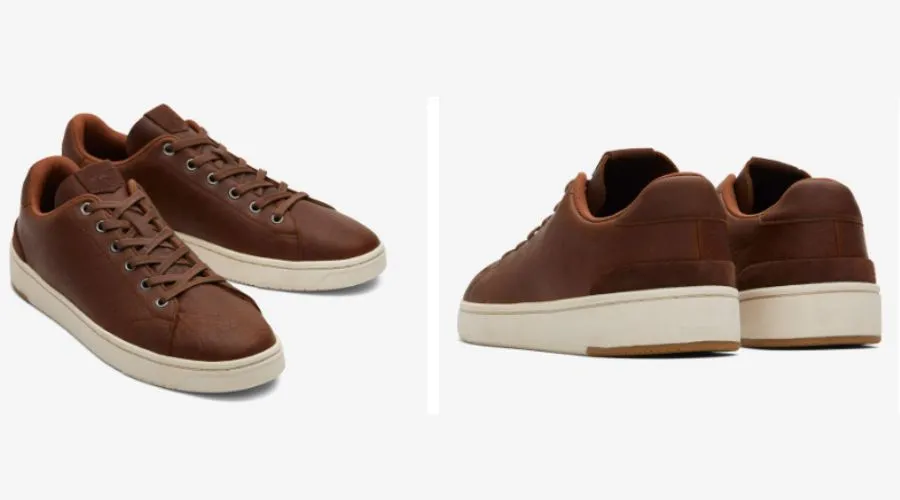 If you are done with the regular black and white neutrals then these Brown colored sneakers are for you! They boast an all brown color with white colored soles. They have a light casual lace up sneaker structure and the top part is made of textile and leather materials.
The insole is made of molded mesh material for maximum comfort while wearing. Besides that, The sneakers are lightweight, strong and comfortable, thanks to the dual density cupsole. The cupsole is made with a blend of EVA and rubber materials. The soles are removable, so if you are deep cleaning your sneakers, it will be easier for you. The sneakers will blend in seamlessly with different aesthetics. From casual to dressy, they make the perfect companion for all your outings. Plus, they add a touch of uniqueness to the overall look.
---
4. Gray Vegan Heritage Canvas Sneakers Resident 2.0
If gray is your favorite color, then incorporate these stunning Gray Vegan Heritage Canvas Sneakers in your footwear wardrobe! The canvas upper is made of jute, which ensures an eco-friendly touch to them. The sneaker is made of 100% vegan materials and caters to environmental friendliness.
The knitted collar is elastic and there is a Nubuck PU edge on the heel. The midsole has height for added comfort to the wearer. You can style these sneakers with casual outfits, dressy options, and the laid back aesthetic. The sneakers feature a slip on style and are easy to wear.
---
Also Read – The Perfect Blend Of Style And Comfort: Quiksilver's Leather Sandals For Men
Conclusion
Men's canvas sneakers have been adapting to the changing tastes and demands of contemporary men. These shoes are more than just an accessory, they're a reflection of comfort and style. From minimalist designs to bold patterns, men's canvas sneakers cater to a wide range of tastes, offering a plethora of choices for those seeking fashionable and comfortable footwear. Men's canvas sneakers remain a symbol of relaxed sophistication, presenting both a fashionable and functional choice for the modern man. They have a way of effortlessly enhancing your casual look while providing a comfortable and stylish option for your day-to-day activities. If you are in hunt of suitable canvas sneakers then TOMS got you! This reliable platform will take care of all your needs and help you find your dream shoes. For more information, visit CelebZero.
FAQs