What type of footwear should an individual consider when it comes to comfort in the winter season? The style of footwear that hugs your feet wholly. Yes, we are talking about UGG ultra mini boots! The alternative to ankle boots and leather boots, the UGG ultra mini boots are an inevitable winter choice. These boots are a game-changer in the world of versatile footwear. They take the comfort of your feet to a whole new level. With the arrival of the new season, DTLR brings a new collection of UGG ultra mini boots to your doors. 
Why are UGG boots popular? 
Interestingly, these UGG boots have a long legacy of how they became part of mainstream fashion choice. When the discussion comes around about fashion brands, UGG is one of them. The unique style, high-quality material, and versatile design make UGG boots one of the best fashionable boots for winter. The boots were originally worn by surfers to keep their feet warm but over time, they have evolved into a popular fashion choice because of the cosy and plush interior design they come in. 
Different ways to style UGG ultra mini boots 
Even if the boots might be trendy, how you make them look stylish is determined by your way of dressing up. We have some classic tips for making your UGG boots look elegantly styled below: 
UGG boots with jeans: Okay, it might seem too obvious but UGG boots with jeans are a timeless fashion choice. Particularly baggy jeans and skinny jeans justify the UGG type of boots. Match the jeans with the UGG boots with any type of winter jacket. This style is durable for dinner dates and winter shopping. 

Long dresses and coats: There are different types of long dresses. Carefully consider the type of long dresses that are pairable with the UGG boots. The style is completely 90s classic look but you cannot underestimate the comfort provided by these boots. 

Monochromatic outfits: The UGG ultra mini boots are not only meant to keep your feet warm and comfortable, but they are great footwear to pair up with any type of monochromatic outfit. The boots will do justice to your favourite outfit for sure. 

Pants and blazers: Are you hiding that one favourite piece of blazer in your closet? Well, it's time to take it out of your closet and pair it with UGG boots. It will give you a sophisticated look that will get you compliments everywhere you go.  

Mini skirts and a long leather coat: how about we try to pair the boots with a mini skirt, and a long leather coat with a shirt underneath? The UGG ultra mini boot on your feet will do justice to the overall look for sure.  
New UGG ultra mini boots on DTLR 
1. Womens UGG classic ultra mini platform boots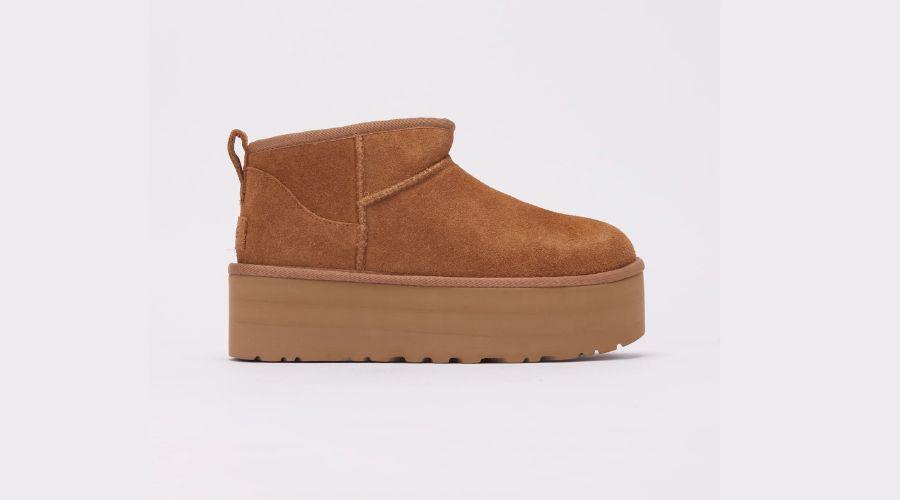 Are you looking for an alternative to ankle boots? Check out this new arrival Womens UGG classic boots on DTLR. The boots come with an ultra mini platform design. Consider the style as an iconic silhouette among the other UGG boots. The extra platform is not only for comfort but it adds to your height. 
The boots' platform comes with protective pre-treated suede. The soft sheepskin lining covers the feet. The style is meant for a cosy fit. The asymmetrical top-line and overlock stitch are also accentuating features. No doubt the Women's UGG classic ultra mini platform boots are a must-have for your winter collection.
---
Also Read: Stay Fashion Forward And Trendy With These Casual Dress Shoes!
---
2. Women UGG ultra mini fluff boots 
The ultra choice for every woman who loves to put on fancy footwear. This classic design is the best choice for any casual outfit. It features a plush cuffed collar which is not only stylish but keeps your feet warm, providing the cosy comfort you will appreciate. The UGG plush lining is also a defining style. Whether you are heading off to a carnival night or family dinner, this is a perfect pair of boots to add to your outfit. 
If you are not purchasing it for yourself, why not send it as a gift? This new arrival can be the perfect Christmas gift this season.
---
3. Women's UGG classic ultra mini platform boots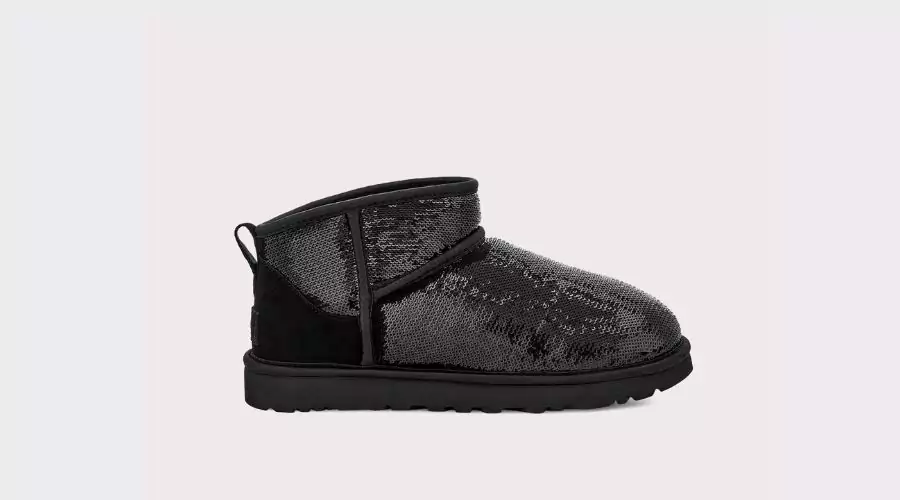 The Mini platform boots are made from high-quality material. The brand's iconic silhouette enhances the fine touch of sophistication you need. The best thing about the boots is the comfortable platform which not only adds to the fashionable style but also long-lasting comfort. The outer layers are durable and have zero colour fading even with frequent wash. The inner soft sheepskin lining is extremely comfortable.
Complete the look with skinny pants, a cardigan with a fur jacket. You can also add a clutch or a shoulder purse if needed.  
---
4. Womens UGG classic ultra mini mirror ball boots 
This new design is different from the other UGG boots. The boots feature a lower shaft height, adding to the versatile look. If you are pairing it with a different set of jeans or baggy pants the boots are compatible to go with them. 
What particularly separates the boots from the other boot's design is the Mirror Ball. Featuring a shimmering sequin upper and the soft sheepskin the boots are classic. Let this new festive season be a season of change for you. You can highlight your different side of fashion sense to your friends.
Pair up the boots with a casual dress with a fur jacket for extra layering. Add some silver accessories to complete the final look.
---
Conclusion 
One thing is for sure, when it comes to UGG ultra mini boots they will never run out of fashion. The boots are simply timeless. Every time you look into your wardrobe, you can not help but keep wanting to wear them. What could be more convenient than not worrying about cold feet anymore? Look for more varieties of UGG boots on DTLR if these mentioned ones are not to your taste. 
For more information, visit CelebZero.
FAQs