One of the most popular tourist locations is Thailand's floating market in Bangkok. Some waterways have been replaced by roadways, yet their obvious charm still makes them great places to explore. You have a lot of alternatives when planning your trip, including going to different floating markets in and around Bangkok, both during the week and on the weekends. A visit to any of Bangkok's floating markets is sure to fascinate your senses, whether your goal is to find one-of-a-kind treasures or simply to take in the vibrant ambience of these fascinating markets.
Thailand's floating market, which is mostly used as a tourist attraction, enjoys strong local support. It serves a variety of objectives, one of which is to promote riverbank shopping by allowing both domestic and foreign tourists to partake. Hundreds of sellers and buyers selling and purchasing agricultural goods and regional food are crammed into the market. For tourists, it is a particularly appealing location to observe the conventional and antiquated methods of purchasing and selling items.
Different ways to tour the floating market and other shopping destinations in Thailand
1. Damnoen Saduak Floating Markets on a Private Cruise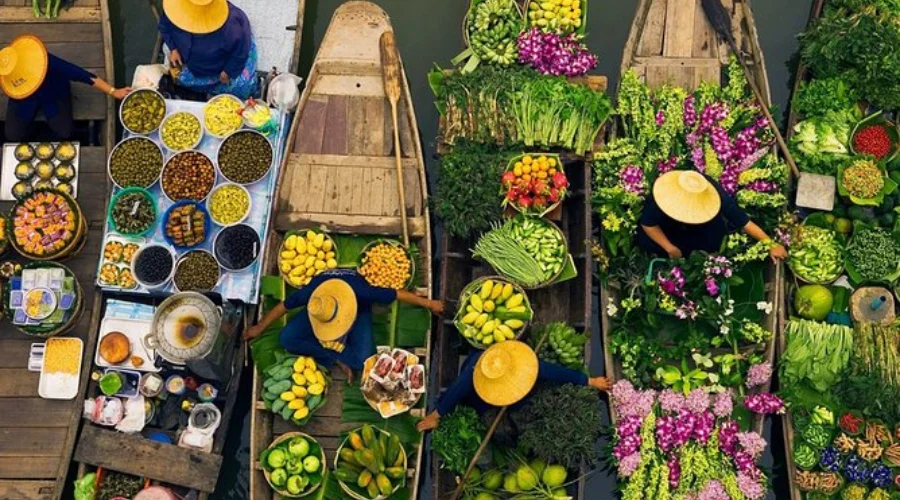 You can take a private tour of Thailand's Floating Market, Damnoen Saduak to experience the vivid spirit of Thai waterway culture. Travel in a motorised boat through Bangkok's maze of canals with an informed guide by your side as you observe local vendors navigating their traditional canoes as they go about their daily business. Observe the variety of fresh foods, handmade treats, and one-of-a-kind trinkets that are for sale. You can escape the busy city streets and absorb the genuine charm and allure of this renowned location. Your skilled guide will organise a fun boat tour to give you a true taste of interacting with the marketplaces like a local. Learn about the colourful Thai culture through the cuisine's flavours and the treasures found in its shops. This exclusive experience is created for small groups, offering a tailored and entertaining outing with a maximum of 12 individuals.
---
2. Floating Market & Railway Market Bangkok
Reach the renowned Meklong Railway Fresh Market, which is situated next to the railway. About eight trains pass by each day, and each time one is approaching, the vendors will retract their awnings to make place for the approaching train. A train passing through this incredible market provides a fascinating experience. You can take another journey to the Damnoen Saduak, Thailand's floating market after taking in this unique experience at Maeklong market. This is the finest way to go to the main area of the floating market. You will then board a long-tail boat and enjoy the lovely views surrounding the canal. Finally, you can learn about the Damnern Saduak floating market by taking a stroll through it, where you'll witness a lot of sellers selling local produce, meals, and other goods. spends 30 minutes paddling through the market.
---
3. Fully Personalized and Private Bangkok Floating Market Tour with a Local Guide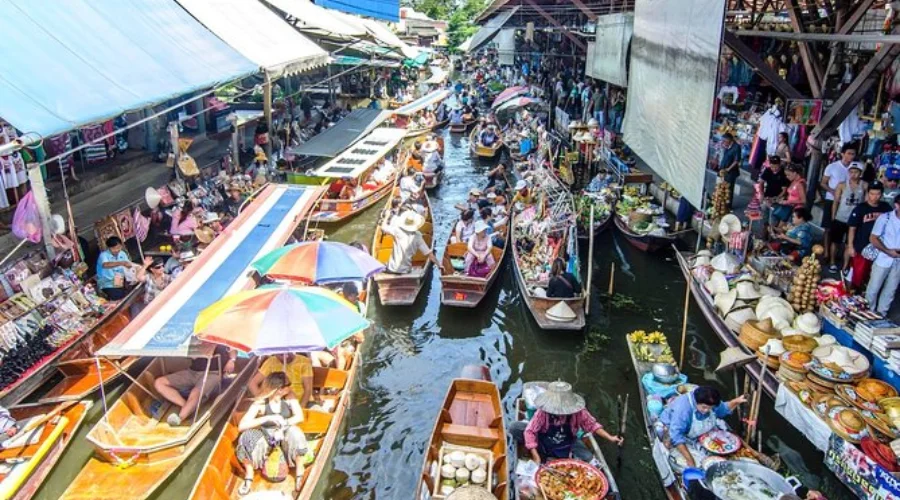 With a personal shopper who knows where to find anything from traditional Thai silk to cutting-edge technologies, you may shop your way through Bangkok. Shopping in Bangkok, where there are countless markets to pick from, might be intimidating, but this completely customised trip takes you straight to the city's best bargains. You can even choose an evening departure to take in the busy atmosphere at Bangkok's night markets. The ideal itinerary is made for you by the local shopping guide. Find your new favourite places—whether they're conventional, eccentric, or trendy. a wonderful opportunity to find distinctive Bangkok gifts according to your schedule, and flexible departure time.
---
4. Tour of Damnoen Saduak Floating Market and Chatuchak Weekend Market
This is a fantastic option if you want to take a full-day boat tour of Thailand's floating market, Damnoen Saduak and appreciate the distinctive boat shopping experience. Following your on-boat shopping and unique river transportation experiences, you may stroll along the riverbanks and take in the Saduak market. Later, you may visit Chatuchak Weekend Market, where everything is at a low price. This is a fantastic location for seeing the real Thai way of life and shopping for trinkets. From snacks to souvenirs, there are a wide variety of things available in this enormous market. On this Thailand shopping tour, a local guide will assist you in navigating the market, haggling with merchants, and talking with them.
---
5. Bangkok Shopping: Shore Excursion from Khlong Toei Port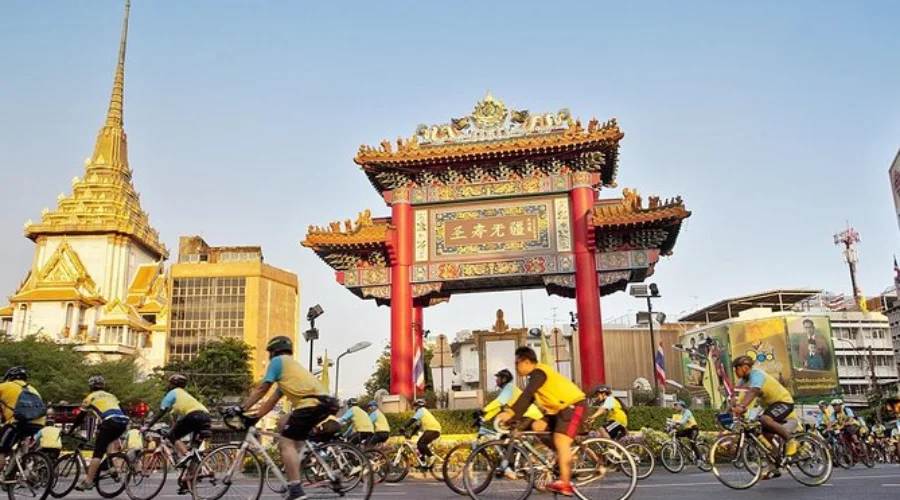 Your experience should begin as soon as your ship docks at Khlong Toei Port; our guides will be waiting for you at the pier's exit with your gear. Take your time to visit the most well-known landmark temples, including "Golden Buddha" and "Wat Arun," and then the city's intriguing locations, including China Town, Indian Town, and the Flower Market. Visit the neighbourhood Thai restaurant by the river and shop until you drop at the JJ mall, a neighbourhood mall in Bangkok. Discovering the essence of Thai craftsmanship and elegance is made possible by colourful street markets, posh malls, and boutique stores. Thailand's shopping environment is plenty of options, whether you're looking for beautiful artwork, traditional Thai textiles, or modern clothing. The round-trip private transportation and a helpful local guide are included in this sightseeing and shopping tour. 
Conclusion
Thailand's floating market, Damnoen Saduak is an enthralling must-see sight that highlights the nation's extensive cultural heritage. From this famous Floating Market, the busy canals offer a distinctive shopping experience where you can discover regional customs and savour delectable street food. The best markets in Thailand suit all tastes and preferences in addition to the floating markets. From lively night markets like Bangkok's well-known Chatuchak Weekend Market, you may learn about the Thai way of life and buy souvenirs endlessly. Thailand's floating markets and variety of shopping areas are a shopper's paradise where you can appreciate the nation's rich heritage. Enjoy the lively ambience, sample the regional cuisine, and experience the thrill of finding one-of-a-kind goods that perfectly represent Thailand. For more information, visit Viator and the official website of Celeb Zero.
FAQ's