Belfast is Northern Ireland's Capital and also the largest city. Belfast is famous for being RMS Titanic's birth place, which struck an iceberg and sank in 1912. It was later known as Linenopolis, which was the world's linen capital by the end of the 19th century. Given below are the cost of flights to Belfast and why you should fly there that you must check out to plan your perfect trip to Belfast without any hassle.
What are the Prices of Flights to Belfast?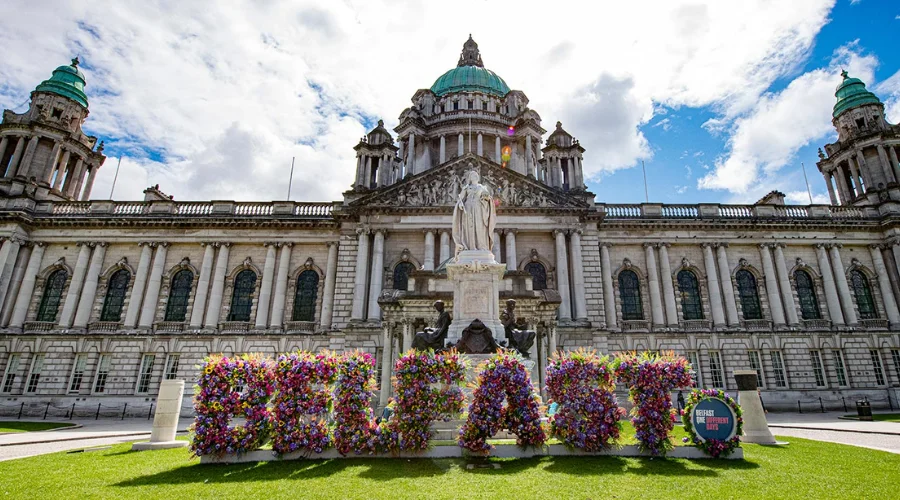 The price of Belfast to London flights starts from £12 only while the starting prices of Belfast flights from different locations in the UK are given below:
| | |
| --- | --- |
| To Belfast, From: | Starts from: |
| London  | £ 69.99 |
| Manchester | £ 44.50 |
| Glasgow | £ 64.99 |
| Birmingham | £ 58.99 |
| Edinburgh  | £ 40.99 |
Airports near Belfast
There are a total of three airports, one being in Belfast and the other two being near Belfast from where you can book flights to Belfast.
1. Belfast City Airport (BHD)
George Best Belfast City Airport in Belfast, Northern Ireland is a single-runway airport. It is one of the two airports in Belfast. It is situated at a distance of 2-3 miles from Belfast City Centre. This airport mainly handles domestic flights within the United Kingdom and Ireland. The most common airlines that operate here include: Aer Lingus, Ryanair, Flybe, Emerald Airlines and Aer Lingus Regional.
2. Belfast International Airport (BFS)
This is the main airport in Belfast which lies on the northwest side of Belfast in Northern Ireland. It is situated at a distance of 20 miles from Belfast City Centre. Both International as well as Domestic flights operate here. Majority of flights are operated by EasyJet, which is Northern Ireland's biggest airline, from Belfast International Airport. It features flights to many European destinations.
3. City of Derry Airport (CoDA)
If you want to come to the Derry Airport from Belfast then you will have to travel at an approximate distance of 76 miles by road. It provides flights to UK destinations and other places. Loganair, Ryanair and Travel Solutions are some of the airlines that operate here and connect the North West to Liverpool, London Stansted, Glasgow, Edinburgh, Manchester, Majorca and the Algarve. It is the main gateway for the North West of Ireland.
Also read: How To Choose Affordable Flights To Venice
---
Why should you book your flights to Belfast?
There are so many reasons as to why you should book your flights to Belfast. These include:
1. Titanic City
Go to the world's largest Titanic visitor attraction – Titanic Belfast to learn about the history of the Titanic including the ship's story of tragedy through exhibits such as a theatre of underwater exploration, recreated cabins  and a dark ride. You can also discover several attractions such as The Big Fish sculpture, Maritime Mile, etc.
2. Getting your culture fix
This city is culture-packed with not only its history but also the creative diversity. One of the most enjoyable places here is the Cathedral Quarter, which is full of class and character and also the oldest part of the city. Old traditional pubs, chic bars, art galleries & street art, beer gardens, dancing to traditional Irish music – you must experience it all. For that you can take a Black Cab Tour. If you are a writer or have love for poetry or poets then you have to visit the Writer's Square where there are quotes carved on a stone from famous local writers such as Hanna Bell and CS Lewis. 
3. Game of Thrones
You should discover the territory of Game of Throne in Northern Ireland- was selected as its backdrop. This was the film location of this phenomenal show because this place features dark forests, majestic ruins, ancient lands, and towering cliffs freckling the landscape. Some of the major attractions you must go to are Castle Ward Estate (Winterfell), Cushendun Caves (The Stormlands), The Dark Hedges (Kingsroad) and many others. Do not forget to check out the Glass of Thrones Trail where iconic scenes were filmed for a period of 10 years!
4. The Great Outdoors
You must visit Causeway Coast and Glens, the Irish countryside and the Northern Irish coastline to have epic experiences. Learn about the ruins of Dunluce castle, walk at The Giants Causeway which is a UNESCO World Heritage site or the Peace Bridge. If you are into adventure then you can go for a trek to the Gobbins coastal cliff path. 
5. Great food
Belfast has a distinct food culture. If you want to taste their authentic food items made using local ingredients then you can go to an affordable Michelin star restaurant or St. George's Market. If you would like to meet local producers, then do take a food tour to taste their handmade teas, chocolates and freshly baked breads. Do try out their local drinks as well,, including: Jawbox Gin, Bushmills whiskey, etc. 
---
Conclusion
Before missing out on the offers that are going on, hurry up and book your flights to Belfast from the official site of Easyjet as recommended by Celebzero. For more information, visit EasyJet and the official website of Celebzero.
FAQ's