Let's explore Simply Be's exquisite collection of summer dresses! Embrace the warm season with style, grace, and effortless elegance. These dresses will make you feel like a radiant goddess. From lively florals to playful polka dots, its summer dresses offer a kaleidoscope of patterns and prints that make for a world of endless possibilities. Feel the gentle caress of lightweight fabrics against your skin as you move about.
Get ready to dress up in the sheer delight of summer fashion. Step into a summer dress from Simply Be, where comfort meets style, and embrace the warmth of the season with unparalleled elegance. Let your wardrobe tell your story and make a lasting impression wherever you go. Simply Be is here to make your summer dreams come true.
An amazing collection of summer dresses on Simply Be:
1.Blue Print Ruched Front Waffle Dress (midi)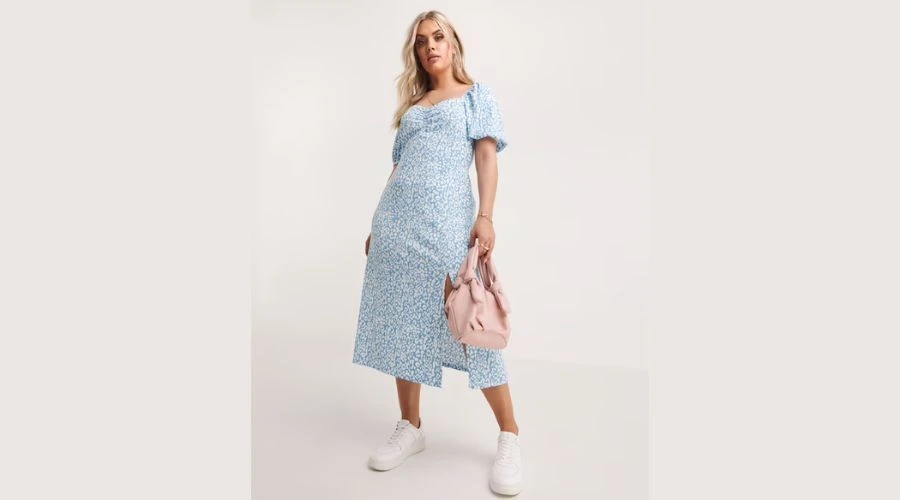 The mesmerising Blue Print Ruched Front Waffle Midi Dress is a combination of sophistication and playfulness, designed to make you feel like a summer enchantress. The beautiful blueprint of this dress is reminiscent of crystal-clear ocean waters and reflects the hues of summer. The ruched front detail will accentuate your curves and add a touch of sensuality. The strategically placed side split gives a glimpse of sun-kissed skin, inviting a flirtatious breeze to dance with the flowing fabric as you strut your stuff. 
The midi length of this dress is the perfect balance for elegance and comfort. The length will softly brush your calves and allow you the freedom to move with ease. You can pair summer dresses with strappy sandals and a wide-brimmed sun hat for a laid-back sophisticated look. Simply Be summer dresses are an invitation to embrace the carefree spirit of summer, and to feel confident and beautiful in your own skin. 
2.Natural Crochet Dress (midaxi)
The Natural Crochet Midaxi Dress from Simply Be is a breathtaking dress, crafted with detail and a touch of whimsy that will take you to sun-dappled meadows and dreamy outdoor gatherings. Its earthy, neutral tone captures the essence of rustic beauty, while the delicate crochet detailing adds an artisanal touch. The flowing skirt cascades down to the calves, allowing you to move with grace while exuding an air of refined bohemian chic. The lightweight fabric will dance with the breeze and create a spectacle that embodies the carefree spirit of summer.
The crochet bodice of the dress features intricate patterns and delicate textures to reflect an alluring glimpse of the skin. You can pair crochet summer dresses with woven sandals and a floppy hat for a boho-chic look. This is more than a dress—it's an embodiment of the spirit of nature, a celebration of your inner free-spirited soul. Make memories as you wear this dress that will linger long after the summer sun has set.
3.Textured Gingham Midi Dress (with pockets)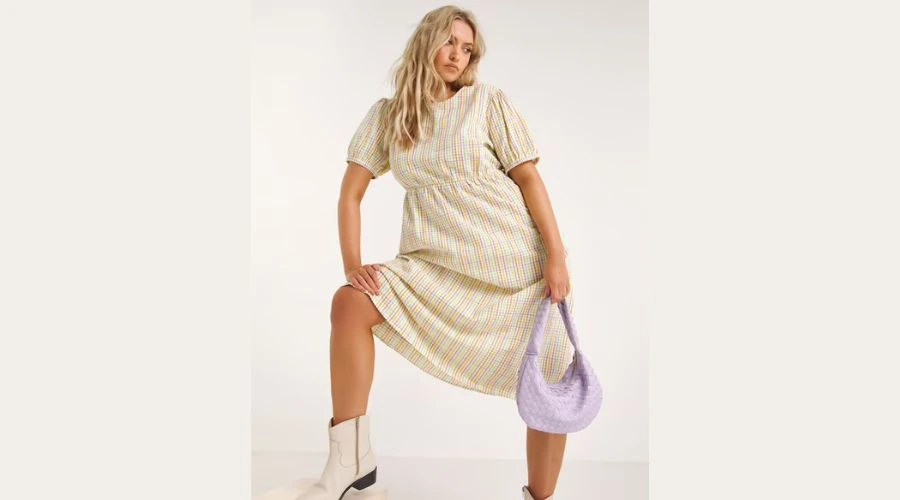 The charming Textured Gingham Midi Dress perfectly captures the essence of timeless elegance and playful nostalgia. This dress is a delightful fusion of classic gingham print and modern sophistication. The textured fabric adds a touch of depth too. You can run your fingers across this dress and feel the interplay of softness and structure. As you slip into this dress, you'll be amazed by its versatile and flattering silhouette. 
The gently flared skirt falls below the knees, striking a balance between sophistication and comfort. And here's the best part – this dress has pockets! The gingham print, with its chequered pattern, evokes a sense of nostalgia for carefree summer days and whimsical garden parties. The contrast of crisp white against the colour palette infuses the dress with character. This should be your go-to dress if you want an effortless style. Among the most popular sun dresses, it allows you to feel both fashionable and comfortable. 
4.Boutique Floral Print Dobby Georgette Skater Dress
The Boutique Floral Dobby Georgette Skater dress is a delightful blend of femininity and playful charm, designed to make you feel like the protagonist of your own fairytale. The skater silhouette of this dress adds a touch of youthfulness, hugging your waist before gracefully flaring out into a twirl-worthy skirt. As you move, the frill hem floats and flutters to create an effect that mirrors the petals of a flower in the wind. 
This dress is perfect for any occasion, from a summer wedding to a garden party. Short summer dresses can be paired with flats and a sun hat for a romantic look. This skater dress from Simply Be is more than just a dress—it's an invitation to take in the beauty of nature and express your style. Let its floral pattern immerse you in a world of blooming gardens and magical moments. Slip into this dress and twirl playfully as you become the embodiment of summer's delightful dreams.
Conclusion
Simply Be offers a stunning array of summer dresses for various styles and sizes. From the Blue Ruched Front Waffle Dress, which combines elegance and sensuality, to the Crochet Midaxi Dress, which captures the essence of bohemian beauty, each dress is a wonderful summertime apparel. Whether you're looking for a dress for a beach getaway, a garden party, or a romantic evening, Simply Be's collection makes sure that you can embrace the summer with confidence and effortless style. Go ahead and explore their selection to find your perfect fit. For more information, visit Simply Be and the official website of Celeb Zero. 
FAQ's