In the fashion world, women's jumpers are emerging as the most essential wear that you can easily style in winter, giving you a modish appearance while still staying warm and cosy. With their timeless appeal and chic designs, jumpers have surely carved a strong niche for themselves. And, if you are looking for diverse silhouettes with unique designs, Matalan offers a wide range of women's jumpers to choose from.
1. How to Wear Women's Jumpers Fashionably in Winter? 
Here are some tips and tricks that will help you style your jumpers in the most stunning ways possible
1. Styling Oversized or Baggy Jumpers
When it comes to oversized women's jumpers, you can either style them by putting a belt on top or by curating sexy attire. Pair them with skinny jeans or jeggings, as the overall outlook will make you appear more slimmer and longer. 
2. Jumpers as a Dress
If you want to pull off a fashionable look for brunches or dinner dates, you can wear the women's jumpers as dresses by styling them with skirts or shorts. Add on some cute matching socks with pumps or boots, and you're ready to step outside.
3. Formal Attire
For more of a formal look, wear your jumper over a collared white shirt. You can also try unique colours to pair with the jumper, but go for the brighter ones instead of choosing the darker shades. Also, if you can find shirts with studded collars that will help accentuate the look even more.
4. Casual Day-out Look
For a casual day-out look, pair the jumper with overalls. It will give you an adorable joyful outlook that looks amazing and still feels comfortable enough to roam around the town all day long.  
5. Add on Leather
When you add on a leather jacket or even pants along with your jumper, it gives you a bold and stylish appearance. Simply add boots and a handbag to the fit and you are ready to party all night.
---
2. Which women's jumpers are trending this year?
Here are some of the coolest and trendiest items to pull off this winter season-
1. Navy Stripe Jumper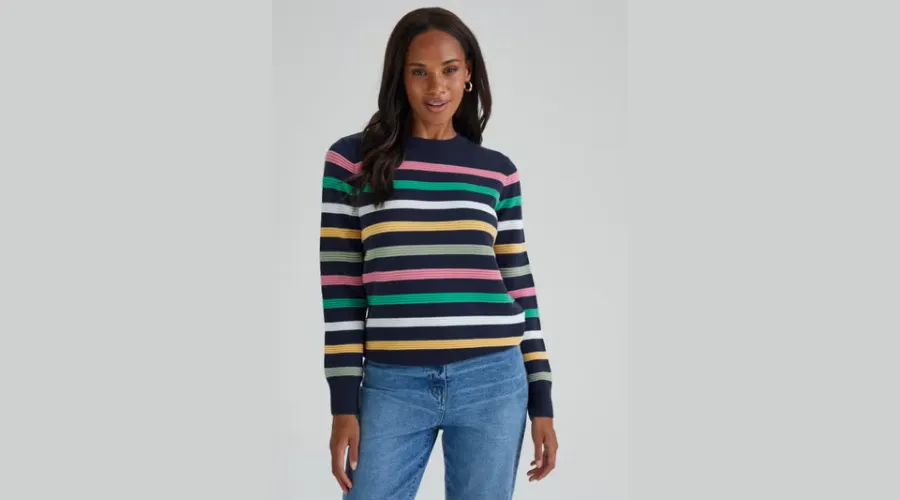 This cosy navy stripe jumper with horizontal stripes in pink, green, white, and yellow shades makes it quite a fashionable and comfy women's jumper to invest in. For an added dash of snugness, the pullover comes with cuffed full sleeves and offers quite an ideal fit. 
You can easily pair the acrylic sweater with jeans or trousers for a casual outlook. Otherwise, pair with a sweater with cute shorts or skirts and boots for chic attire. The article is available in Medium and Large sizes and you can purchase them for a price of £19.
---
2. Taupe Stripe Baby Cable Jumper
This Taupe Stripe Baby Cable Jumper is another amazing women's jumper that you can easily style for an everyday look. Ideal for the unpredictable colder weather, this timeless jumper keeps you warm and fuzzy throughout the day without making you feel uncomfortable.
Made with a natural base and taupe stripe design, the jumper features an intricate baby cable texture, providing a signature finish to the article. With cosy long sleeves and a simple crew neckline, style the pullover with white denim and trainers to pull off an adorable look.
---
3. Pink Heart Print Soft Touch Jumper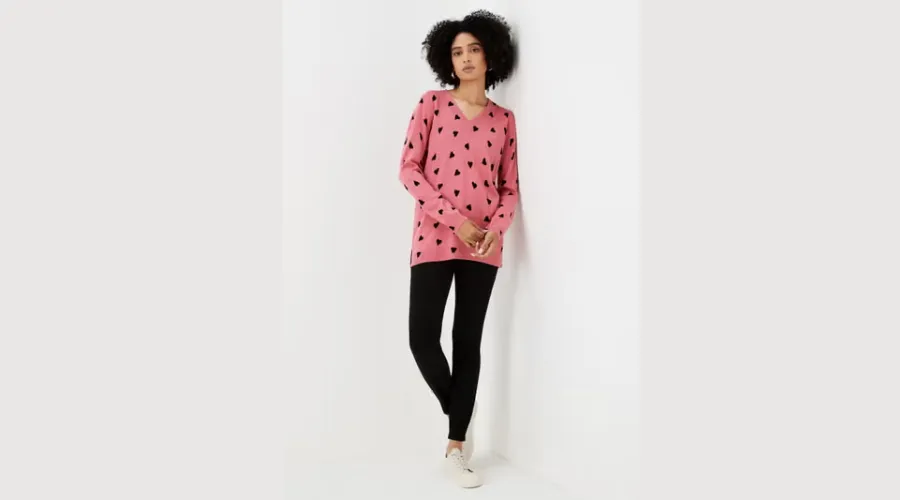 This Oversized Pink Heart Print Soft Touch Jumper would be a delightful addition to your wardrobe. With a pink base and sweet black heart prints, you can already feel the love radiating everywhere around you. The women's jumper comes with cuffed long sleeves and a V-neck for a flattering finish.
Being one of the best cold-weather essentials, you can easily pair this article with cropped trousers or black denim and trainers for casual chic attire. Available in EU sizes from 8-20, this article comes at a pretty low cost of £15.
---
4. Pink Round Neck Soft Touch Jumper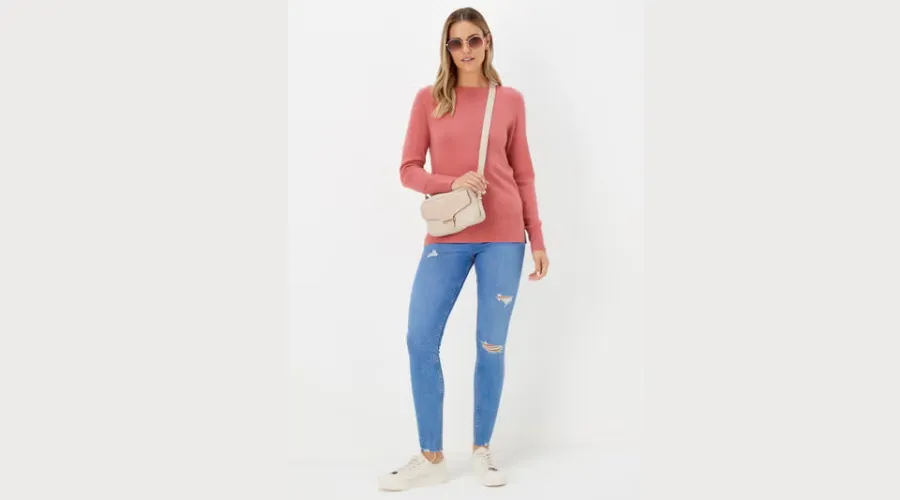 There's nothing better than buying a classic Pink Round Neck jumper to add to your wardrobe. Made with soft knitted fabric, this elegant round beck style and cute coloured women's jumper is a sure-shot investment to make. With long cuffed sleeves and hem design, gives it a decent look to pull off this winter.
You can either pair the pullover with denim jeans and sneakers for curating everyday attire or throw in a collared shirt underneath and pair it with formal trousers and a laptop bag for a formal outlook. Being a versatile women's jumper, this article is available for £12.50 only.
---
Conclusion
With so many options available to choose from when it comes to finding a chic casual women's jumper, Matalan houses a variety of them at pretty reasonable prices. The shopping portal offers high-quality fabrics and materials that stay more durable than you'd expect, making them a long-term investment. For more fashion information, visit Celebzero.
FAQs