In the Fashion Industry, the demand for new models and designs of clothes has grown rapidly. The trend of reviving old fashion ideas has created a viral impact, and people promote these cultures. Wrap dresses are inspired by ancient Chinese and Japanese fashion methods and introduced by American fashion designer Diane von Furstenberg for professional working women to support the women's liberation movement of the 1970s. 
The best wrap dresses are crafted by wrapping one side of the fabric with the other side forming a closure in the neckline. The wrap dresses are styled with a knot tying by the waist or faux wrap stitched for permanent. This wrapping style gives you a deep V-neckline, which adds beauty to the outfit.
Karen Millen presents you with a wide range of wrap dresses for a classy, sophisticated look for your day-to-night routine. Exploring intricate details, wrap dresses are in traditional to modern shapes with comprehensive styles and designs. Take a look! We have brought you the best elegant piece and avail them from Karen Millen's website.
---
List of top 5 best Wrap Dresses
from Karen Millen to buy
Here are the most trending wrap dresses you can explore. Unleash the ultimate style by wearing these best wrap dresses from Karen Millen. Below given list are some of the best-selling dresses.
1. Black Tuxedo Wrap Mini Dress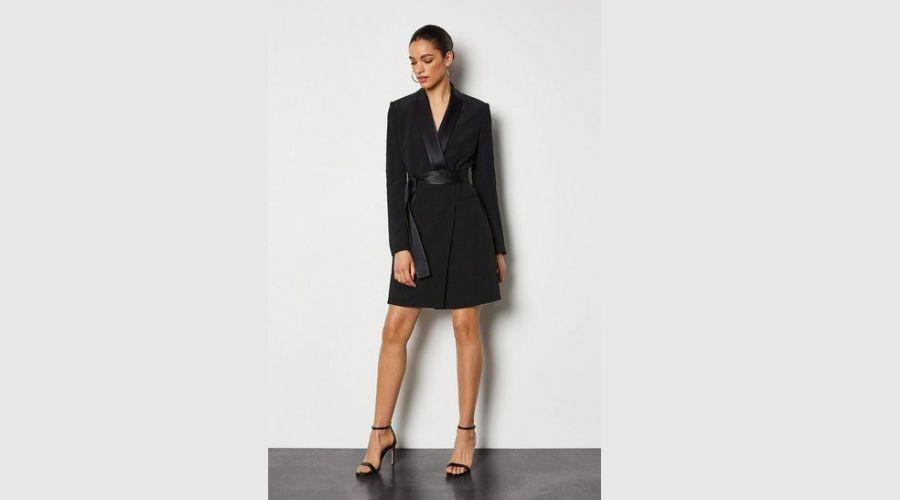 A formal black business suit will give you confidence. This plain black wrap dress is inspired by classic tux styling. Its wrap-over front with belted waist adds glamour and elegance to your look. It is crafted with long sleeves and comes in a mini length. It's among the best wrap dresses that you want to pick for your business occasion and formal meetings. You can avail of this in three different colours and sizes.
---
2. Wrap Sleeved High Low Midi Dress
Add this spellbound signature piece to your wardrobe for an extensive collection. It is one of the best wrap dresses that are soft tailored for a new stylish look. This polyester Wrap Sleeved High Low Midi Dress is artfully draped with long puffed sleeves in addition to high and low hems. If a long dress is not your style, yet you prefer its aura, Grab this plain mid-length wedding guest dress for your special occasions. The long sleeves give you a toned look. Experience these best flattering wrap dresses in five colour variants and sizes.
---
3. Spring Floral Wrap Mini Dress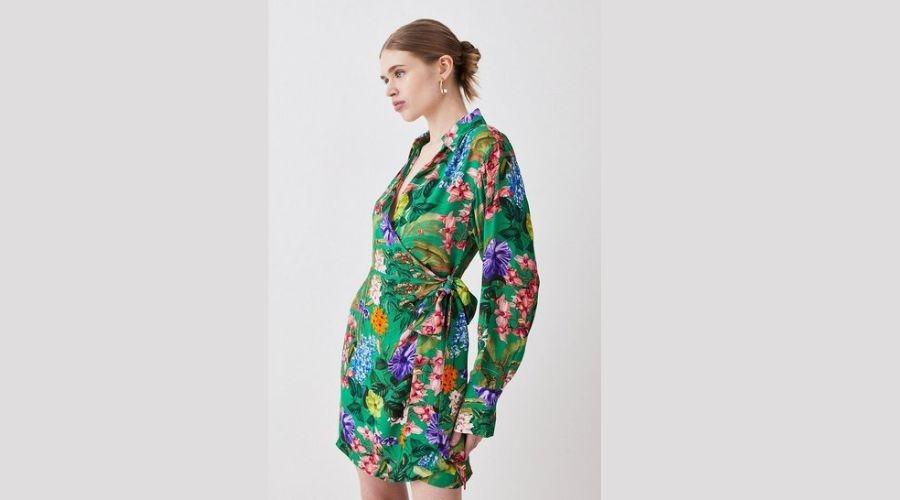 Welcome this spring with a floral mini-wrap dress created for your comfort. This green with pink and blue floral print keeps your spirits energised. This collection is one of the best wrap dresses for plus size with long sleeves that will give you an adorable and elegant look. Its fabric is wrapped on one side with the other side with an elegant knot near the waist. Grab this beautiful dress conveniently from the website.
---
4.  Compact Crepe Wrap Waist Pencil Midi Dress
Wedding season is on the way! Dress up with this beautiful crepe wrap pencil midi dress, designed especially for weddings, as a guest dress. This plain pencil dress has collared and long sleeves to intensify your modesty. Its unique criss-cross wrap enhances your body structure. Grab these best wrap dresses only on Karen Millen.
---
5. Linen Angel Sleeve Wrap Front Dress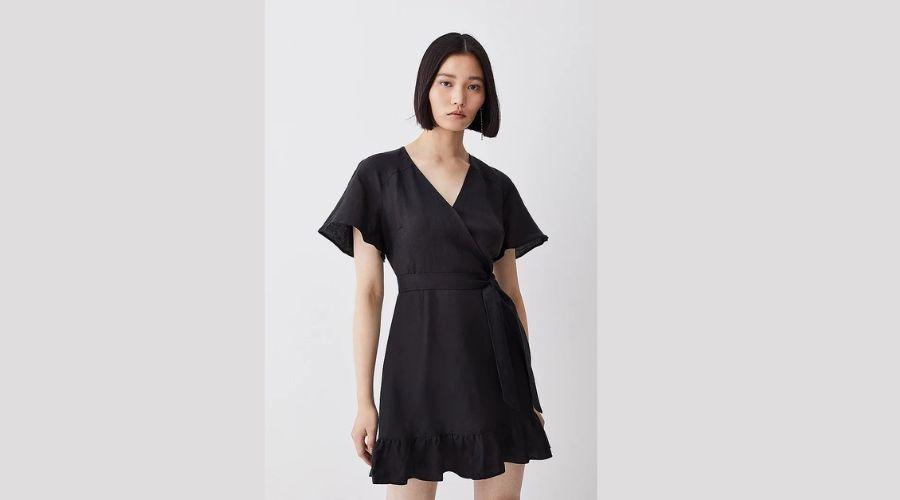 This exotic greenish wrap dress can be styled for multiple occasions. Besides adding grace to your personality, it ensures comfort this spring. Its crew neckline, and short sleeves activate the attraction of your look. Its fit-flare silhouette and waist belt add instant elegance. The ruffle hemline of the dress brings out an ethnic feminine quality. Look for the best wrap dresses that are hundred per cent cotton and sophisticated for springtime.
---
Conclusion
In this fast-paced technological generation, women prefer to be on point in their fashion sense. Be it a party date or a guest dress for a wedding, you can match all your desired expectations matching current fashion trends in this modern world. It brings an excellent change to your body. This wrap dress compilation helps you choose the best for your occasion. Go check out Karen Millen's website now to explore them. These are the top 5 women's best wrap dresses from Karen Millen to buy. You can look out for excellent fashion tips and beauty ideas on CelebZero, like the best wrap dresses, the best flattering wrap dresses and many more to draw inspiration from them.
FAQ's