Some aesthetics have the extraordinary power to fascinate people through generations and time. The Tea Dress is one such timeless design that continues to mesmerise women around. The tea dress has established itself as a mainstay in any fashion-conscious person's closet because of its ease, adaptability, and elegance. Tea dresses have a rich history that dates back to the early 20th century when women would don these charming dresses during afternoon tea gatherings. The term "tea dress" itself originated from this delightful tradition. These dresses were characterised by their tea-length hemline, which falls below the knee, and their effortless elegance. Over time, tea dresses evolved from being exclusively for tea gatherings to becoming a versatile and stylish option suitable for various events.
Nobody's Child is a renowned London-based fashion label known not only for its commitment to delivering fashionable clothing but also for its dedication to sustainability. With a strong ethos focused on ethical practices and environmental responsibility, Nobody's Child has carved a niche for itself in the fashion industry, capturing the hearts of conscious consumers worldwide.
5 ways to style tea dresses for a brunch date 
A brunch date is a delightful opportunity to indulge in good food, great company, and showcase your unique style. The tea dress, with its timeless charm and versatility, is the perfect ensemble to exude effortless elegance during such occasions. Nobody's Child, a renowned fashion brand known for its exquisite tea dress collection, offers a plethora of choices to suit various tastes. 
1. Classic Chic: Embrace Timeless Sophistication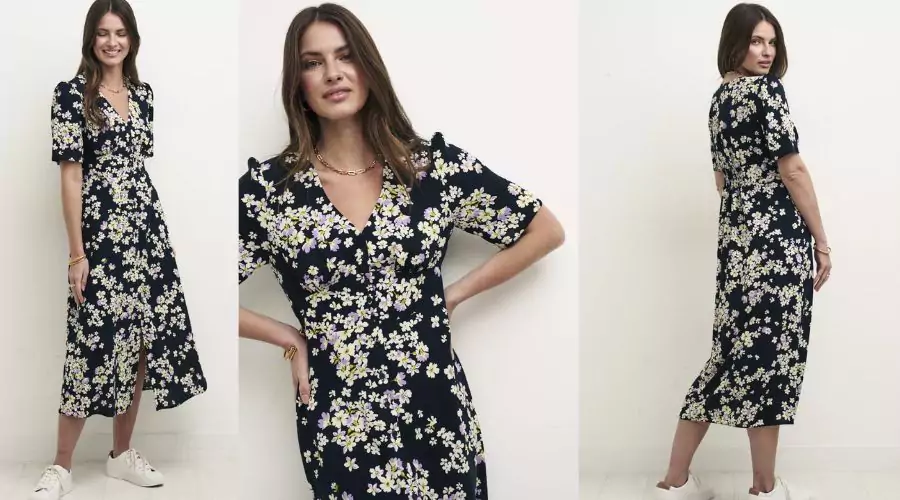 For a classic and chic look that transcends time, opt for a tea dress in a solid pastel hue, such as blush pink, mint green, or powder blue. Nobody's Child's range of solid-hued tea dresses perfectly embodies timeless elegance such as Cream Linen-blend Alexa Midi with Shirring Dress. Follow these steps to achieve the classic chic style:
Cinch the waist with a thin or wide belt in a complementary colour to accentuate your curves and add a touch of sophistication. Slip on a pair of stylish ballet flats or low-heeled sandals for a comfortable and polished look that allows you to wander through your brunch date with ease. Keep accessories minimal with a delicate pendant necklace and subtle stud earrings to enhance the overall elegance. Finish off the ensemble with a structured tote bag in a neutral tone, perfect for carrying all your brunch essentials with style.
---
2. Boho Dream: Embrace the Free-Spirited Vibe
For a bohemian-inspired brunch look that captures the essence of carefree spirit, choose a tea dress with a whimsical floral print or a flowing maxi silhouette like Watercolour Floral Alexa Midi with Shirring Tea Dress. Nobody's Child's array of boho-inspired tea dresses offers the perfect options for achieving the boho dream style:
Layer the tea dress with a lightweight kimono or a crochet cardigan to add a touch of bohemian flair and embrace the free-spirited vibe. Opt for suede ankle boots or strappy sandals to complete the boho look, ensuring both style and comfort. Accessorise with a wide-brimmed floppy hat and stackable boho-inspired bracelets to elevate the bohemian charm. Carry a fringe crossbody bag to add the final bohemian touch to your look while keeping your essentials close at hand.
---
3. Effortless Casual: Embrace Relaxed Comfort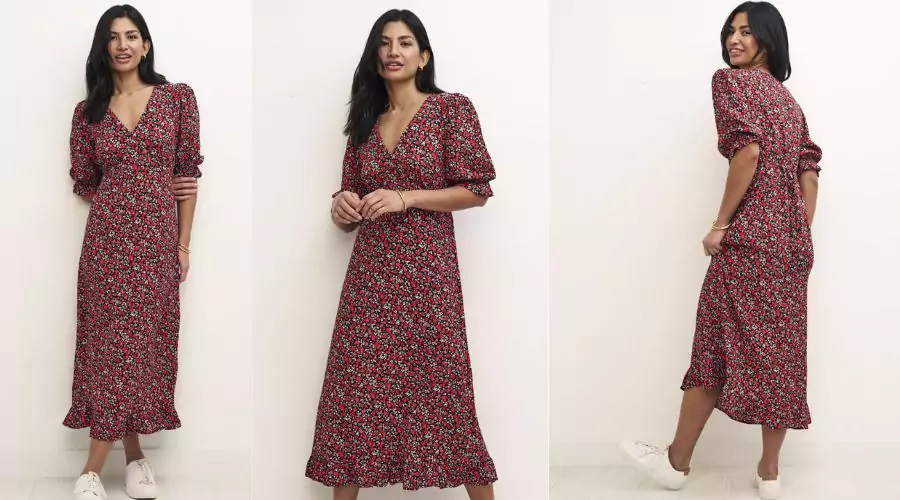 For a laid-back and effortlessly chic brunch date, go for Red Floral Delilah Midi Dress in a relaxed fit and a comfortable fabric. Nobody's Child's casual tea party dresses strike the perfect balance between comfort and style, making it easy to achieve the effortless casual look:
Leave the tea dress flowy and loose for a relaxed fit that allows you to move freely and enjoy your brunch date comfortably. Pair the dress with trendy white sneakers or slip-on espadrilles for a sporty yet chic look that adds a touch of casual coolness.Keep accessories minimal with a delicate pendant necklace and simple stud earrings to maintain the understated elegance. Throw on a denim jacket or a lightweight utility jacket if the weather calls for a little extra layering and casual flair.
---
4. Vintage Glam: Embrace Nostalgic Glamour
For a touch of vintage glamour that harks back to the golden era, opt for a tea dress with a retro-inspired print like polka dots or small florals like Fearne cotton cream spot print alexa midi dress with shirring. Nobody's Child offers a stunning selection of tea dresses that perfectly channel the nostalgia of yesteryears:
Cinch the waist with a wide belt in a contrasting colour or one with a bold buckle to create an hourglass silhouette reminiscent of vintage fashion. Complete the vintage look with peep-toe pumps or kitten heels that add a touch of sophistication and glamour to the ensemble. Don a vintage-inspired hair accessory like a headband or a silk scarf tied in a bow to exude timeless charm. Adorn yourself with a string of pearls or vintage-inspired jewellery, such as a statement necklace or chandelier earrings, to accentuate the vintage appeal.
---
5. Modern Romantic: Embrace Soft Femininity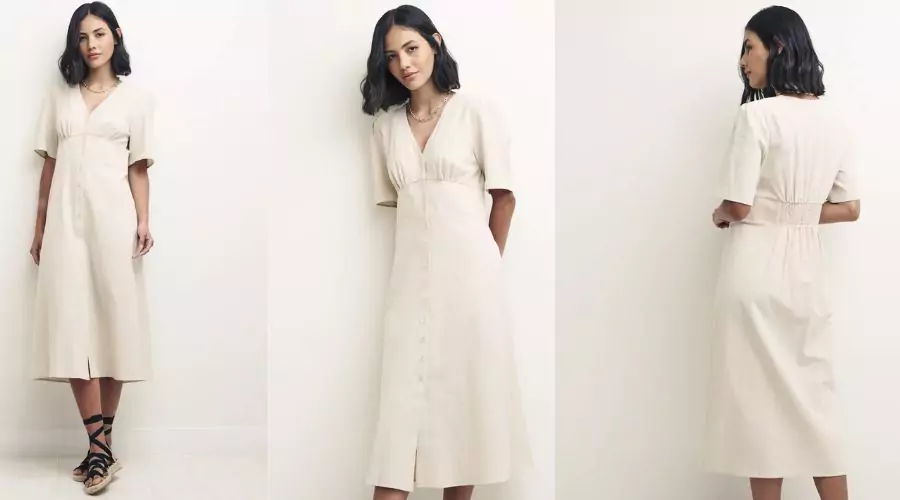 For a modern and romantic brunch date outfit, opt for a tea dress in a soft and feminine fabric. Nobody's Child offers a range of modern romantic tea dresses that exude charm and elegance for instance, Black Floral Alexa Midi With Shirring Dress. Follow these steps to achieve the modern romantic style:
Choose a tea dress with delicate lace detailing or a soft ruffled neckline to embrace the softness and romance. Pair the dress with heeled sandals or strappy heels to elongate your legs and add a modern touch of sophistication. Accessorise with a dainty pendant necklace and statement earrings that strike the perfect balance between subtle and eye-catching. Carry a chic clutch or a sleek crossbody bag in a complementary colour to complete the modern romantic look with an element of refined elegance.
---
Tea-length wedding dress
A tea-length wedding dress is a style of bridal gown characterised by its hemline, falling below the knee and above the ankle. It is shorter than traditional full-length wedding gowns but longer than knee-length dresses. Tea-length wedding dresses have gained popularity among modern brides seeking a unique and vintage-inspired look for their special day.
The trend towards tea-length wedding dresses was driven by several factors:
Vintage Appeal: Tea-length wedding dresses harken back to a bygone era, evoking a sense of nostalgia and timeless elegance that appeals to many brides.

Versatility: Tea-length dresses are versatile and well-suited for various wedding styles, from intimate garden ceremonies to more casual or rustic-themed weddings.

Comfort and Practicality: The tea-length hemline allows for ease of movement, making it a practical choice for brides who want to dance and mingle with guests without being encumbered by a long train.

Unique and Unconventional: Brides who sought a more unique and unconventional look found tea-length dresses to be an excellent alternative to traditional full-length gowns.
Conclusion
Nobody's Child has masterfully revived the timeless allure of tea dresses, elevating them into a must-have fashion staple for women around the world. With their commitment to sustainability and their exquisite designs, Nobody's Child tea dresses perfectly blend classic elegance with contemporary sensibilities. Whether it's for a charming tea party, a delightful afternoon gathering, or even an unconventional wedding, Nobody's Child tea dresses stand as a testament to the enduring beauty of timeless fashion. Embrace the captivating world of tea dresses and immerse yourself in the vintage charm and elegance they offer. For more information, visit Celeb Zero.
FAQ's