New Balance has been a renowned brand in the sneaker industry for decades. It has continuously delivered high-quality footwear that combines style, comfort, and performance. Among their impressive lineup, the New Balance 550 series has gained immense popularity for its classic design and versatile appeal. In this blog, we will explore the world of New Balance 550 shoes available on JD Sports and highlight the top picks that provide exceptional value for both style-conscious individuals and budget-savvy shoppers. Let's go!
About the affordable New Balance 550 shoes 
The New Balance 550 series represents a perfect blend of retro aesthetics and contemporary fashion. Back in 1989, the New Balance 550 made its debut as a basketball shoe. It featured a sleek, low-top silhouette with a leather and suede upper and a comfortable ENCAP midsole. In recent years, the New Balance 550 has experienced a resurgence in popularity. This is due in part to the rise of retro sneakers, as well as the 550's timeless design. These sneakers are designed for folks who are looking for a versatile, comfortable, and fashionable option for various occasions, from everyday wear to casual outings and even light athletic activities. 
Best 5 New Balance 550 on JD Sports 
The New Balance 550 series available on JD Sports offers an impressive selection of sneakers that cater to various age groups and style preferences. Each shoe in this collection has its own unique features and design elements, ensuring there's a perfect pair for everyone. 
Let's dive deeper into the five best New Balance 550 shoes on JD Sports: 
1. New Balance 550 
The classic New Balance 550 sneakers are the epitome of versatile footwear, catering to both men and women with their unisex design. These shoes strike the perfect balance between retro aesthetics and modern appeal, making them a go-to option for individuals of all ages. The combination of leather and synthetic materials not only adds to their durability but also offers a premium look and feel. Whether you're strolling around the city, running errands, or hanging out with friends, the New Balance 550 sneakers will effortlessly complement your outfit and provide lasting comfort. 
---
Also Read: The Most Adaptive Neutral Running Shoes for Runners 
---
2. New Balance 550 Women's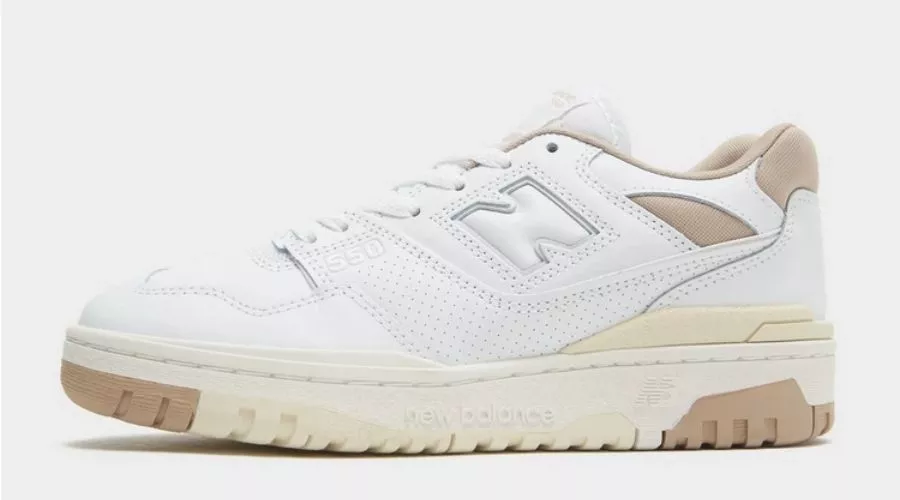 The New Balance 550 Women's shoes stand out with their sleek and stylish design, specifically tailored to complement the fashion-forward women of today. These sneakers boast a classic silhouette that exudes a timeless appeal, making them a versatile addition to any wardrobe. The shoe's leather upper not only enhances its premium look but also ensures excellent durability, making it a reliable choice for daily wear. Also, the cushioned midsole provides a comfortable experience, allowing you to stay on your feet all day without discomfort. Whether you're heading to work, meeting friends, or exploring the city, the New Balance 550 Women's Shoes will elevate your style effortlessly.
---
3. New Balance 550 Junior 
The New Balance 550 Junior shoes are perfect for older kids and teenagers who appreciate fashion-forward footwear. With a design that aligns with contemporary trends, these sneakers boast a trendy and stylish appearance that will make any outfit pop. Beyond their aesthetic appeal, the shoes feature a durable rubber outsole, providing enhanced traction and support for various activities, from school sports to casual hangouts. Comfort is not compromised either, as the New Balance 550 Junior shoes offer a snug fit that allows for all-day wear without discomfort. Your teens can express their unique style and enjoy superior comfort with this standout pair.
---
Also Read: Stepping Up Your Sneaker Game With The Best Puma RS-X Shoes
---
4. New Balance 550 Children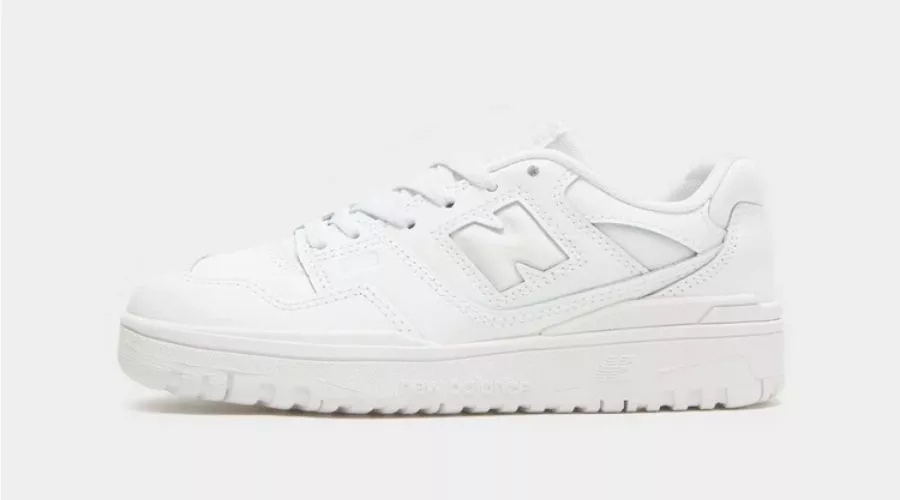 The New Balance 550 Children's Shoes are designed to cater to the energetic and playful spirits of kids. These sneakers offer a fun and sporty look that kids will love, and their comfort-focused design ensures they can keep up with their active adventures. Featuring a convenient hook-and-loop closure, these shoes are easy to put on and take off. The combination of style and functionality makes them an ideal choice for school, playdates, and other outdoor activities. Parents can rest assured that their little ones will have secure footing and excellent support with the New Balance 550 Children's Shoes.
---
5. New Balance 550 Infant 
The New Balance 550 Infant Shoes are irresistibly adorable and designed to keep the tiniest feet comfortable and supported. These miniature sneakers feature a soft leather upper, ensuring gentle support for delicate feet while offering a secure and comfortable fit. The easy slip-on design saves parents valuable time when dressing their little ones, making these shoes an ideal choice for daily wear and special occasions. Parents can rest easy knowing their infants are not only looking cute but also wearing a pair of shoes crafted with their comfort in mind. The New Balance 550 Infant Shoes are an adorable addition to any baby's wardrobe.
---
Also Read: Making Off-Road Expeditions Possible: The Best Trail Running Shoes
---
Conclusion 
The New Balance 550 series on JD Sports offers an impressive lineup of sneakers that cater to different age groups and style preferences. From the sleek and stylish New Balance 550 Women's to the irresistibly cute Infant shoes, each pair in this collection offers its own unique blend of design, comfort, and functionality. Whether you're looking for trendy kicks for yourself or reliable footwear for your kids, the New Balance 550 series has got you covered. Embrace the retro-inspired charm and modern appeal of these sneakers and elevate your footwear game with a touch of New Balance legacy. For more such updates, visit Celebzero.
FAQs