Men's chinos have made their way into the fashion world as the comfiest bottoms to have in your wardrobe. With their versatile outlook and stylish fit, they can easily be used for multiple occasions, from a casual outing to a business meeting. You can transition your looks in seconds by making a few additions to the fit. So, let's explore some of the amazing men's chinos available on Matalan for pretty reasonable prices and how you can style them in your day-to-day life. 
What to look for when buying Men's Chinos?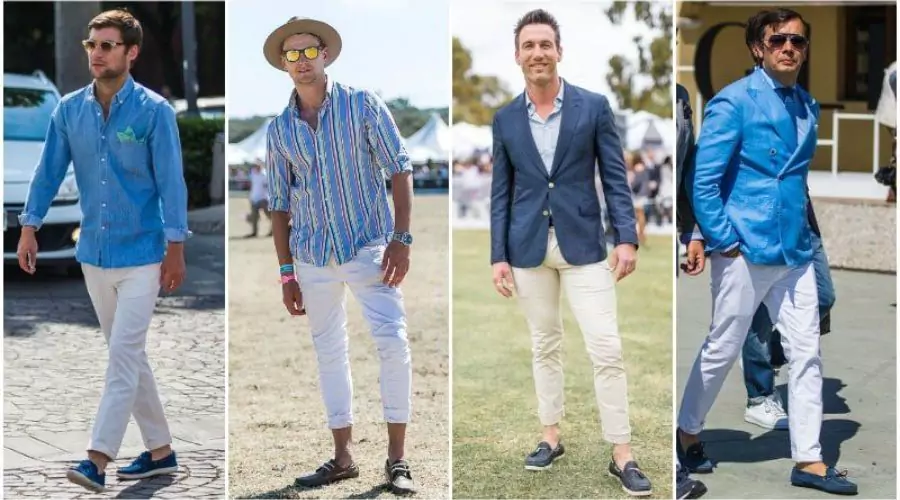 While there are several factors you can consider when purchasing Men's Chinos, here are a few to help you find the correct products.
1. Fit
Men's Chinos come in various fits and sizes, like slim fit, regular size, or relaxed fit. Choose the one that suits your body type well and aligns with your style preference. While a slim fit offers a tailored outlook, regular or relaxed fits offer more comfort and room to breathe.
2. Fabric
Chinos are generally made of cotton twill fabric, but their weight and finishing can vary from brand to brand. Invest in lighter-weight fabrics for the warmer season, and heavier-weight ones for the winter season. Also, check their quality, as with better-quality fabric, they can last longer.
3. Colour
With a wide range of Men's chinos colours available to choose from, always invest in classic shades like black, grey, beige, or navy hues. Simply invest in a colour that complements your skin tone and obviously suits your style.
4. Length
Chino's length could vary from cropped to full ankle-length. So, select a length according to the occasion and your preference. Full-length chinos are preferred more for formal meetings or functions, while cropped ones offer a stylish casual outlook.
5. Price
Always set aside a budget before purchasing men's chinos, as they could easily go higher with top-quality fabric usage. While they surely prove to be more effective in the long run, opt for the ones that fit your budget and style.
What do you wear with men's chinos?
Being the most versatile clothing item, Men's chinos can be easily styled for various occasions. Here are some tips and tricks for pairing men's chinos-
1. Casual Look
Curate a fashionable casual look by pairing the men's chinos with a simplistic white tee and sneakers. Not only can you wear this attire on a day-to-day basis, but if you add sunglasses and a waist bag, you can use it as a hangout or first-date look as well.
2. Business Outlook
Go for a well-fitted solid shirt along with beige or black chinos, add a leather belt that matches your formal shoes or loafers, and you have yourself a business appearance. If you want to go more formal, you can even add a blazer on top.
3. Smart-Casual Attire
Smart-casuals basically rely on a casual office look. So, pair your chinos with a polo T-shirt and a blazer on top. Depending on the event you are attending, you can go for formal or casual shoes. 
4. Summer Look
Opt for neutral-shaded, short-sleeved button-up shirts that match well with your trousers and curate a cool, comfy look that you can wear all day long. For a summery feel, you can pair the fit with boat shoes and modish sunglasses.
5. Winter Attire
Men's chinos help create ideal winter attire by pairing them with a t-shirt and a cardigan or sweater on top for extra warmth and style. Being a comfortable find, you can even wear thermals beneath chinos without feeling too suffocated. Don't forget to add boots to the fit for a voguish appearance. 
Which men's chinos to invest in 2023?
1. Black Slim Fit Stretch Chinos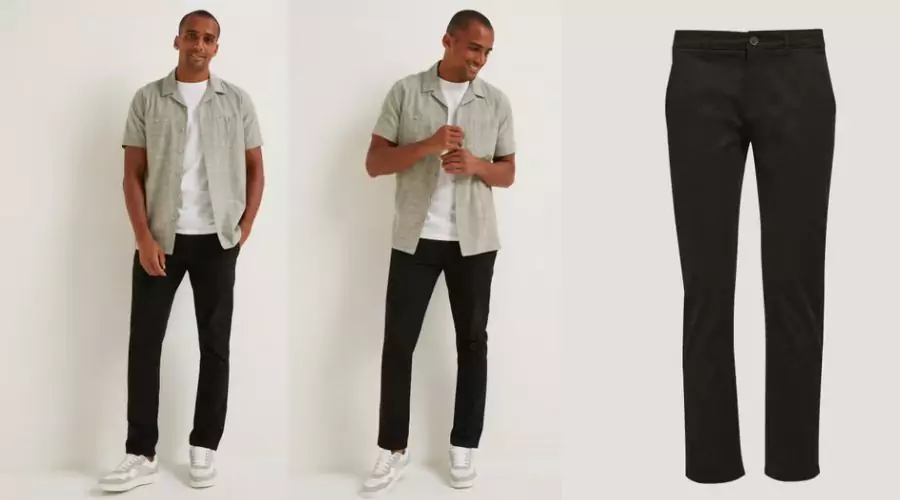 Whether you are getting ready for an office meeting or going out on a date, these Black Slim Fit Stretch Chinos will surely give you a rugged handsome appearance. Made with breathable cotton and added stretch for all-day comfort, these chinos come in various sizes ranging from UK 30-40 at £17.
---
2. Grey Stretch Straight Fit Chinos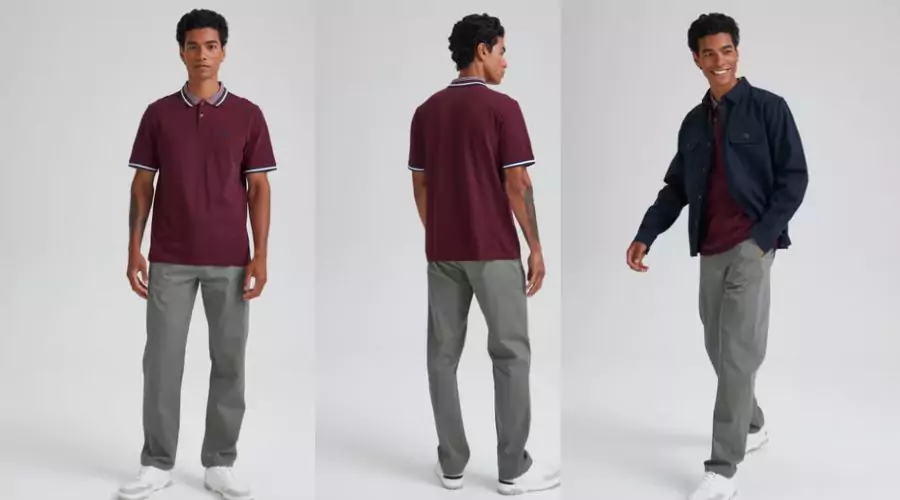 Nothing says classy or formal attire like pairing gray men's chinos with collared t-shirts for a smart-casual appearance. When you add a shirt on top along with a pair of formal shoes or loafers, you get a proper professional and cool look in one fit. So, you can order these trousers right away from Matalan for £17.
---
3. Sage Straight Fit Stretch Chinos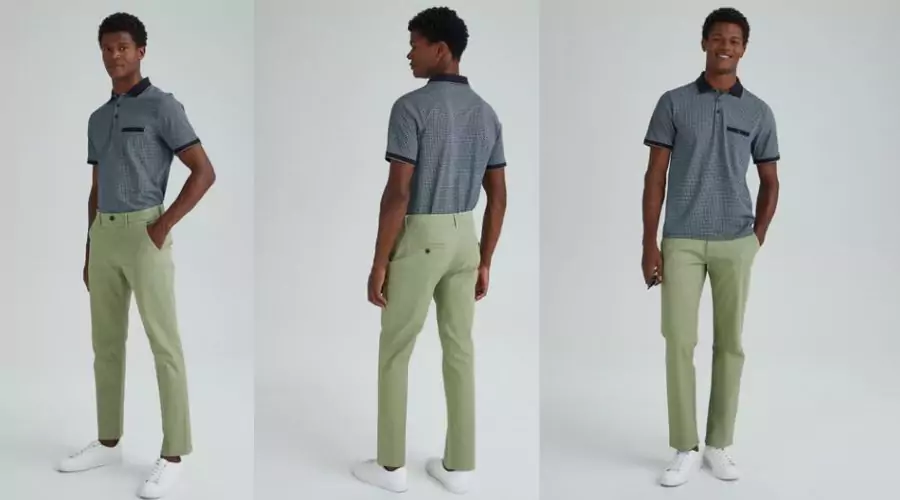 If you are looking for the most affordable men's stretch chinos, these Sage Straight Fit Stretch Chinos are an excellent article, costing only £8.50. Made from the softest cotton fabric, these sage-coloured straight-fit chinos will work for multiple occasions. Be it a wedding or a birthday celebration, you can easily style them with patterned or solid shirts to curate the perfect look.
---
4. Stone Textured Chino Trousers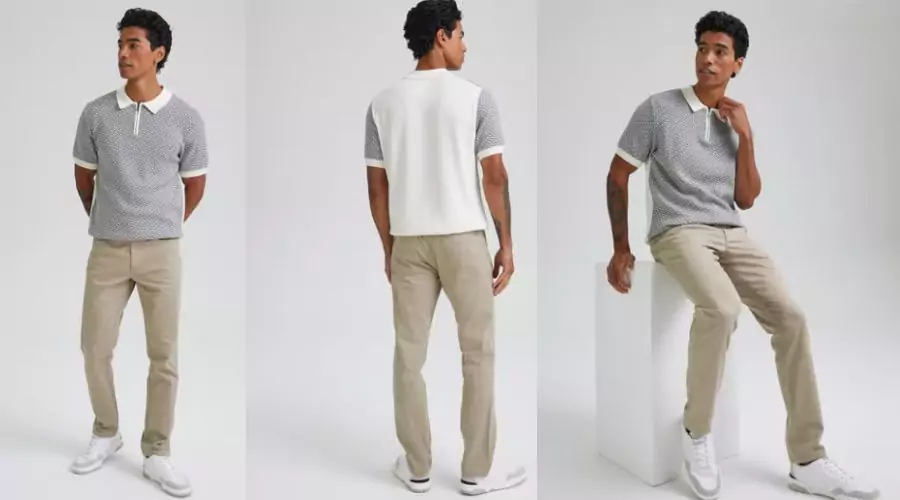 With a sleek style and a truly casual look, these Stone men's Chino Trousers are classic items to have in your wardrobe. This easy-going piece will smoothly blend into your day-to-day outlook and can quickly transition into a formal one too. With a straight fit and a textured stone design, these chinos cost £22. 
Conclusion
If you are looking for the cheapest men's chinos along with various colour options and top-quality fabric usage, Matalan houses a variety of menswear to choose from. The online retail platform is known for its product durability and affordability. So, take a tour of the website and find your favorite fit easily. For more information, visit Celebzero. 
FAQs