Dubai is home to the golden desert and pristine shores, a place where shopping seamlessly transitions into thrilling desert safaris. Beyond being a mere city, Dubai is a mindset, a realm of superlatives, and a dream for travelers yearning for a blend of luxury, adventure, and the extraordinary. This very essence is mirrored in the illustrious hotels in Dubai. Much like the diverse tales etched into its history, hotels in Dubai span the spectrum, offering an eclectic mix of experiences that defy convention. In this blog, CelebZero will talk about some of the most stunning hotels in Dubai and what they have to offer to you. 
Places to Visit Around Hotels in Dubai
1. Burj Khalifa 
This incredible piece of architecture is more than simply a famous landmark; it represents Dubai's aspirations. Without a doubt, a trip to Dubai wouldn't be complete without climbing to the top—the 124th-floor observation deck. You'll be treated to expansive views that encircle the whole area. And for a meal that's out of this world, head to Atmosphere, the world's highest restaurant, where you can enjoy delectable food while taking in views of the city below.
2. Dubai Mall
Within its expansive hallways, high-end labels coexist with regional and global retail stores, satisfying the needs of every consumer. However, shopping is only the beginning of this. Dubai Mall is a multifaceted experience that provides guests with a variety of entertainment alternatives, such as taking in breathtaking cinematic scenes at the theater or skating elegantly on the ice rink. The Dubai Aquarium and Underwater Zoo also provide an underwater trip for individuals who enjoy exploring the depths of the sea.
3. Dubai Fountain
Outside the Dubai Mall, the Dubai Fountain beckons with an enchanting aquatic spectacle. Prepare to be captivated as water jets soar to unimaginable heights of 150 meters, dancing in perfect harmony with a symphony of music and dazzling lights. The show, held every 30 minutes in the evening, is a mesmerizing testament to Dubai's penchant for extravagance.
4. Palm Jumeirah
Palm Jumeirah is one of Dubai's most recognizable monuments with an ambitious construction that resembles a palm tree. Its gorgeous shores are surrounded by luxurious hotels in Dubai, resorts, and villas, and plenty of fine dining establishments, upscale retail establishments, and entertainment venues. Enjoy delicious meals at these top-notch restaurants, wander along the sun-kissed beaches at your leisure, or just take in the breath-taking vistas of the Dubai skyline.
Read more: The Best Flights To Dubai: Enjoy A Hustle Free Journey 
Top Picks for Hotels in Dubai 
1. Barceló Residences Dubai Marina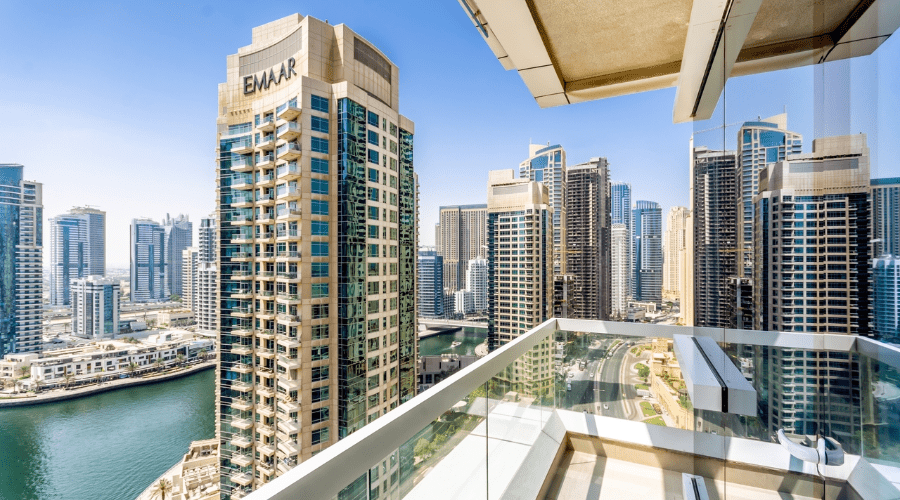 Discover the epitome of luxury living at Barceló Residences Dubai Marina, a breathtaking gem nestled to the south of Palm Jumeirah. Set amidst the stunning Dubai skyline, these elegant apartments are part of the renowned Barceló Hotel Group. The location immerses you in the vibrant heart of Dubai Marina, surrounded by a plethora of shops, restaurants, and entertainment venues.
These modern and impressive apartments offer a perfect escape for families, friends, or couples. You'll find a range of 254 comfortable residences, all within minutes of the beach and The Walk, as well as the iconic Palm Jumeirah. Enjoy the convenience of an outdoor pool, hot tub, and a fully equipped fitness studio.
Barceló Residences Dubai Marina reflects the allure of a modern city, where you can explore renowned attractions like Ski Dubai, the Burj Al Arab, and the world's tallest building, the Burj Khalifa.
---
2. Dukes The Palm, a Royal Hideaway Hotel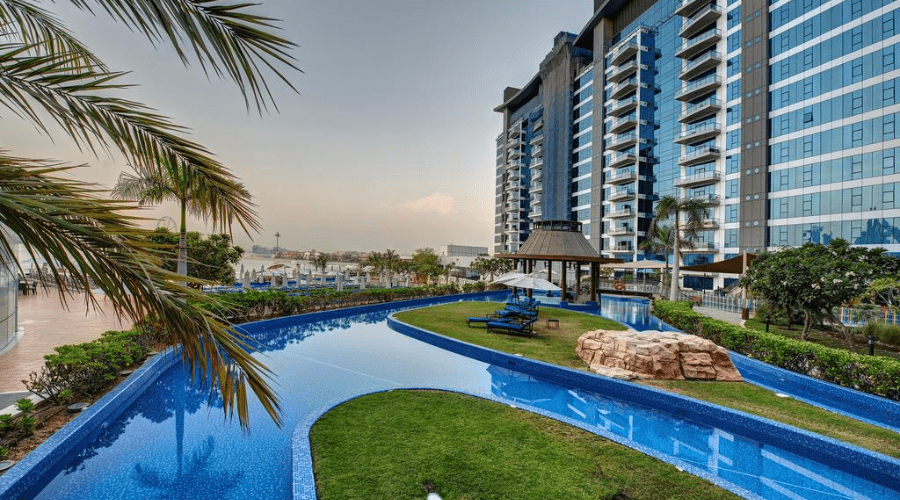 This luxurious hotel offers a haven of British hospitality and exclusivity against the stunning backdrop of Dubai's sea and skyline. Dukes The Palm, a Royal Hideaway Hotel, welcomes you with 279 meticulously designed rooms and suites, along with 285 apartments, each embodying the epitome of luxury.
Delight your taste buds with a fusion of tradition and innovation at the award-winning Khyber restaurant serving authentic Indian cuisine or the iconic Dukes Bar. The hotel features a 14th-floor indoor swimming pool and an innovative Kids Club, ensuring entertainment for all ages.
With access to a private beach and a temperature-controlled infinity pool overlooking the Arabian Gulf, water activities and relaxation are at your doorstep. For business or special occasions, the hotel offers seven meeting rooms and elegant wedding venues, all just a short drive from Dubai Mall and the airport.
Dukes The Palm promises an unforgettable 5-star experience, making every stay a collection of cherished memories.
---
3. Occidental Al Jaddaf, Dubai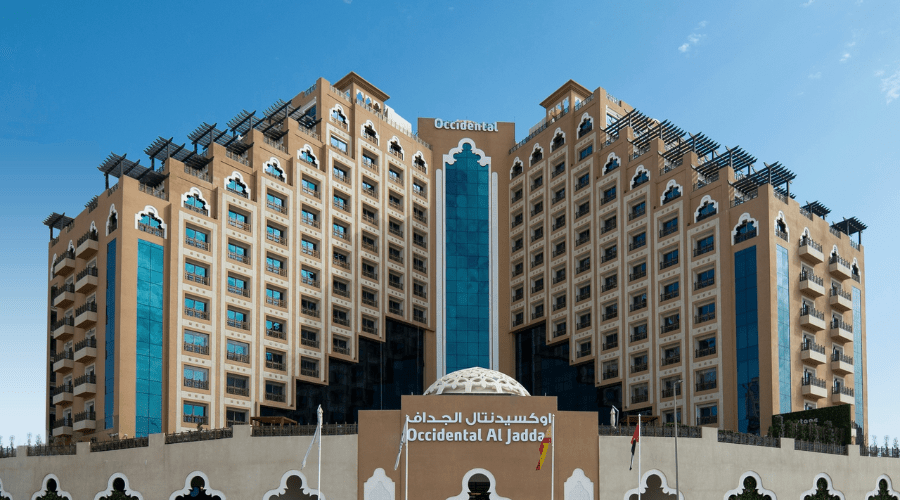 With its prime location near Dubai Creek and easy access to Downtown Dubai and other city areas, this hotel is literally the perfect choice for business and leisure travelers.
The hotel has 365 spacious, furnished rooms and suites with contemporary design and all the amenities you would possibly need for a memorable stay. Business travelers will appreciate the proximity to Dubai International Airport, the city's financial hub, and Downtown.
For dining, indulge in a variety of cuisines, including Mediterranean and Eastern flavors. Souk, Bar Baar, and Rue Hamra offer diverse culinary experiences. The Stage Pool Lounge on the first floor provides stunning sunset views of Dubai's skyline, including the iconic Burj Khalifa.
Take advantage of the heated pool, well-equipped gym, spa, and Premium Level Lounge for an enhanced experience. With its strategic location near key landmarks like Burj Khalifa and Dubai Mall, Occidental Al Jaddaf, Dubai offers top-notch services and amenities, making your stay in this Middle Eastern metropolis truly exceptional.
Also read: Dubai Explorer Pass: Key Benefits, Steps To Use, and Top Attractions
Conclusion
Barcelo's top selections for hotels in Dubai, Barceló Residences Dubai Marina, Dukes The Palm, a Royal Hideaway Hotel, and Occidental Al Jaddaf, Dubai, cater to the diverse needs of travelers. It's a city that continuously redefines itself, and its hotels are the embodiment of this transformation. In Dubai, your hotel isn't just a place to stay; it's an integral part of your unforgettable journey through a world of superlatives so you can have an experience that's as extraordinary as the city itself. For more information on hotels in Dubai, visit CelebZero. 
FAQS