Nutritional supplements can play quite a vital role when it comes to maintaining the health and happiness of your horses. Just like any other animal, horses also need a balanced diet to thrive, but they need more than just meals to get full nutrients and stay energized. The need to provide horse supplements fills the nutritional gap, ensuring that your animals are getting all the required nutrients, vitamins, and minerals in the right proportion.
Do all horses need supplements?
It's not necessary that all horses require supplements, as it depends on their dietary needs and various other factors like age, activity level, health status, and the quality of their lives. Horses that live high-quality lives and have balanced diets may not require any additional supplements, as they are already getting enough to keep them going. 
If you are unsure whether your animal needs horse supplements, you can always consult a veterinarian or equine nutritionist who can assess their conditions and recommend supplements if required. 
What are the most essential nutrients for horses?
Horses require a variety of essential nutrients to maintain good health and well-being. So, here are a few nutrients that prove good for keeping horses healthy-
1. Water
Adequate hydration for horses is quite fundamental to keeping all their bodily functions going and having a fit digestive system.
2. Forage
High-quality forage such as hay or pasture, provides crucial nutrients required by the horses like fiber, vitamins, and minerals. 
3. Calories
To keep your horses healthy, they require tons of calories or energy so that they can keep up with their proper growth and health.
4. Proteins
Proteins are another important nutrient that horses need for their muscle development, tissue repair, and overall well-being. 
5. Vitamins
The key vitamins that horses need are A, D, E, and B-complex which not only support their metabolic process but also help maintain proper health.
6. Minerals
The important minerals that horses require include Calcium, Phosphorus, Magnesium, Sodium, and Potassium, which are vital for their bone health, nerve functions, and electrolyte balance. 
7. Fiber
The right amount of fiber taken can help provide aid in digestion, prevent colic, and promote a healthy and happy gut. 
8. Amino Acids
Amino acids are the building blocks of proteins and are quite important for muscle development, immune function, and tissue repair.
What horse supplements to give your animals?
1. Formula 707 Hoof Health Hay Flavor Pellets Horse Supplement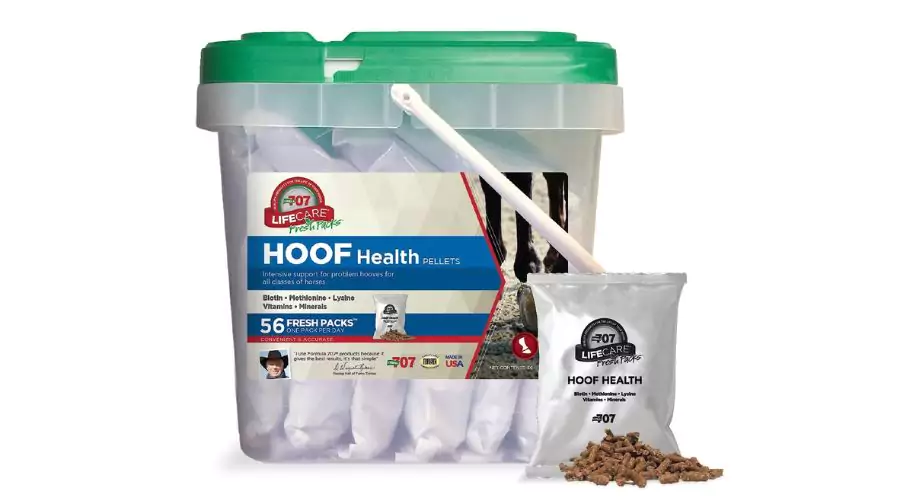 The Formula 707 Hoof Health Horse Supplements are made to support the hoof health of your pet from the inside out. The formula includes useful ingredients like D-biton, essential amino acids, calcium, phosphorus, and copper, designed to maximize absorption and effectiveness. 
The formula is further blended in a yeast culture and comes out as a dried distilled grain and rice hull base, making it a balanced hoof supplement. So, if you are looking for healthy horse supplements, this formula helps improve your horse's hoof health. The packet weighs 4.42 pounds and costs $43.23.
---
2. Kentucky Equine Research EquiShure Time-Released Hindgut Buffer Powder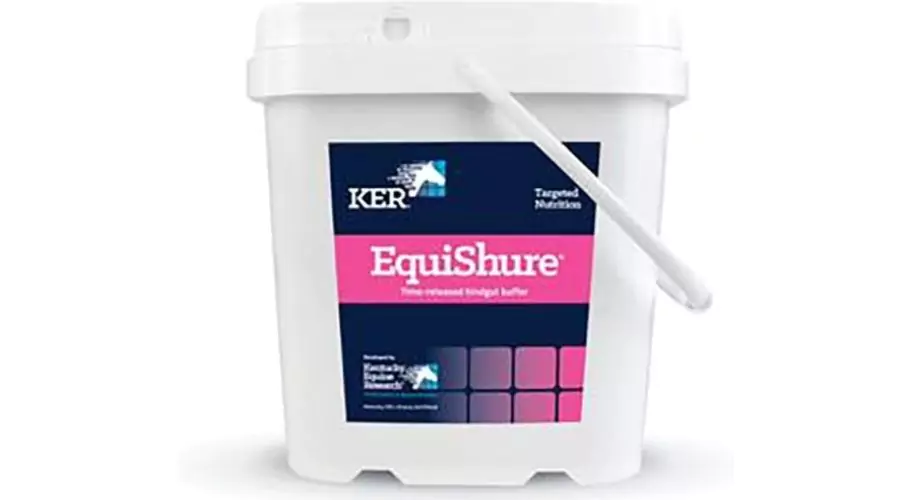 This Kentucky Equine Research EquiSHare is made especially for those horses who are suffering from hindgut acidosis. Hindgut acidosis is basically a problem that results in excess lactic acid in the horse's hindgut, negatively affecting their health and performance. So, taking this supplement can provide a more stable hindgut environment.
The supplement helps maintain a stabilized pH level, which is designed to release in the hindgut for maximum effectiveness. When you give your animal such effective horse supplements, it offers improved digestion and may absorb more nutrients from every meal. The supplement might also help resolve other issues like colic symptoms or weight loss, It costs $259.99.
---
3. Finish Line Apple-A-Day Electrolyte Apple Flavor Powder
The Finish Line Apple-A-Day Electrolyte Horse Supplement is an apple-flavored supplement that would even entice the most finicky eaters. This formula helps to replace the electrolytes and trace minerals that power your horse's nerve and muscle function, which ultimately maintains their hydration levels.
When your horse goes through daily activities and exercise, it loses electrolyte salts. When you give your animals these kinds of horse supplements that contain no sugar, they provide ample electrolytes to keep them going. This supplement is also suitable for the bordering-on-overweight easy keeper or for insulin-resistant horses to keep them healthier. And, it only costs $15.
---
4. UltraCruz Metabolic Support Pellets Horse Supplement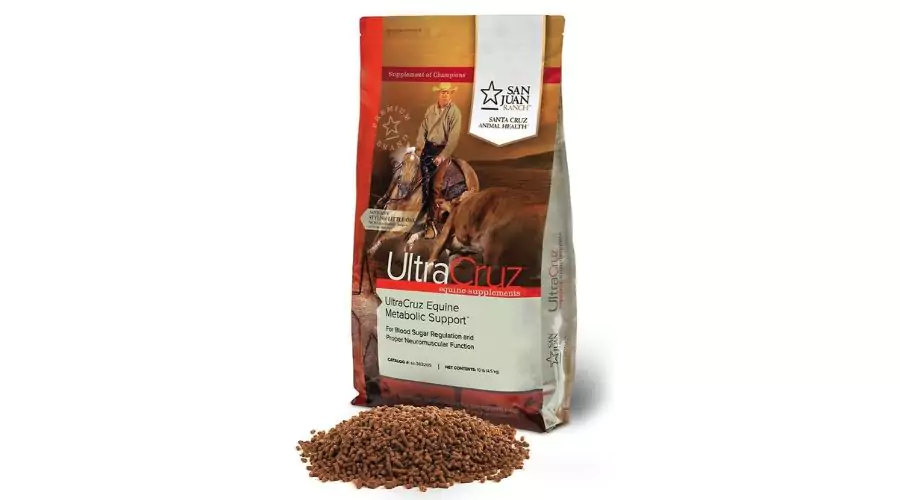 Step up your pet's metabolism with these UltraCruz Metabolic Support Pellets Horse Supplements. The unique formula contains chromium and magnesium in a pellet form, so your animal can easily eat them. It is designed to support a healthy metabolism in horses while promoting healthy blood sugar and glucose tolerance levels.
It is one of the best horse supplements that may also help maintain the horse's muscle function and support its metabolism of carbohydrates, proteins, and fats. The supplement is perfect for all breeds, especially for horses who are pregnant or lactating and it costs $69.99.
---
Conclusion
While many horses might not need horse supplements to meet their nutritional needs, it's always advisable to get a vet's opinion and see what they recommend. Taking horse supplements only makes your horses much healthier and happier, when taken in the right proportions. So, if you are looking for high-quality horse supplements, Chewy offers a wide range of healthy supplements and animal products to choose from. For more information, visit Celeb Zero. 
FAQs