San Antonio is no longer only the best day trip (or weekend vacation) from Austin. It is a destination unto itself, boasting delicious food, exciting bars, luxurious lodgings, fascinating historical buildings, and much more. If you time your trip to coincide with the rodeo or the yearly fiesta festival, you'll need a full schedule that demands planning, especially for lodging.
It shouldn't be a surprise that the Alamo City boasts several hotels that are as lively and illustrious as the city's annual Fiesta celebration held each April. Travelers looking for some relaxation can find it in the Hill Country, where expansive resorts include top-notch golf courses and cutting-edge spa services. A historic brewhouse turned five-star stunner is located in the center of the Pearl District. There is a little bit of everything downtown and along the River Walk, from newly constructed boutique houses to historic treasures. Check out our selection of the top hotels in San Antonio whether you're here on business, for fun, or both.
Best hotels san antonio riverwalk
1. Canopy by Hilton San Antonio Riverwalk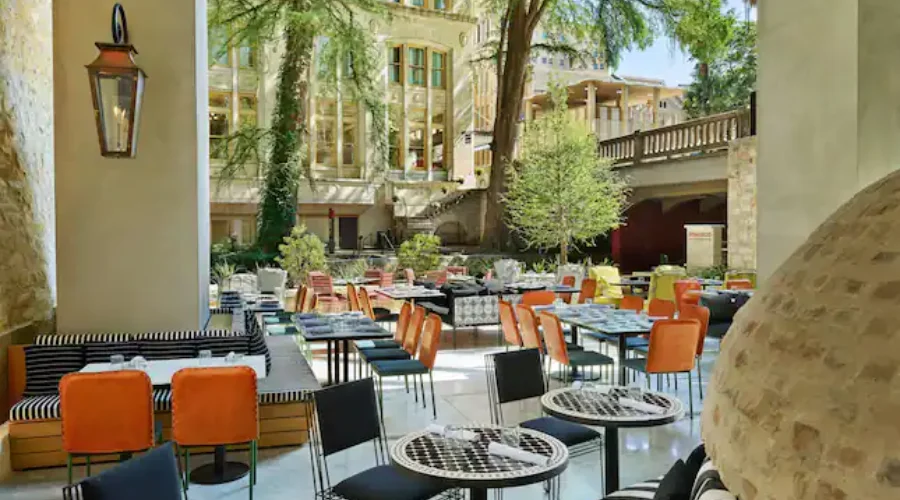 This one of the most gorgeous hotels in San Antonio puts you in the center of the best restaurants, bars, and attractions in the city as it is located right on the Riverwalk. Expect Texan grandeur and contemporary design inside; there are 195 boutique rooms with local art and black-and-white tiled bathrooms in the Mediterranean style. Some have towering balconies where you may sip your morning coffee or end the night. Concerning that, you should also include their restaurant and bar in your timetable. Under the lobby, Domingo offers renowned South Texan cuisine, while Otro Bar is a favorite among hipsters in the area looking for agave-forward drinks. Additionally, there is a free bike rental option.
---
2. Mokara Hotel & Spa
The Mokara Hotel & Spa, a member of the Omni Resort group, is one of San Antonio's more opulent lodging choices. It's ideal for romantic getaways, girls' weekends, or, hell, just treating yourself to Swedish massages, seafood dinners at the hotel's restaurant Ostra, and swimming in the heated rooftop pool. The hotel's prime position on the RiverWalk makes it a great starting point for city exploration or serious shopping, but you'll want to come back every evening to relax in the spacious soaking tub in your room.
---
3. La Cantera Resort and Spa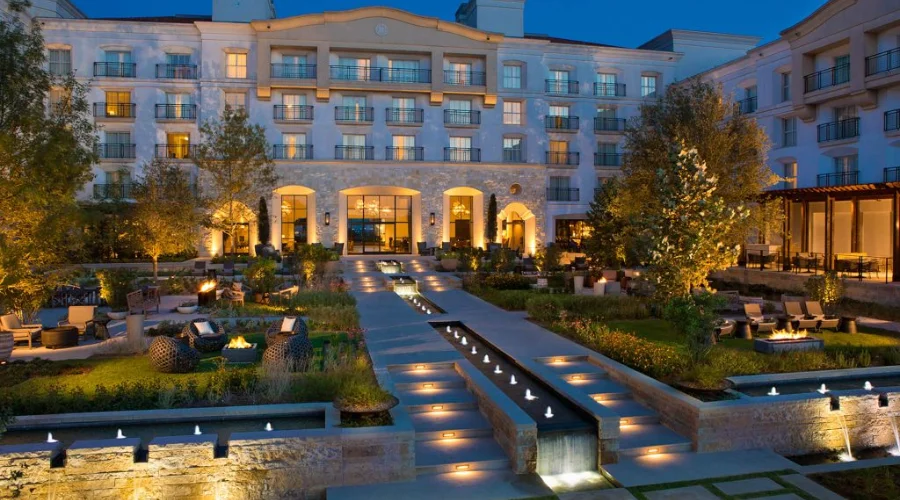 La Cantera, which spans 550 acres and is decked out with countless pools and a sizable golf course, is the ideal staycation destination for San Antonians or tourists who prefer to explore at a leisurely pace. The resort's 496 bedrooms, including 34 villas, are equipped with cutting-edge technology and all the facilities. The adult-only guest level, which offers access to an adults-only pool and champagne check-in, is an option for those traveling without children.
---
4. Hotel Emma
The Hotel Emma is a fantastic place to stay. Luxury lodgings are available at the Hotel Emma, which is ideally located in the popular Pearl District. Originally a 19th-century brewery, the structure has been beautifully renovated into a place that skillfully fuses vintage industrial elements with chic modern accents.
---
5. Crockett Hotel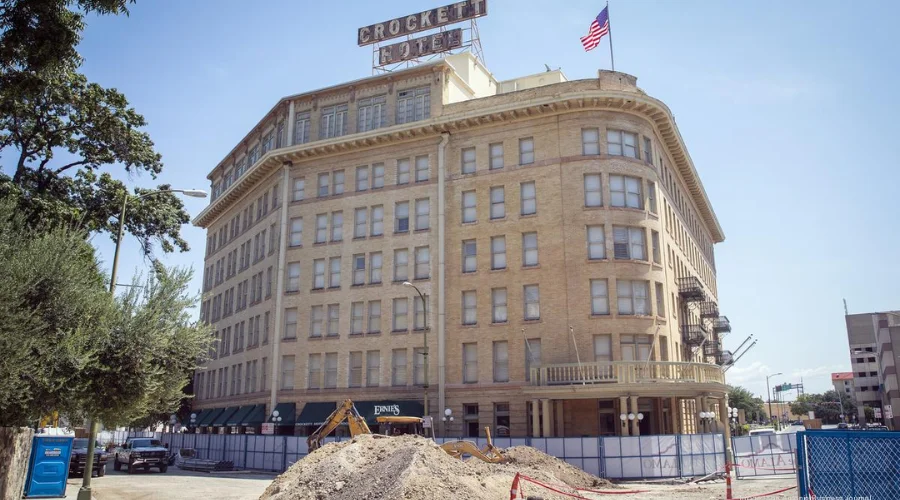 Every city has at least one spooky hotel, and the Crockett in San Antonio is said to be full of ghosts and other supernatural beings. The old hotel is close to Texas' most famous battleground and is only a few steps from the Alamo. The Davy Crockett-themed hotel features 138 rooms, a variety of bars and eateries, an outdoor pool, and access to the spa right next door. Of course, you'll need to be on the lookout for the spirit of old Davy, who is said to have died in the current patio area.
6. Eilan Hotel & Spa
One of the most opulent hotels in san Antonio, Eilan Hotel & Spa is tucked away on 100 acres of Texas Hill Country. The grounds of this Italian-themed hotel have an indoor Olympic-sized lap pool, a spa, tennis courts, and a virtual golf area in addition to an outdoor pool with cabanas. With San Antonio being a short, 25-minute drive away, it's a perfect place to escape into Texas' rolling hills, yet having fairytale-like scenery that can host many weddings throughout the year.
---
7. Hotel Valencia Riverwalk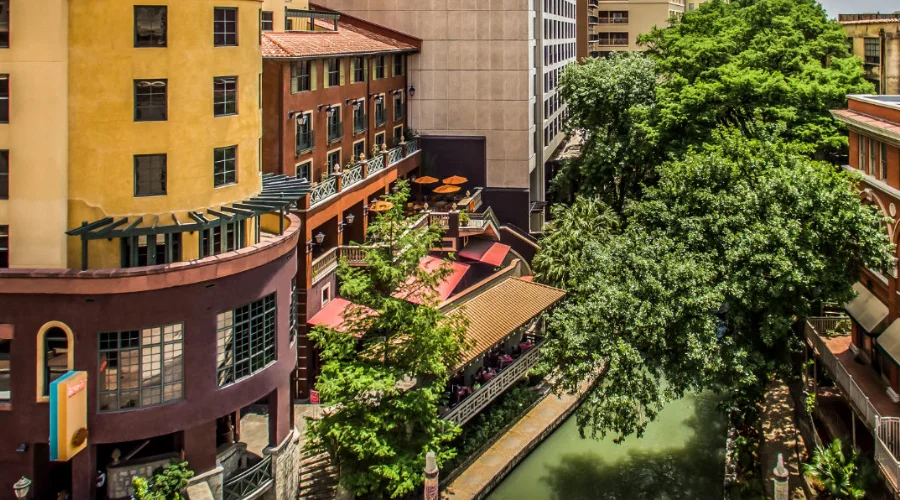 This adorable old boutique hotel lives up to its name and is located on a less hectic section of San Antonio's Riverwalk. In contrast to some of the other lodging options in the city, the Hotel Valencia has Spanish and Mediterranean accents, and its 213 rooms are furnished in a classic style. Consider bathrooms with Italian marble, airy balconies, and antique leather seats. This is a cosy place to stay if you're the traditional type. It is one of the best san Antonio hotels.
---
8. Hotel Contessa
The Contessa, another hotel on the River Walk, offers streamlined, contemporary rooms that, in comparison to other lodgings in the area, more closely resemble urban lofts. Every room has exposed brick and a separate bedroom, and several on-site foods and drinking establishments make it easy to spend the weekend here. It is one of the well-known hotels in San Antonio.
---
9. Menger Hotel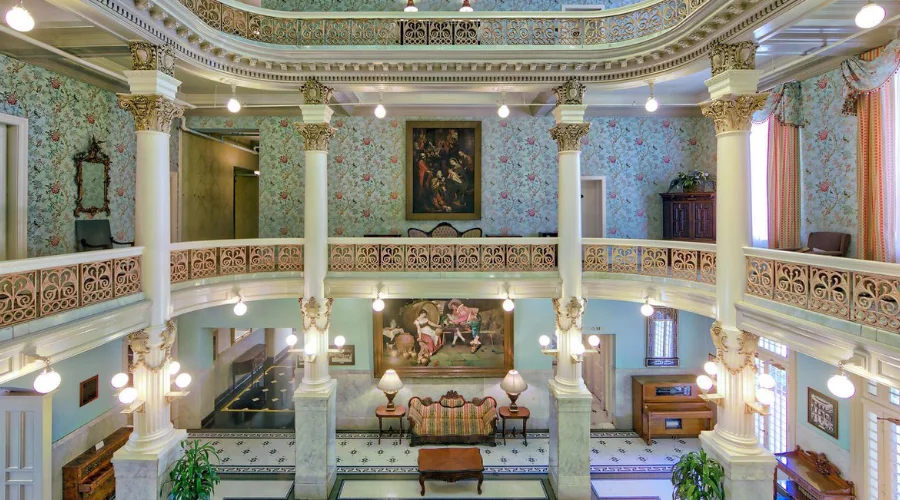 The Menger is a San Antonio institution and quite probably the only hotel famous for its mango ice cream. Its fabled dessert has been on the Colonial Dining room's menu for more than a century. The hotel, which is located in the city's center and is only a short walk from the Alamo, opened in 1859 and has since functioned as a historic hotel and monument. The 316 rooms' Victorian décor may appear a little old, but it's all part of the beautiful hotel's charm.
Also read : Tips For Cheap Holidays to Marmaris, Turkey to Visit in 2023
---
10. Holiday Inn San Antonio SeaWorld, An IHG Hotel
The San Antonio Holiday Inn NW SeaWorld is where the San Antonio Hotel Adventure starts. The only true option when deciding whether to plan a business trip or a vacation is to go with Holiday Inn Here, you can enjoy everything San Antonio has to offer while experiencing the best of the city. Numerous amenities are available at the San Antonio hotel including free services like a modern fitness center, a 24-hour business center, WiFi throughout the hotel, and on-site self-parking. It is one of the top hotels near Seaworld San Antonio.
---
Conclusion-
It is a unique location that offers incredible cuisine, lively bars, opulent hotels, fascinating historical structures, and much more. The article covers all the top hotels in San Antonio to guide you to select the best one according to your choice of atmosphere and services provided by the property. For more information, visit our website at Agoda and celebzero.
FAQ's