Are you always sacrificing fashion for comfort or vice versa? Do you dream of an outfit that offers the best of both worlds? Look no further than womens dungarees on Stradivarius! Dungarees, also known as overalls or jumpsuits, have been making a stylish comeback in recent years. These versatile outfits effortlessly combine style, comfort, and functionality. This makes them a must-have addition to any wardrobe. In this blog, we are going to learn more about women's dungarees and highlight 5 top options available on Stradivarius, the go-to brand for sustainable clothing in contemporary style and make. Let's dive in!
Womens dungarees – a fashion staple
Dungarees for women come in a wide range of styles, fabrics, and lengths, ensuring there's a perfect pair for every occasion. The most common material used for womens dungarees is denim, which gives these outfits a durable and timeless appeal. However, in today's time, you can also find dungarees in various fabrics like linen, cotton blends, lyocell, and more, providing lightweight and flowy alternatives to classic denim.
One of the standout features of womens dungarees is their versatility. They can be dressed up for a professional setting or dressed down for a casual outing. For a casual look, pair dungarees with a simple t-shirt or a cropped top, along with sneakers or sandals. To create a more polished outfit, go for a blouse along with heels or ankle boots. Dungarees also allow for great layering. You can easily add jackets, cardigans, or statement accessories to enhance your style.
5 Womens Dungarees on Stradivarius that are packed with style and comfort
1. Dungarees With Linen Content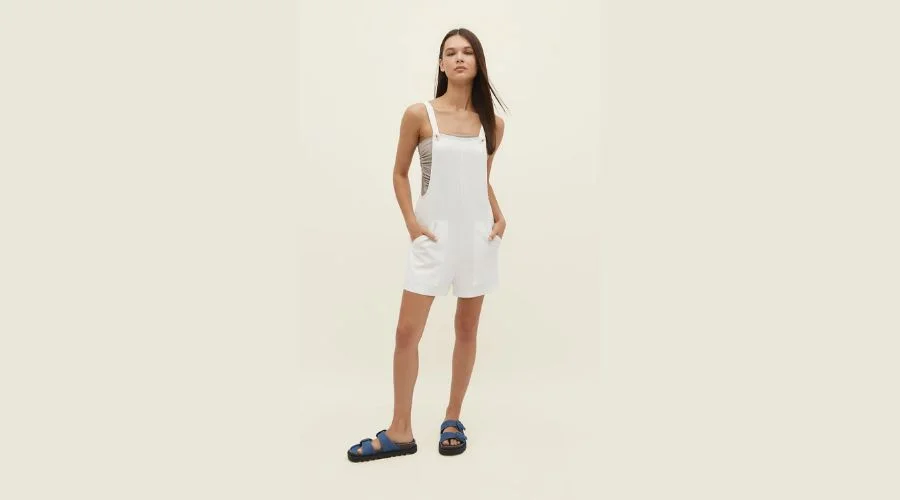 These womens dungarees are a perfect blend of style and comfort. They come in a linen fabric that adds breathability and a relaxed feel to the whole outfit. The lightweight and soft fabric makes them ideal for warm weather. The neutral colour adds versatility to your wardrobe, allowing you to pair them with various tops and accessories. The loose fit and wide legs offer a comfortable and stylish look, while the adjustable straps ensure a customised fit. Whether you're running an errand or enjoying a casual outing, these dungarees will keep you looking effortlessly chic and cool.
---
2. Short Dungarees Made Of Denim
If you're a fan of the classic denim look, these short womens dungarees are a must-have. Crafted from high-quality denim, they offer a timeless appeal and durability. The medium wash colour adds a touch of vintage charm to your outfit. The short length gives them a playful and youthful vibe, perfect for summer days or casual outings. If you want to create a casual look, then you can easily pair them with a t-shirt or a crop top.
---
3. Short Denim Dungarees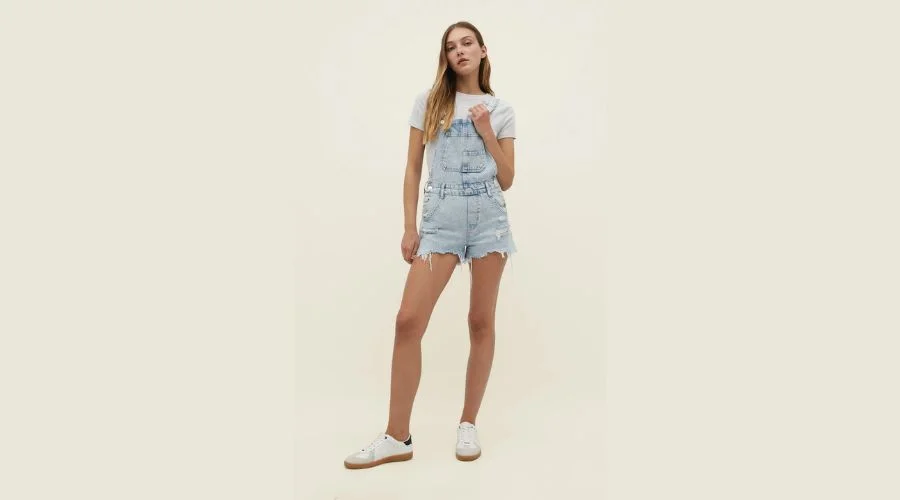 For those who prefer a shorter length and a slightly edgier look, these short denim women's dungarees are a fantastic choice. They feature distressed detailing, adding a touch of urban chic to your outfit. The medium-wash denim creates a versatile base that pairs well with various tops. Dress them up with a stylish blouse, or keep it casual with a relaxed t-shirt. Their versatility doesn't stop at the tops and tees. They can also be paired stylishly with a variety of footwear, including sliders, sandals and boots. With their playful and trendy design, these dungarees are perfect for creating effortlessly cool and laid-back ensembles.
---
4. Flowing Dungarees Made Of Lyocell
If you're looking for a lightweight and flowy option, these Lyocell womens dungarees are a fantastic choice. The fabric drapes beautifully, providing an elegant and relaxed silhouette. The versatile black colour makes it easy to create both casual and more sophisticated outfits. The wide legs and loose fit offer comfort and ease of movement, allowing for breathability. You can also adjust the fit according to your preference using the adjustable. Whether you're heading to a brunch date or a summer party, these flowing dungarees will keep you looking effortlessly stylish and comfortable.
---
5. Dungarees With a Relaxed Cut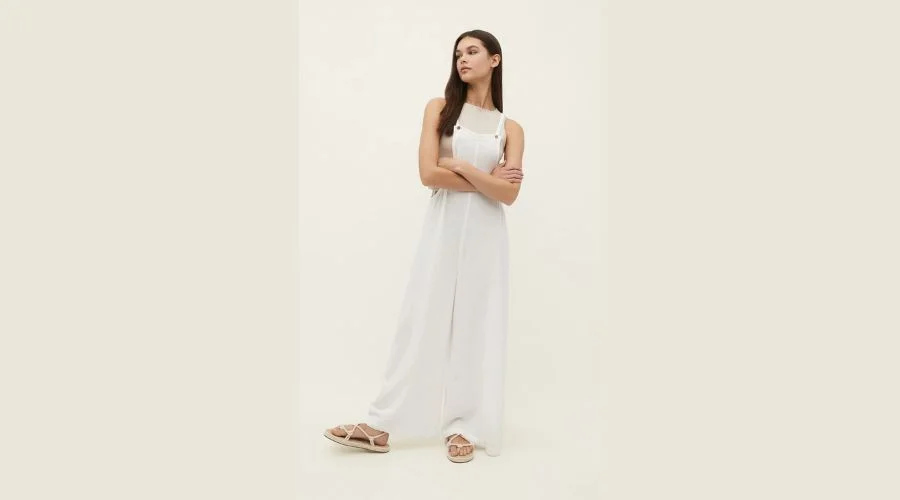 These dungarees feature a loose fit and a relaxed cut, offering maximum comfort without compromising style. Crafted with 100% cotton, they exude a classic and timeless vibe. The adjustable straps allow for a customised fit, while the wide legs provide freedom of movement. Whether you're going for a casual daytime look or dressing up for a night out, these womens dungarees are versatile enough to suit any occasion. Pair them with a trendy blouse or a simple t-shirt to create an effortlessly chic and laid-back ensemble.
---
Conclusion
Womens dungarees have become a must-have fashion staple, providing a great blend of style, comfort, and versatility. Stradivarius offers a diverse range of dungarees that cater to different tastes and preferences. Whether you opt for classic denim, linen blends, or flowing lyocell fabrics, you can effortlessly create trendy and chic outfits that reflect your personal style. So go ahead and embrace the dungaree trend to elevate your fashion game to new heights! For more such updates, visit Celebzero.
FAQs