Kids' wallpapers can give the child a wealth of educational information while also adding a decorative element. To help their children memorize "numbers" or "letters," families no longer have to rely solely on playbooks; instead, they can use educational wallpaper for kids.
Parents are constantly looking for creative ways to teach their children phonetics and numbers because many children dislike being read to or sat down and lectured. The best way to increase your child's interest in learning is to choose educational wallpaper for their room. 
The decoration of children's bedrooms has undergone a revolution in recent years, and many architects have created exquisite and lovely wallpaper for kids' rooms. Cartoons may be adorable, but educational wallpaper for kids will stretch your child's cognitive abilities. Such wallpapers for kids can replace boring teaching techniques and act as a contemporary teaching tool for your child. 
Picking out wallpapers for kids
Other than the educational wallpapers for kids, children may like these designs in their rooms or space:
Graffiti wallpaper design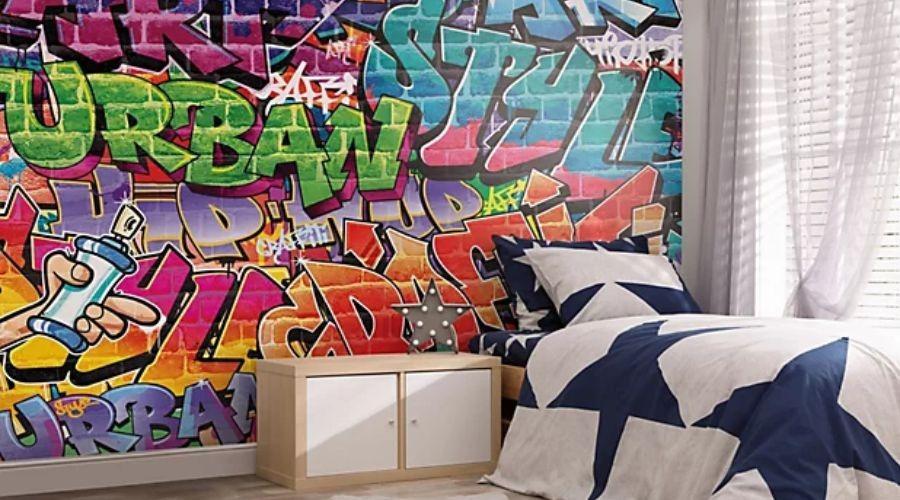 Things will be vibrant with cute graffiti wallpaper. Kids adore art. It gives them the ability to express themselves and has a positive effect on their minds. To achieve this, interior designers choose cartoon art wallpaper for kids in rooms. This particular wallpaper design for children is vibrant and has a calming colour palette of blue, white, and grey. A flying parachute, birds, and a stuffed animal piloting a helicopter are some of the various components in the wallpaper. These features give the space a dreamy feel that will allow your child to live there in peace and tranquillity. For kids aged 6 to 14, both boys and girls, this is a great wallpaper design for their rooms.
---
Car Wallpaper Design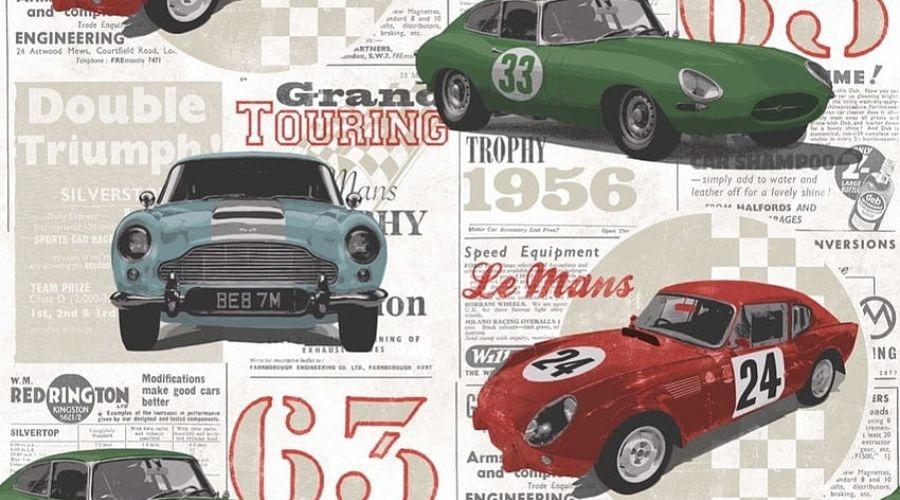 For your little champion who loves racing, a car wallpaper with a variety of hues and designs is a clear-cut boys' room. As boys grow older, the wallpaper depicts their growing love of automobiles. A lively and charming atmosphere is added to the room by the various colours of the cars against a white background. Aside from adding colour, the wallpaper also generates a cheery and upbeat atmosphere that will let your child enjoy their colourful surroundings. Numerous cheery interior components, including the bunk beds, the vibrant floor rug, and the vivacious study table decorations, serve to draw attention to the wallpaper. When two sons are going to grow up at home, this wallpaper for kids is perfect because it allows them to share their lives and aspirations in a fun, youthful bedroom.
Chalkboard Kid's Room Wallpaper
This Chalkboard Kid's Room Wallpaper lets your child's creativity fly. Children enjoy writing and drawing, particularly on walls. It may be difficult for you to clean the walls while kids express their artistic endeavours. What you can do, however, is give your children a wall that is exclusively theirs to decorate however they, please. To assist you with this, we offer you a wonderful wallpaper for kids' room that features a chalkboard and grey wallpaper for kids that will enable your child to have a small art session at home. The wallpaper features numerous science formulas already written on it to resemble a school chalkboard. With its distinctive design, the wallpaper not only improves the appearance of the space but also fosters a serious atmosphere that will encourage your child to spend more time studying.
---
Butterfly-inspired Wallpaper 
With the help of this lovely kid's room wallpaper design, design a butterfly-inspired space.
Your child's room will feel more lively. The vibrant butterfly pattern evokes a feeling of springtime love and will keep your child's room lively and vibrant at all times. Especially girls will like pink wallpaper for kids in the room. The room is given a vivid colour feel by the white wallpaper, allowing your child to have a happy retreat of their own. Particularly for girls between the ages of 7 and 15, the wallpaper is ideal for tiny rooms for children. The happy atmosphere that the butterfly-inspired wallpaper layout creates will be very beneficial for your little queen.
---
Conclusion
Kids often love cartoons and having wallpaper with their favourite cartoon characters can make their room feel fun and playful. Wallpaper with nature scenes like forests, oceans, or animals can be both calming and inspiring for kids. If your child is a sports fan, consider a wallpaper with a sports theme like basketballs, footballs, or soccer balls. Wallpaper that features numbers, letters, or maps can also be a great choice, as it can be both fun and educational. Remember, it's important to involve your child in the decision-making process and choose a wallpaper that reflects their personality and interests. For more information on wallpaper for kids, visit Celebzero.
FAQs