With its stunning white sand beaches and crystalline waters in shades of blue and green, it's no wonder Spain's Costa Blanca is an idyllic Mediterranean destination. This gorgeous coastline in the province of Alicante offers the perfect blend of vibrant culture, mouthwatering cuisine, and endless opportunities for relaxation. To experience Costa Blanca at its finest, staying at the right hotels in Costa Blanca is key. From luxurious beachfront resorts to charming boutique hotels in historic towns, Costa Blanca offers fabulous accommodations to suit every type of traveller. This guide will highlight the area's top hotels, where you can soak up the region's coastal ambience and truly immerse yourself in all that makes Costa Blanca exceptional. With options from family-friendly to adult-only, you're sure to find a hotel to make your Costa Blanca getaway truly unforgettable.
Why is Costa Blanca a popular holiday destination?
Costa Blanca is an incredibly popular holiday destination for many reasons:
Stunning Beaches – Costa Blanca boasts over 200 kilometres of beautiful sandy beaches with crystal-clear waters in shades of blue and turquoise. Famous beaches like El Albir and La Caleta offer the classic Spanish seaside experience.

All Year Long Sunshine – Even during the off-season, the area experiences a pleasant Mediterranean environment with plenty of sunny days and moderate winters. Temperatures typically vary from the mid-60s to the upper 70s.

Scenic Nature – There are breathtaking natural areas to explore like Montgó Natural Park with views across the Bay of Jávea and the impressive Guadalest Valley surrounded by mountains.

Local Culture – The area has fascinating local culture seen in traditional Spanish fiestas, architecture, food, and historical sights. Alicante city offers museums, nightlife, and cafés.

Water Sports – From sailing to scuba diving, the clear waters of the Costa Blanca are ideal for water sports enthusiasts to enjoy their favourite activities.

Golf – Costa Blanca has earned the nickname of the "Costa del Golf" with over 20 championship golf courses drawing golf lovers.
With its idyllic climate, stunning scenery, excellent hotels and resorts, fun activities, and warm Spanish culture, it's no wonder Costa Blanca charms visitors year after year. There's something here for every type of traveller.
The Best Hotels in Costa Blanca
1. Barceló La Nucía Palms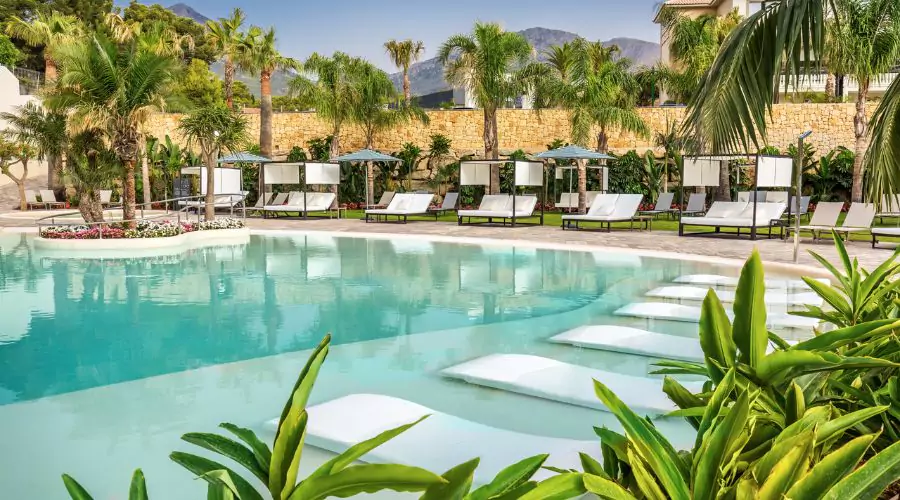 Nestled in the heart of Costa Blanca, Barceló La Nucía Palms is a tranquil haven offering a perfect blend of relaxation and recreation. This charming hotel welcomes you with lush gardens and a serene ambience, making it one of the standout hotels in Costa Blanca. Whether you're unwinding by the pool, savouring delectable local cuisine, or exploring nearby attractions, this hidden gem promises an unforgettable Costa Blanca experience.
---
Also Read: Budget-Friendly Cheap Hotels in Odessa TX for Every Traveller
---
2. Occidental Pueblo Acantilado
Perched on the cliffs overlooking the Mediterranean, Occidental Pueblo Acantilado is a coastal paradise among the many hotels in Costa Blanca. Enjoy breathtaking sea views from your room and indulge in the essence of Mediterranean life. With direct access to secluded coves and a range of amenities, this hotel combines natural beauty with comfort, making it an ideal retreat on the Costa Blanca.
---
3. Barceló La Nucía Hills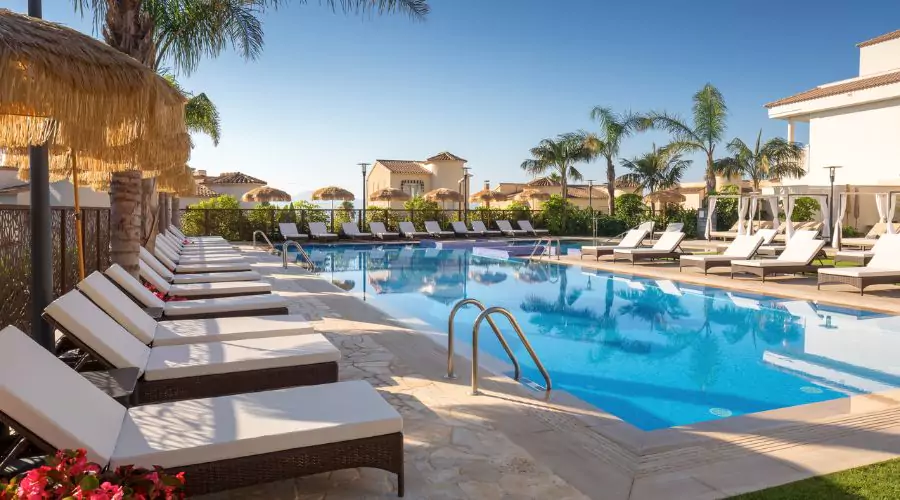 Experience the beauty of Costa Blanca from a hillside haven at Barceló La Nucía Hills, one of the serene hotels in Costa Blanca. This hotel, surrounded by beautiful scenery, provides a peaceful haven for visitors looking for peace. Take a leisurely dip in the warm pool, meander through the gardens and sink into your luxurious suite. Here, comfort and nature live in perfect harmony.
---
4. Occidental Alicante
Just a stone's throw from the vibrant city of Alicante, Occidental Alicante, among the various hotels in Costa Blanca, offers a perfect base for exploring the region. Enjoy the dynamic city life and return to the comfort of your hotel. With modern amenities and excellent service, it's a delightful retreat for both business and leisure travellers.
---
5. Barceló Benidorm Beach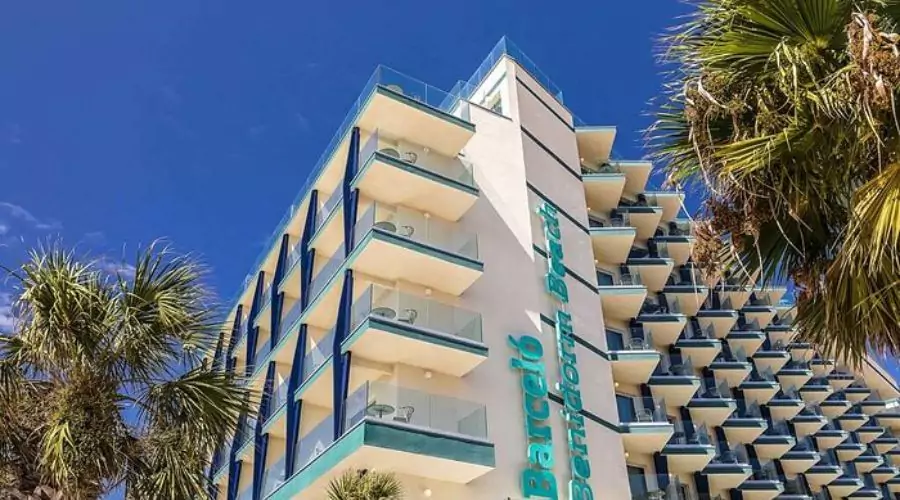 For beach lovers, Barceló Benidorm Beach is a dream come true among the selection of hotels in Costa Blanca. This hotel is the starting point for exploring Benidorm's sun-kissed beaches. It's the best alternative for those who like to enjoy both the calm atmosphere of the Mediterranean and the vibrant energy of Benidorm because of its large accommodations, diverse eating options, and excellent location.
6. Asia Gardens Hotel & Thai Spa, a Royal Hideaway Hotel
Indulge in luxury and tranquillity at Asia Gardens Hotel & Thai Spa, a Royal Hideaway Hotel among the many exquisite hotels in Costa Blanca. Nestled in lush gardens inspired by the charm of Asia, this hotel offers a serene retreat on the Costa Blanca. From the opulent rooms to the award-winning Thai spa, every detail is designed to provide a royal experience. In this charming retreat, explore a realm of well-being and leisure.
---
Conclusion 
There are many options among the hotels in Costa Blanca, each with its own special charm and experiences. Whether you're seeking a beachfront escape, a serene hillside retreat, or a blend of vibrant city life and coastal comfort, the options in this breathtaking region are diverse and accommodating. With stunning locations and an emphasis on relaxation, your Costa Blanca stay promises to be a memorable one. You may fully immerse yourself in the magnificence of this Mediterranean paradise at a hotel that exactly meets your preferences, offering everything from sun-drenched beaches to picturesque cliffs. You can choose to relax in the peace and quiet of seaside coves or explore the lively metropolis of Alicante with Barcelo. Your Costa Blanca adventure begins with choosing the right hotel, and with such an array of delightful options, you're on your way to an unforgettable experience in this captivating corner of Spain. For more information visit CelebZero.
FAQs