Summer is incomplete without going to the beach and enjoying the waves. And to look your best on a beach, you would need a great skirt swimming costume that is practical and flattering to your unique figure and body. But when purchasing swimwear, you can be confused about which swimwear you should purchase and what would be the best on a hot summer day. 
You can find a variety of swimwear in many colors and designs. These designs are specially made to flatter every body type and make you feel amazing. You can find someskirt swimming costumes with slits from the side, either in a single solid color or with prints. The costumes with prints can give you a tropical vibe and energy. 
Best
Skirt Swimming Costumes
1. Plus Ruffle Beach Dress
The flattering collection of skirt swimming costume comes in two colors, white and black, and exists between the UK size of 16 to 28. It is beautiful swimwear for plus-size bodies, and the ruffles add a fun element. 
With this beach dress, you get the exact proportional fit with the best styles to make you look beautiful. The swimwear is made entirely of polyester, giving it a breezy look and feel. You can wear this dress even for a pool party and take it off as easily as you can put it on. 
---
2. Boho Lace Beach Dress
When you set out to purchase the absolute perfect swimwear, then it can be challenging to find the one that would be the most suitable for you. In such a case, you can choose this skirt swimming costume to feel beautiful on the beach. The dress has a lace design, a low-cut neck, and a slit from the middle of the skirt. The beach dress comes in black and white with three sizes available. The sizes come from small to large and are suitable for every body type. You can pair the dress with a floppy hat to give the ultimate boho vibe. 
---
3. Essentials Split Leg Maxi Beach Skirt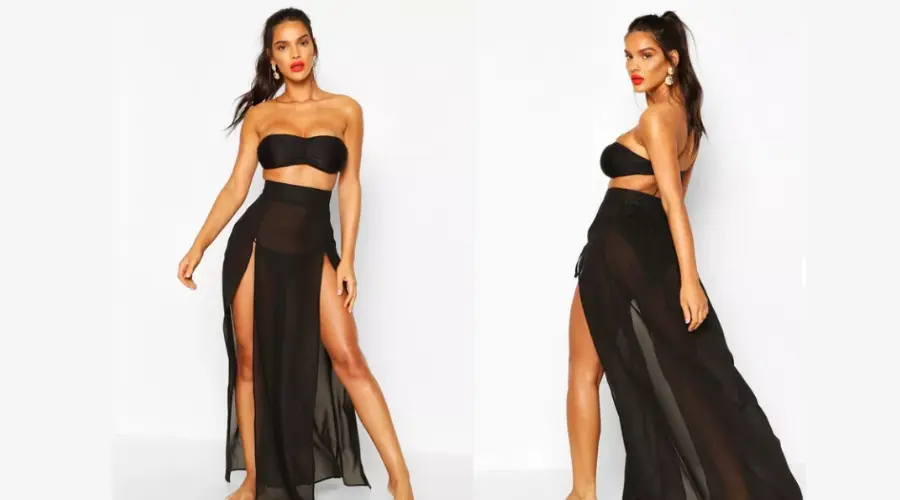 To feel beautiful and comfortable at the beach and make heads turn, you can get one of the most flattering pieces of skirt swimming costume. The costume is high-waisted, which makes your legs look longer. And it shifts towards the boho side with its two splits from two sides. You could also wear the skirt to a pool party and turn heads. You can find the skirt swimming costume in two colors, black and white, to provide the option of selecting the color that suits you the most. The skirt can be found in sizes 6 to 18, making it perfect for various bodies and sizes. 
---
4. Tropicana Cut Out Maxi Beach Dress
Among one of the best one-piece skirt swimming costume, one of the positive aspects of the dress is its prints. The color combines green, red, and yellow, making you look like a tropical goddess. The high-waisted skirt sits from two sides with a cut-out top. The top is tied at the back with a single string, leaving it as is. It makes your entire figure look flattering, and you can style the dress whichever way you want. You can either tie your hair back or leave it open; either way, the beach skirt swimming costume would make you look simple and glamorous. 
---
5. Split Leg Maxi Beach Kaftan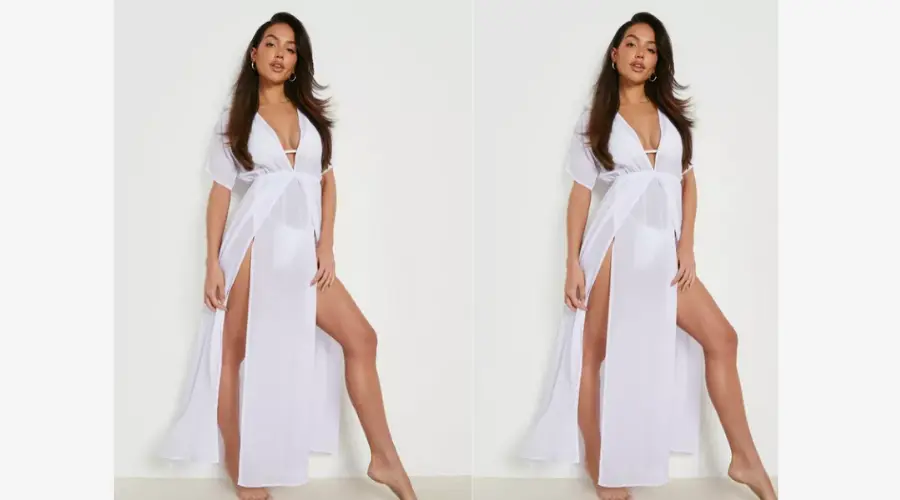 In the style of beach kimono, you can find yourself a beautiful woven maxi kaftan. The kaftan has both the elements of a kimono and a kaftan but without the bulk. Its breezy fabric will give you an ethereal look while making your skin glow. The combination of styles makes it look like a swimming costume with skirt, making it great for a pool party. Among all the skirt swimming costumes, one of the widest varieties of color can be found with the kaftan. You can get swimwear in black, turquoise, raspberry, and white. The swimwear comes in small, medium, and large sizes and can be paired with any other accessory that would make you look more flattering.  
---
6. Plus Katy Tie Dye Dip Dye Maxi Dress
The maxi dress is meant especially for plus-size and curvy women. And the skirt swimming costume comes with a unique tie-dye look of pink and blue. It reaches the floor while leaving a split from the left side. The dress has straps going behind your neck and only comes in pink color. The entire dress style is beach sarong, and you would look completely flattering with your hair down. 
---
7. Embroidered Cheesecloth Beach Dress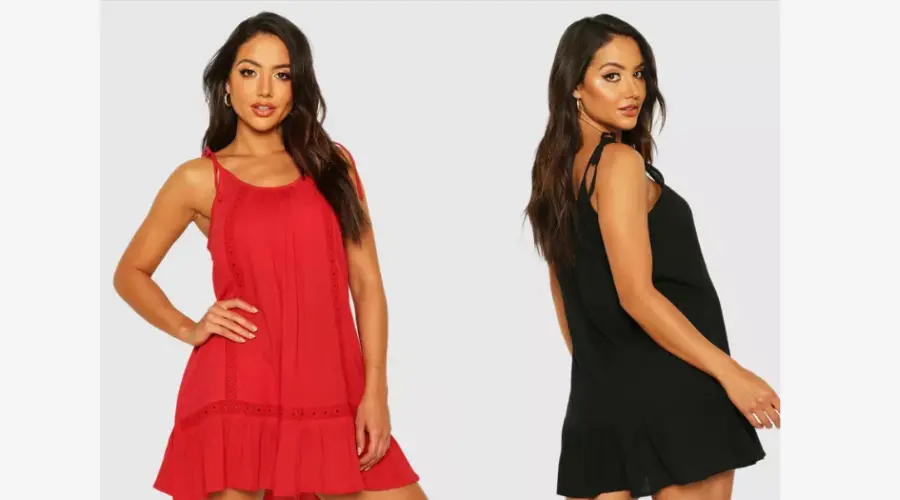 Feel great about your body by rocking this unique beach dress. It has a plain design with embroideries close to the hem of the skirt and on the sides. You can get a beach dress in red, black, and white. You can pair the dress with any other accessory that you prefer and would be appropriate for a beach or your home pool. 
---
Conclusion 
When looking for swimwear on Boohoo, you can find a large variety of skirt swimming costume which can come as a one-piece or two-piece, whatever you prefer. But while purchasing, you must make sure about all the different cuts you can find. If you are uncomfortable with something like a kaftan, you can always go with a simple plain design. 
The skirt swimming costumes also come in various materials that are a little more see-through than the others. But no matter what you purchase, you will get breezy and comfortable swimwear that you can spend hours in on the beach.  For more such blogs, follow Celebzero.
FAQs