Halter neck tops are a timeless fashion statement that can effortlessly elevate your style for any occasion. Whether you're heading to a casual brunch with friends or attending a glamorous evening event, these versatile tops are the perfect choice. In this blog, we'll explore the world of halter neck tops, with a particular focus on Karen Millen's exquisite collection. We'll also delve into five stunning halter neck tops available on their platform and, finally, provide valuable styling tips to help you rock this chic trend like a fashion icon. Let's dive in!
5 Ways to pair halter neck tops for different occasions
Halter neck tops offer a plethora of style possibilities, and with a little creativity, you can curate eye-catching outfits for various occasions. Here are five exciting ways to pair them:
Casual Chic:
Pair a white halter neck top with high-waisted jeans or denim shorts for a fresh, laid-back look.

Complete the outfit with a straw hat, oversized sunglasses, and sandals for a beachy vibe.
Office Elegance:
Go for a halter neck blouse in a sophisticated fabric like silk or crepe.

Pair it with tailored trousers or a pencil skirt for a polished and professional ensemble.

Add subtle accessories, such as a statement necklace or classic pumps, to elevate your office style.
Date Night Glam:
Choose a halter neck crop top with a touch of sparkle or embellishments for a glamorous evening look.

Match it with a high-waisted skirt or wide-leg pants for a trendy and chic outfit.

Don't forget to accessorise with elegant jewellery and a clutch to complete your date night ensemble.
Boho Beauty:
Select flowy and printed halter neck tops for bohemian-inspired outfits.

Team them up with flared jeans, platform wedges, and a fringe bag to embrace the boho chic style.
Layered Sophistication:
Layer a halter neck top under a blazer or a lightweight cardigan for a stylish and professional look.

Combine it with tailored trousers or a midi skirt for a classy outfit suitable for both work and formal events.
5 Stylish halter neck tops on Karen Millen to add to your wardrobe
1. Cowl Neck Halter Woven Crepe Top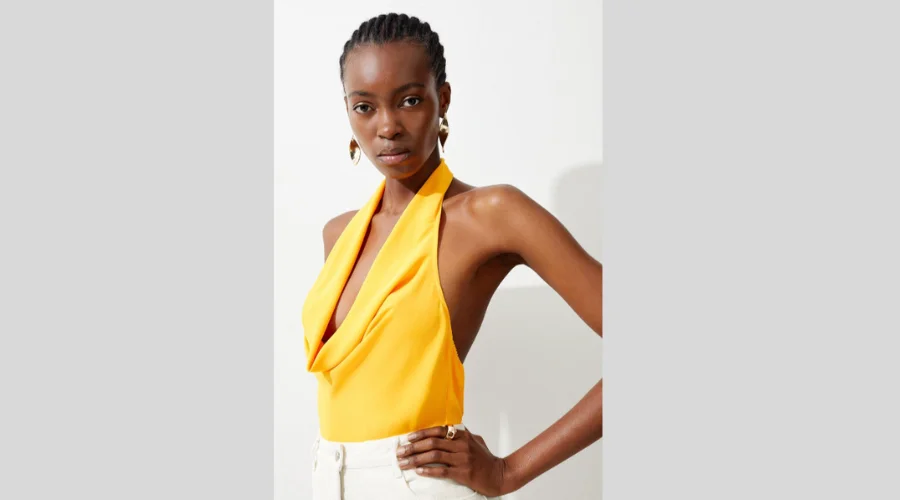 This is one of the most sophisticated halter neck tops that boasts a sleek and flattering cowl neckline, exuding a touch of glamour and femininity. Crafted from luxurious woven crepe fabric, the top drapes gracefully, creating a stunning silhouette that complements various body shapes. The halter neck design accentuates your shoulders and back, adding a hint of allure to your ensemble. 
Perfect for transitioning from day to night, this versatile halter top effortlessly takes you from the office to after-work gatherings. Pair it with tailored trousers or a pencil skirt for a polished and professional look during office hours. For an enchanting evening appearance, team it up with a chic midi skirt or fitted pants, and accessorise with statement jewellery for a touch of brilliance. With its impeccable tailoring and exquisite details, the Cowl Neck Halter Woven Crepe Top is a must-have addition to your collection.
---
2. Crystal Embellished Linen Twill Halter Top
This show-stopping halter top is a vision of elegance, adorned with sparkling crystals that catch the light with every movement. The luxurious linen twill fabric ensures comfort while providing a structured and chic appearance. The halter neckline frames your shoulders beautifully, elevating your look for any special occasion.
Make a memorable entrance at cocktail parties, galas, or formal events with this exquisite halter top. Paired with a high-waisted skirt or tailored trousers, the Crystal Embellished Linen Twill Halter Top exudes an air of sophistication and sophistication. Add a clutch embellished with matching crystals and strappy heels to complete your glamorous ensemble. Stand out from the crowd and shine like a star with this breathtaking halter neck top that effortlessly captures the essence of refined luxury.
---
3. Plus Size Lightweight Summer Knit Halter Tee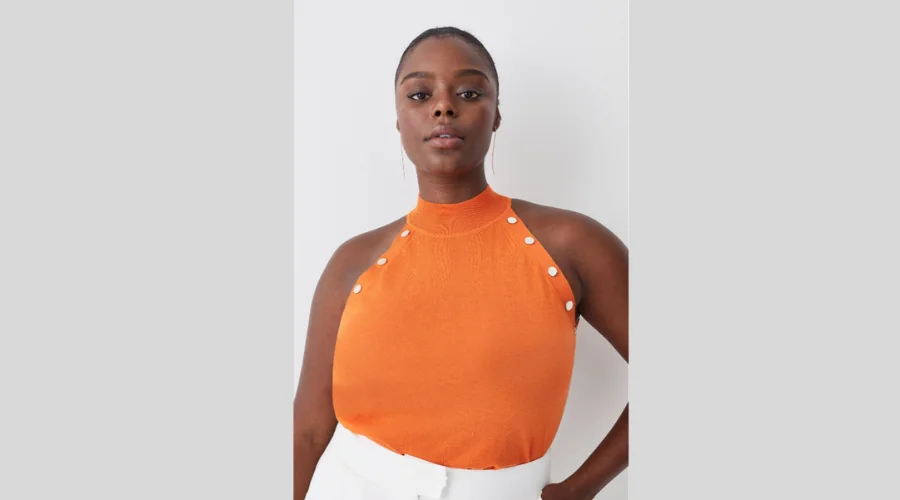 Celebrate your curves and stay cool during warm summer days with the Plus Size Lightweight Summer Knit Halter Tee by Karen Millen. This chic and comfortable halter tee is designed specifically for plus-size fashionistas, offering a flattering and versatile piece for your casual outings. The lightweight knit fabric provides breathability and softness, ensuring all-day comfort while maintaining a stylish appearance.
Whether you're heading to a beach vacation or meeting friends for a weekend brunch, this halter tee is a go-to staple. Pair it with high-waisted shorts or flowy skirts for a relaxed yet fashionable look. Accessorise with layered necklaces and oversized sunglasses to add a touch of flair.
---
4. Chain Embellished Crochet Halter Top
Embrace your inner bohemian goddess with the Chain Embellished Crochet Halter Top from Karen Millen. This boho-chic halter neck top exudes a carefree and artistic vibe, making it a perfect addition to your festival wardrobe or casual outdoor gatherings. The intricate crochet detailing adds texture and depth to the design, while the chain embellishments lend a touch of edginess and allure.
Combine the Chain Embellished Crochet Halter Neck Top with flared jeans or denim shorts for a relaxed yet stylish look. Complete the boho ensemble with platform wedges, a fringe bag, and stacks of bangles. Whether you're attending a music festival or exploring a lively artisan market, this halter top ensures you stand out with your unique sense of style and creativity.
---
5. Fringed Beaded Halter Top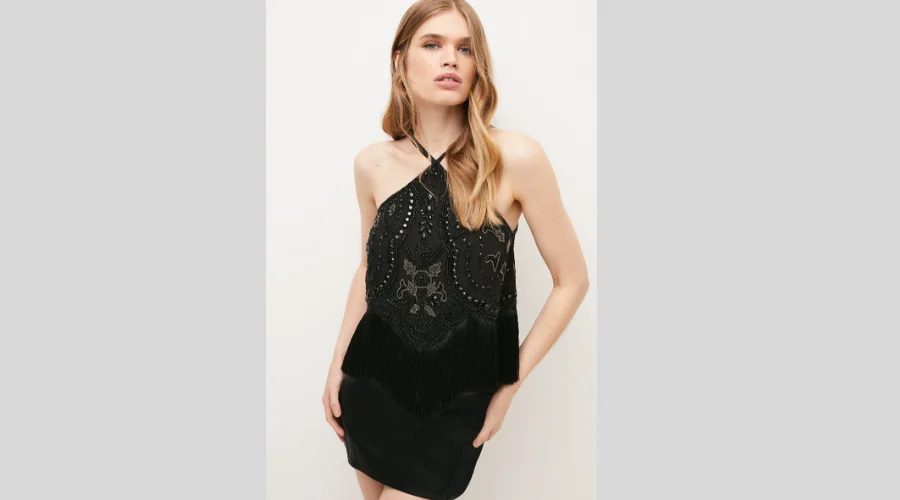 Make a dramatic fashion statement with the Fringed Beaded Halter Top from Karen Millen. This mesmerising halter neck top combines intricate beadwork and playful fringes to create a show-stopping piece that oozes sophistication and fun. The high-quality beading adds an exquisite shimmer to the top, catching the light as you move, while the fringes add dynamic movement and a touch of vintage glamour. Dazzle at night outs, dance parties, and celebrations with this head-turning halter top. Pair it with sleek black pants or a fitted skirt for an elegant and chic appearance.
---
Conclusion
Halter neck tops from Karen Millen are an excellent addition to any fashion-forward wardrobe. With their variety of styles and designs, they offer something for every taste and occasion. From casual-chic to glamorous evenings, these tops can be effortlessly styled to suit any event. By adding these fabulous halter neck tops to your wardrobe, you'll have the power to create stunning outfits that turn heads wherever you go. For more such updates, visit Celebzero.
FAQs