When choosing a dog food, consider your dog's age, size, and dietary needs. Consult your vet if your dog needs a specific diet, such as for puppies, senior dogs, or those with allergies. Ensure the food contains high-quality protein sources and minimal artificial fillers. Natural dog food from meats like chicken, turkey, lamb, or beef is recommended for its essential nutrients, dental hygiene, and brain stimulation. However, certain ingredients like chocolate, grapes, raisins, onions, garlic, and xylitol can be harmful or toxic to dogs. Chewy, an online pet supply retailer, offers a wide selection of premium dog food choices, safety and quality assurance, and convenient services. These platforms are a reliable choice for pet owners seeking a pleasurable chewing experience for their dogs.
1. How Much Should I Feed My Dog?
The quantity of food you should give your dog depends on a number of variables, including their age, size, level of activity, and the particular brand of dog food you are feeding them. It's essential to start following the feeding instructions listed on the dog food container. Based on your dog's weight, these recommendations normally call for a daily serving. However, bear in mind that each dog may have distinct demands, and this is only basic advice.
Take into account your dog's activity level when choosing the appropriate portion. In order to maintain a healthy weight, more active dogs may need more calories, whereas less active or older dogs may need fewer calories. Keep a close eye on your dog's weight and make any dietary adjustments. Additionally, get personalized advice from your veterinarian, who may take your dog's particular health requirements into account and suggest a suitable feeding schedule.
---
2. What Are the Most Recommended Dog Foods? 
1. Natural Balance Limited Ingredient Reserve Grain-Free Sweet Potato and Venison Recipe Dry Dog Food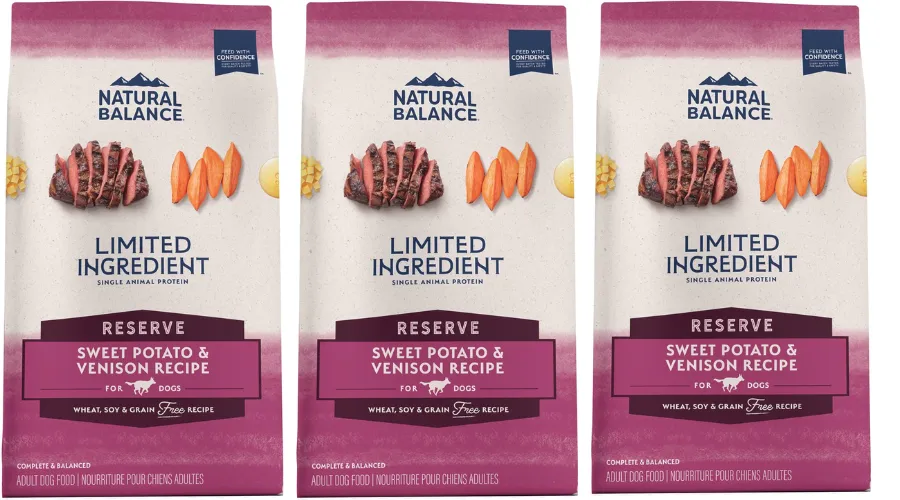 Sweet Potato and Venison Recipe with Limited-Ingredient Reserve from Natural Balance Venison serves as the main component in Dry Dog Food, a premium dog food that offers needed protein and amino acids for strong muscles. Sweet potatoes provide grain-free fibre to support digestive health. With just a single source of animal protein, a condensed list of premium ingredients, and no grains, soy, gluten, artificial colours, or flavours, this recipe is carefully created. It offers a full and balanced diet that supports a healthy immune system by including additional nutrient-dense ingredients like pea protein, salmon oil, and sweet potatoes. This dog food is a fantastic option for a variety of canine needs because of its delectable, nutrient-rich formulations suited for dogs with sensitive stomachs, skin irritations, or allergies.
---
2. IAMS Proactive Health MiniChunks Small Kibble Adult Chicken and Whole Grain Dry Dog Food
Developed with little dogs' health in mind, Iams Proactive Health MiniChunks little Kibble Adult Chicken & Whole Grain Dry Dog Food is a highly nourishing dog food. It guarantees a hassle-free feeding experience for your pet companion by having a smaller kibble size for simpler consumption. This formula, which is made with actual farm-raised chicken as its main component, offers premium-sourced protein that encourages the growth of strong muscles. It also has a unique combination of fibres and prebiotics that support a healthy digestive tract. This dog food contains immune-supporting antioxidants to improve your dog's general health, making it a healthy option for mature small-breed dogs.
---
3. PURINA Pro Plan Adult Sensitive Skin and Stomach Salmon and Rice Formula Dry Dog Food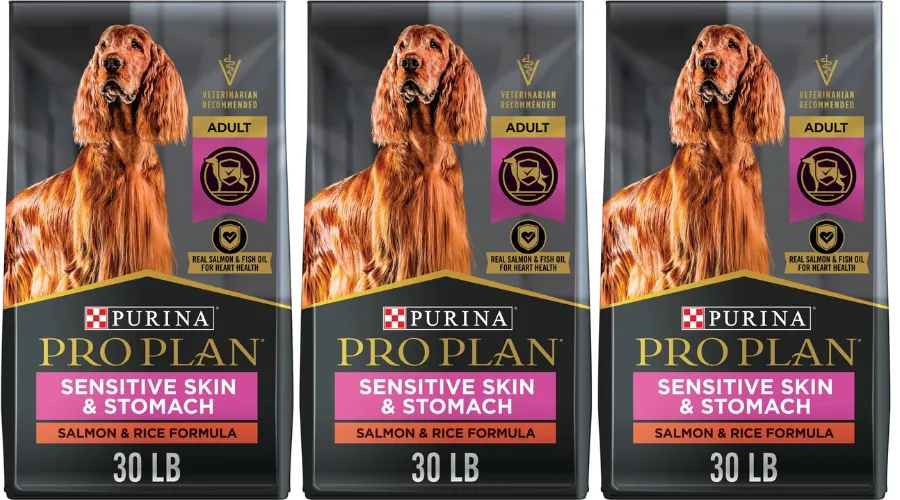 A high-quality option for dogs with sensitive skin and stomachs is Purina Pro Plan Adult Sensitive Skin & Stomach Salmon & Rice Formula Dry Dog Food. This dog food provides a delicious and high-protein food that's not only tasty but also advantageous for the health of your dog because it uses real salmon as its main ingredient and doesn't use artificial colours or flavours. Each serving contains fish oil, which is high in omega-3 fatty acids and supports joint health, as well as sunflower oil, which is high in omega-6 fatty acids and supports lustrous coats and healthy skin. This composition, which is rich in antioxidants, also strengthens your dog's immune system. Additionally, this food's naturally occurring prebiotic fibre and easily absorbed oatmeal support general digestive health, making it a fantastic option for sensitive dogs.
---
4. Rachael Ray Nutrish Real Beef, Pea, and Brown Rice Recipe Dry Dog Food
Recipe for real beef, peas, and brown rice from Rachael Ray Adult dogs can choose from a variety of tasty and healthy dry dog foods, with real beef listed as the first ingredient to ensure a high-quality source of protein. The new recipe not only contains additional vitamins, minerals, and taurine to boost your dog's general health and energy levels, but it is also more tasty and nutritious than the old one. Additionally, the natural dry dog food supports both physical and mental well-being. The Rachael Ray Foundation, which aids animals in need, receives a share of the proceeds from this dog food as a kind gesture, making it a decision that not only benefits your pet but also champions a worthy cause.
---
5. Purina ONE Natural SmartBlend Lamb and Rice Formula Dry Dog Food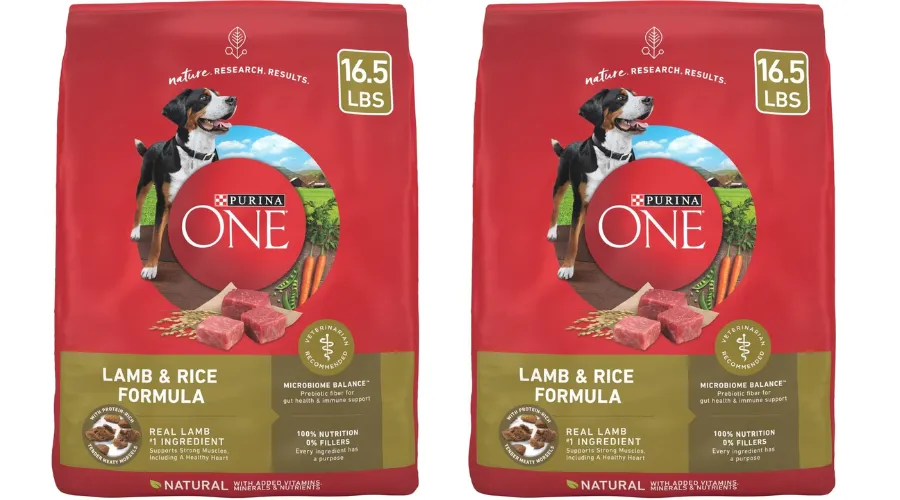 A dependable option for adult dogs, Purina ONE Natural SmartBlend Lamb and Rice Formula Dry Dog Food provides 100% complete and balanced nutrition and is proudly produced in Purina-owned US facilities. Real lamb is the main ingredient in this high-protein kibble, offering a high-quality source of protein. With extra omega-6 fatty acids, vitamins, and minerals, it goes above and beyond the requirements for basic nourishment to support healthy skin and a lustrous coat. It also offers strong immune system support thanks to four antioxidant sources, and natural glucosamine sources support the maintenance of healthy joints. Dogs absolutely appreciate the taste and delightful texture of the mixture of soft, meaty morsels and crunchy kibble.
---
3. Can I feed my dog homemade food?
Yes, you can feed your dog homemade food, but it is important to do it safely. Before making any dietary modifications for your dog, consult your vet. They may assist you in developing a diet that is secure and beneficial for your particular dog. Keep these few things in mind:
Make sure the dog food is wholesome and well-balanced. Your dog should receive all the necessary nutrients from a customized diet. You may find a lot of tools to help you put together a healthy diet, including books, websites, and veterinary nutritionists.
Cook the meal to perfection. Before giving your dog any raw meat, it's crucial to fully cook it because it may contain dangerous pathogens.
Don't add salt, sugar, or other seasonings. It might just not be good for your dog's health.
Introduce the new food to your dog gradually at first. This will lessen the chance of gastrointestinal distress.
---
Conclusion
To support the health and well-being of your cherished canine companion, there are dog foods that offer a wholesome and nutritious option. By combining premium ingredients and careful formulation, it satisfies the distinct nutritional needs of dogs by ensuring that they receive essential minerals, protein sources, and even specialised additives like joint support or skin health boosters. It is also widely accessible to pet owners everywhere thanks to simple online retailers like Chewy that provide a hassle-free way to order and have it delivered right to your doorstep, ensuring your dog's dietary needs are satisfied with ease and care. Visit Celebzero for more details on dog food. 
FAQs