Particularly when we think about formal gowns, prom dresses are a top choice among women for a prom night or formal dinner night at a restaurant. For the past year, they have become popularly important among high school students. This is mainly due to the prom events which are special events for both girls and boys before they graduate from high school. They are significantly special because of the celebration of the most important academic year in high school. Moreover, it's always a time when students attend the event as couples or with someone they like. This is pretty much a mix of excitement, glamour, and fashion styles that these dresses bring in. Plus prom dresses have evolved over the past decades. This blog will take you through the importance, history, and popularity of prom dresses. 
A brief overview of the history of prom dresses 
It said that the history of traditional prom dates goes back to the 19th century. But the idea of prom nights has evolved over time and how they were designed and worn has been changed too. 
In the 1930s to 1940s during the World War II era, proms were not so extravagant due to the economic crisis. The wartime restriction had a great impact on the excitement of celebrating the event. This means that prom dresses had simpler designs, while the material used were made out of affordable quality. Tea-length dresses with shorter hemlines became a popular choice during this era.    
The 1950s had more exciting since feminine glamorous styles became more popular. There was a growing post-war boom and a growing concentration on youth culture made the proms more of a popular event to be celebrated especially among the high school students. This led to making these dresses evolve into more flattering featuring styles, cinched waists, and petticoats for added volume. When it came to design pastel colors, and floral patterns became quite popular as the fashion style during this time. 
With the growing popularity among the youth, during this time there was a significant change from a traditional style to a modern style. This led to the transformation of a non-conformist prom dress to a more diverse prom dress, the influence of fashion and the counterculture was inevitable. Hence there was more inspired design with bold prints, vibrant colors were becoming more of a classic choice. The growing popularity of flowing silhouette and bohemian aesthetics was at its peak.  
Compared to the last few years, the 90s and 2000s their reversal to simpler and sleeker types of prom dresses, slip dresses, sheath dresses, and the spaghetti strap gown was gaining popularity. The clean lines which were of minimalist design became fashionable. 
In the early 20th century proms were considered formal events which were held at colleges and universities. Women would typically wear some kind of conservative modest evening gowns for the event, along with glittering necklines, long sleeves back, or white and floor-length skirts. These gowns were made out of luxurious fabrics such as velvet, satin, or silk. 
Needless to say, in recent years prom dresses have been staggeringly evolving into more trending, glamorous styles than ever. There are countless options available from classic to timeless styles, and from affordable material to high-class material to modern and unconventional designs. If you can think of new trends such as mermaid silhouettes, high slits, illusion, or two-piece ensembles have now become a part of wide selections of prom dresses. In addition, there is a huge emphasis on sustainability by many brands and designers who are incorporating eco-friendly materials. More ethical practices have been put into manufacturing these dresses. 
Why prom dresses are popular at Debenhams  
A few obvious reasons why prom dresses are popular are: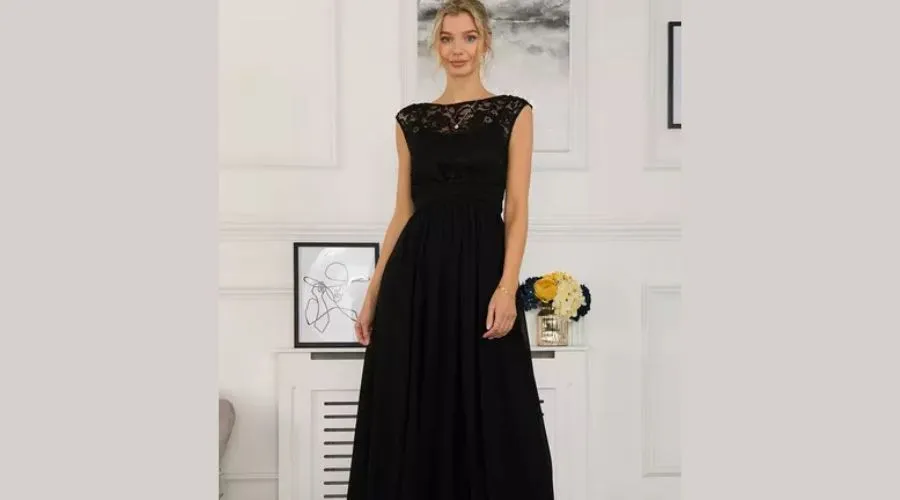 Debenhams has a variety of styles and designs that come with these dresses making them an indispensable choice to buy and wear. For instance,

Lace Bodice Maxi Prom Dress

on Debenhams is one of the best varieties of dresses. This prom dress is designed with a stunning chiffon maxi skirt. Flare full length, and its crafted soft stretch lace, with a full lining and the floor lengthened cut elevates your silhouette. The elasticated waist and the self-tie belts help you to showcase your elegance and enhance your look. 
---
The different fabrics are incorporated in designing these dresses which make them alluring and in high demand in the market. These also mean they come with heavy price tags.

Cinda Floral Prom Dress

is an example of the quality material used while making these dresses. It is full-length lined, looks like a wedding gown, with folded fine netting on the bodice and the waistline is well decorated with sequins and beads concealed side zip. The adjustable straps help you to wear it in a way that will fit you entirely smoothly and cleanly.

---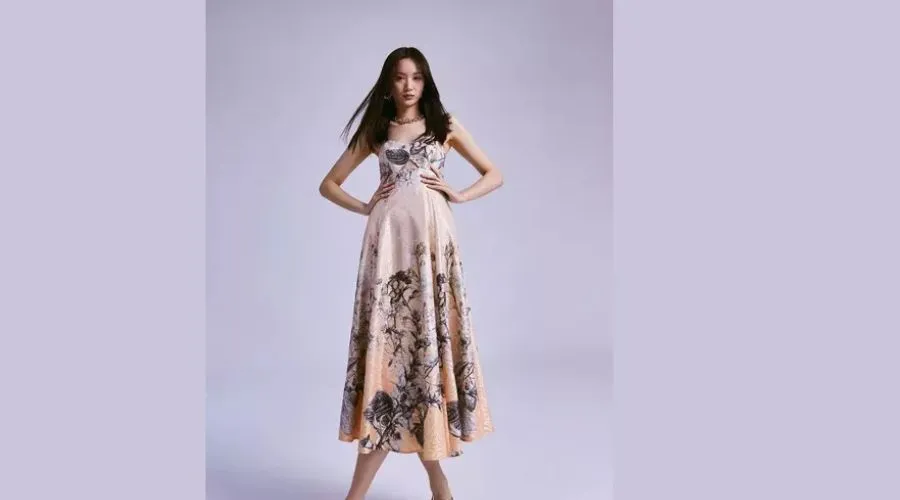 The colors and patterns used in designing are another reason why these dresses are popular dresses for prom events. A black prom dress and a red prom dress are hugely common types of colors preferred by many girls  They come in all different colors you can name them. If you can think of any of these dresses check out the Karen Millen Hydrangea

Bloom Print Metallic Jacquard Maxi

Prom Dress on Debenhams. It is made out of unique blended colors to amaze your eyes. This is a unique piece of the collection among all the prom dress one can find on Debenhams. 
---
If you think of embellishments these dresses are not behind. They are adorned well and the dazzling embellishments make them popular among other dresses. These embellishments include sequins, embroidery, rhinestones, lace appliques, delicate fabric draping, beading, and more. One such prom dress is

Cinda Prom Dress

on Debenhams made out of woven fabric is a classic choice. It is embellished with a beautiful design with faux jewels, sequins, and beads which are attached across the shoulder to the chest. This is an iconic look for those girls who want to carry a smooth sophisticated look at the prom event. 
The length of these dresses is another reason they are hugely popular. Debenhams bring all these dresses which are highly appealing to the eyes and to the wear, it gives them the confidence to wear with pride. Check out the Coast Plunge Neck

Split Front Maxi Prom Dress

on Debenhams with comes with a perfect stretch length and is highly fashionable for a prom event. This prom dress promises to get you all the attention at the event. Ti is made oath keen detail and fit to make you extra sexy with all eyes on you at the event. 
---
The evolving trend in the mainstream media has inspired many designers to design

these prom dresses

with high slits, open backs, illusion panels, two-piece ensembles, asymmetrical designs, and cutouts these are some stylish designs that are similar to gowns worn by celebrities during the red carpet show. Get all the classic types of these dresses on Debenhams. One such prom dress on Debenhams is the Karen Millen Garden Floral Maxi Split Prom Dress which is a perfect representation of a classic dress that you might have seen on the red carpet or the celebrities wearing a similar dress at the Met Gala. The length is midi and without a sleeve. Design beautifully with florals and the floral print lens elevates romantic allurement to the overall look. Look extra sophisticated with high heels, or pointed heels, and accessories to make it more sensual. 
---
Conclusion 
Needless to say, if you are planning eagerly for this upcoming prom night Debenhams has got your back. Without having to run here and there all your favorite collections of prom dresses are here on the website with a beautiful collection to make your event memorable. Your final hunt for the best prom dresses has come to an end with Debenhams bringing a wide variety of prom dresses, feel the luck in the air and get the dress that will elevate your style. For more information visit Debenhams and the official website of Celebzero. 
FAQ's