In the realm of fashion, trends come and go, but some timeless styles manage to carve their niche in the wardrobes of trendsetters and fashion enthusiasts alike. One such trend that has stood the test of time and continues to captivate the hearts of many is the peplum top. Among the plethora of options available,VICI has emerged as a prominent platform for sourcing these chic and versatile garments. 
Peplum tops for women are garments characterized by a flared ruffle, known as a peplum, attached to the waistline of the top. This ruffle creates a distinctive silhouette, cinching the waist and flaring outward, thus accentuating the hourglass figure. 
Peplum Tops: A Fashion Evolution
Peplum tops have undergone several transformations over the years, adapting to changing fashion sensibilities. They gained prominence in the 1940s as a symbol of femininity and glamour, often paired with pencil skirts for a classic ensemble. 
In the 1980s, peplum tops saw a resurgence, with a more dramatic and exaggerated silhouette, reflecting the bold aesthetics of that era. Today, peplum tops have evolved to cater to diverse tastes, offering variations in sleeve lengths, necklines, and fabric choices.
The enduring popularity of peplum tops can be attributed to their ability to flatter a wide range of body types. The cinched waist and flared ruffle create the illusion of an hourglass figure, enhancing curves for those with a more petite frame and accentuating the waistline for those with an apple or pear-shaped body. 
List of best peplum tops on VICI that you don't want to miss:
1. Bennet Smocked Peplum Top – Tangerine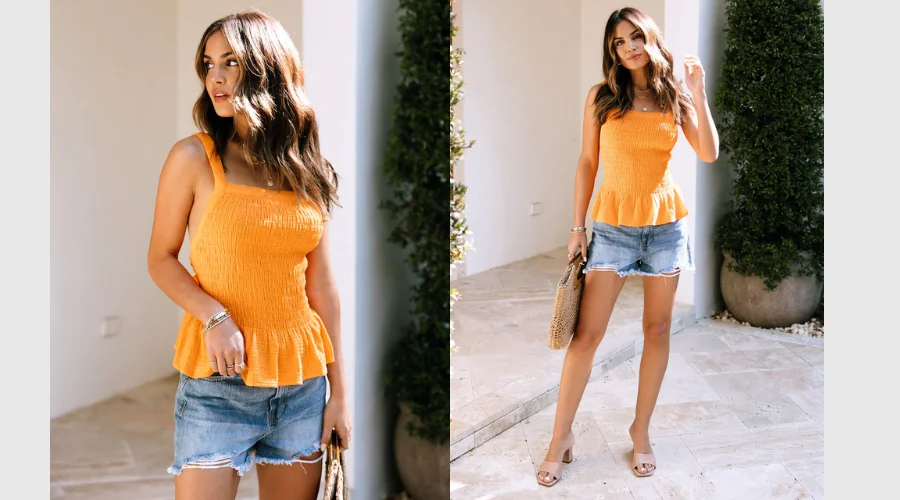 The "BENNET SMOCKED PEPLUM TOP" from VICI is a stylish and versatile addition to any wardrobe. This elegantly designed peplum top effortlessly blends classic charm with modern trends, making it a must-have piece for fashion enthusiasts. Crafted with attention to detail, the smocked bodice offers a flattering fit that accentuates the waistline, providing a comfortable yet chic silhouette.
The Bennet Smocked Peplum Top boasts a unique blend of comfort and style, making it perfect for various occasions. Whether you're heading to a casual brunch, a day at the office, or a night out with friends, this peplum top effortlessly elevates your look. The peplum design adds a touch of flair and sophistication, while the smocked detailing ensures both flexibility and a snug fit. Available in a range of colors and sizes, the Bennet Smocked Peplum Top caters to diverse preferences and body types.
---
2. Aldina Ruffle Peplum Top – Taupe
The "Aldina Ruffle Peplum Top – Taupe" available on VICI is a stunning and versatile piece that effortlessly combines style and comfort. This peplum top is a true fashion gem, designed to elevate your wardrobe with its unique details and flattering silhouette. Crafted with meticulous attention to detail, the top boasts a sophisticated taupe hue that complements a variety of outfits, making it a must-have addition to any fashion-conscious individual's collection.
The key feature of this top is its exquisite ruffle peplum design, which adds a touch of playfulness and elegance to your overall look. The peplum flares out gracefully from the waist, accentuating your curves and providing a feminine and chic vibe. 
Whether you're headed to brunch with friends or a special evening event, the Aldina Ruffle Peplum Top – Taupe guarantees to make a statement. The lightweight and breathable fabric ensures comfort throughout the day, while the intricate ruffle detailing resonates with current fashion trends.
---
3. Miranda Puff Sleeve Peplum Top – Orange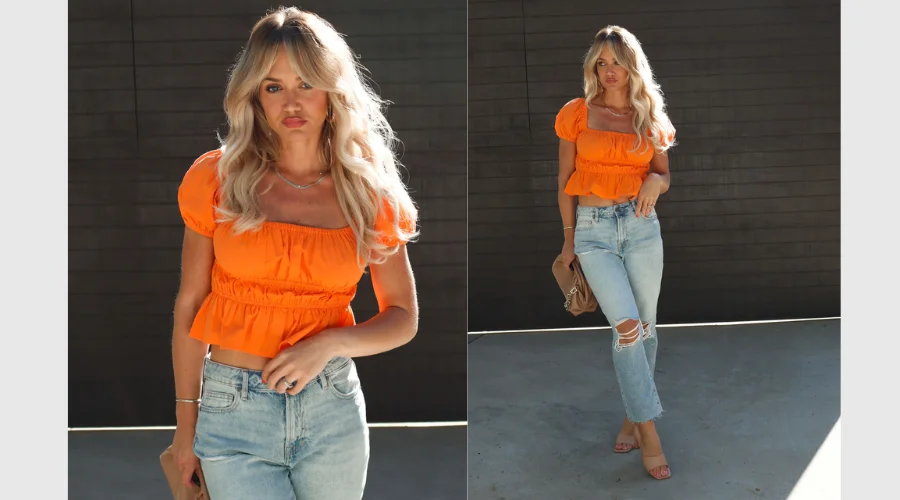 Introducing our exquisite Puff Sleeve Peplum Top, a versatile addition to your wardrobe that effortlessly blends elegance with modern flair. This enchanting piece from our collection showcases the timeless charm of peplum tops while embracing the contemporary trend of puff sleeves. This top was painstakingly made with attention to detail with the intention of standing out on any occasion.
The Puff Sleeve Peplum Top boasts a flattering silhouette that accentuates your curves, thanks to its well-defined peplum waistline. The unique combination of the classic peplum style and the trendy puff sleeves creates a harmonious blend of sophistication and fashion-forward appeal. Whether you're attending a formal event or looking to elevate your everyday attire, our Puff Sleeve Peplum Top will become your go-to choice.
---
4. Aldina Ruffle Peplum Top – White 
The "Ruffle Peplum Top – White" available on VICI is a stunning piece that perfectly blends elegance with modern style. This peplum top is a true wardrobe essential, offering a fresh and sophisticated look for various occasions. Crafted with meticulous attention to detail, this white peplum top stands out with its unique design and high-quality materials.
The alluring ruffle detailing on the peplum hem adds a touch of playful charm, while the crisp white color exudes purity and versatility. The top features a flattering silhouette that accentuates the waistline, making it an ideal choice for those who want to embrace their feminine curves. Whether you're dressing up for a formal event or aiming for a chic everyday ensemble, this "Ruffle Peplum Top – White" effortlessly elevates your style.
---
5. Lautner Eyelet Peplum Top – White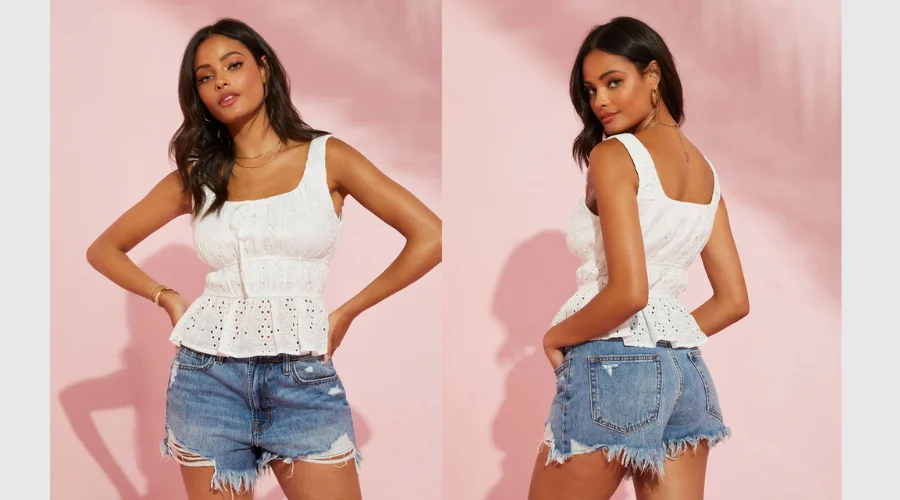 The "Lautner Eyelet Peplum Top" in elegant white is a striking and versatile addition to your wardrobe, available on VICI. This exquisite peplum top seamlessly blends style and sophistication, making it a must-have for any fashion enthusiast. Crafted with meticulous attention to detail, the top features delicate eyelet patterns that exude a sense of femininity and grace.
The allure of this peplum top lies in its unique design, perfectly capturing the essence of the peplum trend. The peplum silhouette, characterized by its fitted bodice and flared hem, creates a flattering shape that accentuates the waistline while providing a touch of playful movement. The eyelet detailing adds an element of texture and visual interest to the garment, elevating it beyond the ordinary.
---
Conclusion
In the world of fashion, peplum tops have proven their resilience and versatility. The trend that originated decades ago has adapted and evolved, making its mark across generations. vicicollection, with its commitment to providing a diverse range of peplum tops that cater to various styles and sizes, has emerged as a premier destination for fashion enthusiasts seeking these chic and flattering garments. For more information about pink peplum tops or short sleeve peplum tops, visit the official website of Celebzero.
FAQs