In the realm of modern fashion, men's tracksuits have become a staple choice for those seeking a balance between comfort and style. JD Sports, a leading retailer of athletic apparel, offers a wide range of men's tracksuits that cater to the diverse needs and preferences of its customers.
---
Exceptional Features of Men's Tracksuits at JD Sports:
Comfortable Fabrics: Tracksuits men at JD Sports are crafted using premium materials that

prioritize comfort

. Soft and breathable fabrics such as cotton blends and polyester provide a luxurious feel against the skin, ensuring maximum comfort throughout the day.
2. Versatile Designs: JD Sports offers an impressive range of designs, catering to diverse style preferences. Whether it's a classic solid-coloured tracksuit or a boldly patterned ensemble, there is a tracksuit for every taste. Additionally, customers can choose between slim-fit, regular-fit, or relaxed-fit tracksuits, allowing them to find the perfect silhouette for their body type.
3. Functional Features: JD Sports understands the importance of functionality in men's tracksuits. Many tracksuits feature elasticated waistbands, adjustable drawstrings, and zippered pockets, providing convenience and practicality. These thoughtful design elements allow individuals to store essentials securely while on the move.
---
Here is a list of the Top 5 Men's tracksuits on JD Sports
1. Nike Academy Essential Tracksuit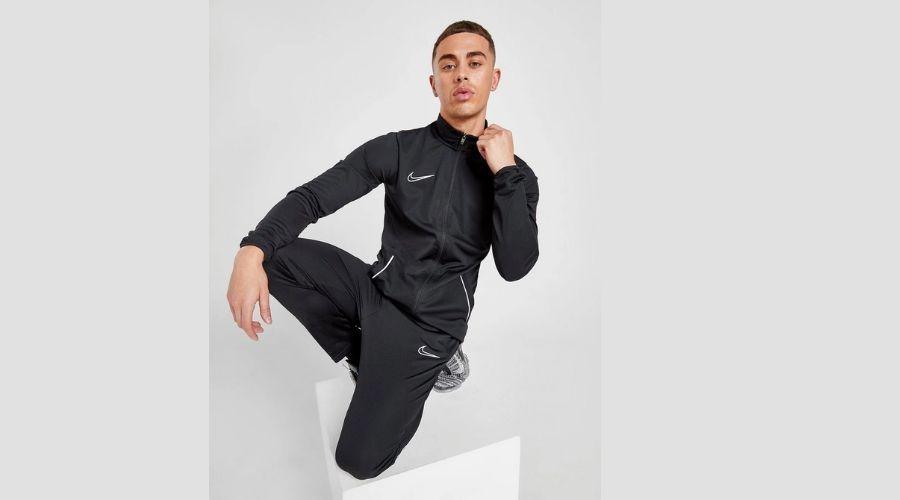 Nike Academy Essential Tracksuit is crafted with precision to ensure maximum comfort during workouts, sports activities, or casual outings. The tracksuit's fabric is a blend of soft, breathable materials that provide exceptional moisture-wicking properties, keeping the wearer dry and comfortable even during intense physical exertion. 
While comfort is crucial, men also desire a tracksuit that exudes style. The Nike Academy Essential Tracksuit delivers on this front as well. The design strikes a perfect balance between functionality and aesthetic appeal, making it suitable for a wide range of occasions. 
The clean lines, slim fit, and subtle Nike branding create a sleek and modern look that enhances the wearer's confidence. Whether worn as a complete tracksuit or paired with individual pieces, the Nike Academy Essential Tracksuit effortlessly complements various styles and fashion sensibilities.
---
2. Emporio Armani EA7 Visibility Logo Crew Tracksuit
The Emporio Armani EA7 Visibility Logo Crew Tracksuit boasts a sleek and modern design that effortlessly combines style with functionality. The tracksuit comprises two essential components: a crew-neck sweatshirt and matching track pants. Both pieces are meticulously crafted to ensure a comfortable and flattering fit for men of various body types.
The sweatshirt features a classic crew-neck collar with ribbed cuffs and hem, providing a stylish and snug silhouette. The EA7 logo is prominently displayed on the chest, adding a touch of sophistication and brand recognition. The track pants are designed with an elasticated waistband and adjustable drawstring, allowing for a customized fit. The iconic EA7 logo is again present on the left thigh, elevating the overall aesthetic appeal of the tracksuit.
---
3. Adidas Badge Of Sport Poly Hooded Tracksuit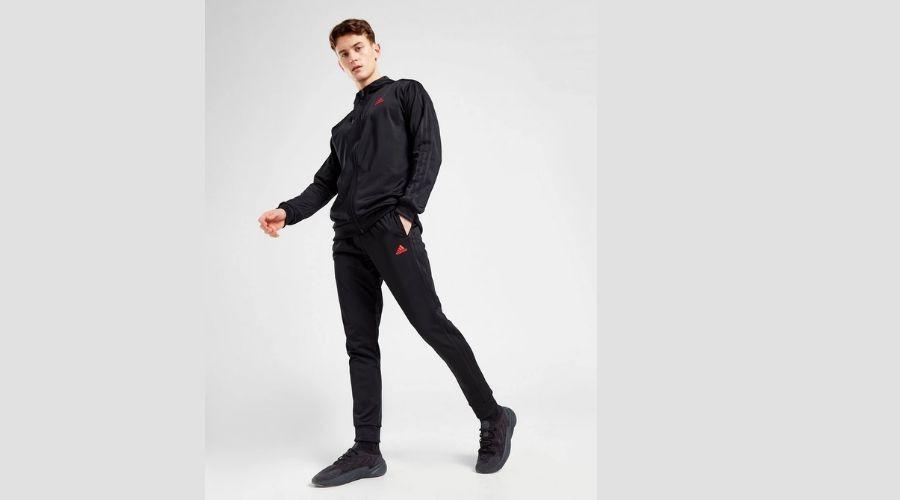 The design of the Adidas Badge Of Sport Poly Hooded Tracksuit exudes a modern and athletic appeal. The tracksuit consists of two main components: the jacket and the pants. The jacket features a full-zip front, a hood with adjustable drawcords, and ribbed cuffs and hem for a secure and comfortable fit. It also includes two front pockets, providing practical storage options. The pants have an elastic waistband with a drawstring for an adjustable fit, as well as zippered side pockets to secure small essentials.
The tracksuit's overall silhouette is tailored to provide a relaxed and comfortable fit, allowing for ease of movement during physical activities. The use of premium polyester fabric ensures durability and breathability, making it suitable for a range of weather conditions. Additionally, the iconic Adidas Badge Of Sport logo is prominently displayed on the chest of the jacket and on the left leg of the pants, serving as a symbol of authenticity and style.
---
4. The North Face Overhead Fleece Tracksuit
One of the most important aspects of any tracksuit is its comfort and fit. The North Face Overhead Fleece Tracksuit excels in both categories. Crafted from high-quality fleece fabric, this tracksuit offers an incredibly soft and cosy feel against the skin. Whether you're lounging at home, running errands, or engaging in light physical activity, the tracksuit's fleece material ensures optimal comfort throughout the day.
The tracksuit's fit is designed with men in mind, providing a relaxed yet tailored look. The elasticated waistband and cuffs ensure a secure and adjustable fit, allowing for ease of movement without compromising style. The jacket features a full-length zip closure, making it convenient to put on or take off. The pants come with an adjustable drawstring waist, further enhancing the customizable fit to suit individual preferences.
5. BOSS Batch Soody Tracksuit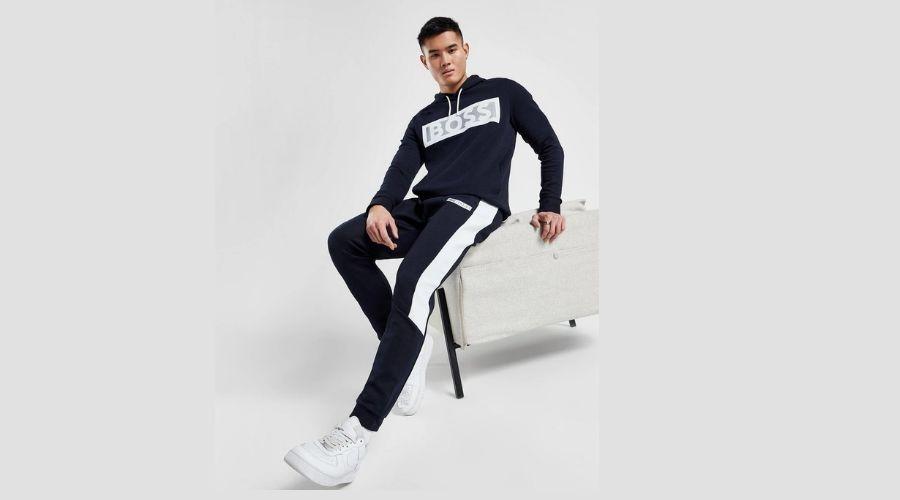 The BOSS Batch Soody Tracksuit exhibits exceptional craftsmanship, emphasizing the brand's commitment to delivering excellence. Made from premium-quality materials, such as high-grade cotton and polyester blends, this tracksuit ensures durability and longevity. 
The fabric is soft, and breathable, and provides excellent moisture-wicking properties, making it ideal for physical activities and everyday wear. With meticulous attention to detail, the tracksuit is designed to withstand the test of time, offering a long-lasting investment in men's wardrobe essentials.
Men's tracksuits have undergone a remarkable transformation in recent years, evolving from a purely athletic ensemble to a fashion statement. The BOSS Batch Soody Tracksuit embodies this shift, featuring a sleek and contemporary design that effortlessly combines style and functionality. The tracksuit boasts a minimalist yet sophisticated look, with clean lines and a tailored fit that flatters the male silhouette.
---
Conclusion
JDSports serves as a reliable source for men's tracksuits that seamlessly blend comfort and style. The retailer's commitment to offering a diverse range of designs and functional features ensures that men can find the perfect tracksuit to suit their individual preferences. As the popularity of men's tracksuits continues to grow, JDSports remains at the forefront, providing a comprehensive selection of tracksuits that meet the demands of modern fashion. For more information, visit CELEBZERO.
---
FAQs