Men's cargo trousers represent the epitome of form meeting function in the world of fashion. These stylish and versatile pants have a rich history, initially designed for military use and later adapted for civilian wear. Their shape, the spacious cargo pockets located on the sides of the legs, not only adds a distinct look but also offers incredible practicality. Whether you're an outdoor enthusiast or someone who values fashion, cargo trousers are a wardrobe essential for all your needs. There are many ways you can incorporate cargo trousers into your wardrobe. These versatile trousers will help you achieve that perfect balance between ruggedness and refined. And that is why House of Fraser is here. This brand specialises in a wide range of products for men, women and children. From gifts, clothing to beauty products, you'll find it all here. Keep reading to find out more about men's cargo trousers on House of Fraser.
Men's Cargo Trousers that deserve a place in your closet! 
1. HUGO Garlo 233 Cargo Trousers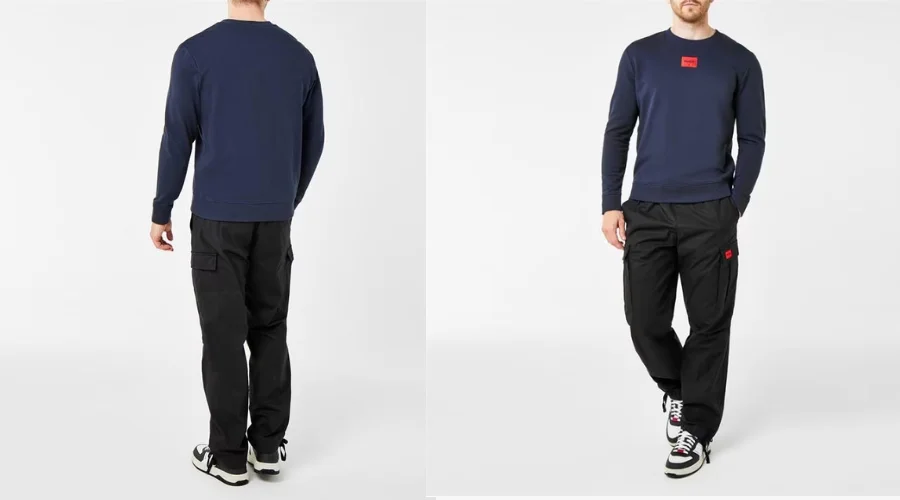 If you want something versatile and comfortable then these HUGO Garlo 233 Cargo Trousers are exactly what you need! The black neutral shade makes them blend in seamlessly with different colours without ruining the aesthetic of the look. The trousers are made with a blend of cotton and elastane and give a stretchy fit. Besides that, they feature two pouch pockets on the hip and a welt pocket. This gives you enough options to store small daily essentials such as cards, keys, cash or mobile phone. 
The ankle cuffs come with adjustable drawstrings so if you feel like trying something different from a regular flowy fit then you can adjust the look as per your convenience. 
---
2. BOSS Sisla 1 Cargo Trousers
If your outerwear wardrobe needs an update then say hello to these Boss Sisla 1 men's cargo trousers. They boast a regular fit, belt loops, adjustable drawstrings, and elasticated cuffs. These cargo trousers will show you how prioritising fashion and functionality helps one! For the wearer's convenience there are two open hand pockets, two back pockets, and two touch close cargo pockets. You can easily store many essentials in your pockets if you hate carrying handbags. 
These beige coloured pants will go well with both neutral and vibrant shades. So when it comes to styling options, there are a plethora of styles for you to try. 
---
3. JACK WILLS Cargo Trouser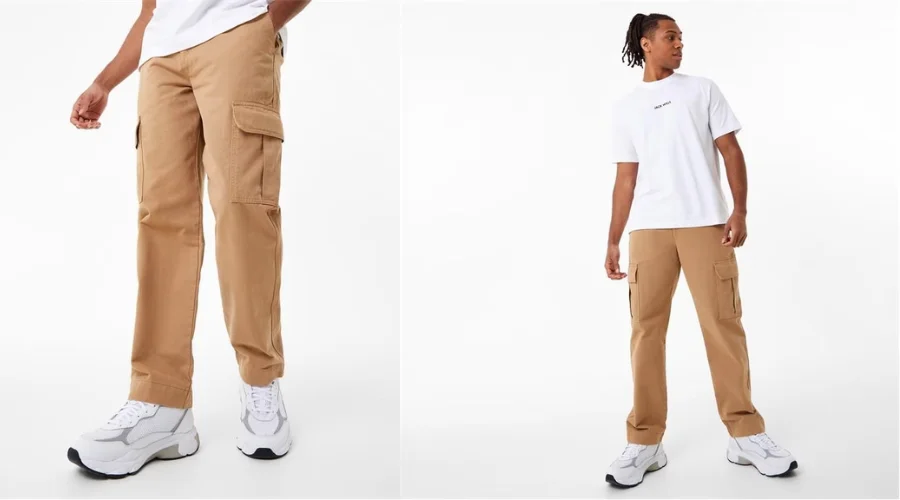 These sand coloured Jack Wills Men's Cargo trousers are an excellent addition to one's wardrobe! If you want to sway away from the regular trousers neutrals then this is exactly what you need! Whether you want to go for the streetwear aesthetics, laid back vibe or a casual one, you can don it all with these trousers. 
When it comes to storing options, then you are in luck because there are two cargo pockets, two side pockets, and two back pockets. You can easily store your daily essentials such as cards and cash conveniently. 
---
4. TIMBERLAND Squam Lake Cargo Trousers
If you want men's cargo trousers that seamlessly encapsulate the laid back vibe then these Squam Lake Cargo trousers are exactly what you need. They boast waist adjuster tabs for maximum convenience of the wearer. This also ensures a precise and seamless fit for the wearer. They are mid-rise and have a turn up cuff style. 
For styling, you can pair them up with neutral or vibrant coloured t-shirts. If you want to try an edgy look then go for oversized tees or graphic t-shirts to complete the look. 
---
5. CALVIN KLEIN Skinny Washed Cargo Trousers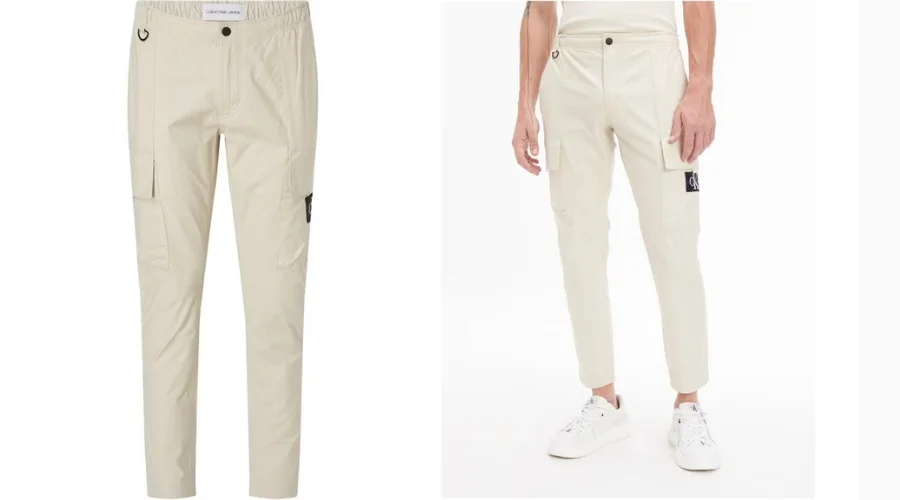 Do you want light shade cargo trousers? Then you'll absolutely love these Skinny Fit Washed Cargo Trousers. They are made with a blend of fabrics that ensure a breathable and lightweight feel. For the convenience of the wearer, these pants feature an elasticated waist and drawstring tie. This way they can adjust the fit as per their comfort level. 
When it comes to storage options then there are two front cargo pockets and two back pockets. From mobile phones, cash to cards, you can easily store these small essentials. 
---
Conclusion
Whether you're going for a hike, a casual day at work, or a weekend adventure, cargo trousers offer the perfect blend of fashion and functionality. They are an apt representation of practicality and adventure. Men's cargo trousers have managed to become a reliable companion and fashionable option for many. Their ability to effortlessly transition from outdoor exploration to everyday wear is a testament to their enduring appeal. So, whether you're an avid traveller, an urban explorer, or simply a style enthusiast, cargo trousers offer the perfect balance of fashion and function. And if you are looking for men's cargo trousers, then House of Fraser got you! This handy platform features trousers from prominent brands such as Calvin Klein, Hugo and Timberland. 
For more information, visit CelebZero. 
FAQs