Tired of regular sneakers? Then you have landed in the right place! When it comes to footwear for men, the most popular options are sneakers and sandals. But let's talk about another comfortable, durable and appealing footwear- Crocs! 
If you are new to the kingdom of crocs, then you are in for a good read! Because JD Sports has an amazing range of stylish men crocs for you to consider! This is your time to shine and do something different from your regular fashion styles. 
How do you style men crocs? 
As unique but trendy footwear, men crocs are easy to style and incorporate into different aesthetics. Here are a few ways to style your Crocs and look ever ready for the day! 
1. With oversized fits
Are you a fan of the oversized look? Whether it's cargo pants, loose pants, oversized hoodies, or long graphic tees, a pair of Crocs will accessorize and elevate your outfit in the best way possible! 
2. Casual Vibe 
Got an early morning class tomorrow? Instead of searching through your shoe closet nervously, wear a pair of crocs and look dope! No need to spend hours looking for the right footwear. When you got crocs, you don't have to worry! 
Crocs go well with jeans, t-shirts, shirts and shorts, making them a perfect go-to for those effortless and laid-back days. 
3. All- black
Do you prefer your outfits all black? Add a pair of bright colored crocs and make your outfit pop! If you don't feel colorful, then that's okay too! There are various black, white and gray colored crocs you can consider. 
4. 90s/ Vintage Vibe
Are you all in for the 90s and early 2000s styles? Although crocs weren't an item in the 90s, they fit perfectly well with that fashion era. Give a contemporary touch to your vintage outfits and become eye-catching!  
5 Men crocs to enhance your footwear wardrobe 
1. CROCS CLASSIC CRUSH BANDANA CLOG CHAI / MULTI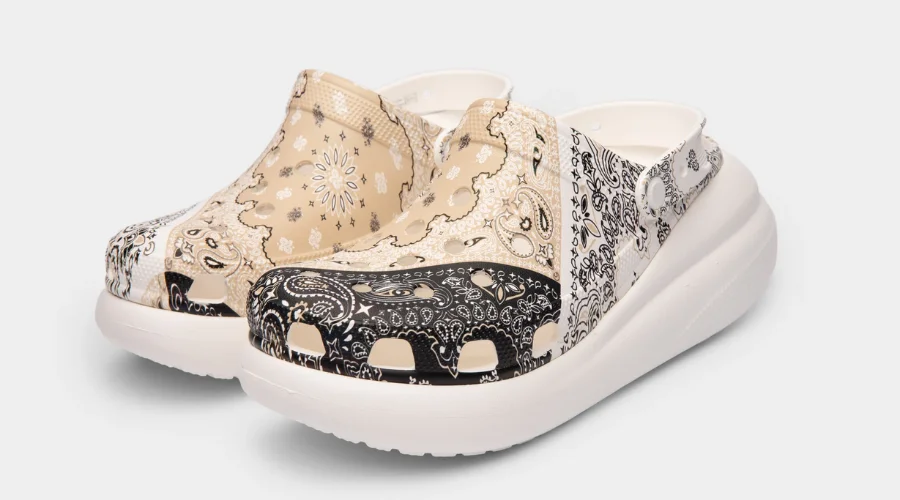 Embrace a bold aura with these classic crush bandana crocs. They come with a unique design instead of a monochromatic color! So if you feel like adopting something different, then this is the right option for you! Absolutely comfortable, lightweight and spacious, your feet will find a great home in them. There is added cushioning to make walking smooth and platforms on the soles for height elevation. 
Wear these men crocs with your favorite jacket-jeans combo and stand out!
---
2. CROCS ECHO CLOG BONE
These Echo Clog Bone men crocs come with a Croslite sole. Easy to clean, waterproof, with cushioning included, they are a delight for every croc lover! Available in five different colors, choose 
The best part about wearing them is their ability to fit in with any type of outfit and aesthetic! Feel like wearing a relaxed and outgoing fit? Or, do you want to be a trendsetter with some original looks? You can do it all with this adaptable pair! 
---
3. CROCS CLASSIC CLOG / WHITE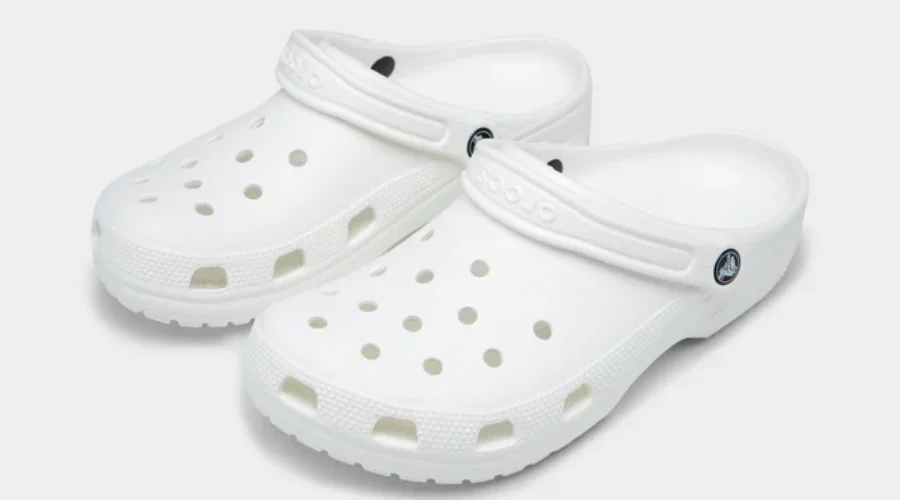 These classic all white men crocs are the only thing missing in your wardrobe! Whether it's a vacation or a water park adventure, they are a suitable option! If you feel like adding a dab of color to your look then have a look at the other colors of this pair! With 10 different colors to choose from, it's time to indulge yourself in a treat!
---
4. CROCS CRUSH CLOG / MOON JELLY
For those who have to spend long periods walking, these crocs are it! With a 2-inch platform elevation and added cushioning, walking won't seem like a strenuous task anymore. Whether it's a quick errand you need to run or a walk to your class in the next building, your feet will be comfortable, warm and well supported. 
Ideal for a casual, vintage, or Y2K aesthetic, the fusion of this pair into your regular style will not only boost the look but also give you a fashion upgrade!
---
5. CROCS ECHO SLIDE / TUMBLEWEED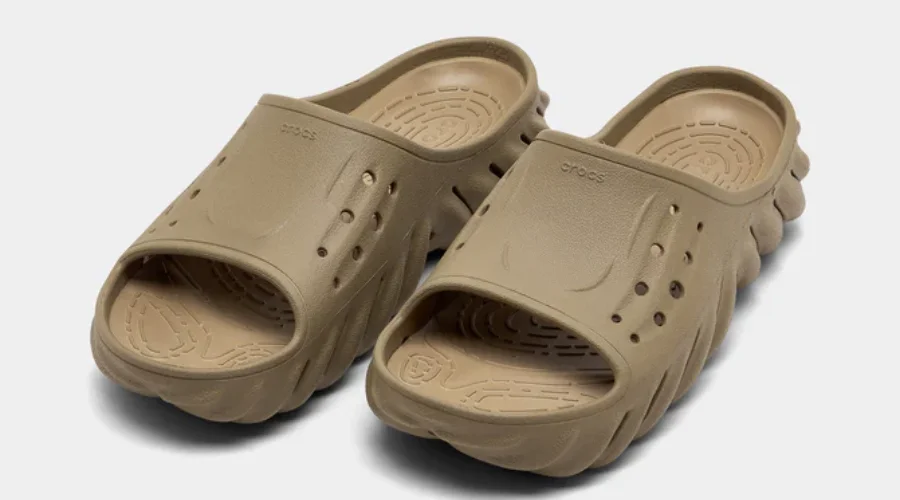 Don't confuse these men crocs with some normal sandals! Although shaped like sandals, these Echo slides give you the full benefits of a croc. A perfect addition to a streetwear aesthetic, but with a stylish twist. 
Easy to wear and walk in, these crocs will provide you utmost comfort and make walking fun! Their versatile functionality is an added benefit. Enjoy the advantages of crocs and sandals!
---
Conclusion
We hope that these recommendations helped you style your next fit! If you are searching for more options, then JD Sports has got your back! With a diverse array of crocs collection, there are multiple crocs for you to choose from! From men crocs, women's classic crocs to children's crocs, you'll find an expansive range here. So, hurry up and select your signature pair! . For more information, visit Celebzero. 
FAQs