Luxury holidays in Greece, with its quaint islands, turquoise waters, and rich cultural legacy, draw tourists as the sweltering summer sun approaches. Greece, which is renowned for its friendly people and stunning scenery, makes the ideal getaway for anyone looking for an extravagant and exciting vacation. 
As we reveal a guide to planning your ideal luxury holidays in Greece this summer, prepare to go on a journey of luxury and relaxation. Greece promises a summer vacation unlike any other, with opulent resorts tucked away amid breathtaking coastline vistas and tailored trips visiting ancient ruins.
Read further to learn about the planning process for luxury accommodations in Greece.
A guide for planning luxury holidays in Greece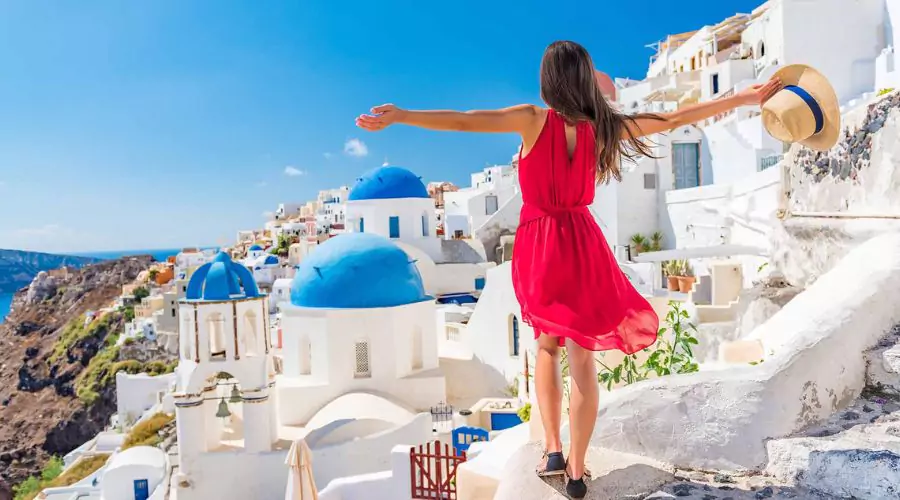 Planning luxury holidays in Greece this summer necessitates paying close attention to detail and indulging in exclusive activities. Here is a step-by-step guide for planning a luxury getaway:
1. Choose Luxurious Accommodations
In posh locations like Santorini, Mykonos, or Crete, pick opulent hotels, resorts, or private homes. Private pools, spectacular views, and individualized services are desirable attractions.
---
2. Create a Bespoke Itinerary
Create an itinerary that is tailored to your preferences and includes upscale activities like private boat cruises, helicopter tours, wine tastings at upscale vineyards, and fine dining at Michelin-starred establishments.
---
3. Tour Iconic Archaeological Sites Privately
Plan private excursions to famous historical locations like the Acropolis in Athens or the ancient ruins of Delphi so you can take in the country's fascinating past at your own pace.
---
4. Indulge in Spa Retreats
Spoil yourself with opulent spa experiences at prestigious wellness resorts and spa facilities, which provide restorative treatments with stunning vistas.
---
5. Island Hopping in Style
Rent a private yacht or take first-class ferries to explore a number of islands in style and learn about the distinctive charm of each location.
---
6. Sunset Celebrations
Enjoy stunning sunsets from quiet beaches, chic rooftop bars, or private decks while collecting priceless memories.
---
7. Attend Prestigious Events
Plan your trip to coincide with high-profile occasions like music festivals, fashion displays, or art exhibitions taking place in Greece's urban centers.
---
8. Personal Concierge Services
If you want to make sure that all of your wants and requirements are satisfied and that you have a seamless, stress-free trip, think about hiring a personal concierge service.
---
9. Gastronomic Delights
Discover the varied Greek cuisine with a touch of refinement by partaking in gourmet experiences with private chefs, culinary workshops, and food excursions.
---
10. Luxurious Shopping
Take pleasure in shopping for excellent souvenirs and designer goods at premium shops, upscale clothing stores, and regional artisan markets.
Thus, luxury holidays in Greece offer an exceptional fusion of grandeur and cultural diversity. Enjoy the breathtaking scenery of Greece, indulge in unique adventures, and bask in the welcoming atmosphere of this alluring Mediterranean location. Greece offers discriminating vacationers seeking the greatest in life everything from picturesque islands to historic monuments.
---
Top options for
luxury family holidays in Greece
1. 5* chic Santorini adults-only retreat with private pool options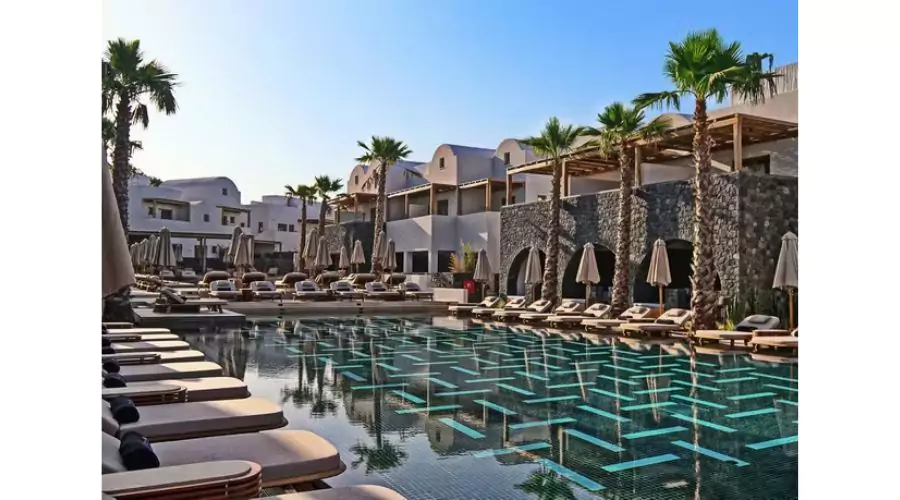 Enjoy family holidays to Santorini, the most alluring island of Greece, and take in the opulent atmosphere of the five-star, adults-only Radisson Blu Zaffron resort, which is located close to the alluring Kamari black sands. This lovely resort offers a refuge of leisure, mouthwatering culinary treats, and real Greek friendliness. It combines boho-chic décor with traditional Cycladic architecture.
Enjoy the cuisine prepared with passion at Zeffirino Restaurant, where classic Italian dishes from the Belloni family are skillfully mixed with flavors from Santorini. Fine wines supplied by the island's wineries go perfectly with freshly caught fish and hand-made pasta.
Enjoy the boutique charm of the resort with its spotless whitewashed buildings, current sun loungers, and stylish swimming pools as you immerse yourself in exclusivity and sophistication. Discover Kamari's alluring black sands, which offer a breathtaking setting for priceless beach memories. On these magical luxury holidays in Greece, unwind, revitalize, and make priceless memories.
---
2. 5* luxe Greece stay with sea views & private beach
Halkidiki, ranked as Condé Nast's No. 1 destination, offers a sleek and opulent five-star coastal getaway. Eagles Palace has received the esteemed Tripadvisor Certificate of Excellence and exudes international flair. 
This chic resort is tucked away by a personal Blue Flag beach and features an outdoor pool and lovely gardens with palm, pine, and olive trees. A variety of pampering treatments are waiting for you at the Elemis spa, so treat yourself to absolute indulgence there. Melathron is a casual restaurant that serves a blend of cuisines, including regional delicacies.
Savor the wonders of regional cuisine during luxury holidays in Greece. Eagles Palace offers a range of culinary options along with first-rate service to guarantee an amazing luxury getaway.
---
3. Chic Athens hotel in the city centre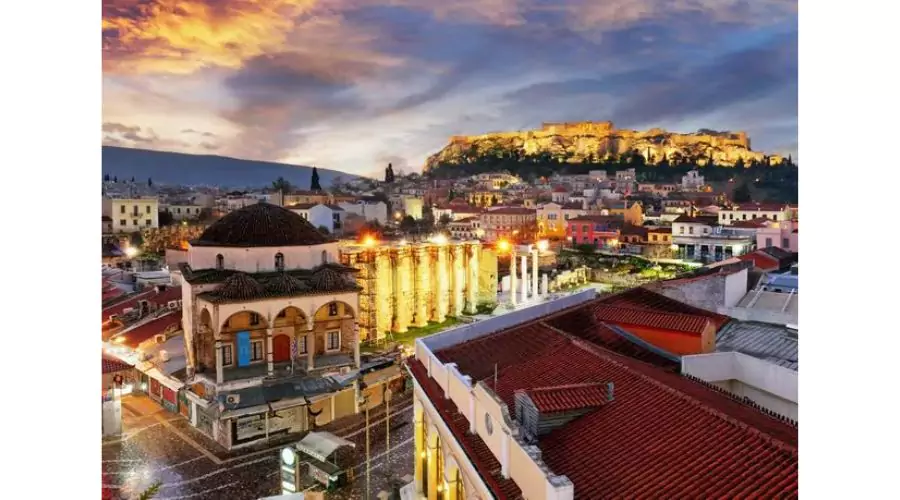 Discover a chic and elegant hotel that is ideally located in the center of Athens, close to renowned cultural attractions and exciting nightlife. With convenient proximity to the city's biggest attractions, museums, and vibrant nightlife, Pure Hotel by Athens Prime Hotels provides an excellent base for experiencing the Grecian capital. 
The suites and rooms radiate contemporary elegance and feature chic décor, natural light, and opulent marble baths. Despite being in the middle of the city, unwind with a restful night's sleep in this calm haven. 
A delicious buffet breakfast is waiting for you when you wake up, containing items made by Greek artisans just for you. The Moment Roof Bar, which features unique cocktails and mesmerizing views of Athens, is a must-visit.
---
Conclusion
Greece is a haven where luxurious indulgence meets age-old wonders. The country offers a captivating tapestry of experiences for tourists seeking the pinnacle of luxury vacations with its scenic islands, premium accomodations, and rich history. 
As the summer sun sets over the sparkling Aegean Sea, your heart will be overwhelmed with cherished memories of this memorable getaway. Allow Greece to work its magic on your soul as you enjoy the grandeur and beauty, making you long to come back for yet another lavish summer.
If you are looking for all inclusive luxury Greece holidays, then you must visit the official website of Secret Escapes. For more such interesting and informative blogs, visit our website Celebzero.
FAQs