The focal point of any opulent hotels is its swimming pool. Visitors can unwind, mingle, and see and be seen there. It should therefore come as no surprise that hotels go to great lengths to ensure that their pools symbolize idyllic retreats from the busy pace of daily life and that they prominently display them on their websites and social media in an effort to entice new customers. Here are our picks for the top ten swimming pool hotels in the world.
1. African top hotels with Swimming pools
Mihingo Lodge, Uganda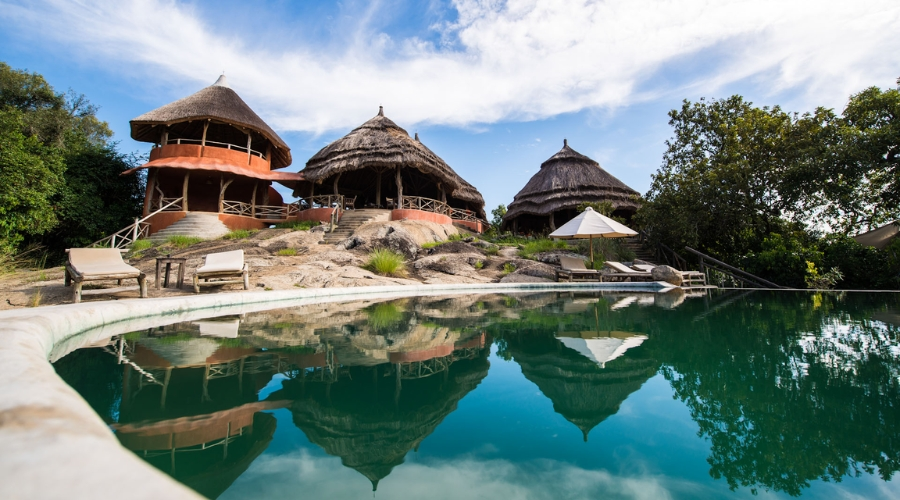 One must agree that there is nothing better than an ecolodge with a pool and view. Mihingo lodge is one such family hotel with swimming pool situated in Lake Mburo National Park which is perhaps the smallest among 10 other national parks in Uganda. The rooms are made of a premium tent with a roof cover. They have replaced windows with netting for raw views of nature. Every room comes with morning coffee or tea, a private deck, and even a monkey or two.
There is a pool in front of the restaurant from where one can enjoy spectacular views of the national park. This is a place where one should be after walking safari or morning game, thus this place is the perfect blend of unspoiled nature and luxury.
---
Royal Zambezi, Zambia
Royal Zambezi is one the best family hotels with swimming pool you will find in Zambia. The one thing that distinguishes it is the fact it is a luxury property located at a remote place in lower Zambezi national park which is rich in wildlife. It has presidential and Delux suites as well which have their own private pools with a view of the Zambezi river and passing elephant herds. If you love star gazing then you will be awestruck to know that both suites come with outdoor showers and free-standing copper baths. The 5-star lodge blends in with nature to give you an opportunity to observe wildlife from your own veranda. While staying there you can enjoy a game drive in lower Zambezi, canoe safari on the Zambezi river, hiking, or go tiger fishing. If you do not feel like going out and want to spoil yourself inside the villa you can enjoy the bush spa which is the first of its kind. This is one of the best hotels with swimming pool.
The Capaldi Hotel, Morocco
If you are planning to visit Marrakesh it would be a great idea to avoid the city heat and enjoy the countryside experience at the Capaldi hotel situated in the foothills of the Atlas mountains. This is one of the best luxury boutique retreats which is just 40 minutes away from Marakkesh and fully immune from the city bustle. It is a farmhouse built with contemporary architecture set in kush green plains overlooking snow-capped hills and Berber villages. At the hotel, you can enjoy the gourmet restaurant, private cinema, and a full-length swimming pool with perhaps the best view in all of Morocco.
---
2. Europe hotels with Swimming pools
Yacht Boheme Hotel, Fethiye, Turkey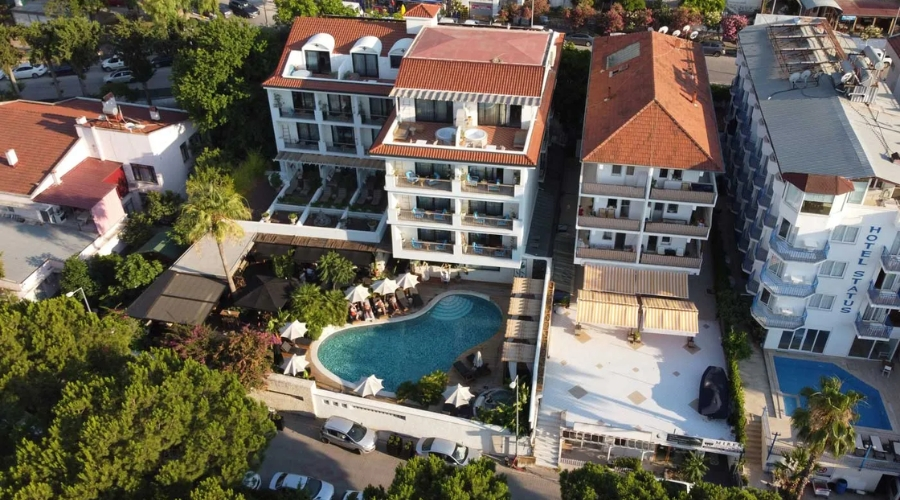 Yacht Boheme Hotel located on Turkey's Turquoise Coast in central Fethiye is a warm property with spectacular decor and a beautiful pool with poolside cabanas. While staying at the property you can head out to the blue lagoon in Oludeniz, explore cities and ancient ruins, Iztuzu beach for a swim, paraglide or visit rock tombs carved out of mountainsides.
The property has an onsite bar with live jazz performances at night and an amazing breakfast spread. While booking rooms we reckon you should book rooms with a balcony to enjoy sunsets.
Torre Di Sebastiano, Sicily
Gaggi present inland from the east coast of the island of Sicily, is authentic and close to nature. Torre Di Sebastiano is present on a narrow street that doesn't look that appealing from the outside. Once you get inside the place you will witness a very luxurious and comfy B&B kind home. One of the best hotels with swimming pool.
The kitchen and common living room are quite spacious and decorated with furniture. The property has a private lush green terrace garden that is very spacious and offers al fresco dining. You can also enjoy and relax at the swimming pool present on the top terrace. All of us who are pet lovers would be thrilled to know that this property is pet friendly.
---
3. Asia Pacific, hotels with Swimming pools 
The Library, Koh Samui, Thailand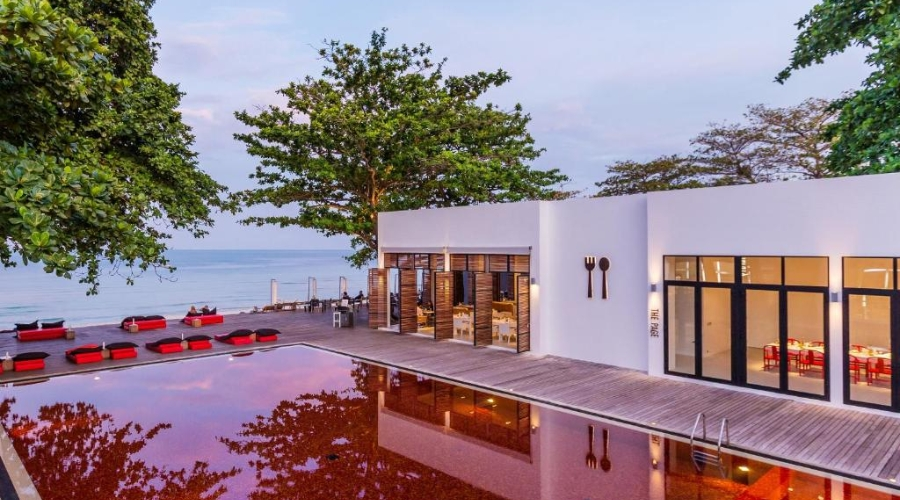 The Library is built in a sleek white design with books being the central theme of the property. It has a blood-red swimming pool stand that contrasts Chaweng beach's turquoise blue waters. In Library all the studio cabins are scattered discreetly on the grounds so that guests can enjoy serene surroundings with privacy.
If you plan on staying there we recommend you to reserve their Breakfast culture, wherein breakfast is served on the beach while you can rest laying on a comfortable mattress, enjoying spectacular views of see.
---
The Adelphi, Melbourne, Australia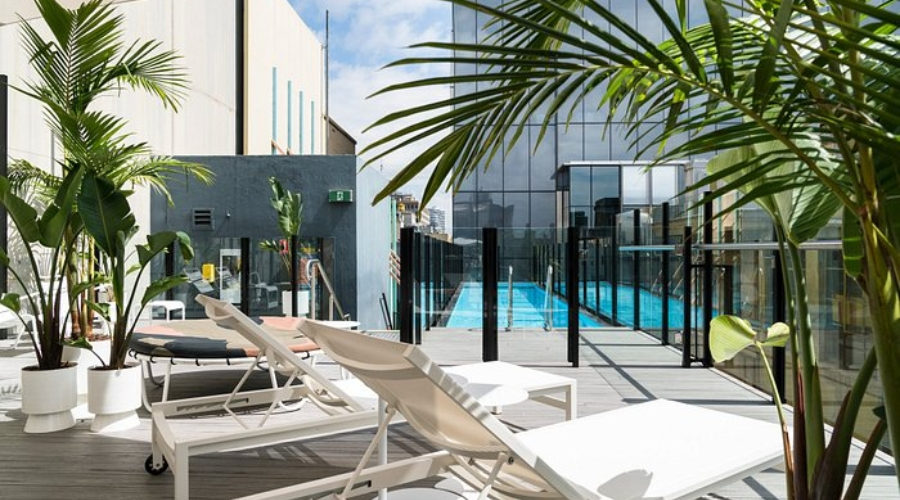 One of Melbourne's most stunning undiscovered hotels is the Adelphi Hotel. You are taken on a visual adventure as soon as you enter. An adventure full of sweet goodies. You are given a tiny gift bag upon check-in and advised to fill it with jelly beans to begin your stay. This is one of the best hotels with swimming pool.
Your stunning room, which is already a sight to behold, welcomes you with a world of sweet wonder and a free snack bar. It's time to head up to the rooftop pool if you can bring yourself to stop indulging at the snack bar, rolling around in the king bed, or soaking in the big shower. A swimming pool with a glass bottom and a cantilever that hovers two meters beyond the building's perimeter
---
Slow Gili Air Private Pool Villas, Indonesia
Just beside the coast of Lombok Indonesia is a small island called Gili Air. It is easily accessible through boat rides and would be a perfect addition to strike off your bucket list. Gili island is a true escape in a manner as no motorized vehicles are allowed here. Since Gili island is not that big and stretches to just 2 km, you can easily roam around on foot or by bicycle to cover all areas.
While in Gili you must experience a private pool villa at Slow which will give you a comfy experience away from home. While at Slow your breakfast would be served to your villa and you can indulge yourself in various beach activities, sun baths in the coconut gardens, and snorkeling. Slow villas try to give you the best of both worlds which is luxury and the essence of nature in Gilli air.
---
Conclusion 
In this article, we have compiled a list of the best family hotels with swimming pool that provides the best of both worlds, which is luxury and nature. All of us who love nature and want to enjoy our next vacation away from hustle and bustle of city life would certainly find this article very useful in navigating the best hotel to stay in with family close to nature. For more information about hotels with swimming pools near me visit the official website of Celebzero.
FAQ's