Are you trying to find the top resort in Tulum, Mexico? You don't need to seek further than these top-notch hotels in Tulum!
You have several options when seeking the best hotels in Tulum Mexico. Tulum has lodging options for everyone, whether you're looking for a lavish resort or a charming boutique hotel. When arranging your future travels, consider staying at one of the top 5 hotels in Tulum:
Here is a list of the best Hotels in Tulum: 
Bahia Principle Luxury Sian Ka'an 

Bahia Principle Luxury Sian Ka'an | Celebzero
The first name on this list of hotels in Tulum is Bahia Principe Luxury Sian Ka'an. This all-inclusive hotel is a fantastic resort located in the heart of Mexico's Riviera Maya. This all-inclusive resort for adults only provides guests with an unparalleled vacation experience thanks to its stunning surroundings, first-rate amenities, and first-rate service.
Each hotel's spacious and elegantly designed guestrooms and suites are well-appointed, with their own balcony or patio with views of the Caribbean Sea or the resort's lush tropical gardens. Among the amenities offered to visitors are numerous swimming pools, a state-of-the-art gym, a full-service spa, and various premium restaurants and coffee shops.
The resort provides easy access for visitors who want to explore the area to the adjacent Mayan ruins of Tulum and Coba and the magnificent beaches and exciting nightlife of Playa del Carmen. The Bahia Principe Luxury Sian Ka'an is the greatest place to experience Mexico's Riviera Maya, whether looking for a relaxing or adventurous getaway.
---
    2. Conrad Tulum Riviera Maya
In the centre of the Riviera Maya, in Tulum, Mexico, is the luxurious beachfront Conrad Tulum Riviera Maya hotel. Thanks to its first-rate amenities, first-rate service, and gorgeous natural settings, this exquisite hotel offers guests a really exceptional experience.
The resort's large guest rooms and suites have cutting-edge technology, fashionable decor, and contemporary architecture. Beautiful ocean views can be seen from many of the accommodations, and some even have private plunge pools. 
The resort also provides upscale dining establishments, poolside bars, and in-room dining options. The resort's top-notch spa offers a range of treatments and services to refresh the body, mind, and spirit while enabling visitors to unwind and sleep. The hotel also has a gorgeous infinity pool that overlooks the ocean and a private beach with lounge chairs and umbrellas.
The resort offers yoga sessions, beach volleyball, and water sports, to mention a few alternatives, for individuals who prefer to be active while on vacation. The resort's concierge staff may also assist guests in making arrangements for off-site activities like going on a jungle adventure or visiting nearby historical sites.
Conrad Tulum Riviera Maya is the ideal place to stay, whether you're organising a family vacation, a romantic getaway, or a solo journey to Mexico.
---
   3. Papaya Playa Project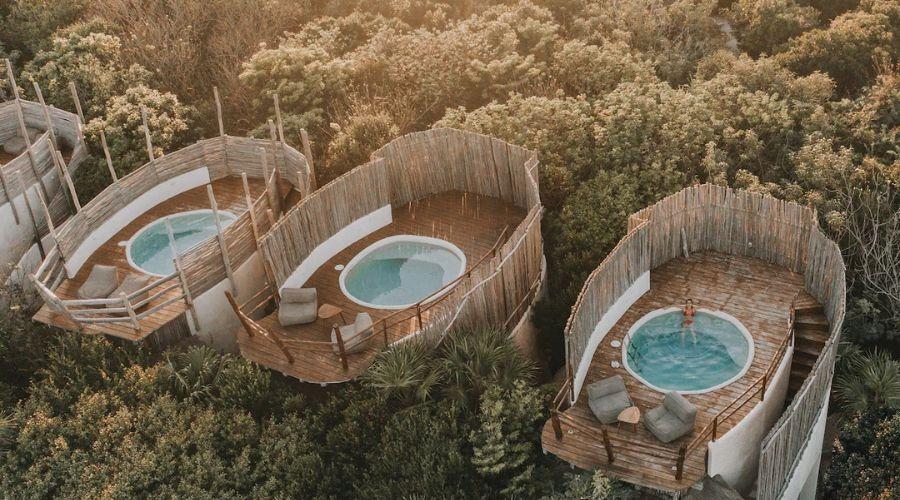 The Papaya Playa Project is a distinctive eco-friendly resort and one of the best hotels in Tulum, Mexico. Visitors may have a genuinely immersive and sustainable experience at this resort, encircled by lovely tropical gardens and looks out over the Caribbean Sea.
The resort's lodgings are rustic-chic cabanas and villas, each with its own special taste and personality. The rooms are decorated with earthy tones and natural materials to create a cosy and inviting atmosphere. Many of the apartments have breathtaking ocean views, making them ideal for unwinding.
One of the defining qualities of The Papaya Playa Project is its dedication to sustainability and environmental friendliness. The resort has adopted a number of environmentally friendly practices, including composting, reducing garbage, and using renewable energy sources. Regular courses and events centred on sustainability and conservation are also held at the resort.
In addition to housing, The Papaya Playa Project provides tourists with a variety of attractions and activities. Among them are a beach club, a restaurant selling organic food prepared with local ingredients, and a spa providing a range of therapies and treatments. 
To give visitors a flavour of the vibrant local culture, the resort routinely hosts cultural events, including live music performances and art exhibits.
To truly enjoy Tulum's natural beauty and culture while escaping the stresses of daily life, visit The Papaya Playa Project. This eco-friendly resort features accommodations for both pleasant family vacations and romantic getaways.
---
   4. OurHabitas Tulum 
The luxurious and well-known hotel Habitas Tulum is located in the heart of the gorgeous jungle that surrounds Tulum. This eco-friendly resort offers guests a wholly immersing experience in nature because of its cutting-edge architecture, eco-friendly policies, and gorgeous surroundings.
Accommodations range from modest huts in the bush to large apartments with individual patios and outdoor bathrooms. In order to create a warm atmosphere, earthy colours and natural materials were specifically chosen for the construction of each part.
During their visit, guests can take advantage of various services, such as yoga courses, meditation sessions, and holistic wellness treatments. In the hotel's restaurant and bar, guests may enjoy organic fare and inventive cocktails made with local ingredients.
The stunning rooftop pool at OurHabitas Tulum offers views of the beautiful Caribbean Sea and the surrounding tropical landscape. Whether you want to accomplish so by unwinding or taking in Tulum's natural beauty, OurHabitas Tulum is ideal to relax and reconnect with nature.
---
   5. Ahau Tulum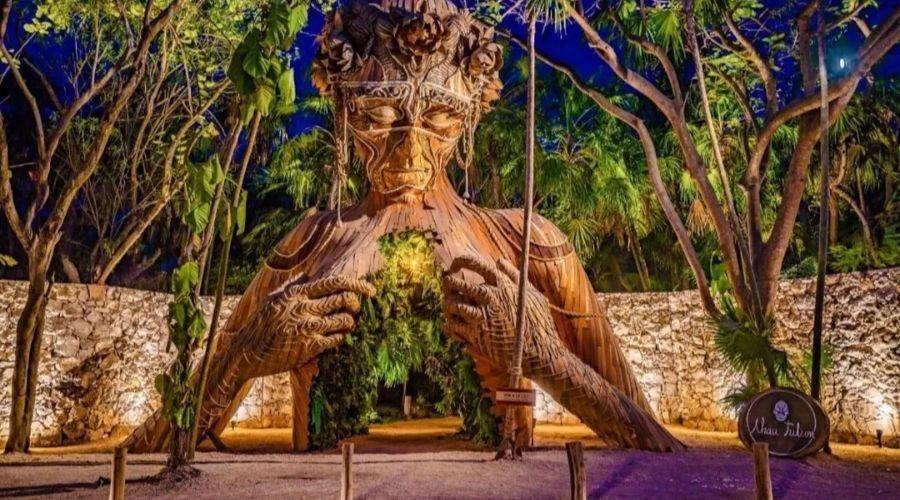 The final addition to this list of hotels in Tulum is an opulent and environmentally friendly hotel called Ahau Tulum. This lovely hotel has all the contemporary conveniences one would anticipate from a high-end resort while simultaneously immersing visitors in the splendour of the natural environment.
Views of the Caribbean Sea are breathtaking from Ahau Tulum's tastefully decorated rooms and suites. Garden rooms, coastal lodgings, and breathtaking beachfront apartments are all available to guests.
The hotel provides a variety of attractions and activities to keep guests occupied while they are there. Participate in daily yoga and meditation courses, or unwind by the infinity pool or on the white sand beach. Visitors can also eat at the on-site restaurant, which offers freshly cooked meals made using ingredients from the neighbourhood. 
For visitors who want to discover Tulum's rich cultural and ecological history, Ahau Tulum is ideally situated. The Sian Ka'an Biosphere Reserve, the Tulum Ruins, and a number of other nearby sights are all easily accessible by car from the hotel. Ahau Tulum is the best spot to decompress, unwind, and immerse yourself in Tulum's beauty and culture. This hotel is a true hidden gem on Mexico's Caribbean coast with its stunning natural location, lavish lodgings, and top-notch services, and that is why it's on our list of the 5 best hotels in Tulum.
Whichever of these top hotels in Tulum you pick, you'll have an amazing time in this tropical heaven.
---
 Conclusion 
Everyone should put a trip to Tulum on their travel bucket list. It is understandable why this region has become so well-known given its beautiful beaches, historical sites, and lush jungles. The hotels in Tulum are a terrific option if you're trying to find the ideal spot to stay. From luxury beachside resorts to environmentally aware forest retreats, everyone may find the ideal holiday. Make your travel arrangements to Tulum as soon as you can to prepare for a once-in-a-lifetime adventure.
On the Expedia and Celebzero website, you can find the best offers and lodging options among the numerous hotels in Tulum. 
FAQ's