Are you yearning for a sun-soaked escape without emptying your wallet? Look no further than the captivating Mediterranean gem of Malta. This enchanting island nation offers an array of attractions and hotels that won't rob you off your entire annual budget, making it the ultimate haven for budget-conscious travelers. In this blog, CelebZero will talk about the hotels in Malta and how you can be a conscious traveler.
Marvels Around Hotels in Malta
For budget travelers, Malta is a treasure trove of attractions. Delve into its captivating history at Valletta, explore St. John's Co-Cathedral, and wander the ancient streets of Mdina. Sun worshippers can bask on gorgeous beaches like Golden Bay, Ghajn Tuffieha, and Mellieha Bay, all without breaking the bank. And for history buffs, don't miss the chance to explore the world's oldest temples – the Megalithic Temples of Malta. Do remember to pick hotels in Malta that are either nearby said places, or are located in easy to commute to and from areas.
Cultural Cravings on the Cheap
Malta's cultural scene is thriving. Museums, galleries, and theaters beckon at remarkably low entry fees, sometimes even for free. Throughout the year, you can engage yourself in many local festivals like the Malta Jazz Festival and the Malta International Film Festival, which will definitely make your vacation worthwhile.
Maximizing Your Budget For Malta Holidays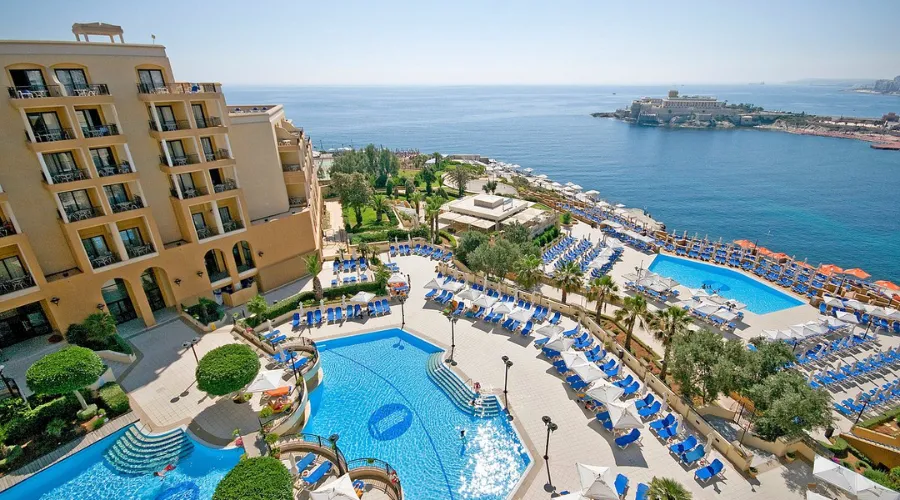 1.   Choose the Right Season:
Much like other destinations, Malta has its high and low seasons. The high season, from June to September, boasts warm weather but also higher prices. To truly make the most of your budget, consider visiting during the shoulder season (April to May or October to November) or even the off-season (December to March). You'll enjoy pleasant weather and more budget-friendly prices.
2.   Alternative Accommodations:
While hotels can be costly, especially in high season, don't overlook alternatives like vacation rentals, guesthouses, or hostels. Vacation rentals can be especially economical for larger groups, providing more space and amenities. Hostels are a budget-friendly option for solo travelers or small groups.
3.   Seek Layover Flights:
Non-stop flights to Malta from distant locations can be pricey. However, if you're willing to endure a layover, you can snag more budget-friendly fares. Opt for flights with layovers in European cities like London, Paris, or Rome, and not only save on airfare but also explore an additional destination along the way.
4.   Off-Peak Discounts:
Many of Malta's attractions and activities offer discounts during the off-peak periods like reduced museum entry fees or discounted dining at local restaurants, and capitalizing on these offers will stretch your budget while providing the full Maltese experience.
5.   Embrace Public Transportation:
Malta boasts an extensive public transportation system, featuring buses, ferries, and even a small train network. Ditch the costly car rental and opt for public transportation that is available near the hotels in Malta. Not only will you save money, but you'll also enjoy easy access to all the island's hidden gems.
Also Read: Discover the Best Hotels in Fuerteventura for a Memorable Stay
A Pocket-Friendly Paradise With Cheap Hotels in Malta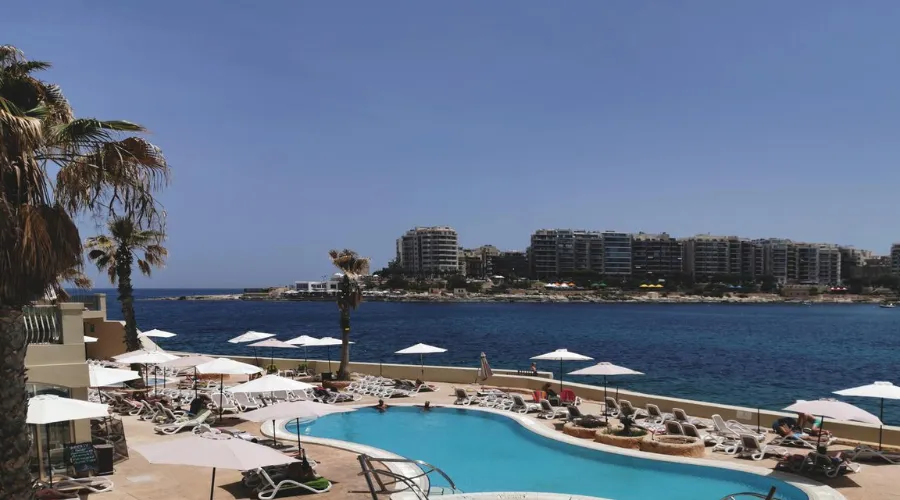 Malta boasts a wide range of wallet-friendly accommodation options including cozy apartments, vibrant hostels, or comfortable hotels, which means that you will definitely find choices to suit your budget. And if you're in the mood for a touch of luxury, fret not – Malta's got you covered with its fair share of luxurious hotels in Malta.
Our Top Pick From The Many Hotels in Malta
Barceló Fortina Malta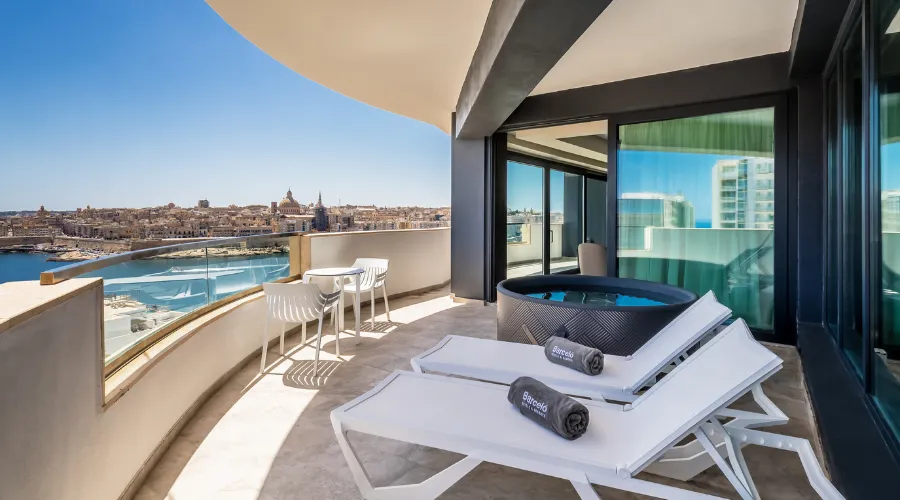 Barceló Fortina Malta emerges as an exquisite 5-star haven that has undergone a complete rejuvenation, setting the stage for an unparalleled luxury experience, catering to both leisure and business travelers. The hotel's elegant and distinctive architecture is a sight to behold, providing sweeping panoramas of the Mediterranean Sea and the historic fortified city of Valletta, a UNESCO World Heritage Site since 1980.
This exceptional hotel offers 183 rooms, each with its own terrace, affording most guests breathtaking vistas of both the serene sea and the iconic Valletta skyline. From the moment you step inside, you'll be enveloped in meticulous attention to detail, ensuring your stay is as comfortable as it is unforgettable.
Dining at the Barceló Fortina Malta is a culinary journey that will tantalize even the most discerning palates. Offering a fusion of international dishes and delectable local specialties, it's a feast for the senses. The hotel also boasts a luxurious spa and wellness center, inviting guests to unwind and indulge in rejuvenating wellness treatments.
With its prime location on the Sliema seafront, the Barceló Fortina Malta finds itself in the midst of a vibrant neighborhood teeming with shops, restaurants, and attractions, making it the perfect springboard for your exploration of this captivating island.
From its stunning views to its top-tier services, the Barceló Fortina Malta is a sanctuary that immerses you in the beauty of Malta, ensuring an unforgettable stay for a romantic retreat or a memorable business trip with an exceptional experience that blends warm Maltese hospitality with world-class comfort.
Conclusion
Malta is your dream destination for a memorable holiday. With affordable accommodation, economical dining options, and a plethora of money-saving tips, you can experience the beauty of this Mediterranean paradise without breaking the bank. So, pack your bags and get ready for an unforgettable journey to Malta! Check out our top picks from the numerous hotels in Malta and get ready for a dreamy vacay. Barcelo hotels offer you an epitome of luxury with great deals and offers so you will not have to compromise on your vacation expectations with hotels in Malta. For more information, visit the CelebZero website today!
FAQs