Ankle boots have stood the test of time. They have proven to be functional as well as stylish. Boots not only keep the legs warm during cold weather, but they also add up to the style quotient. They come in various colours, designs, and sizes, but the charm of grey ankle boots is undeniable, as they can be paired with almost any outfit. 
List of 5 finest grey ankle boots:
Here We Have Handpicked five Great Grey Ankle Boots by Marks and Spencer for You:
1. Suede Western Block Heel Grey Ankle Boots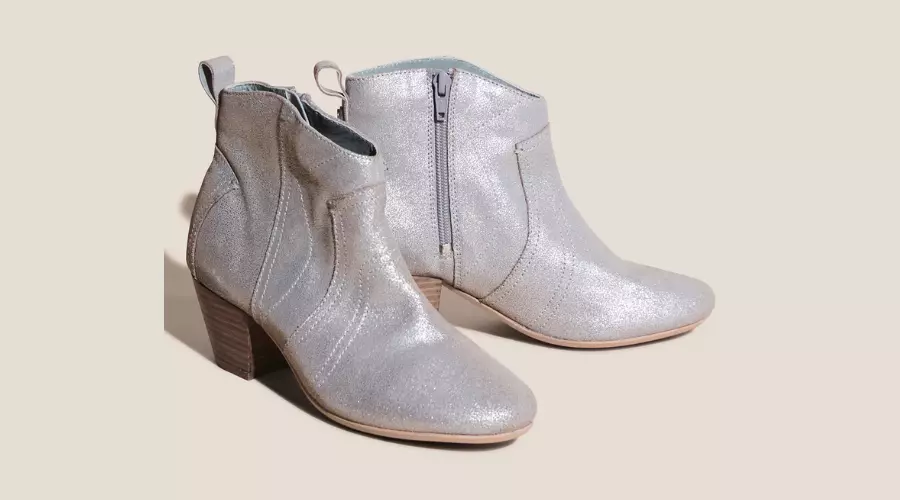 The suede grey ankle boot belongs to the White Stuff collection at Marks and Spencers. It is one of the throw on the go boots that you can never go wrong with. The sparkly finish adds extra charm to your outfit. The mid-block heel not only adds design but also provides a comfortable time to the wearer. The pull-on tab at the back and zipper at the side make this boot easy to slip on and off.
The stitching details and the design cuts add a vibrant style, making the pair of boots go classy with any outfit. The upper material is made of leather, while the lining and sock are made from leather and textile. The lower material shows durability through the tunit used to make it. It comes in five different sizes. The White Stuff size chart provided makes it easy for you to choose your size. 
Key Specs
Glittery look

Block heel

Zip fastening

Heel height: 5.6cm

Material: Leather, textile and tunit
---
Also read : Enhance Your Entire Look With the Best Eyelashes From JD Williams
---
2. Leather Block Heel Grey Ankle Boots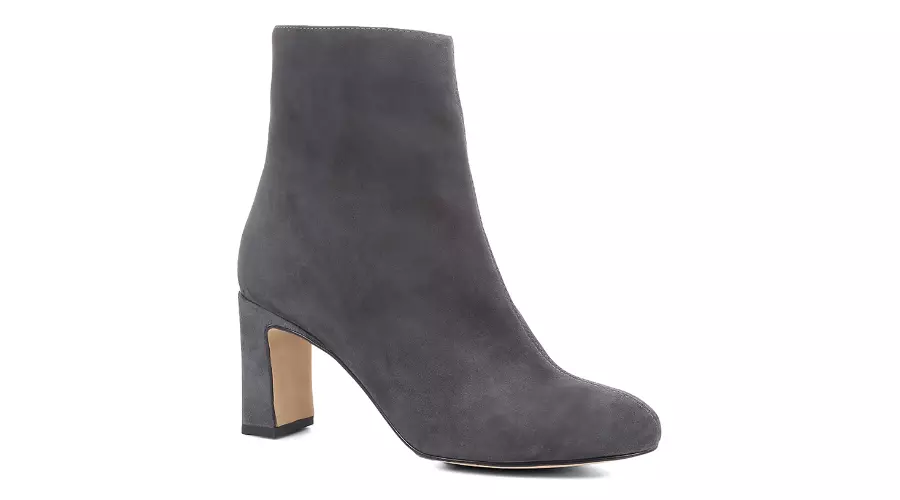 It is one of the best women's grey ankle boots at Marks and Spencers. It belongs to the Jones Bootmaker brand, which creates beautifully crafted boots and shoes. The pair of suede boots can be combined with any outfit to add elegance and style to it. The high block heel makes it super classy and provides comfort to your feet while walking.
The zipper at the side makes it easy to take this shoe off and slip it on in an instant. The boot is designed with a rounded toe to give your toes the space they deserve. Made with 100% leather, this book passes the durability test as well. With its special attention to stitching detail, this classic boot is available in four amazing colours and six different sizes. The size chart provided by Jones Bootmaker makes it easy for you to select the right size. 
Key Specs:
Plain boot look

Block heel

Zip fastening

Upper material: 100% leather

Lining material: 100% leather
---
3. Pixie III Suede Flat Grey Ankle Boots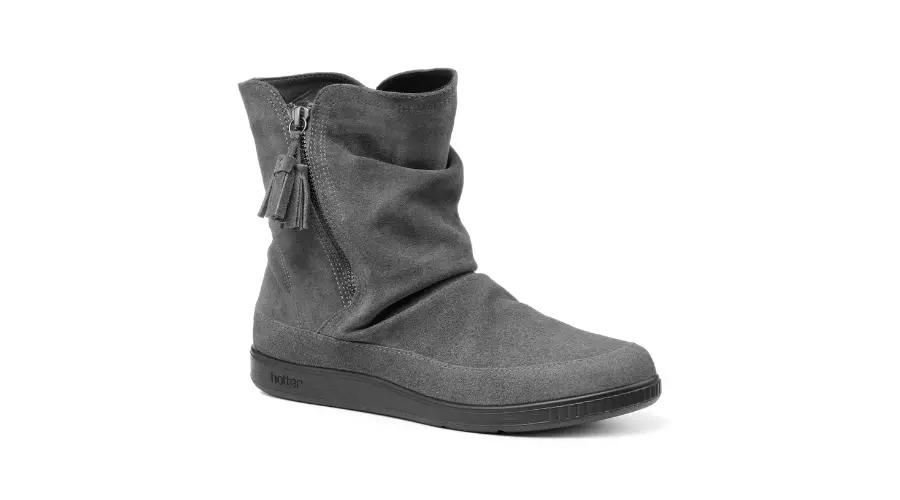 The Pixie is one of those grey suede ankle boots that is a must-have in your footwear collection. It comes from the Hotter brand, known for its stylish yet comfortable boots. The suede ruches around the ankle of this pair of boots create a laid-back look. You will find yourself reaching for this comfy pair of grey ankle boots again and again. Hotter shoes are known for their comfort technology.
The flat heels of these boots and the Smart Cushion technology used in the soles provide a different level of comfort to your feet. While the upper material is 100% suede, the faux fur lining throughout the shoe gives an amazingly cosy feel. The side zipper comes with fancy tassels that add glam to the look and makes for an easy slip-on and off. It comes in two different colours and eleven different sizes so that you find your perfect fit!
Key Specs
Faux fur lining

Suede ruches

Flat heel

Zipper Fastening

Upper material: 100% Suede

Lining material: Faux fur
---
4. Leather Buckle Block Heel Grey Ankle Boots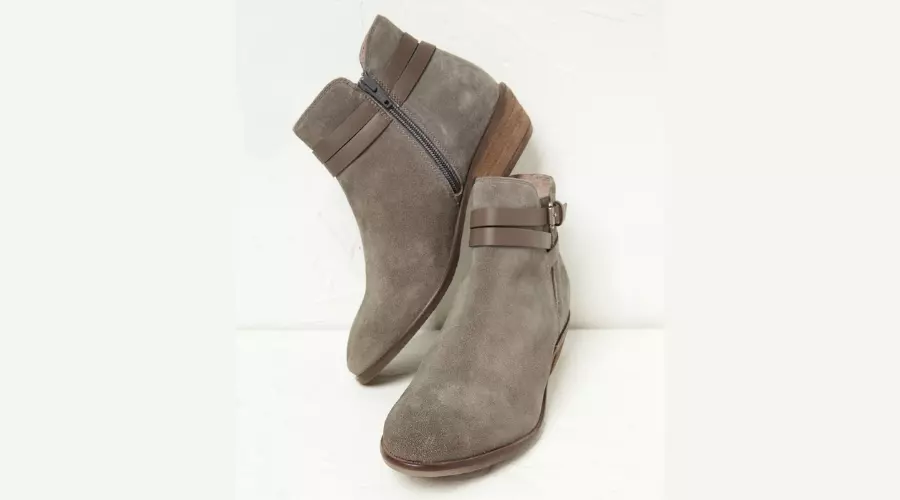 If you are looking for women's grey ankle boots to amp up your footwear collection, go for this pair. It belongs to the FatFace brand, which creates sustainable and durable products. Therefore, these leather boots are built to last. The buckles at the ankle straps add a cool look, and the 100% leather used provides a classy finish to this pair of boots. Pair it with jeans, a dress, or a skirt to add style to any outfit. The block heels provide height and comfort. It comes with a discreet zipper at the side which helps in quick dressing. 
Key Specs
Buckle ankle straps

Block heel 

Heel height: 4 cm

Zip fastening

Upper material: 100% leather

Lining material: textile

Lower material: rubber
---
5. Suede Chunky Chelsea Flat Grey Ankle Boots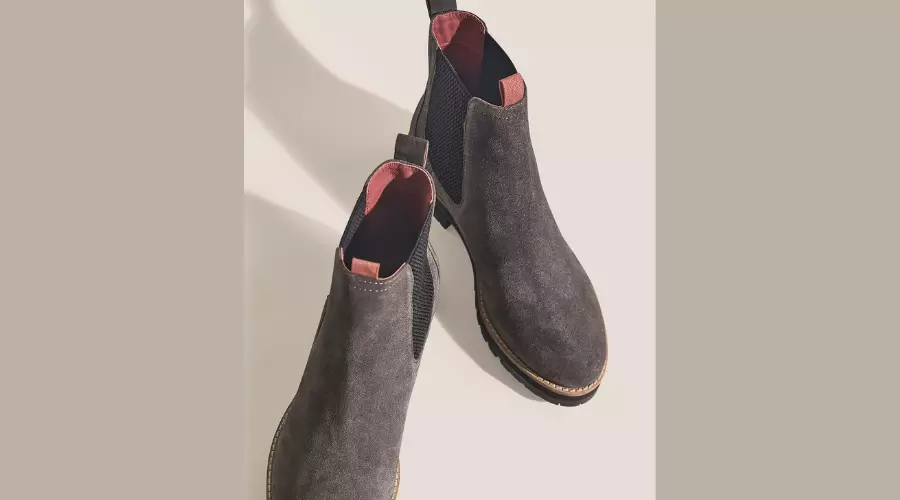 The Chunky Chelsea pair of grey suede ankle boots add a distinctively chic look to any outfit. The rounded toe allows you to stomp around in style and provides your toes with much-needed space and comfort. The plush suede used in making these pairs of Chelsea boots gives them long-lasting durability. The stitching details and the contrasting lining adds a pop of colour.
The mesh design on the sides makes this a favourite of all fashion experts. The elasticated sides and the two pull-on tabs give you a snug fit and eliminate the need for a zipper. Style this cool shoe with jeans, jackets, dresses or skirts and make heads turn. It comes in three different colours and six sizes. 
Key Specs
Chunky look

Rounded toe

Block heel

Heel height: 3.5 cm

Mesh design and contrast lining

Upper material: Leather

Lining material: Leather and textile
---
Conclusion
Ankle boots go by several names, such as Booties or Chelsea boots. Whatever you call them, boots never run out of style and go well with almost any outfit. Grey ankle boots can instantly elevate the style quotient and provide an effortlessly elegant look. And the best thing about boots is they can be worn by women of all ages. So, if you are looking for an amazing grey ankle boot, choose from the list above. For more such articles on fashion, lifestyle, entertainment, and more visit the CelebZero website.  
FAQ's