Casual shirts for men are a quintessential category of clothing that epitomizes the perfect balance between style and comfort. These shirts are designed to be relaxed and easygoing, making them the go-to choice for various informal occasions. Unlike formal dress shirts, casual shirts typically feature softer fabrics such as cotton, linen, or blends, ensuring breathability and ease of movement throughout the day. They are distinguished by their laid-back collars, versatile sleeve lengths, and appealing patterns and designs, ranging from classic checks and plaids to vibrant prints. Men's casual shirts are the ultimate sartorial option that instantly emanates an aura of effortless style and a sense of calm elegance, whether it's a laid-back weekend outing, a casual get-together with friends, or a leisurely stroll along the beach.
Gap has a large selection of casual shirts for men that are the right combination of comfort, style, and versatility. Gap's casual shirts are made from premium materials to provide long-lasting and comfortable wear, as part of the company's dedication to providing high-quality products. Gap's casual shirts for men come in a variety of styles to suit a variety of tastes and preferences.
List of top casual shirts for men to buy from Gap
1. Castelleto Untucked Linen Shirt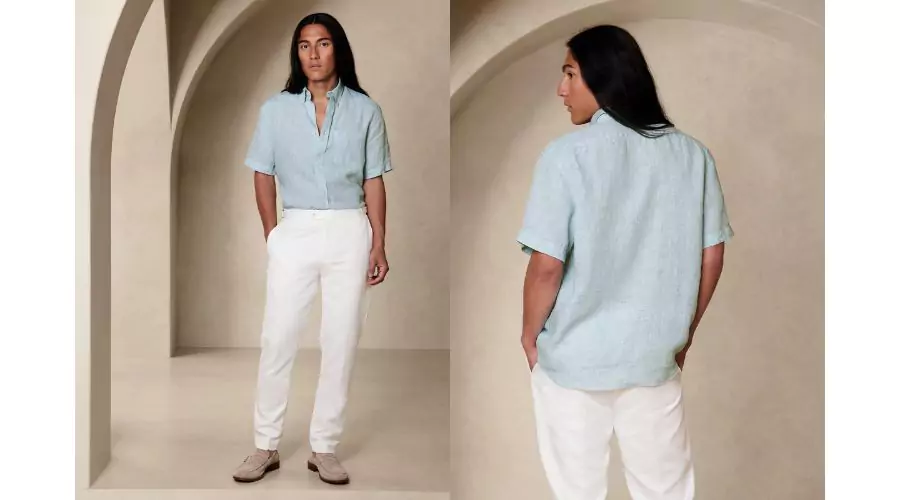 This shirt is made of superior-quality linen fabric and has a lightweight and breathable feel, making it an excellent choice for warm weather and informal situations. The untucked design of the Castelleto shirt sets it apart from traditional button-down shirts, offering a more laid-back and effortlessly cool look. The shirt's hem is intentionally shorter, allowing it to be worn untucked without sacrificing style. This feature adds a touch of nonchalance to your outfit while maintaining a polished appearance.
---
2. Louis Embroidered Linen Resort Shirt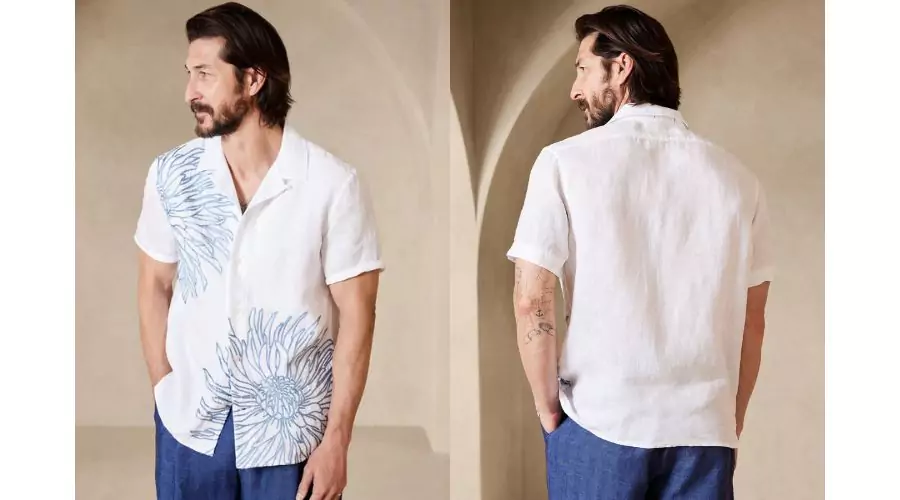 The Louis Embroidered Linen Resort Shirt is an exquisite and luxurious garment that epitomizes elegance and vacation-ready style. Crafted from premium linen fabric, this resort shirt offers a lightweight and breathable feel, perfect for warm weather and leisurely escapes. The delicate embroidery on the Louis Resort Shirt is the garment's main feature, adding a touch of sophistication and craftsmanship. The embroidery details are thoughtfully placed, creating a visually appealing and unique design that sets this shirt apart from ordinary resort wear. Designed with a relaxed and loose fit, the Louis Resort Shirt ensures maximum comfort and freedom of movement, making it an ideal choice for leisure activities and exploring new destinations.
---
3. Slim Castello Linen Shirt
This men's casual dress shirt is made of high-quality linen fabric and provides a comfortable and breathable fit, making it a perfect choice for warm weather and informal situations. The slim fit design of the Castello Linen Shirt sets it apart, creating a more tailored and refined silhouette compared to traditional relaxed fit linen shirts. The slim cut contours the body without being too tight, striking the perfect balance between comfort and a polished appearance. Linen's natural texture gives the Castello shirt a subtly textured look, adding depth and character to the garment. The fabric's unique properties make it suitable for both formal and casual settings, offering versatility in styling options.
---
4. Pascal Resort Shirt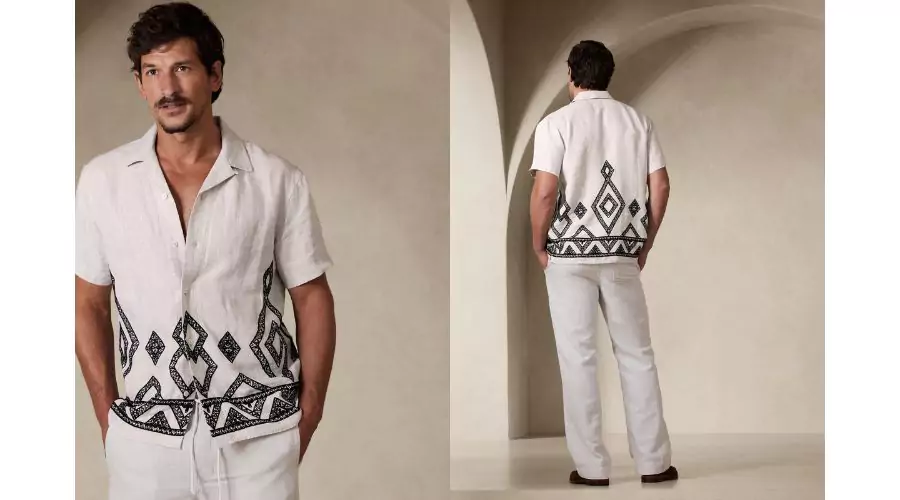 The standout feature of the Pascal Resort Shirt lies in its attention to detail and unique design elements. It may feature intricate embroidery, subtle patterns, or contrasting accents that add a touch of sophistication and refinement to the garment. These details elevate the shirt beyond ordinary resort wear, making it a statement piece that exudes a sense of elegance and style. Designed with a relaxed and comfortable fit, the Pascal Resort Shirt ensures maximum comfort and ease of movement, ideal for leisure activities and exploring new destinations. The loose and breezy silhouette makes it a go-to choice for casual and laid-back occasions.
---
How to style casual shirts for men
Dressing casual shirts for men is all about striking the right balance between comfort and style. Here's how to dress in casual shirts for men, whether you're trying for a laid-back weekend appearance or a semi-formal ensemble:
Pair with Denim: One of the easiest and most timeless ways to dress a casual shirt is by pairing it with a well-fitted pair of denim jeans. Opt for classic blue jeans or experiment with different washes for a more relaxed or edgy vibe.
Chinos or Khakis: For a slightly dressier yet still casual appearance, combine your casual shirt with chinos or khaki pants. The combination exudes a refined charm and works well in various social settings.
Layering: Embrace the versatility of casual shirts by incorporating layers. You can wear a lightweight jacket or a cardigan over your shirt for added warmth and style during cooler months.
Roll Up the Sleeves:Consider rolling up the sleeves of your casual shirt when the weather permits for a more relaxed and effortless look. This small styling tweak adds a touch of nonchalance to your look.
Footwear Matters: Your choice of footwear can significantly impact the overall vibe of your outfit. For a complete casual appearance, opt for sneakers or loafers. If you want to add a touch of sophistication, leather shoes or desert boots can elevate the look.
Tuck or Untuck: The decision to tuck in your casual shirt depends on the occasion and the shirt's length. Tucking it in lends a slightly neater and more polished appearance, while untucking offers a relaxed and carefree feel.
Accessorize Thoughtfully: Add subtle accessories like a leather belt, a wristwatch, or a simple necklace to enhance your outfit without overwhelming it. Remember, less is often more when it comes to casual attire.
Experiment with Patterns: Casual shirts come in various patterns, including checks, plaids, stripes, and prints. Don't shy away from experimenting with different patterns in shirts, but be mindful of how they complement your overall outfit.
Go Monochromatic: For a modern and sleek look, try a monochromatic outfit by pairing a solid-color casual shirt with matching pants. This creates a cohesive and refined appearance.
---
Conclusion
Gap's collection of casual shirts for men is a testament to their commitment to style and comfort. From classic Polo shirts to versatile Button-Downs and playful Hawaiian prints, Gap offers a diverse range that caters to every man's fashion preferences. Their shirts not only look fantastic but also feel excellent to wear, thanks to their attention to detail and focus on sustainability. Whether it's a casual weekend outing or a semi-formal occasion, Gap's casual shirts effortlessly elevate any ensemble, making them a reliable choice for modern men seeking both style and comfort. For more information on casual shirts for men, visit Celebzero.
FAQs